When visiting Europe, you automatically think of the major tourist cities, like Paris and Rome, but it's really the small charming towns in Europe that make it such a fascinating destination. Once you dig into the smaller gems, you'll start to see the real beauty of Europe.
During our many years of traveling throughout Europe, we've visited dozens of cute and charming little towns and cities in Europe that we wouldn't have known about without a recommendation from friends, so we're passing that knowledge on to you in this post, so you can check out these fantastic towns yourself.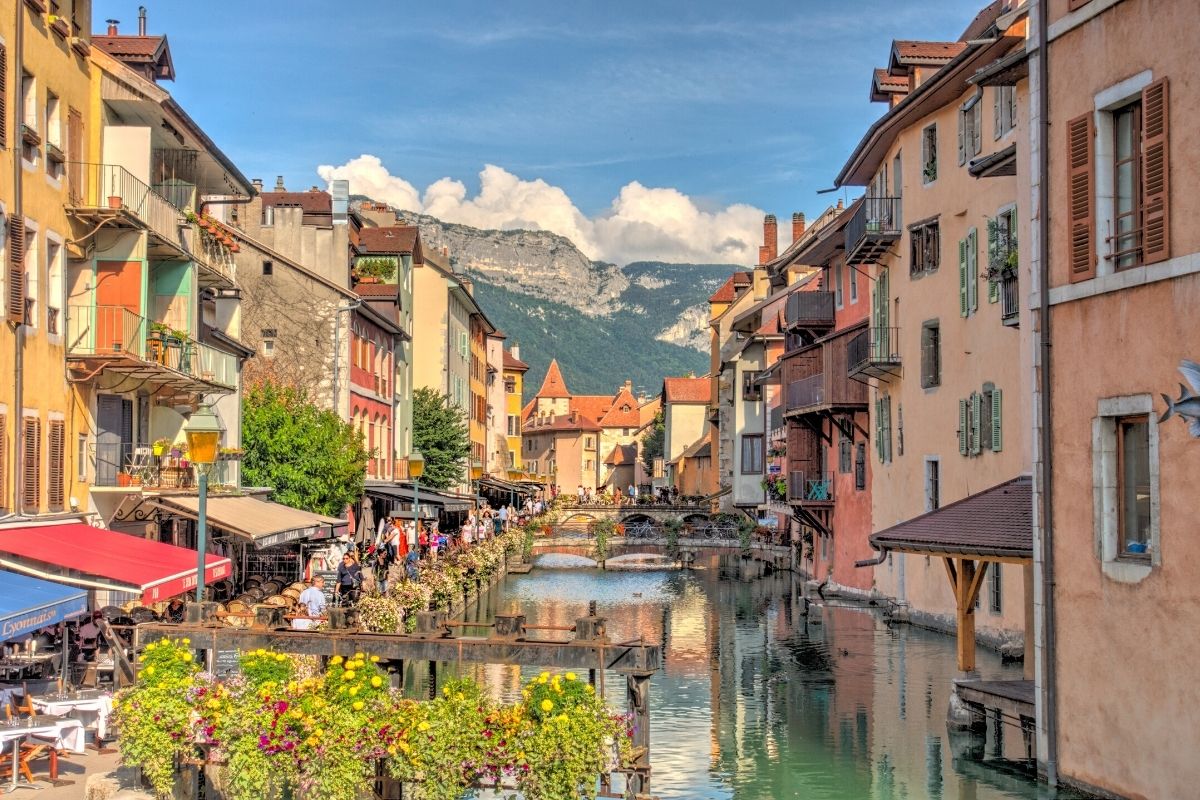 Places like Annecy in France and Rothenburg in Germany are one of a kind gems that travelers will love for their unique architecture, whimsical streets with painted houses, and welcoming locals. Take a moment to look through these destinations and unique places to stay and consider adding them to your Europe itinerary.
» Check out the web story!
» Planning a trip to Europe? Here's our Europe packing list, a suggested 2-week itinerary, and a list of our favorite big cities to visit in Europe.
Charming Towns in Europe
Rothenburg ob der Tauber
Rothenburg ob der Tauber is one of the most picturesque towns in Europe. It's located in the Franconia region of Bavaria, Germany and exudes a charm you have to see to believe. The well-preserved medieval old town still has completely intact city walls, one of only three towns in Germany that does.
As you walk the cobblestone streets of Rothenburg, take in the wonderful architecture of the wooden houses and climb the Town Hall tower to enjoy the best view, then walk part of the 1.5-mile wall that surrounds the old town. Don't miss the commotion at the clock tower in the main square where at the strike of each hour the doors open to reenact the legend of the heroic mayor who saved his town by drinking a gallon of wine.
With all the souvenir shops in Rothenburg, you could spend half your time shopping for beer steins, coocoo clocks, and little wooden carvings for your incense. make time to shop around the Christmas stores, especially the German Christmas Museum, even if it's not Christmastime.
If you're looking for a fairy-tale town to spend a day or more in during your Europe vacation, this is the place. There are actually several "Rothenburgs" in Germany, so be sure not to mistake it for another. This one is Rothenburg ob der Tauber (on the Tauber river).
Where to Stay in Rothenburg
Although many visitors don't stay the night in Rothenburg, it's actually the best way to see the city without all the tourists. So book at least one night and you'll see how the city clears out in the evenings and early mornings. For affordable luxury, we recommend the exclusive Hotel Herrnschloesschen (see Trip Advisor reviews).
Annecy France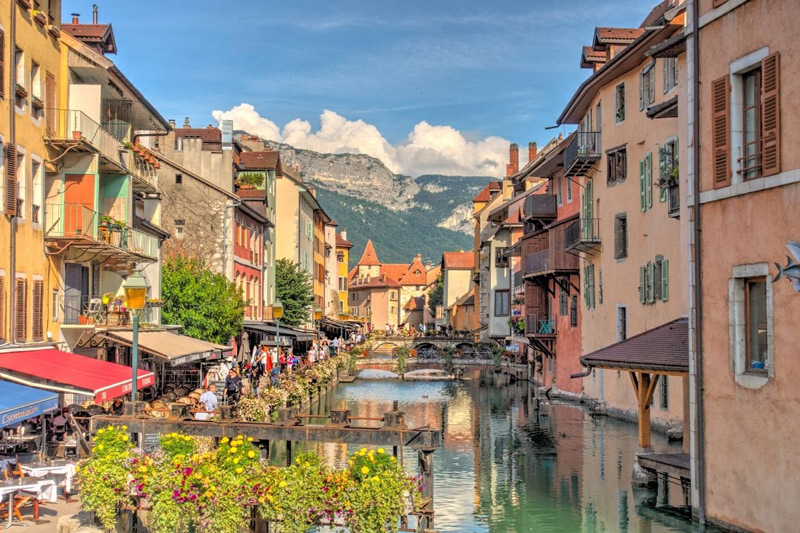 The city is full of charming cobblestone streets, colorful buildings, and medieval architecture. Everywhere you turn, there is a surprise waiting – down a narrow alley or around a bend of the canal. Annecy has it all. There's a castle on the hill, an impeccably maintained old town, a sparkling clear lake, fantastic food, and a mountain backdrop like you only expect to see in a fairytale.
It's not just a one-season city. There are many things to do in Annecy all year round. The lake provides respite from the heat in summer. You can rent a motor boat or paddle boat, take a lunch cruise or afternoon boat ride across the lake, or even just cycle around on the bike path. In the winter, there are many world-class ski resorts nearby.
As you stroll around Annecy, you'll quickly see how Annecy is a food lover's paradise. The narrow streets of the old city are packed with cheese and charcuterie shops, ice cream stands, bakeries, cafes, and even chocolate shops.
Where to Stay in Annecy
For an overnight stay, Atipik Hotel Annecy is in the perfect location. It's a small boutique hotel, some rooms have balconies, and a small breakfast is available. Read Trip Advisor reviews.
Dubrovnik, Croatia
The beautiful and historic seaside town of Dubrovnik, Croatia, is both charming and compelling. The old city wall still encircles the town and affords amazing views of the Adriatic at every turn and the medieval fortress landscape makes it feel as if you've journeyed back in time.
I guarantee – even if you've been all over Europe – you've never seen anything quite like Dubrovnik. It's one of the world's most magnificent walled cities, overlooking the calm blue sea with the most stunning views you'll ever see.
Dubrovnik really shines during the shoulder season, from April to June and September to November. It's possible to go out on a kayak around the walls of the city, or walk along the perimeter of the walls. Stop along the way for a cold drink and one of the most stunning views.
Wine is in abundance in Dubrovnik. Be sure to weave your way through the cobbled streets up to Malvasija Wine Bar to taste some of the unique wines. You can also day trip to a few great wineries on the Peljesac peninsula like Korta Katarina and Grgic Winery.
Where to Stay in Dubrovnik
The Hilton Imperial is a good choice, as well as Hotel Bellevue and Rixos Libertas (the latter two being a slightly longer walk to the old city, but with great views of the castle and city walls).
Lindau, Germany
Lindau is a small, charming Bavarian town in Germany, known for its old town located on an island in Lake Constance, which is connected to the main part of town by the Neue Seebrücke Bridge.
Lindau is on the eastern side of Lake Constance (also known as Bodensee in German). It's the third-largest lake in Europe and straddles three countries, making it a top holiday destination. The old town is especially charming, but the views out across the water really catapult it to the top.
Take some time to stroll around the picturesque lakeside town and harbour. In the busy summer months, you'll find the streets and plazas packed with people enjoying the weather. There are many shops and cafes to explore, plus the lion statue and lighthouse that guard the marina.
You can take a boat ride out on Lake Constance, you can stop for a wine and cheese tasting at Teresa Deufel Winery, and if you have extra time, visit the Zeppelin & Dornier Museum nearby.
Where to Stay in Lindau
There are two different options for accommodations in Lindau. One is to stay at a 5-star lakefront resort, like Hotel Bayerischer Hof, with an incredible view and sprawling grounds to explore. The other is to stay in right on the picturesque town harbour, like Hotel Adara – a boutique hotel and restaurant with well designed, comfortable rooms. Both are high class, very nice hotels.
Vaduz, Liechtenstein
Have you ever heard of Liechtenstein? Many people haven't, if only for the fact that it's a tiny country nestled in between Switzerland and Austria, so small that you probably never noticed it on the map before. But that doesn't preclude it from being one of the most charming cities to visit.
Perched high up in the mountain ranges of the Alps, this fairy-tale country that encompasses quite a bit of mountainous terrain, but it also has a lovely town center in Vaduz.
Your trip might include strolling through touristy shops, stopping at the Post Museum and the Kunstmuseum, going on a 35-minute Citytrain ride through town, wine tasting at the Prince's winery, and hiking up for a view of the castle, Schloss Vaduz, the official residence of the Prince of Liechtenstein.
Where to Stay in Liechtenstein
If you want to stay in the center of Vaduz, which is the easiest if you are Residence Hotel Vaduz. Just outside the city is the castle-like Hotel Oberland that fits your fairy tale dreams a bit better, with the views and architecture to boot.
Zermatt, Switzerland
Zermatt is a charming and cozy, car-free medieval village filled with sturdy, wooden chalets, high-end jewelry stores and souvenir shops. Breathe in the fresh, alpine air as you wander through the winding, cobblestone alleys that jut off from the Bahnhofstrasse, Zermatt's main street. This is the perfect little alpine village.
As pretty as this traditional Swiss village is, your eye will undoubtedly be drawn upward to the majestic peak of the Matterhorn, which soars up to 4,478 meters (14,692 feet) above the city. This peak, and the many others nearby are what make Zermatt a premiere winter destination.
Skiing is not the only way to spend a day or two in Zermatt. Take an excursion to the Glacier Grotto, the world's highest ice museum or ride the cable car to the top of the Klein Matternhorn to explore the unique glacial caves. Air Zermatt offers helicopter rides with stunning views of the Matterhorn and other nearby peaks.
The Alpine Museum in Zermatt details the history of mountaineering and skiing in the area. There are over 100 restaurants, many serving traditional regional dishes like raclette and fondue. More than 300 shops sell products ranging from Swiss army knives to cuckoo clocks, designer fashions, ski wear, and expensive jewelry.
Where to Stay in Zermatt
Located in the center of Zermatt, Backstage Boutique SPA Hotel offers gorgeous rooms with open fireplaces and private balconies. Hotel Ambassador Zermatt is another great choice with a fantastic location and balconies with panoramic views of the surrounding mountains, including the Matterhorn.
Bergen, Norway
Bergen is a small town on the western coast of Norway that attracts visitors with its immense beauty and proximity to incredible outdoor adventures. You'll be blown away by the beauty in this small town and just how easy it is to enjoy it.
Hopefully you love the outdoors, because a visit to Bergen always includes mountain hikes, a boat ride through the fjords, and walking in the city center. The historic old wharf is incredibly colorful with all its wooden houses and they're a big part of what makes Bergen a delightful city.
The name Bergen came from Bjørgvin or Bergvin in Old Norse. Bjorg or berg translates as 'mountains' and vin translates as a settlement in a meadowland. You'll quickly see that the name fits, because Bergen is very much a meadow in the mountains.
Check out our complete guide to Bergen, as well as how to put together your own Norway in a Nutshell tour to see other parts of Norway.
Where to Stay in Bergen
The Radisson Blu Royal Hotel is in a great location near the wooden houses. Housed in a historic building from 1876, Opus XVI, an Edvard Grieg Heritage Hotel, is a luxury hotel located in central Bergen featuring individually designed rooms and suites. Close to the waterfront market and tramway, the Thon Hotel Rosenkrantz is a great location with nice upscale rooms.
Split, Croatia
Split is Croatia's second largest city – after Zagreb – and the largest on the Adriatic coast. But it still remains one of the most charming and vibrant port cities, always buzzing and alive. It's an exuberant city with just the right mix of tradition and cosmopolitan attitudes.
With some of the most dramatic views, history, and culture in Croatia, Split is a fantastic destination for a long, relaxing vacation, or a short city break. One of the best ways to really immerse yourself in Split is through history and architecture. Pop into the historic Diocletian's palace complex to see the Cathedral of Saint Domnius and climb the tower. Browse through Split's open-air market and visit the Split City Museum.
There are many beaches, wineries, and historic sights to see outside the city as well, so also take advantage of all the day trips from Split.
Within a short distance from Split, there are natural wonders, caves, waterfalls, islands, and wineries to discover. You'll quickly find yourself falling in love with this place.
Where to Stay in Split
In the Old Town, you can't beat 4-star Cornaro Hotel with a rooftop terrace and bar. It's just a few steps from Diocletian's Palace. Just outside of the old town are many beachfront hotels for a more sun-filled, relaxing vacation. Amphora Hotel is a beachfront property with 3 swimming pools, a pool bar, sun loungers and umbrellas.
Alberobello, Italy
Alberobello is a town in Italy's Apulia region that is known for its trulli – the whitewashed stone houses with conical roofs that look like a charming little mushroom village. It's almost hard to believe this place is real. Walking around on the cobblestone streets that weave through the rows of trulli is a real treat.
The small town has a kind of charm you really can't find anywhere else, making it a special and incredibly memorable trip. Nearby are tons of wineries to visit.
The Rione Monti quarter in the 'trulli zone' is where tourists should start their journey. This area contains over 1,000 trulli, which are mostly filled with tourist shops, bars, restaurants, and tourist accommodations these days.
Spend some time strolling around the streets, popping into tiny shops to buy souveniers or an ice cream, tuck into the basement of a traditional restaurant like Il Ristorante La Cantina, or hike up the hill a little to Il Pinnacolo Restaurant where you can sit on the back terrace overlookign the trulli.
Where to Stay in Alberobello
To stay inside the trulli zone in a typical trullo, Tipico Resort is a good choice with a fantastic location. If you want a countryside experience, Masseria Rosa Trulli is a great option, just outside the historic city of Alberobello. They have both traditional Trulli rooms and stone houses.
Tossa de Mar, Spain
The town of Tossa has one of the most well-preserved old cities in the area, with a fully-intact city wall that you can walk all the way around. Tossa also has a gorgeous sandy beach, dozens of restaurants and bars all throughout the narrow cobble-stone streets, and the towering view of the old city on the hillside overlooking the beach.
It's a bit of a windy road you'll need to drive to reach Tossa de Mar from the other towns in the Costa Brava, due to the surrounding hills, but once you're there, you'll surely fall in love with it.
Tossa is an upscale beach town, with plenty of beachfront space to enjoy and relax in the summer, lots of bars and restaurants, and a few historical sights you must check out. Tossa even has a Hollywood connection, as the movie Pandora and the Flying Dutchman, starring Ava Gardner and James Mason, was filmed there in 1951, bringing with it an influx of tourists.
Where to Stay in Tossa de Mar
The 4-star Hotel Delfín – right next to the beach – has great views, a lovely pool area, and large comfortable air-conditioned rooms. The Boutique Hotel Casa Granados is in a restored 19th-century mansion surrounded by gardens, with a pool, also near the beach.
Sevilla, Spain
Located in Andalucia in southern Spain, Seville is well known as a food-loving city; in fact, there are more than 3,000 tapas bars in Seville. When you visit Sevilla, you must embrace the tradition and do a tapas crawl.
I love tapas crawling in Seville because it marries all the things I love best about traveling — cultural immersion, tasting local foods and drinking great beer and wine. Plus, it fits perfectly into your schedule as a mid-day refueling or evening meal. Book a Sevilla Tapas Crawl tour to have a local show you the best places to go.
The Sevilla Cathedral is the 3rd largest Cathedral in the world and it's very much worth a tour, but be sure to buy your tickets in advance. The Real Alcázar is the oldest royal palace in Europe, wher the King still lives. The interior decorations are beautiful (again, get tickets well in advance). The world famous Plaza de España is an outstanding architectural wonder, as well.
Where to Stay in Sevilla
For location and a high standard, you can't beat the Hotel Colón Gran Meliá. It's right in the old town with shopping and restaurants all around. For something a bit more low-key, Hotel Posada de Lucero is a good choice, about .5 miles from the old town center.
Anghiari, Italy
Anghiari is a hill town and municipality in the Province of Arezzo, Tuscany, Italy. It embodies all that is so amazing about these small towns in Italy that feel like fortresses on top of the mountain, with winding cobbled streets and narrow alleys. You truly feel like you're in a different world when you're there.
There are some lovely lived in streets in the old town to explore and it offers superb views of the surrounding Tuscan countryside.
This little town is exactly what you'd except from Tuscany: unbelievably good food, historic town walls, breath-taking churches, and friendly people.
Albufeira, Portugal
Albufeira is an excellent vacation spot. Here, you can relax on the white sandy shores, explore the glistening waters, and enjoy the buzzing nightlife.
Spend the first day settling in and exploring the Albufeira Old Town. There are a few lovely restaurants here offering an exquisite culinary experience.
Fun outdoor experiences to partake in on your second day include exploring the famous Benagil Sea Caves, swimming, and dolphin watching on a boat tour. There are also several beautiful beaches for a relaxing outing, including Beach Falesia Acoteias, Praia da Rocha Baixinha, and Playa de Oura.
If you're an adventure enthusiast looking for a thrill on land, enjoy an off-road quad bike tour to see the area's stunning landscapes.
Granada, Spain
The centuries of Iberian, Roman, and Muslim influences are woven into the architecture and culture that makes Granada so unique. You won't want to miss a tour of the Alhambra, a Moorish fortress, and the picturesque Generalife Palace Gardens.
During the afternoon, be sure to stop by one of the many bars where your only task is to order a drink, which will come with a tapa. Or visit one of the many tea houses in the Albayzín neighborhood to get an authentic taste of Granada's culture.
You'll also want to take a stroll through the cobblestoned streets, and admire the Renaissance, Baroque, and Neoclassical churches, convents, monasteries, hospitals, palaces, and mansions.
San Sebastian, Spain
San Sebastian is one of the most beautiful coastal cities in Spain. The crescent-shaped La Concha beach, with its fine white sand and clear turquoise waters, is one of its top attractions, alongside its incredible pintxos crawl, which will have you trying solomillo, Basque cheesecake, foie gras, and txuleton steak.
To get an unmatched view of the city, head up Monte Igueldo on the funicular and take in panoramic views from the lookout point or the El Torreón tower.
Wander through the city's Old Town, where you'll find the ornate Basilica of Santa María del Coro and the San Telmo Museum. If it's cider season (Jan-March) make a reservation at a sideria (Petritegi is a great choice) for a full cider house experience.
Normandy, France
Would you like to let the fresh mountain breeze lull you to sleep, and the chirping birds wake you up in the morning? Would you like to be one with nature, away from the bustling city crowd?
Then, staying in a tree house is the most suitable option for you. Whether you are looking for a charming tree house that hangs over a waterfall or one that provides a 360-degree panorama of the countryside, you will find your match in Normandy, France.
You can also go swimming, horseback riding, and trekking while on a tree house holiday. Afraid of heights? You can try glamping (glamor camping) instead. Glamping allows you to enjoy all the comforts and amenities of your home while being one with nature.
Normandy boasts of verdant landscapes, fascinating traditions, and all the charms of a quintessential French countryside.
Lille, France
The beautiful French city of Lille is located in the north of France, near the Belgium border. It's the capital of the Hauts-de-France region and a cultural hub with lots of museums and architecture to gawk at. It's also a bustling university city.
Lille has lots to offer, with Gothic churches, a gorgeous historic old town, called Vieux Lille, with lovely 17th-century brick town houses, cobbled pedestrian streets and a large central square, the Grand Place.
One great reason to visit, especially for art lovers is that Lille has the largest fine-arts museum in France after the Louvre. The food has a strong Flemish influence, so you'll want to tuck into some moules frites and Carbonade Flamande while you're there.
Chamonix, France
Due to its proximity to the main attraction, Chamonix is always bustling. From here you can take the cable car up the mountain, Aiguille du Midi, to the summit terrace at 12,600ft elevation. From there, you can see all around the mountain peaks of the French, Swiss and Italian alps.
Take a tour of the town, walk around and enjoy the scenery. There's great shopping in town, especially for activewear and winter ski gear.
Take the cable car up Aiguille du Midi, where you can go on hikes in the summer and ski in the winter. There is also a viewing platform experience called Step Into the Void – a glass box that hangs over the precipice. Walk through The Pipe to circle all the way around the Aiguille du Midi peak.
Riquewihr, France
Riquewihr is a town on the Alsace Wine Route in eastern France. Its cobbled streets are dotted with half-timbered winemakers' shops and tasting rooms. It's truly one of the most charming small towns in Europe, along with its neighbors, Hunawihr and Colmar.
Riquewihr is a medieval town in the heart of the Alsatian vineyards, between the peaks of the Vosges mountains and the Plain of Alsace. It's often included in lists of the most beautiful villages in France.
It has managed to preserve its authentic character behind its old city walls. You can stroll around the town admiring the architecture, the history, and the welcoming feel of the city in spring.
Hallstatt, Austria
Hallstatt is a village on Lake Hallstatt's western shore in Austria's mountainous Salzkammergut region. Its 16th-century Alpine houses and alleyways are home to cafes and shops.
A funicular railway connects to Salzwelten, an ancient salt mine with a subterranean salt lake, and to Skywalk Hallstatt viewing platform.
Bruges, Belgium
Bruges, the capital of West Flanders in northwest Belgium, is distinguished by its canals, cobbled streets and medieval buildings.
A timeless spectacle, Bruges is a charming city full of medieval flavour. Its architectural treasures lure the eye, revealing a city of rich history. Serene canals and tight cobbled streets seize your imagination, enticing you to explore more and more.
Sometimes referred to as 'The Venice of the North', Bruges is a myriad of canal networks. Originally an important trade route, nowadays the canals are used solely for tourism and are a great way of seeing the town from a different perspective.
CONCLUSION
As you can see, there are many charming towns and cities throughout Europe that have a personality you're going to love. These are just a few of our favorites, but we know you will love them as much as we did. They won't let you down.
Like this post? Why not save it to Pinterest?
FOLLOW US on Pinterest, Instagram, Facebook for more great travel inspiration and tips.
Planning for Europe? Here's more…
Quick. Check these necessities off your prep list!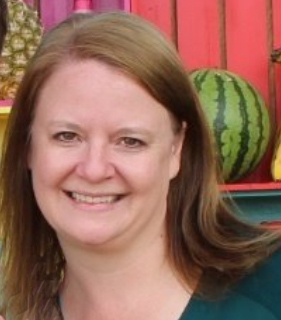 Laura Lynch, creator and writer of Savored Journeys, is an avid world traveler, certified wine expert, and international food specialist. She has written about travel and food for over 20 years and has visited over 75 countries. Her work has been published in numerous guidebooks, websites, and magazines.