If you're looking for a hard-sided suitcase that's also lightweight and easy to roll along any surface, you can stop looking now, because the Chester luggage hard-sided cases are a travelers dream.  I've use a lot of luggage over my 25 years of traveling, and I know how difficult it is to find one that lives up to expectations.
It get scratched easily on airplanes, the wheels get damaged quickly, the zippers fall apart, and the zipper pulls fall off. It's difficult finding a great piece of luggage, where these mishaps aren't the norm. I've been traveling with my Chester Minima carry on suitcase for over a year now and it still looks nearly new, despite hours of travel logged.
That's because of its unique features and strong construction. You can rely on this suitcase, and that's all we travelers are looking for. We're going to show you below just why we think Chester luggage is the best hard-sided luggage available and we'll even give you a 10% off coupon if you decide it's right for you too!
While you're looking for luggage, you might also want to read these:
Chester Hard Sided Suitcase Review
You may not have heard of the Chester brand. It's relatively new, but they are giving the old stalwart brands a run for their money. Their concept is to provide the strongest, sleekest materials in luggage at a lower price point than the competitors.
This means you get the very best product, and you spend less while doing it. I was pretty excited to try out the Chester Minima carry-on suitcase when it first came out, because it has some really great features. It's really lightweight at just 7 pounds, it's an airline-approved carry on size at 21.5" x 13.5" x 8.5″, and it has 360 degree spinner wheels.
Four features that every traveler can appreciate. They have now added the Chester Regula Checked Spinner Suitcase to their lineup, so you have even more choices. The Regula offers the same great features as the Minima, only bigger. It weighs 9.5lbs with dimensions: 11" x 18" x 26″.
Military-Grade Material
The suitcase's durable polycarbonate hard shell doesn't just look sleek and stylish – it's also incredibly durable and water-resistant.What this means:
It won't scratch easily
It won't bend or break if mishandled at the airport
Your stuff won't get wet if it's raining when you arrive
It's got a beautiful, sleek design
High quality zippers that won't break
Effortless Glide
One of the biggest struggles with luggage is pulling it behind you on rough streets. The Chester suitcase takes care of that by including 360-degree, multi-directional double spinner wheels.
They are super quiet too, so the whole world won't hear you coming. It also has a 100% aluminum telescoping ergonomic handle with two lock positions for ultimate control and maneuverability. What this means:
You can push it instead of pull it
Your shoulders will thank you
It glides very easily along any flat surface and it's too difficult to push even on rocky or uneven terrain
You can switch directions quickly and the suitcase will follow suit
The height of the handle will work for you, no matter how tall or short you are
Stylish Design
Design shouldn't be your top priority when looking for the best suitcase, but it does play a part! The Chester suitcases come in unique colors, like Ocean Blue, Charcoal Grey, Pink and Sand, so they stand out on the luggage belt, but in a good way!
You can tell just by looking at it that a lot of thought was put into the design. Its sleek lines make it beautiful, but you can also tell just by touch that it was made with high quality materials. What this means:
It looks good
It feels good
It's built to last
You won't mind pulling it around – it's a bit like a fashion accessory for travelers
Easy Packing & Security
I really like the interior structure of this suitcase. It holds a lot more than you imagine when looking at it. The interior is divided into two compartments with zippers to hold everything in.
The inner flaps both have zippered pockets for organization and storage of smaller items. The suitcase also has a locking mechanism, so your belonging are always kept safe. What this means:
You can easily pack 3-5 days worth of clothes and accessories inside
You can keep your electronics and small stuff separate from your clothing
It's a TSA-approved lock
Includes a convenient laundry pouch
Sturdy handles on top and side
Shop for Chester Luggage
Can it Fit in the Overhead Bin?
If you're looking for a carry-on sized hard-sided suitcase, the Chester Minima fits the bill. Its measurements are 21.5" x 13.5" x 8.5″, which is good for almost all International airlines.
There are a few airlines where this bag won't fit into the sizer (Ryanair, EasyJet), but those are typically the European budget airlines. Be sure to check the airline restrictions before flying.
Despite the small size of the Minima, it still has a 38-liter capacity, which is really fairly large. I can easily pack for 5-7 days in the Chester luggage, but I'm a light packer. Your own results will vary depending on what you need to pack.
I tend to put my clothing in a packing cube on the left side, and my shoes and toiletries on the right. It fits well. Just don't overpack the back, or you won't get the dividers zipped up.
Top Features of the Chester Luggage
One of the best features for me is the 360-degree spinner wheels. I've never had a suitcase that was so easy to push and navigate around the airport.
The bag also comes with a 10-year limited warranty that covers cracks or breaks in the shell, wheels, handles, or telescoping handles that break off and are no longer usable, zippers that can no longer be opened or closed.
The exterior is easy to clean, so even if it does get a little dirty during travel, it's just a quick rub down to get it back into shape.
They offer a 100-day trial and free returns, just in case you find that it doesn't suit your needs. It's highly unlikely you'll need to take advantage of this. The Chester suitcase has 190 positive customer reviews.
Speaking of Styles…
As mentioned, Chester comes in two different sizes. There's the smaller carry-on Minima and the larger 26″ Regula. I have both sizes because I like to have a carry-on for shorter trips and a larger checked bag for longer trips.
The two suitcases are exactly the same except for size, which makes packing a breeze because I can always put the same things in the same places. Along with sizes, there are many colors to choose from. The Ocean Blue is very popular, but you can also choose navy blue, two different colors of grey, pink, sand, etc.
You can use our promo code at check out for 10% off your purchase: SAVORED10
Shop for Chester Luggage
Final Thoughts About Chester Luggage
These Chester suitcases are the best hardsided luggage I've come across so far. They've replaced all the other suitcases in my travel arsenal. I now only use these or my travel backpacks. I'm sure you'll find them just a great and reliable as we do.
If you're interested in learning more about the Chester luggage, or purchasing one for yourself, head here for more info!
YOU MIGHT ALSO LIKE
(I was given these suitcases by Chester for the purposes of this review. All thoughts and opinions express are entirely my own.)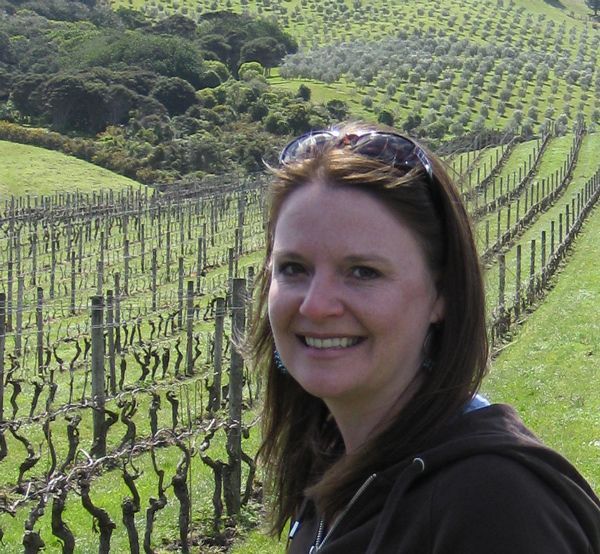 Laura Lynch, creator and writer of Savored Journeys, is an avid world traveler, certified wine expert, and international food specialist. She has written about travel and food for over 20 years and has visited 70+ countries.