Bangkok is an incredible city, full of historical sights, vibrant night life, and some of the best street food you've ever eaten. Be prepared for lots of people, lots of traffic, hot days, and cheap food! It's one of our favorite cities in Southeast Asia and definitely worth a visit.
If you're planning a trip to Bangkok, this one-stop travel guide to Bangkok will surely come in handy for you. It covers our favorite hotels, neighborhoods, things to do, and places to eat and drink in Bangkok.
Bangkok (or Krung Thep in Thai which means "city of angels") is an exciting, high energy melting pot of east meets west. A dynamic city that has embraced technology and modern living with its busy expressways, bold skyscrapers and designer-filled shopping malls.
Yet underneath it all, it remains a traditional haven of culture, history and time-honored customs, where elders are respected and family always comes first.
Heading to Thailand? Read about the floating markets of Bangkok and see our Essential Travel Guide to Bangkok. You can pack out your itinerary with these great things to do in Bangkok.
When to Visit
Thailand has a tropical climate with an annual average temperature of around 75 to 92 degrees F, so pack light clothing for your trip. Natural fibers are often more comfortable when you're walking and touring in hot weather. Practically everywhere you go in Bangkok you'll find you some relief from the heat, with blasts of icy cold air conditioning in shops and hotels.
March to May is the hottest time, with the highest temperatures and humidity. June to October is monsoon season, so remember to take an umbrella. Bear in mind that the monsoon season varies throughout the country and can affect the weather you experience. November to February is cooler and less humid.
What to Do in Bangkok
With so many things to do in this huge city, you're going to need to make some decisions. We like to get an overview of the temples and monuments before launching a bit deeper into exploring different neighborhoods and eating our way through the street food areas.
The Grand Palace is the number one attraction in Bangkok. Since the founding of Bangkok as the Nations capital by King Rama I, The Grand Palace has been the major architectural symbol of The Thai Royal Family. The Royal Family now resides at Chitralada Palace while The Grand Palace is used for ceremonial purposes.
We highly recommend the Jim Thompson House for a peek into a traditional Thai wooden house. This exquisite Thai house and buildings stand as a museum to the man who revived the Thai silk industry after the Second World War.
Khao San Road is famous for its international diversity marrying east and west, if not solely for the funky hippy charm and somewhat diluted sense of reality you may feel yourself walking into.
Make sure to also explore the stretches of Sukhumvit Road for a more downtown Bangkok feel teeming with clubs and restaurants.
Vimanmek Mansion Museum is the world's largest golden teak building located in the compound of the Dusit Palace on Ratchawithi Road. The three-storey royal mansion has 81 rooms, halls and ante-chambers containing unique memorabilia.
Tours to Book
One of the best ways to experience the most in Bangkok is to book tours, because a guide will be able to show you around better than you can do on your own.
If you have time, be sure to add a food tour of Chinatown, the floating markets, and book a cooking class to learn how to make some of your favorite traditional Thai dishes.
Here are a few of our favorite tours in Bangkok:
If you'd rather, book a private tour guide to take you around to the sights you really want to see
Temples
Bangkok boasts the outstanding monuments of country's past. Bangkok's best temples include:
Wat Trimitr with its five and a half ton solid gold Buddha
Wat Po with its huge reclining Buddha – the first traditional massage school in Thailand, (massages are avalable.)
Wat Banjamaborpitr – the White Marble Temple – one of Bangkok's most beautiful temples with impressive Thai architecture.
Wat Phra Kaew, which contains the legendary Emerald Buddha – a solid jade figurine donning pure gold robes that are changed by the King with the seasons
How to Get Around in Bangkok
There are two types of the Mass Transit in Bangkok, the BTS SkyTrain service and the Mass Rapid Transit (MRT) Subway service. They have a simple map that you can understand easily. It's clean and safe and a great way to get around the city.
BTS sky trains ply along Sukhumvit, Silom and Phahonyothin roads. The routes connect Bangkok's leading hotels and major shopping areas such as Siam Square, Silom, Ratchaprasong and Chatuchak Weekend Market.
Tuk Tuks are also available to tourists as a way to get around. You can ask them to take you to anywhere in Bangkok area. The most distinct advantage of using Tuk Tuk is the price is really cheap and you can negotiate the fare before you decide to take it. The first rule of thumb of using Tuk Tuk is you MUST negotiate a price and you can usual get them to come down by 50 – 100 Baht less that what the driver offers.
Taxis are always an option if you don't mind spending more money. The distance and fare is automatically calculated by electronic meter so you do not have to ask for a fare quote or make negotiations. All you have to do is know the name of destination and tell the driver.
Where to Stay in Bangkok
Some of my favorite places in Bangkok are along the riverside. It's a very convenient area for getting around and there are fantastic hotels in that area. Siam is the most central location for tourists looking to do the main tourist activities.
Sukhumvit has a more local feel and is closer to some of the street food destinations for dinner. It's relatively safe and quiet with lots of restaurants, nightlife, and shopping right at your fingertips, and it's easy to get to and from the airport with a lot of traffic.
We recommend the following hotels in Bangkok:
Chatrium Hotel Riverside
4.5-star luxury hotel on the river, with 5 restaurants and a full spa, plus free wifi.
Siam Kempinski
5-star hotel with a spa, located near the Siam Paragon Mall, incredibly great for walking.
Sheraton Grand Sukhumvit
Very nice 5-star luxury hotel with 7 restaurants, in Sukhumvit. Close to easy transit.
Essential Travel Guide to Bangkok
Like this post? Why not save it to Pinterest?
FOLLOW US on Pinterest, Instagram, Facebook for more great travel inspiration and tips.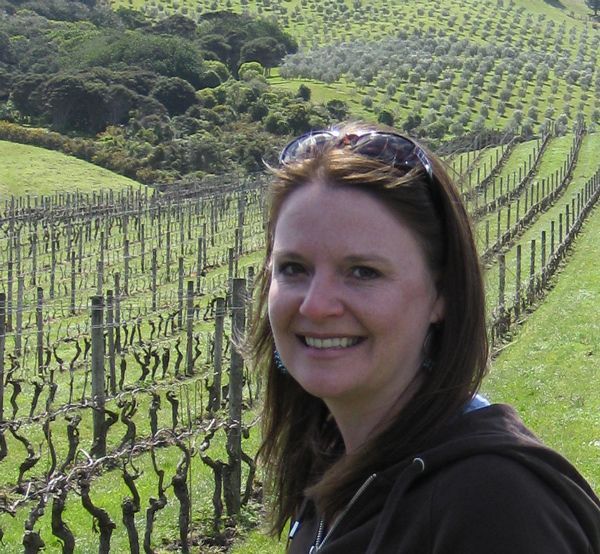 Laura Lynch, creator and writer of Savored Journeys, is an avid world traveler, certified wine expert, and international food specialist. She has written about travel and food for over 20 years and has visited over 75 countries.