The Colchagua Valley Wine Region is home to some of Chile's most famous and premium wines, and it's one of the most beautiful vineyard regions to visit. Any wine lover would be in heaven there.
The best part of a Colchagua Valley wine tour is the diversity of the wineries, from palatial modern architecture at Lapostelle to the charming boutique tasting room of Laura Hartwig.
Make sure to save time for a winery lunch, which can be over-the-top indulgent or relaxed traditional Chilean cooking.
Since the Colchagua Valley is only just over 100 miles from Santiago, even a day trip to the region is doable, but with so many fantastic wineries to visit (many of which have multiple activities to participate in), we recommend making it a 2-3 day trip, instead.
The valley is particularly well known for bold, full-bodied Cabernet, Carménère, Syrah, and Malbec. You'll have a chance to taste these wines in the tasting rooms and wineries that feel so passionate about their wines.
Below, we list our favorite wineries and experiences in the region.
⇒ Interested in a pre-planned tour to the Colchagua wineries from Santiago? Here's one we recommend that visits a three wineries: Lapostolle, Montes, and Apaltagua wineries – with a possibility to have lunch at Lapostolle, which you cannot miss!
Planning a Self-Guided Colchagua Valley Wine Tour
All wineries in the area require advanced reservations, but it's easy to arrange everything yourself via email or online forms and the roads are well marked, so driving from place to place is not a problem. Just be careful not to over indulge.
You'll need around three days to make it to the best wineries and experience the local cuisine without feeling rushed. Here's why:
Often, a visit includes a tour and wine tasting, but you can add other experiences like blending your own wine and long lunches, so be sure not to rush!
The wineries are spread throughout the region, so it may take an hour to get between them. Take that into account when deciding on tour times.
We found we needed to add an extra 30-60 minutes between wineries than we had originally expected.
Sometimes tours take longer than advertised or directions aren't perfect and you miss a turn. If you miss a scheduled tour, there's not much option for rescheduling.
Winery lunches can take much longer than expected. You'll want to relax and enjoy the experience rather than jetting off to the next winery.
To make the most of your time, do shorter tours in the morning and book a late lunch. You'll likely be ready for a siesta after lunch. Or you can fit in another visit before closing.
Below are our favorite Colchagua Valley wineries to visit. Each one has unique experiences and great wine.
Lapostolle Clos Apalta Winery
One of the most beautiful vineyards in Chile, Lapostolle's Clos Apalta Winery is set atop on a hill overlooking the Apalta Valley. You can't see the winery's intriguing architecture until you've driven all the way down the long lane, but once you spot it, you'll be amazed.
The structure of both the exterior and interior is worth the visit alone. The tour gives an extensive look at the building and the techniques used to produce one of the top wines produced in Chile.
After the tour, we highly recommend sticking around for their four-course lunch paired with their wines. In nice weather, you'll sit outside just beyond the vines and be served your own bottle of each of the wines.
The tour takes a little more than an hour, during which you'll be introduced to the winemaking techniques used at Lapostolle and shown around the fascinating facility, including the stunning barrel room where you'll be treated to tasting of Lapostolle wines served on the canoe shaped glass bar that sits upon an underground cellar.
The standard tasting and tour is costs $20.000 Chilean pesos (~$27 USD). If you stay for lunch, expect to spend at least 3 hours. A tour plus lunch with the Casa line of wines is $50.000 (~$66 USD). The price goes up from there for higher levels of wine. It's an exceptional value, especially if you get to take home whatever wine you didn't drink at lunch.
For more information, quotes and reservations, contact: info@lapostolle.com Tel. +56-72 2953 300 or sign up for a visit using their online form.
Open every day. Tour duration: 1.5 hours
Montgras Winery
Our favorite winery experience in Chile was at Montgras. We arrived early for our tour and were treated to a glass of wine and cheeses to enjoy while we waited. The hospitality was unsurpassed.
Near the winery, they grow a row or two of many different varietals of grapes that you'll taste on the tour (a good reason to go during harvest season), to get an idea how the grape itself tastes.
They offer a variety of experiences including a blind tasting, blending your own wine, and tastings with food pairings. We signed up for the blending class and had such a great time mixing up our own blends. You'll take home your newly blended bottle of wine, plus an apron as a gift.
Hours: 10am-6pm during the week and 10-4:30 on the weekends and some holidays. There are four tours daily, Monday to Friday, and three on Saturdays and Sundays. (Closed Sunday during winter). Duration: 1.5 hours
The cost of a tour, tasting and food pairing is $15.000 Chilean pesos. For more information, quotes and reservations, contact: tours@montgras.cl Tel. +56 (72) 822 – 845, or fill out their online form.
Montes Wines
One of the biggest wineries in the area, a visit to Montes is a must. They offer a lot of choices for enjoying the panaramic views of the valley and vineyard and partaking in their award winning wines and the location is breathtaking. We wanted to sit outside on their patio overlooking the beautiful vines for hours.
Take a horse-drawn carriage ride through the vineyard, sampling grapes from the vines when in season, sample the latest releases, visit the barrel room and souvenir shop, then enjoy a leisurely lunch at Bistro Alfredo. The Alpha wines are very good, but make sure you try their Outer Limits label as well. It was a favorite for us and one we can't get back home.
Tours of the vineyards, winery and a tasting of 4 wines last 1 hour 15 minutes. You can choose between "by the glass", "high end" and "premium. The cost starts at $12.000 Chilean pesos (~$20 USD). Tours take place at 11am, 1pm and 4pm every day.
For more information about tours and tastings, and to make reservations, contact: lafinca@monteswines.com Tel. (56-72) 2817815
You can also choose to have lunch at their restaurant, a Francis Mallman kitchen, Fuegos de Apalta. To make reservations, email: reservas@fuegosdeapalta.com
Laura Hartwig Premium Wines
Located in a small, rustic building hidden amongst the vineyards, Laura Hartwig winery offers a tour and tasting experience with a more personal touch, which is appreciated after visiting some of the larger facilities. You get a sense of pride in what they do and the quality of their product.
You can take a private or premium tour of the facilities, which sometimes includes a carriage ride through the vineyards, weather permitting, or just enjoy an in-store tasting of a few of their reserve wines.
The Reserve tour includes a guided tour around the winery and a tasting of two reserve wines for $12.000 Chilean pesos (~$16 USD). The Premium tour includes 3 wines for $16.000 (~$21 USD) If you just want to taste their wines at the bar without a tour, expect to pay around $1.000 ($1.50 USD) per glass or $2.000 ($3 USD) for reserve wines.
In the summer, they are open Monday to Sunday from 09:30 a.m. to 19:30 p.m, and 9:00-19:00 in the winter. Make reservations at least 48 hours in advance. For more information, quotes and reservations, contact: info@laurahartwig.cl Tel: + 56 (72) 823179
Viu Manent
The experience at Viu Manent is unique. They were recently commended for their visitor center and food and wine tasting experiences and it's no secret why they were chosen for that award.
Think of anything you might want to do at a winery and they offer it, from typical tours, to participating in harvest, to horseback and pony rides to education and cooking classes, Viu Manent is like Disneyland for wine lovers.
Three generations of the Viu family have participated in the cultivation of the winery since 1935 and it shows in their world-class wines.
Visit Viu Manent's restaurant, Rayuela Wine & Grill, for a relaxed lunch with an incredible view of the Apalta. They are open every day and offer four scheduled tours that last just over a hour.
For more information, quotes and reservations, contact: turismo@viumanent.cl Tel +56 2 2840 3180
Neyen
The Neyen winery was founded in 2002 on the site of one of Apalta's first wineries, built in 1890. A tour at Neyen is a trip back in time. While the wine-making facilities are quite modern, the tour takes you through the estates more than century-old vines and culminates in the cellar built in 1890, where you'll try their Carmenére and Cabernet Sauvignon blend, a premium wine released in small quantities.
You'll be mesmerized by the scenery as the winery and vines are surrounded by mountains and are extremely well cared for. Another thing that makes Neyen a unique experience is the evening wine tour — an opportunity to tour the vineyard at night and take in the spirit of the area at dusk.
Tours take about an hour and are offered Monday through Sunday between 10:00am and 4:00pm and cost $20,000 Chilean Pesos per person ($40 USD). The evening tour is offered at 5pm during winter and 8pm in summer and costs $30.000 pesos ($60 USD).
Neyen also has a full-day horseback riding experience. Reservations must be made at least a day in advance. For more information, quotes and reservations, contact: tours@neyen.cl Tel. +56- 32 – 2329999
Vina Estampa
Vina Estampa Winery is housed in a modern facility, surrounded by vineyards and beautiful grounds. One of the few wineries in the area where you can just drop in for a tasting instead of taking the tour, it's a great addition to your schedule when you don't have enough time for a 2-hour visit.
If you do wish to take the tour, you'll get the opportunity to sample the grapes from the vines, compare the leaves and growing conditions of many different varietals before taking a closer look at the facilities for winemaking and tasting wines from their different tiers.
There isn't a restaurant on premises, but you can bring along a picnic to enjoy on the grounds. They also offer the opportunity to make your own blend of their wines.
The winery tour, including a range of wines to taste, is $12.000 Chilean pesos ($21 USD), or you can opt to do a tasting without the tour for $7.000 Chilean pesos ($12.50 USD). They are open every day from November to April and Tuesday – Saturday from May through October from 9:30am – 5pm. Four tours are given each day at 10:30am, 12:30pm, 3:00pm and 5:00pm. Reserve at least 24 hours in advance.
For more information, quotes and reservations, contact: turismo@estampa.com Tel. (+56 2) 2202 7000
Vina Casa Silva
If you're looking for a relaxed place to stay where you can also enjoy delicious wines and the on-premise restaurant, look no further than Vina Casa Silva. The colonial architecture is a perfect addition to the surrounding beauty to give you an exceptional Chilean experience.
The restaurant and wine bar serve up traditional Chilean cuisine to pair with their wines. After taking a tour of the facility, stay for a wine lunch on the porch overlooking the polo field.
The winery is open every day from 10:00 am to 6:00 pm. Tours take about an hour and include a visit to the winery, vineyards and hotel, and a sampling of three wines in the tasting room. You may also enjoy wines by the glass at the restaurant. Be sure to make a reservation in advance to ensure a time and preferred language.
For more information, quotes and reservations, contact: tours@casasilva.cl Tel. (56 72) 2913117
CONCLUSION
The Colchagua Valley Wine Region will charm you from the second you arrive in town. It's vast, but welcoming, and the wine is outstanding. Plan your trip to day!
Like this post? Why not pin it to your Pinterest board?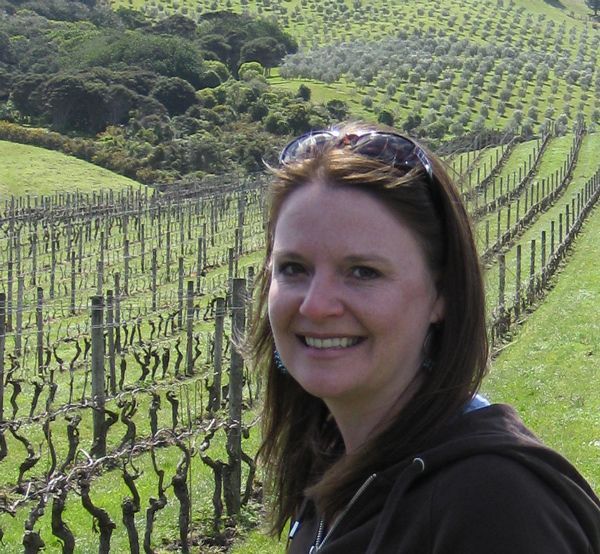 Laura Lynch, creator and writer of Savored Journeys, is an avid world traveler, certified wine expert, and international food specialist. She has written about travel and food for over 20 years and has visited 70+ countries.