Colombia is one of the most bio-diverse countries in the world. But it also has a diverse culture and history. This South American country is the perfect destination for visitors who want to experience a unique blend of traditional and modern cultures, as well as explore some of the most beautiful landscapes in the world.
One of the main reasons visitors go to Colombia is for its vibrant culture. Although it has a storied past, the future is looking bright and it's drawing in tourists who want to discover its burgeoning appeal. From the lively and colorful streets of Cartagena to the bustling nightlife in Bogotá, and the coffee culture in Medellin, there's a lot of explore.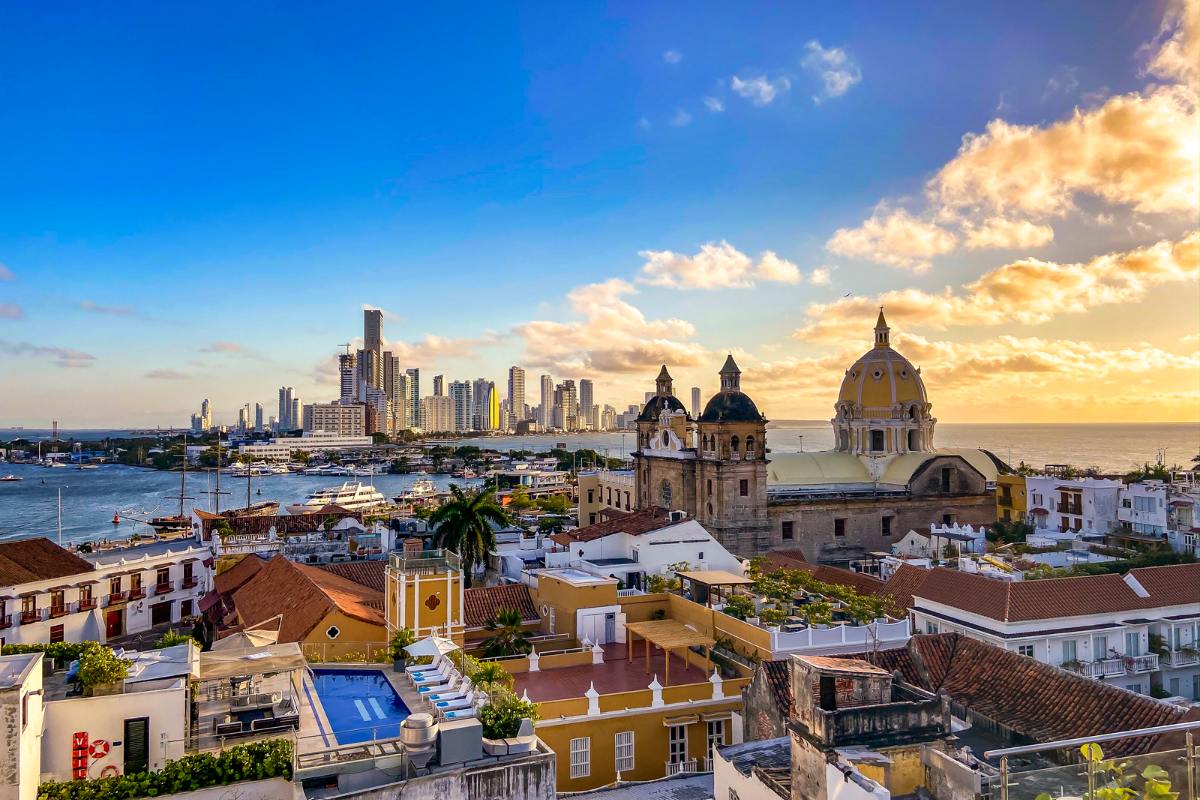 The country's rich history can be seen in its many colonial-era cities and archaeological sites. Colombia is also home to a number of indigenous communities, each with its own unique traditions and customs.
If you're planning a trip to Colombia and looking for the best way to spend seven days exploring the gateway to South America, then this 7-day Colombia itinerary will be helpful for you. In these places, you can truly experience the country's fascinating culture, history, and magical landscape.
Pair this perfect 7-day Colombia itinerary with our Colombia travel guide to help you plan for your trip. You'll get amazing travel tips, like the best places to stay, when to visit, and what to do during your vacation.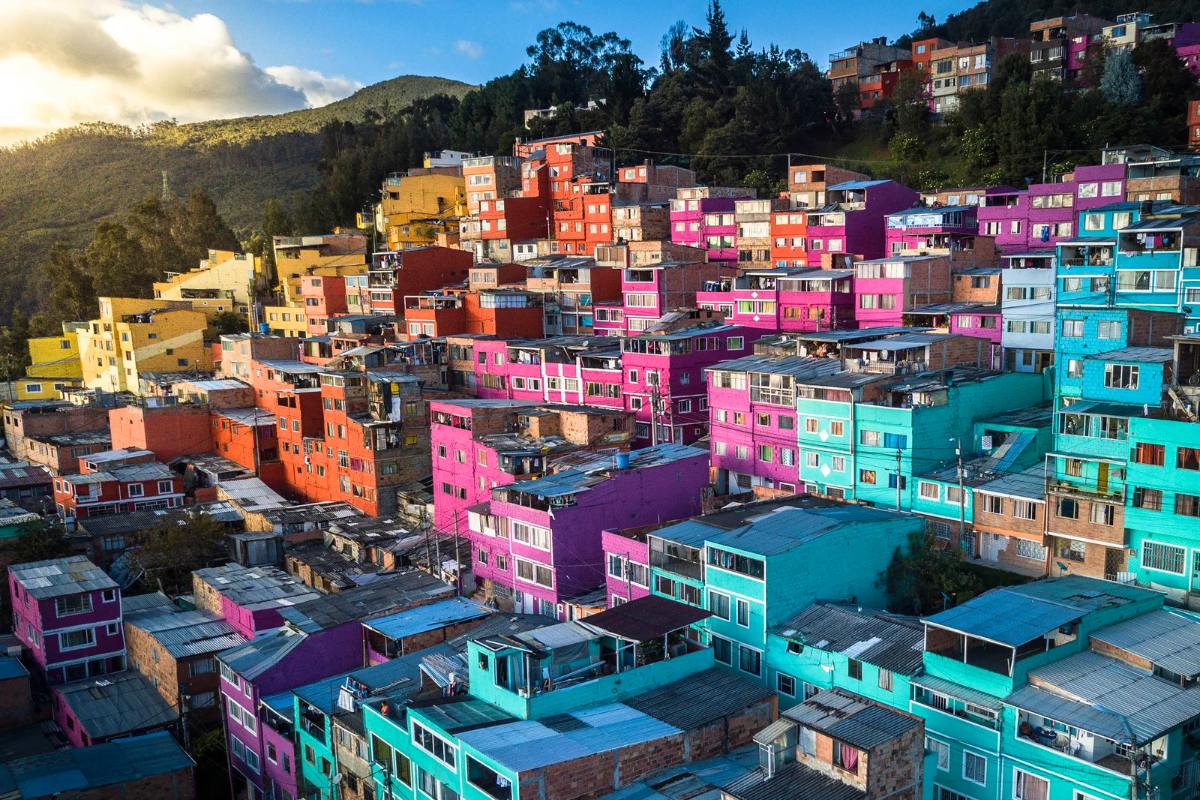 The Perfect 7 Days in Colombia Itinerary
We all know that one week in Colombia is no where near enough to see all the attractions and do all the activities this tropical paradise has to offer. Hopefully you're prepared to have to pick and choose what you see in order to fit in your preferred activities.
This is a "loose itinerary" consisting of top attractions and the most famous landmarks that all Colombia itineraries ought to have. There is obviously a lot of travel logistics that have to be factored in here. You can't just hop from one spot to the next without burning at least half a day in transit, unfortunately.
However, if you're able to find good flights (either morning or evening fights are best to maximize your time), then you can fit in quite a bit. Rather than decide for you how many places you can or want to get to in your 7 days, we're listing all the possible places you might want to visit, and you can make the choice of how long to stay at each.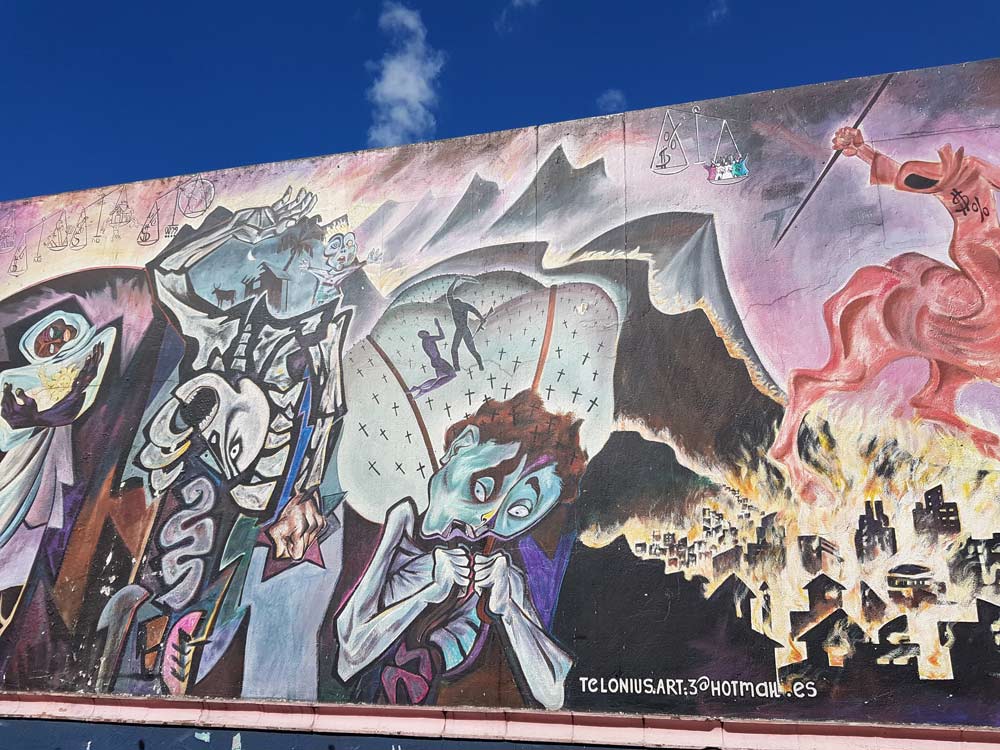 How to Get to Bogota, Colombia
I suggest starting in Bogota because of how easy it is to get there from wherever you're starting out.
The easiest and most convenient way to get to Bogotá is by plane. The city is served by El Dorado International Airport, which is one of the busiest airports in Latin America. Many major airlines offer direct flights to Bogotá from cities around the world, including New York, Miami, Madrid, and Buenos Aires.
If you're already in Colombia, you can reach Bogotá by bus from other cities. There are several bus companies that offer regular routes to Bogotá from destinations like Medellín, Cali, and Cartagena. Buses are generally comfortable and affordable, but travel times can be long.
Where to Start: Bogotá
What better place to kick off your 7-day Colombia itinerary than in its bustling capital city? Bogotá is sprawling with high-rise buildings and eccentric neighborhoods. The cobblestoned city center boasts a vibrant art scene, food culture, and a historical charm you will not find anywhere else in the country.
Here are a few attractions for your Bogotá itinerary:
La Candelaria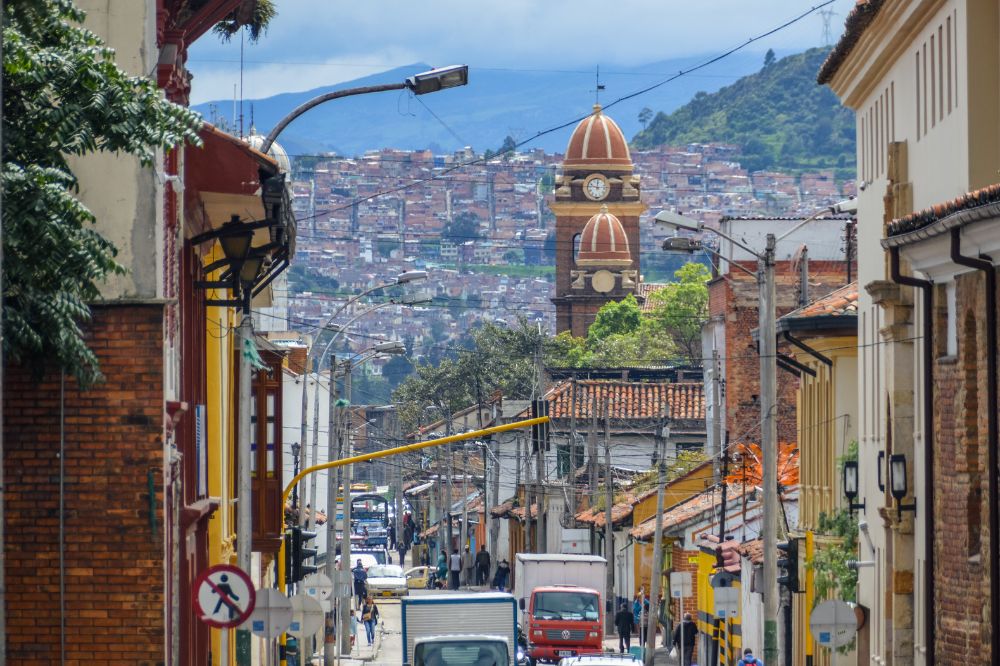 La Candelaria is the historical center of the city and is typically the first palace tourists explore when they visit Bogotá. The vibrant center boasts bustling squares, museums, colorful Spanish-colonial buildings, and walls dotted with beautiful street art.
Take a walking tour of La Candelaria and explore the neighborhood's top attractions. Your expert guide will share lesser-known historical facts about the center. You'll also get to taste local flavors like Colombia's world-famous coffee, fruits, and chicha – a popular alcoholic beverage in Latin America.
Plaza de Bolívar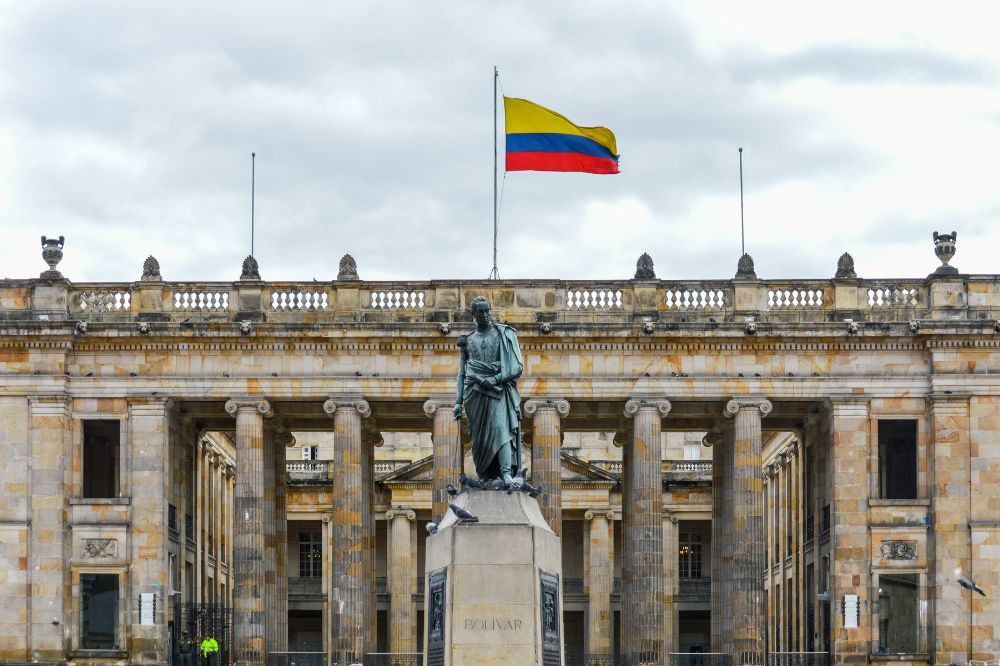 Bogotá's main square, Plaza de Bolívar, is a great place to admire the city's colonial architecture. The square (and the country) is named after a famous political figure, Simón Bolívar, who played a key role in the liberation of South America.
You'll see the historical importance of Plaza de Bolívar dotted across the square. Some notable sights include the National Capitol building, the Catedral Primada de Colombia, and the white-washed Catedral de Caracas.
Gold Museum (Museo del Oro)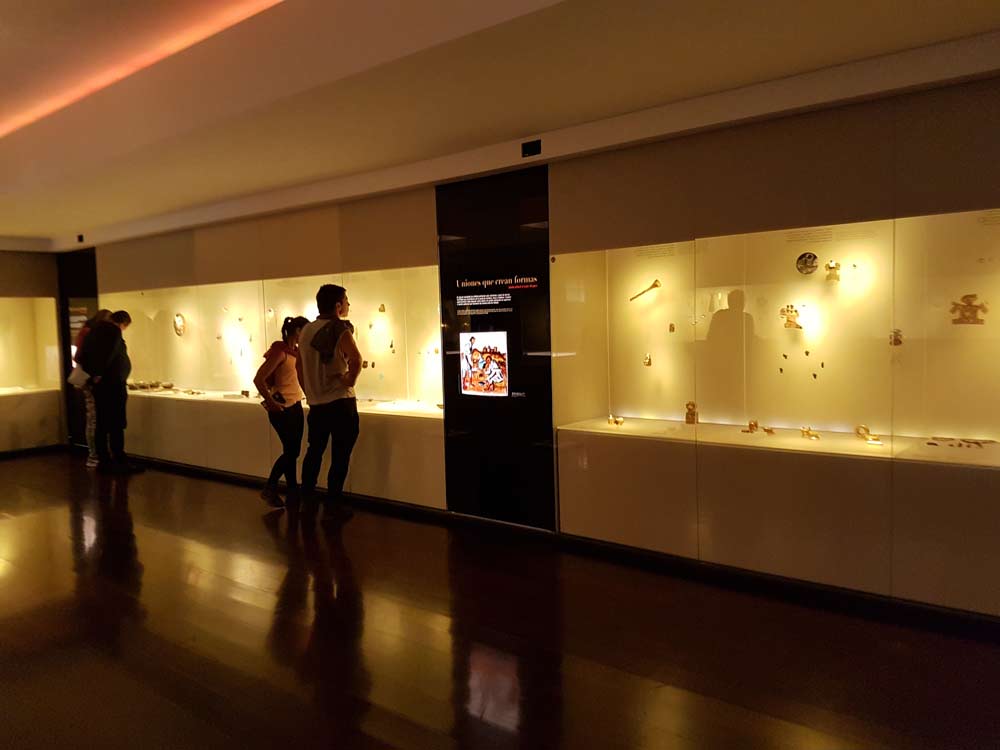 Museo del Oro is Bogota's most popular museum and hence a must-visit attraction during your 1 week in Colombia. Home to over 55,000 pieces of prehistoric gold, the museum boasts artifacts from several indigenous groups.
Among the shiny golden pieces, you'll find jewelry, ornaments, and master crafts from Colombia's oldest welders. Unfortunately, photography is not allowed in the museum, but strolling through it will surely be an unforgettable experience.
Where to Stay in Bogotá?
After landing at El Dorado International Airport, you can take a taxi or rent a car and drive to your accommodation. When it comes to hotels in Bogota, you'll be spoiled for choice. Here are a few hotel options to consider:
Where to Eat in Bogotá?
Colombia's geography ideally places it between the Caribbean Sea and the Pacific Ocean. That's why you'll find that much of the traditional food in Colombia consists of seafood, tropical fruit, beans, and hearty stews. Here are some great food spots to grab a bite:
El Gato Gris
Enchiladas La Candelaria
Maria Candelaria
Getting From Bogota to Medellin
Bogotá and Medellín are two of the largest cities in Colombia, located about 256 miles (412 kilometers) apart. The quickest and most convenient way to get from Bogotá to Medellín is by plane. There are several airlines that offer direct flights between the two cities, including Avianca, Viva Air, and LATAM Airlines. Flights typically take around 1 hour.
Medellín
Known as the "City of Eternal Spring", Medellín is famous for its year-round perfect weather, having an idyllic Andes Mountains backdrop. Its dazzling flower fairs and cultural events see lots of tourists pouring into the city.
Medellín is also popular for its world-class coffee and vibrant nightlife. But the city also has a dark past, courtesy of Pablo Escobar and the Medellín Cartel. After about an hour's flight from Cali to Medellín, here are some top attractions you should visit:
Paragliding Over Medellín
Paragliding is one of the most popular activities in Medellín, and it's easy to see why. Soaring over lush cliffs and colorful favelas, paragliding is a fantastic way to see the city's skyline from a bird's eye perspective.
Tip: Take this paragliding tour and fly over giant waterfalls and verdant valleys.
Museum of Antioquia
Formerly the city hall, the Museum of Antioquia is home to many of renowned Colombian artist Fernando Botero's most precious artworks. You'll also find exhibits by other native artists like Pedro Nel Gómez.
Local guides suggest that you begin your tour on the top floor. This is where you can peruse some of Botero's earlier pieces and gradually see the evolution of the artist as you walk downstairs.
Pablo Escobar Tour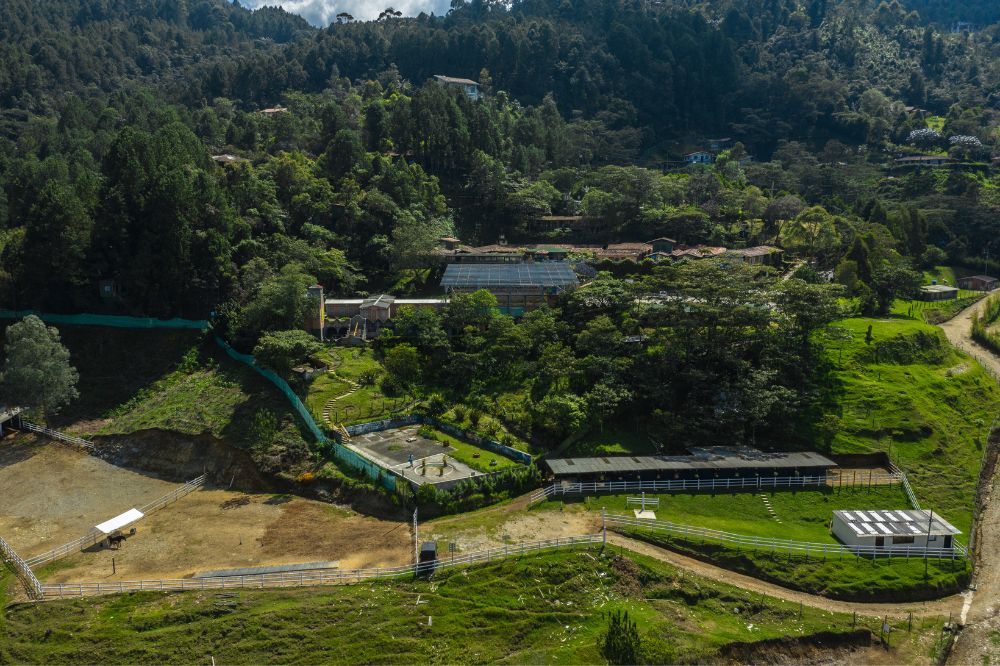 One thing most people know about Medellín is that it was the stronghold of the narcos kingpin Pablo Escobar. For many years he ran the drug smuggling Medellín cartel and made a fortune. At one point, he was one of Forbes' top 10 wealthiest people in the world.
Take the real Pablo Escobar tour and learn about the tumultuous life of the drug lord and how his empire came crumbling down. Your guide will take you through his former residences, including the prison he built for himself, a soccer field, and his grave.
El Poblado
El Poblado is an affluent neighborhood in Medellín; it's dotted with chic boutique hotels, high-end restaurants, and lots of natural spaces. The bustling neighborhood boasts an edgy industrial look, with plants covering the buildings.
What brings many wealthy people and tourists to this area is the abundance of shopping malls, hotels, restaurants, and bars. The buzzing nightlife is also a big attraction, as well as the high safety of the neighborhood.
Guatapé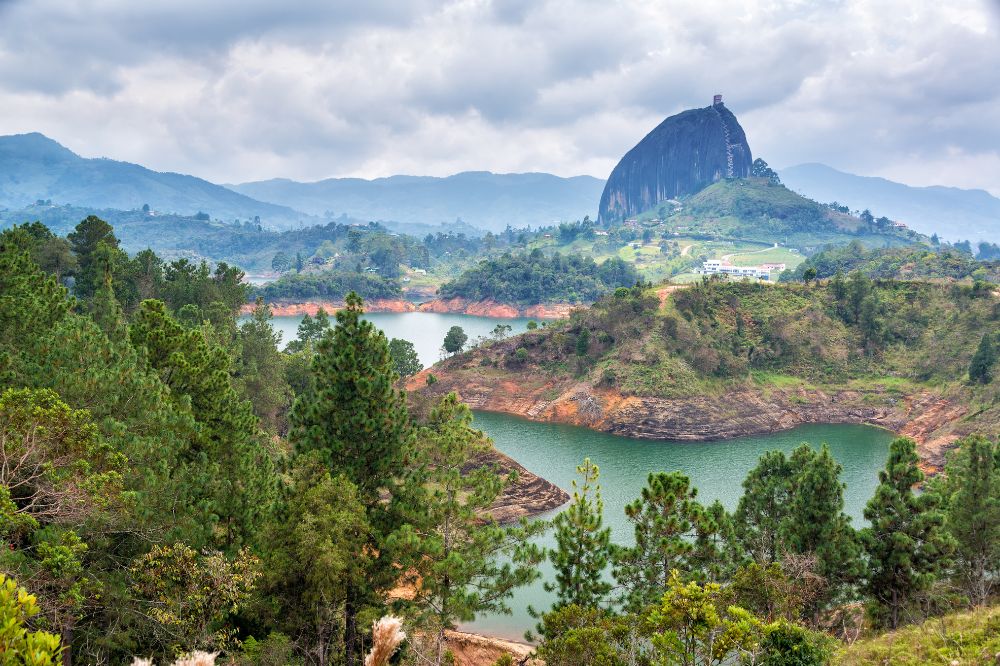 If you're a nature lover, Guatapé is where you need to go. This lively resort town is known for its colossal rock El Peñón de Guatapé, which tourists can (and do) climb for sprawling views of the valley. Guatapé is also famous for its vibrant houses with colorful bas reliefs.
Tip: Explore the best of this Andean resort town on this full-day Guatapé tour from Medellín.
Where to Stay in Medellín?
El Poblado is the best place to stay in Medellín, but it can get expensive. But Medellín has other vibrant meighborhood that cater to every budget. Here are a few hotel options to consider:
Where to Eat in Medellín?
Looking for the best restaurant, bar, or bistro to simmer down, order some food, and enjoy a cold beverage at the end of your day? Here are some top establishments in Medellín:
Restaurante Mondongo's El Poblado
Restaurante Hatoviejo
Rocoto
Getting From Medellin to Cartegena
Taking a flight is the fastest and most convenient way to get from Medellin to Cartagena. There are several airlines that offer direct flights between the two cities, including Avianca, Viva Air, and LATAM Airlines. Flights typically take around 1 hour and 15 minutes.
Cartagena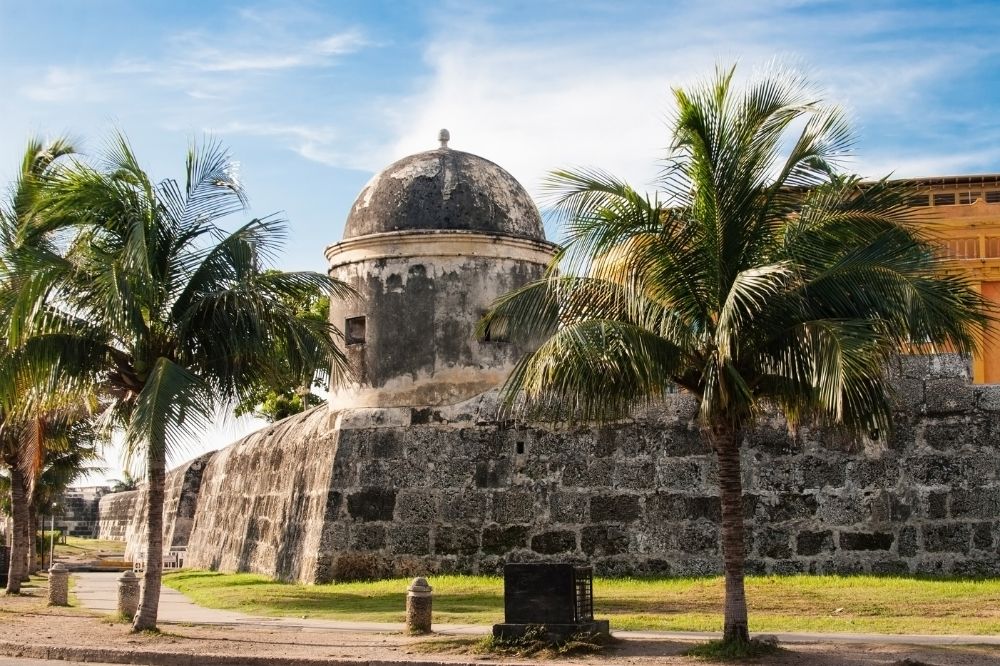 Cartagena is a major port city sitting along Colombia's Caribbean Coast. The city's walled Old Town boasts bustling squares, colorful colonial buildings, and cobblestoned streets. The temperate climate makes it ideal for beach lovers and water activity enthusiasts.
Here's a look at the best things you can get up to in Cartagena:
Castle San Felipe de Barajas
Sitting atop the Hill of San Lázaro, Castle San Felipe de Barajas is a massive fortress built in honor of King Philip IV, of Spain, in 1536. This colossal structure sits strategically guarding for incoming traffic from land and sea. Strolling through the grounds of Castle San Felipe de Barajas is one of the best ways to learn about the history of Spanish rule in Colombia.
Lunch at Santo Domingo Square
After all that walking at Castle San Felipe de Barajas, surely you've built up an appetite. So why not head to Santo Domingo Square for a delicious Colombia lunch? The square is dotted with historic architecture, side-street cafés, and vendors. You'll also find buskers performing in the streets and an intriguing sculpture by Botero.
Tip: Take a private walking tour of Cartagena and learn about the city's history and see top highlights like the Clock Tower, Museum of Cartagena de Indias, and Plaza de La Trinidad.
Playa De Bocagrande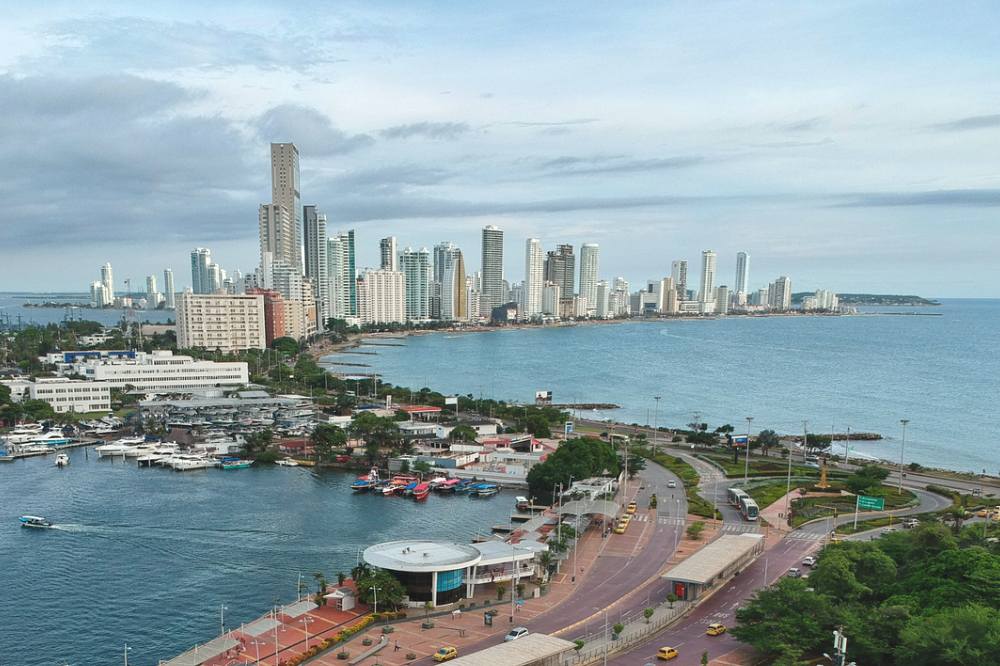 End the day with a relaxing sun-basking experience on one of Cartagena's most popular beaches. This long stretch of white sand is also lined with upscale restaurants, quaint bars, and plenty of sun lugers to lay on. You'll also find plenty of hotels located in the high-rise buildings hugging the shoreline.
Where to Stay in Cartagena?
The Walled Old Town and Bocagrande beach are great places to book a hotel in Cartagena. Here are a few hotel options to consider:
Where to Eat in Cartagena?
Taste the best of both worlds in Cartegena's local cuisine, influenced by both South American and Caribbean food cultures. Here are the best restaurants and bars to eat at in Cartagena:
La Mulata
Restaurante Mar De Las Antillas
Carmen Cartagena
Getting From Cartagena to Rosario Islands
The most common way to get to the Rosario Islands from Cartagena is by boat. There are several companies that offer day trips and tours to the islands, including Oceanario and Isla del Sol. The boats typically depart from the Muelle de la Bodeguita, which is located in the Old City of Cartagena, and take around 45-60 minutes to reach the islands.
Rosario Islands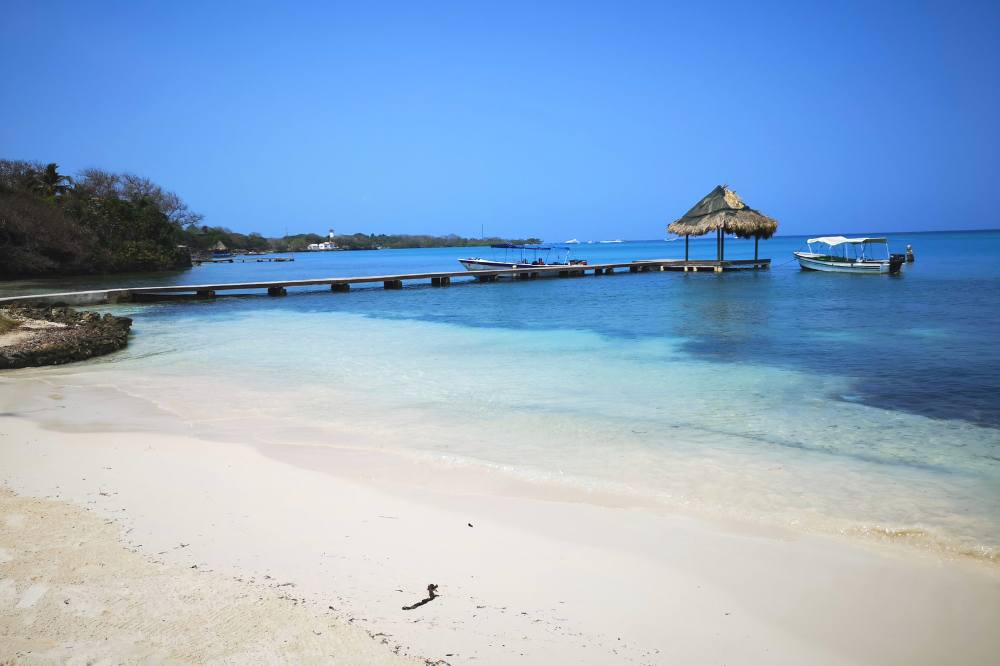 The Rosario Islands are a group of small, idyllic islands located off the coast of Cartagena, Colombia, and are a popular destination for travelers looking for a peaceful and picturesque beach getaway.
While many tourists opt for a short excursion to the Rosario Islands from Cartagena, why not spend the entire day? That's because the Rosario Islands are abundant with attractions and activities you can find nowhere else in the country.
Spend the entire day enjoying watersports, from snorkeling and scuba diving to surfing, kitesurfing, and speed boat rides — you'll have plenty to choose from. The islands also have great accommodations and restaurants for an ideal overnight stay.
Where to Stay in the Rosario Islands?
The archipelago boasts about 27 tiny islands south of the Bay of Cartagena. But being only 45 minutes to an hour's boat drive away, you can choose to stay at a hotel on the mainland; if not, there are plenty of great accommodations around the islands.
Where to Eat in the Rosario Islands?
The Rosario Islands are smack-jab in the Caribbean Sea, so you can expect many of the dishes served at hotels and restaurants to consist of a range of freshly caught seafood. Here are a few places to check out:
Bora Bora
Sol y Papaya Bar & Restaurant
Ecohotel Isla Erizo
Getting From Rosario Islands to Barranquilla
To get from the Rosario Islands to Barranquilla, you can take a boat back to Cartagena and then take a bus to Barranquilla. Boats depart from the islands in the morning, so you'll need to plan your itinerary accordingly. Once you reach Cartagena, head to the main bus terminal and take a bus to Barranquilla. The journey takes around 2-3 hours, depending on traffic.
Barranquilla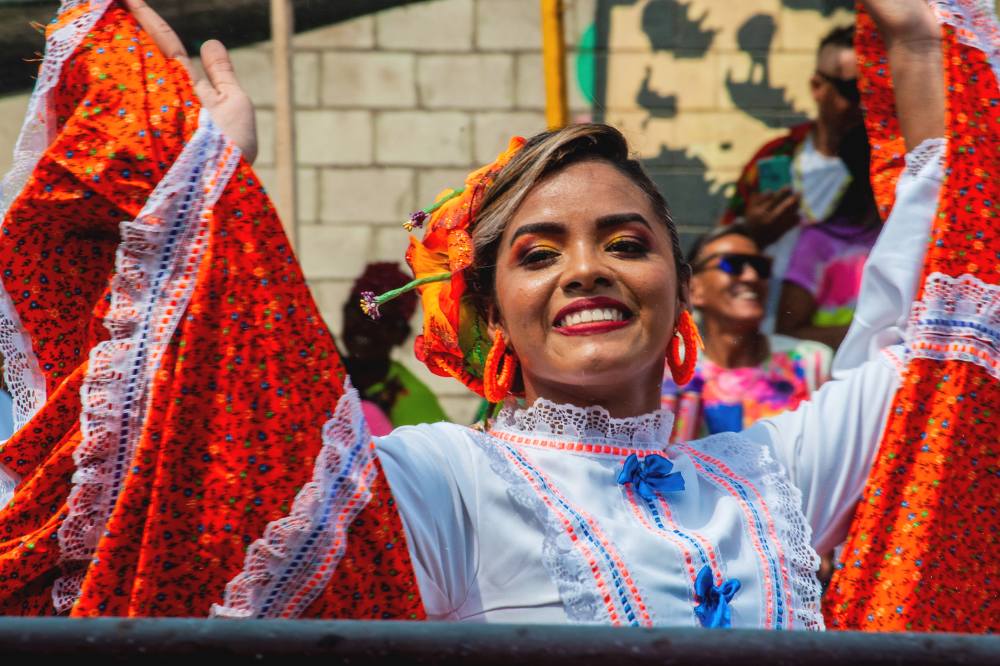 Known for its vibrant carnival with flamboyantly costumed performers, spectacular floats, and lively cumbia music, Barranquilla is the best city to visit in the Atlántico Department.
Carnival and food and dance festivals are popular annual events. You'll even find a museum showcasing artifacts from past festivals in the El Prado neighborhood.
Start the day at Zoológico de Barranquilla and see an array of wildlife living in outdoor exhibits resembling their natural habitat. Next, delve into the rich history and Caribbean culture in Colombia at Museo del Caribe, Gabriel García Márquez.
Where to Stay in Barranquilla?
Take a look at these lodging options for your stay in Barranquilla:
Where to Eat in Barranquilla?
Caribbean influences permeate through Barramquilla's local cuisine. Here are some of the best spots for a tasty meal in Atlántico city:
Restaurante Cuzco
Pizzeria The Meeting Point
Mistura Barranquilla
Getting From Barranquilla to Santa Marta
The most common way to travel between Barranquilla and Santa Marta is by bus. Several bus companies operate on this route, including Berlinas, Brasilia, and Marsol. Buses depart from the main bus terminal in Barranquilla and arrive at the bus terminal in Santa Marta. The journey takes around 2-3 hours, depending on traffic.
Santa Marta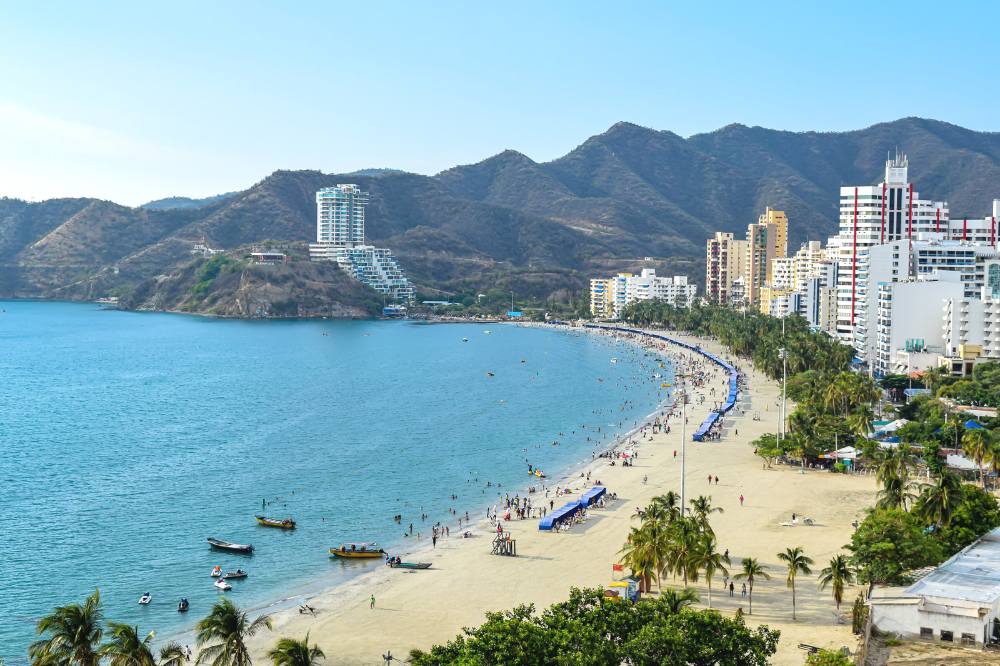 Last but certainly not least, your 7-day Colombia itinerary ends in the port city of Santa Marta in the Magdalena Department. This city was the first Spanish settlement in Colombia, and hence it harbors a lot of historical and cultural value.
Santa Marta is famous for being the gateway to the verdant Tayrona National Natural Park, with its boulder-filled beaches and white sands. Start your day here and enjoy walking along palm-shaded coves and trekking rainforest trails to the Pueblito ruins.
After a 45-minute drive from the national park to Minca, you'll be in backpackers' paradise. Explore Minca's Pozo Azul and Marinka Waterfalls, where you can swim in natural pools, trek along the forest trails, and take stunning pictures under cascading waterfalls.
The city is also a great departure point for a day trip to the Lost City or "Ciudad Perdida", an Archaeological site in the Sierra Nevada region. On your hike to the Lost City, you'll have expert guides sharing anthropological  and historical information about the area.
Where to Stay in Santa Marta?
For a relaxing night after an epic Colombia 7-day itinerary, check out these excellent accommodation options in Santa Marta:
Where to Eat in Santa Marta?
Here are great places to stop for an afternoon delight or a high-end dinner in Santa Marta:
Ouzo Santa Marta
Porthos Steakhouse & Pub
Restaurante LamArt
EXTRA DAYS
Cali
Cali is the largest city in the southern region of Colombia. Being the only major city with access to the Pacific Coast, it is a significant city of trade and commerce.
But that's not what makes Cali a worthy addition to your itinerary. The vibrant city is known as the "Salsa Capital" or "Rumba Capital", thanks to its lively street bashes.
Here are a few attractions to explore in Cali:
Zoológico de Cali
Get a sneak peek into Colombia's vast biodiversity animal watching and strolling through Zoológico de Cali. This 25-hectare park boasts large collections of indigenous wildlife like capybaras, oso hormigueros (anteaters), and many other species from across the globe.
Overall the park is home to over 180 species and about 1,200 animals. So expect to see a variety of wildlife, from lions and tigers to lemurs, kangaroos, condors, and free-roaming iguanas.
Street Food Tour
Get to know the nooks and crannies of Cali by embarking on this interactive street food tour. Walking through popular streets and parks dotted across the city, you'll be sampling some of the city's famous delights like ceviche and local drinks.
This small group tour takes you to the quaint San Antonio neighborhood, featuring traditional craft shops, historic architecture, and the popular Iglesia de San Antonio. You'll also visit Parque Artesanal Loma de la Cruz, which boasts local vendors selling handicrafts, plenty of outdoor activities, and panoramic city views.
Salsa & Cali Nightlife
Cali is the birthplace of salsa dance. There's upbeat music playing on every street corner and plenty of salsa dancing classes ongoing at any time of the day. In Cali, salsa is a way of life, so taking a salsa tour or a dance class is a great way to connect with the locals. And you'll also get to learn about the history of salsa and its influence in the city.
At nighttime, Cali's streets come to life. With salsa bars dotted across the neighborhood, you can go bar crawling through the best pubs or see how the professionals do it at Zaperoco Bar. La Topa Tolondra in San Antonio is also a great place to salsa all night.
Where to Stay in Cali?
From Bogotá's El Dorado International Airport, you'll land at Cali's Alfonso Bonilla Aragón International Airport after a one-hour non-stop flight. From here, you can take a private transfer to your hotel or rent a car and drive there yourself. Here are a few options for the best hotels in Cali:
Where to Eat in Cali?
Cali's vibrant and eclectic culture is reflected in its gastronomy. The city boasts a range of local and international cuisine, from Mexican delights to traditional Spanish fare. Here are some top restaurants in Cali to check out:
Cantina La 15 Granada Cali
Platillos Voladores
Zumaia
Tips for Traveling in Colombia
If you're planning a trip to Colombia, here are some tips to help you make the most of your travels:
Be aware of safety concerns: While Colombia has made great strides in recent years to improve its safety and security, there are still areas of the country that are considered unsafe for travelers. Do your research ahead of time and consult with locals or other travelers to get an idea of where it's safe to go and where you should avoid.
Learn some Spanish: While English is spoken in some parts of Colombia, particularly in tourist areas, it's always a good idea to learn some basic Spanish phrases to help you communicate with locals. It will also help you navigate public transportation, order food at restaurants, and ask for help if you need it.
Bring cash: While credit cards are widely accepted in major cities and tourist areas, many smaller shops and businesses may only accept cash. Be sure to bring enough Colombian pesos with you, and use ATMs to withdraw more as needed.
Dress appropriately: Colombia's climate can vary widely depending on where you are in the country, so be sure to pack appropriate clothing for the region you're visiting. Additionally, many churches and other religious sites require visitors to dress modestly, so be sure to pack clothes that cover your shoulders and knees.
Try the local cuisine: Colombian food is delicious and diverse, so be sure to try some of the local dishes while you're there. Some must-try dishes include arepas (cornmeal cakes), bandeja paisa (a hearty meat and rice dish), and empanadas (fried or baked turnovers filled with meat or cheese).
Be prepared for altitude: Many parts of Colombia are located at high altitudes, which can be a shock to visitors who are not accustomed to it. Be sure to stay hydrated, take breaks if you're hiking or doing other physical activity, and avoid alcohol and caffeine, which can exacerbate altitude sickness.
Respect local customs and traditions: Colombians are generally friendly and welcoming to visitors, but it's important to respect local customs and traditions. For example, many Colombians are Catholic, so it's important to be respectful when visiting churches and other religious sites.
Overall, traveling in Colombia can be a wonderful and rewarding experience, but it's important to be prepared, respectful, and mindful of safety concerns. By following these tips, you can make the most of your trip and enjoy all that this beautiful country has to offer.
Your Colombia Itinerary in 7 Days | Wrapped Up
There you have it! A perfect 7-day itinerary for Colombia. The country boasts scenic natural landscapes, vast biodiversity, historical monuments, and a vibrant culture. Colombia is not called the "Salsa Capital" for nothing.
When you visit this South American country, you can expect nothing but untethered fun, lush landscapes, white sand beaches, and the friendliest locals.
If you'd like to explore more of the gateway to South America, check out this post on why you should visit Brazil at least once in your life.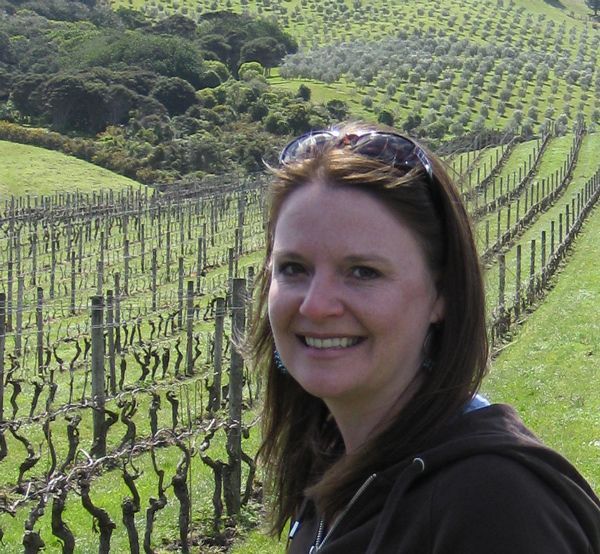 Laura Lynch, creator and writer of Savored Journeys, is an avid world traveler, certified wine expert, and international food specialist. She has written about travel and food for over 20 years and has visited over 75 countries.