If you've never been to Portland, Oregon, then you probably haven't heard of the Columbia Gorge or the Hood River breweries, for that matter. But that must change!
Not only is Portland a fantastic city to visit, the area along the top of Oregon, which follows the Columbia Gorge, is one of the most beautiful places on earth, and there are a dozen or so breweries that have set up shop in and around the town of Hood River.
The Columbia Gorge is an incredibly fertile agriculture area, engulfing the popular Hood River Fruit Loop, which produces grapes for the area's premium wine, apples, peaches and all of your favorite farmer's market produce.
The gorge extends for about 160 miles from Portland to Boardman, Oregon. Along the way you can stop off at the magnificent Multnomah Falls, take the 30-mile Fruit Loop that begins and ends in Hood River, and visit dozens of wineries and breweries along the way.
Ten of these breweries can be found in Hood River, so if you're a beer fan, this is the place to be! Oregon is well known for its microbreweries. There are almost a dozen in and around Hood River.
The city of Bend, Oregon, boasts the Bend Ale Trail, which is the largest beer trail in the west. Portland is home to 60+ breweries. Oregonians drink handcrafted microbrews that have been brewed with local ingredients by local craftsman.
YOU MIGHT ALSO LIKE
Breweries in the Gorge Passport
Twelve of the local brewers came together and formed the Breweries in the Gorge Passport. Since Nick & I are always up for a weekend of brewery hopping – beer is one of our favorite things in life, after all – we gladly accepted the challenge.
First you have to pick up a game board, either from one of the breweries, a local business, or by downloading the app. Then you must visit at least 8 of the 10 breweries on the list, gathering stamps at each location. When finished, you turn the game board in to the final Hood River brewery and collect your prize – a very nice collector beer glass with the Breweries of the Gorge logo.
Breweries to Visit in Hood River
Full Sail Brew Pub
Full Sail is one of the most popular Hood River breweries, so you can assume the Brew Pub will be packed almost all year round. There's a large dining space, with both inside and outside seating, but there's also usually a big line of people waiting to enjoy one of the juicy hamburgers or Salmon Fish & Chips.
They also give brewery tours up to 4 times a day. And the view is stellar! For beer, try the Session or Session Black, Amber, IPA or one of the specialty series beers.
Location: 506 Columbia St, Hood River, OR 97031
Backwoods Brewing
Backwoods Brewing is located in the small town of Carson, WA, and is a fairly small operation, though they have 10 beers on tap and a great food menu to go with it. You can take it from us that their pizza is incredible.
They focus on NW Style Ales and have a very Northwest feel in the taproom, almost like a log cabin inside a warehouse! For beer, if you like hops, try the Loghouse IPA or Clear Cub Pale, otherwise, try the Winchester Brown or Bourbon Barrel Ridge Run Stout.
Location: 1162 Wind River Hwy, Carson, WA 98610
pFriem Family Brewers
Located in a prime spot along the waterfront, pFriem is a busy place due in large part to their great beer and really tasty food. On our recent visit, we had a cheeseburger and mac-n-cheese. Both are things we order often, and both exceeded our expectations for pub food.
The Mac-n-Cheese is insanely good. Be prepared for a wait if you want to sit down to eat. They also offer taster sizes of their beers so you can try out a bunch and see what you like. Try the IPA, the Belgium Strong Dark, or Flanders Blond.
Location: 707 Portway Ave #101, Hood River, OR 97031
Double Mountain Brewery
Yes, it's a theme in Hood River – all of the breweries offer food. And Double Mountain is no exception. They serve really good pizza to go along with your beer. The only thing missing from this downtown pub is the view. Once you've found a seat, order a few tasters of their unfiltered and long-aged beers like the Hop Lava, IRA, The Vaporizer or the sour ale, Peche Mode.
Location: 8 4th St, Hood River, OR 97031
Everybody's Brewing
Everybody's Brewing focuses on brewing approachable beers with all the flavor. This family friendly pub features a locally sourced menu in a beautiful wood filled atmosphere. They have outdoor seating for 100 people with stunning views of Mt. Hood.
Location: 177 E Jewett Blvd, White Salmon, WA 98672
Walking Man Brewing
A pioneer brewery in the Columbia River Gorge, Walking Man Brewing has been crafting award-winning beer in Stevenson, WA since 2000. You can enjoy their spectacular dog-friendly beer garden or cozy up inside the brewpub and share a pint with friends old and new.
Location: 240 1st St, Stevenson, WA 98648
Solera Brewery
As you're driving along the Fruit Loop just south of Hood River, you'll come upon Solera Brewery in the small town of Parkdale. The tap room has an old tavern feeling to it, but once you walk through the building and come out the backdoor, you'll find the real gem of the place – a fantastic view of Mount Hood towering above.
There's tons of space outside to sit and eat while enjoying a beer. They have classic styles like the Hedonist IPA and Planet Body Pale Ale, along with unique fruit-infused beers like the Apple Blossom, a French Saison with Apple Juice.
Location: 4945 Baseline Dr, Mt Hood, OR 97041
Thunder Island Brewing Co.
There's no place like Thunder Island Brewing Co. on a sunny day. The outdoor patio sits right on the Columbia River, with a gorgeous view of the gorge and a fresh Evergreen scent to go along with it.
Some pretty tasty food is cooked up in their tiny kitchen and delivered to your table, either inside or outside. For beer, try the Cairn Cream Ale, the Dry Creek IPA or one from their seasonal, every changing selection.
Location: 601 Wa Na Pa St, Cascade Locks, OR 97014
CONCLUSION
An afternoon hopping around to these Hood River Breweries is a great way to spend a day. Have you been to the Hood River Breweries in Oregon? Which one is your favorite?
Like this post? Why not save it to Pinterest?
FOLLOW US on Pinterest, Instagram, Facebook for more great travel inspiration and tips.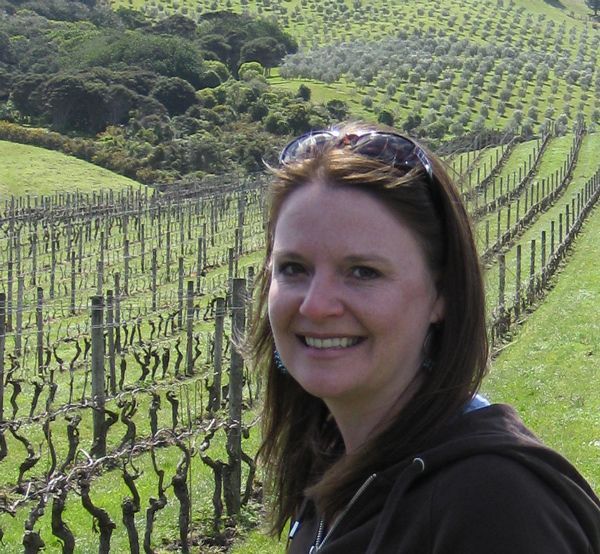 Laura Lynch, creator and writer of Savored Journeys, is an avid world traveler, certified wine expert, and international food specialist. She has written about travel and food for over 20 years and has visited 70+ countries.