When you're visiting Southern Italy, the Campania region and Amalfi coast are likely to be on your radar. Most visitors will start in Naples, do a day trip to Pompeii, then go for some relaxation in Sorrento. That's a perfect itinerary. Only, if you're going to be in Sorrento, it would be a huge shame to miss a day trip to Capri.
Getting to Capri from Sorrento is actually incredibly simple. Taking the ferry from Sorrento to Capri – even just for a day trip – is a must. The island of Capri will make you feel as though you have been transported to a magical place. As if Sorrento isn't stunning enough, Capri kicks it up an extra notch.
The stunning blue waters surrounding the cozy marina with lemon-tree-studded hillsides, incredible shopping and dining options, and views for days make this place truly one of the best coastal towns in Italy.
Planning a Capri day trip from Sorrento is simple and we've got all the information you need to slot it easily into your itinerary. Whether you choose to spend just a day there, or go for a few nights, it will be a highlight of your trip for sure.
INSIDER INFO: Read these tips for traveling to Italy before you jet to this beautiful country.
» Here is our 2-week Italy itinerary, to help you plan your trip around Italy's top cities. We also have a travel guide for Venice, a 3-day Rome itinerary, things to see in Florence, foodie things to do in Bologna, and a guide to the top landmarks in Italy. If you're hitting up Italy as part of a larger trip to Europe, be sure to check out our 2-week Europe Itinerary.
Getting There
There are numerous ways to get from Sorrento, or other parts of the famous Amalfi Coast, to Capri. Below are all the options so you can decide which is ideal for you.
By Ferry
One of the most affordable ways to spend a day in Capri is to board a ferry. With this choice, you are in charge of organizing your journey, but you also get full say over what you do and when.
There are multiple ferry companies with different schedules and you can take any of them. We went on Alilauro. I really like their online schedule, which is very easy to understand.
Ferries leave Sorrento's Marina Piccola harbor for Capri usually every 30 to 45 minutes (between 7:30am and 9:30pm) particularly from April to October, when the Amalfi Coast is at its busiest. They are less frequent in the off season. The journey takes about 25 minutes.
You can buy a ticket in advance online, which I highly recommend so you can lock in your preferred departure time. I use Ferry Hopper to book.
All of the ferry companies' ticket offices are located next to each other in the harbor. Routes and schedules for each are prominently displayed so if you want to just rock up and get tickets, you absolutely can. During high season, you might not get your preferred time.
Three tickets are available: one-way, round-trip for the same day, and round-trip with a return on another day. On average, you should expect to pay from €20-22 each way. A round-trip ticket will be around €44.
Ferry schedules change frequently and sailings can get cancelled due to weather, so always double check on your journey beforehand.
Getting Back to Sorrento
To get back, all you have to do is return to the port where you arrived to board the ferry to Sorrento. You can match the time on your return ticket to the dock it departs from by looking at the large departures board located directly above that ticket office.
Group or Private Tour
Even though it's effortless to arrange your own Sorrento to Capri excursion, you can also take a private or group to to Capri instead.
Most excursions include transportation to and throughout the island, plus organized activities and stops (usually to the Blue Grotto and/or Anacapri). Some also allow free time to explore the island on your own.
Recommended Tours
Here are four tours we recommend. Each one is a bit different, with varied prices, all leaving from Sorrento, so you can choose which one makes the most sense for you.
Is a Day Trip to Capri Worth It?
I think a lot of people wonder this for a few reasons.
It's a small island that's quite similar to Sorrento or Positano in many ways.
It's often touted as being an island for the rich and famous so it might not have anything to offer us middle class folk?
How much can you possibly see in a day anyways?
If you're wondering these things and want to know if a day trip to Capri is worth it, I would go ahead and brush those thoughts aside. Yes, they are true, but that's not enough to detract from all the wonderful things.
For me, it's worth it, even for just a few hours, to see a different place, to wander around the top sights, to eat somewhere inspiring, and even just to take the ferry ride is worth it to me. It's gorgeous through and through. I don't see how you could come to the conclusion that it's not with it.
What to See in a Day in Capri
Capri is simply beautiful. The island exudes a certain charm and style. There's luxury all around you, from the high-end boutiques to the gorgeous restaurants hanging over the cliff with stunning views.
Since this guide is focused on a day trip from Sorrento to Capri, we will give you some ideas of things for your day trip to Capri itinerary within the time constraints you'll have with just one day. There are many other things to fill your time, particularly if you plan to stay for a day or two.
If you have luggage with you, you can store it at the tourist shop that you're headed right for when you walk down the marina. It says "deposito bagaglio" above the door. It costs a few euros to leave bags for the day.
Marina Grande
The tourist port is located in Marina Grande, so this will be your first glimpse of Capri. When you get off the ferry, you can start by looking around the shops at the marina and maybe stop for a drink before heading up.
We stopped at Bar Corallo, sat outside with an incredible view of the water, sipped on a lemoncello spritz in one of the largest Sorrento lemons I've ever seen. It was spectacular.
Piazzetta
Next you'll want to take the funicular up to Capri's famous square, Piazza Umberto I, more affectionately called the Piazzetta. This is where all the action happens. There are cafes on every corner, and it acts as the gateway to the spender that is Capri.
Get a ticket for the funicular across the street from where the funicular entrance is. It costs €2.20 pp and the ride is about 3 minutes. Be sure to get a round trip so you can get back easily.
From Piazzetta you can go off in any direction to explore. Head down the Via Camerelle, a street full of designer shops and brands where you can easily splurge on shopping.
Stop off at a café or restaurant, preferably in or around the main squares where you can do some people watching. You might even see a celebrity or two walking around.
Giardini di Augusto
This gorgeous garden with Mediterranean flowers and trees is a great walk from the town center along a path lined with expensive hotels. At the end, there are some really amazing views of the ocean and cliffside. It doesn't take much time to walk there and it's worth it for the view. There is a small entrance fee.
Anacapri
If you have extra time on your hands, you might want to also see Anacapri, a charming town that's only about a 5-minute bus ride, or 20-minute walk, from Marina Grande, with spectacular views of the Mediterranean Sea and Mount Solaro.
There are plenty of restaurants and shops to see and you can get the chair lift up to Mount Solaro. Get there by climbing the stairs from Piazza Vittoria in Anacapri.
Mount Solaro
The ride to the top is just as impressive as the view of the island itself. It takes about 12 minutes to reach the top on the chair lift and it's definitely worth the journey. The peak is at an elevation of 589 meters so the vantage point can't be beat. It's €12,00 round trip.
Take a Boat Trip
There are plenty of companies offering trips around Capri—just make sure you book in advance as spots can fill up quickly during peak times. The journey will give you stunning views of Mount Solaro and other attractions like Faraglioni Rocks, Villa Jovis and Blue Grotto Cave.
The Blue Grotto
A cave illuminated by sunlight passing through an underwater passageway, generating a stunning blue reflection. It's a once-in-a-lifetime experience.
Food
Why not indulge in some delicious Italian food? The island is famous for its seafood dishes—try ordering a plate of fresh fish and capers or simply sample some delectable local wines. There are also plenty of restaurants offering traditional Neapolitan dishes like pizza and pasta so you'll be spoilt for choice.
While some of the restaurants you'll come across are decidedly touristy and nothing special, there are a few places that stand out. My favorites are:
Da Giorgio
La Fontelina, beach club and restaurant
Il Geranio, Capri
L'Olivo, Anacapri
Check out Italy's other famous cities and attractions for your next Italian adventure.
Frequently Asked Questions
Is it possible to take a day trip to Capri from Naples?
Yes, it's just as possible to visit Capri from Sorrento as it is from Naples, Positano, or anywhere along the Amalfi Coast. There are both ferries and tours leaving from all of these places on a regular basis.
Can I see both Capri and the Blue Grotto in one day?
It's possible to see both places on a day trip, but you'll want to be sure to plan out your time so you are sure to have enough time to do both. I would suggest doing this as a tour with a guide, so you don't waste any time waiting for public ferries.
How much does a day in Capri cost?
This is very subjective and not really possible for me to answer. Capri is a very expensive place, for sure, but what you spend is very dependent on what you choose to do. To get to Capri, you will spend around $20 each way on the ferry. It costs €5 round trip to get up to Piazzetta, and €12 round trip to take the chair lift to Monte Solaro.
A typical lunch will cost around €50-100 pp, though it can be cheaper or exceedingly more expensive. Drinks range from €6-20, depending on what you order. Shopping will also depend on your preference.
In my opinion, an average day in Capri will cost around €100-150 per person.
Like this post? Why not save it to Pinterest?
FOLLOW US on Pinterest, Instagram, Facebook for more great travel inspiration and tips.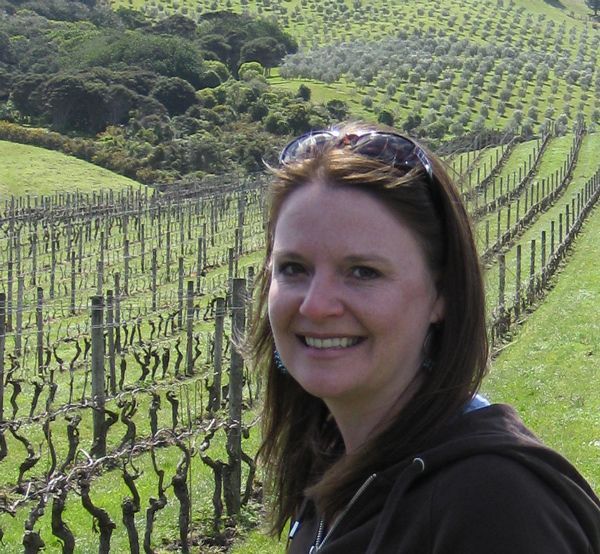 Laura Lynch, creator and writer of Savored Journeys, is an avid world traveler, certified wine expert, and international food specialist. She has written about travel and food for over 20 years and has visited 70+ countries.