I can only think of a handful of places in the world where I can't wait to eat all the food and Mexico is definitely one of them. There's something I just love about the flavors of Mexican food. If you are visiting Mexico for the first time, or looking to see what types of food you might find there that you must try, we've got the list for you!
As we were heading out to Mexico City for the first time, I was super excited to try all of the popular Mexican foods like quesadillas and tacos that I already knew about, but also to find other foods eaten in Mexico that were new to me.
These 15 foods are just some of the amazing foods you'll find in Mexico, but we encourage you to find and try each of them. Eating in Mexico is a real treat, and something you definitely shouldn't miss. You can find these specialties at street food vendors, in marketplaces, and at many of the restaurants in the country.
» Heading to Mexico City soon? Here are our top recommended foodie things to do while you're there. If you're up for a road trip, we recommend this 2-week Mexico itinerary which will take you to some of the top spots around the country. If you need more inspirations check out these 8 beautiful places to visit in Mexico.
Top 15 Mexican Foods You Must Try
If you love Mexican food, you owe it to yourself to check these out. You might also like: Our Favorite Mexico City Food Experiences
Most of these foods can be found at street vendors or in a street market. They are popular Mexico street foods! Very few, if any of them, are only made in specific restaurants only, so it won't be difficult to find any of these popular Mexican foods, if you've got your eye out for them. Often, we found a street vendor selling two or three of them at one booth.
Tortas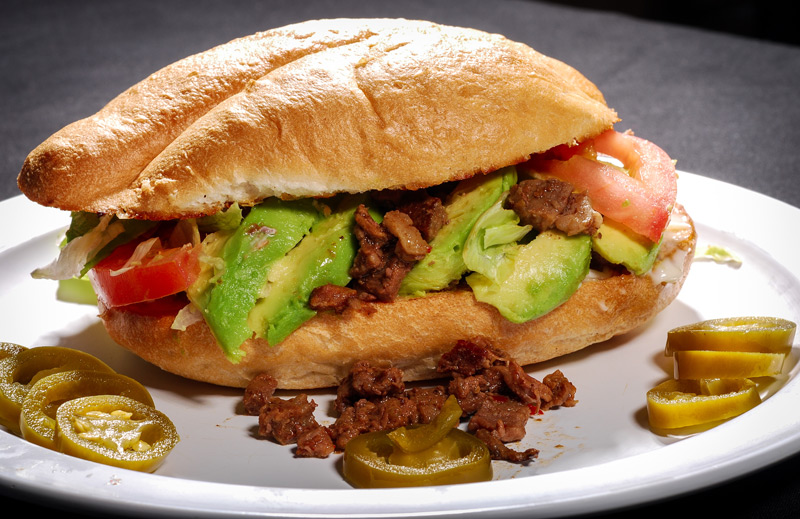 I'm a huge fan of tortas, which are basically just delicious Mexican sandwiches stuffed with all the best Mexican ingredients. They can be piled up with meat, cheese, refried beans, peppers, onions, avocado – whatever you want.
The important ingredient is the crusty bread roll that holds it all together. In restaurants and street stands, you'll find tortas of all different types. You can get them hot or cold, grilled, toasted, or even pressed like a panini.
Pambazo (Mexican Sandwich Dipped in Salsa)
Pambazo is the name of a Mexican white bread. It's also the name of a sandwich made with that bread, which is dipped in a red guajillo chile sauce. The sandwich is typically stuffed with shredded beef or pork, fried potatoes, fried beans, a sprinkling of cheese and lettuce, just like a torta. However, the extra step of dipping it in the chile sauce changes it quite a bit.
Tlacoyo
A Tlacoyo is an oval-shaped fried pockets taco. The tortilla is thicker than a traditional corn tortilla so it can be cut open in the cente and stuffed with ground beans, cheese, beef, pork or other ingredients. You can usually order it with whatever filling you want.
The Tlacoyo can then be topped with rojo or verde sauce, shredded lettuce, queso fresco, cotija cheese and onions. These are the perfect street food. You can order from a stall and eat them while walking. Served hot, they are really delicious.
Gorditas
A gordita is very similar to a tlacoya, in that the masa cake is much thicker than a tortilla. Two pieces of griddled cake are used as bread to sandwich the ingredients. I'm sure there's no end to what you can stuff in a gordita.
The one we had was stuffed with cheese and then heated until the cheese was gooey and melted in the middle. Gordita means "little fat one" in Spanish. We had this version at a little stand in Mercado Roma, which I highly recommend, because it's foodie heaven.
Mole
If you've had mole, it was probably covering enchiladas. The common ingredient to all moles is chiles, and the other ingredients vary. Modern moles are made with chocolate, additional spices and other ingredients like nuts, seeds, garlic, onions, cinnamon and all types of chiles.
The one we had at Pujol in Mexico City was incredible in that it had been cooked for 849 days, making it what chef Enrique Olvera's calls the "mother sauce". He serves it with his mole nuevo, which is a newly cooked sauce. The way he serves it, you just sop it up with tortillas. Mole is one of the most traditional Mexican foods, and it's very good.
Elote (Mexican Street Corn)
You'll find this corn on the cob at many street stands in Mexico. Yes, you will find plain ears of corn, roasted and hot, served everywhere, but the real treat is a version that is served with mayonnaise slathered on it and then sprinkled with cotija cheese and chili powder. It's heavenly. All corn should be eaten this way.
Caldo de Res
Caldo de Res is a popular Mexican soup that translates to "beef broth" in English. It's a hearty, flavorful dish made from chunks of beef, often including bone-in cuts for additional flavor, and a variety of vegetables.
Typically, the vegetables used in Caldo de Res can include carrots, potatoes, corn on the cob, zucchini, cabbage, and sometimes even chayote or green beans. It's seasoned with a variety of spices and herbs, commonly including cilantro, garlic, onion, and sometimes a bit of hot pepper for a little heat.
» Learn how to make Caldo de Res at home with this tasty recipe.
Flautas
A flauta is one popular Mexican food you've probably eaten or at least seen on a menu before at a Mexican restaurant in the United States. It's a rolled-up flour tortilla and some type of filling, which could be beef, chicken or just cheese.
The tortilla is then deep fried to make it super crispy. It's usually served with shredded lettuce and some queso fresco on top. » Learn how to make flautas at home with this easy recipe.
Manchego Cheese Molcajete with Tomatillo Sauce
A Molcajete is a stone bowl that is the traditional Mexican version of the mortar and pestle. It is often used as a serving bowl in Mexican cooking because it keeps it heat so well, for dishes that need to remain warm throughout service.
The molchajete we tried was filled with a sort of spicy and sour tomatillo sauce with deep-fried Manchego cheese sticks and cactus plant bubbling away inside. The idea was that you put the cheese and sauce into a flour tortilla to eat it.
Chilaquiles
If you love nachos (and who doesn't, really?), then you're going to really love chilaquiles. Most often served as a brunch dish in Mexico, Chilaquiles are very similar to nachos in that they incorporate similar ingredients, but the tortillas are first soaked in a red or green chile sauce or salsa before being topped with cotija cheese and onions.
The sauce coats each chip, giving this dish incredible flavor and a slightly different texture, though not in a soggy way. 
» Try making these chilaquiles at home with our Global Gourmet recipe!
Fajitas
Fajitas are definitely one of our favorites of the foods eaten in Mexico. We often order this when we visit Mexican restaurants. Typically, you'll find a beef, chicken or shrimp version, with peppers and onions. Of course, you'll get a couple of tortillas on the side to put the filling in, too. The meat is flavorful and tender, and the peppers give it a nice acidic crunch. It's some of the best Mexican food you'll come across. Learn how to make fajitas at home with this easy recipe.
Guacamole with Chicaronnes
You sit down at a restaurant. You're hungry and you know that your main dishes aren't going to arrive for at least 15 minutes. What do you do? Obviously, you order guacamole! The couple of times we ordered it as an appetizer, we were shocked at how much of it was on the plate. We could have easily split the guacamole and had enough to eat. It's super filling. A side of tortilla chips comes with guacamole, usually, but we were excited to see some crispy, crunchy chicharons to eat with ours.
Beef Barbacoa
Beef Barbacoa is a slow-braised beef shoulder cooked with chipotle chiles and cumin, sometimes in a pit in the ground. It's tender, juicy, and well-seasoned, and lends itself well to shredded meat dishes, like sandwiches and tacos. You'll find it on many menus you come across, in some form, across Mexico, but it's most popular in and around Mexico City, near where it originated.
Churros
We've had churros in a number of different countries – from Spain to Peru and now Mexico. It's a fantastic dessert – deep-fried and crispy on the outside, but soft and chewy on the inside, sprinkled with sugar and cinnamon. It's often served with either a chocolate or caramel sauce, or with a sweet sauce stuffed inside. The one we had at Pujol in Mexico City was perfect in every way. It was a thinner rope of dough than usual, but it was perfectly crispy and chewy at the same time. It was served with a dulce de leche dipping sauce.
Mezcal
I saved the best two for last. Mezcal is one of the products of Mexico that we were the most looking forward to trying. It's a distilled alcoholic beverage made from the maguey plant native to Mexico. "The word Mezcal comes from Nahuatl mexcalli metl and ixcalli which means "oven-cooked agave"."
Mezcal is basically a smoky version of tequila. True Mezcal aficionados would scoff at me for saying that. There's so much more to it than that. You can learn more in this post. In any case, it's a smoky flavored liquor that is often served with orange slices and chile salt on the side.
Oaxacan Mezcal Cocktail
This is my favorite new cocktail. We're even making it at home now! Here's the recipe. We found and fell in love with this cocktail at the Hilton Reforma Hotel in downtown Mexico City. The ingredients are Mezcal, basil, lime, agave syrup and a rim salt. Together, these ingredients are outstanding as a cocktail. It's sweet, smoky and sour at the same time. Trust me, it's the best cocktail I've had in a long time.
CONCLUSION
Want more? That's just the short list of things you should eat in Mexico. Believe me, there are dozens more! But you'll have to visit to find out. If you could recommend a few, what would be your favorite things you should eat in Mexico? Have a favorite Mexican food dish that is your go to? Tell us about it in the comments section!
Like this post? Share it to your Pinterest board!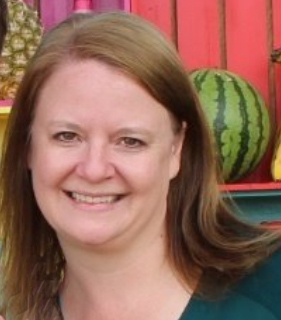 Laura Lynch, creator and writer of Savored Journeys, is an avid world traveler, certified wine expert, and international food specialist. She has written about travel and food for over 20 years and has visited over 75 countries. Her work has been published in numerous guidebooks, websites, and magazines.