England might be a small island, but it has many enchanting places to visit and explore. London is a vibrant and exciting city, but you'll also enjoy the smaller cities of York, Manchester, Bath, Bristol and Cambridge, all steeped in history and overflowing with English charm. No matter what you're interest is, you'll find it here: great outdoor activities, incredible food and beautiful landscapes.
We've put this info in a short infographic for you! View it by clicking the image on the left.
Best time to go: Since the weather is mild year-round in England, there's no time you need to avoid for heat or cold, however it can be cloudy and drizzly much of the year. For the best weather, April-June and September-October is best. London can be very packed during the summer months. The rest of England can be quite pleasant year-round.
High Season: August is a very busy time throughout England, with children out of school and families taking holidays.
Christmas Season: In London, the end of December can be very busy and crowded, but there are really great Christmas markets, shopping opportunities, and beautiful lights everywhere.
LONDON
The megalopolis that is London has so much to offer, from a rich history, great shopping, and a thriving foodie scene. Be sure to see the many neighborhoods, street art, and vast parks.
LAKE DISTRICT
Located in north west England in Cumbria, the Lake District is a popular national park, with dramatic and inspiring scenery, and plenty of things to do outside, like hiking and fishing.
MANCHESTER
Located in the northwest of England, Manchester is a modern metropolis with an industrial past. You can discover the charms of the area through its many museums and events.
You might also like: Christmas Events & Attractions in the UK
Where to Stay in London
Since there are many neighborhoods in London where you can choose to stay, so it's difficult to give a one-size-fits-all answer to where to stay in London. We recommend staying in different parts of the city every time to see it from a different perspective. That said, we do have a few favorites.
Here are our recommendations for where to stay in London. You can use any of these links to read reviews or book your stay in London. (They are affiliate links for which we will receive a small commission at no extra charge to you).
Where to stay in Cornwall
If you've never had a proper Sunday roast, you must plan to spend a weekend in England, so you can try it. Every Sunday afternoon, all the English pubs have a special roast menu that comes with roast meat, potatoes, steamed veggies and a huge Yorkshire pudding. It's delicious, filling, and totally required eating!
Everyone knows about fish & chips in England. It was once the main dish you would find everywhere and is still a very popular go-to for many locals and visitors, alike. Fish & Chips often comes with a side of mushy peas!
When visiting England, you must have at least one full English breakfast. It's a very hearty and filling way to start a long day of sightseeing, but it's also a great way to get to try blood pudding. Everything you see in the picture above is included in a proper fry up.
No matter where you are in England, you'll be able to find at least one or two afternoon tea options. It ranges from simple and casual to all out affairs, but it always includes finger sandwiches, scones and sweets. See a few of our favorite afternoon tea places in England.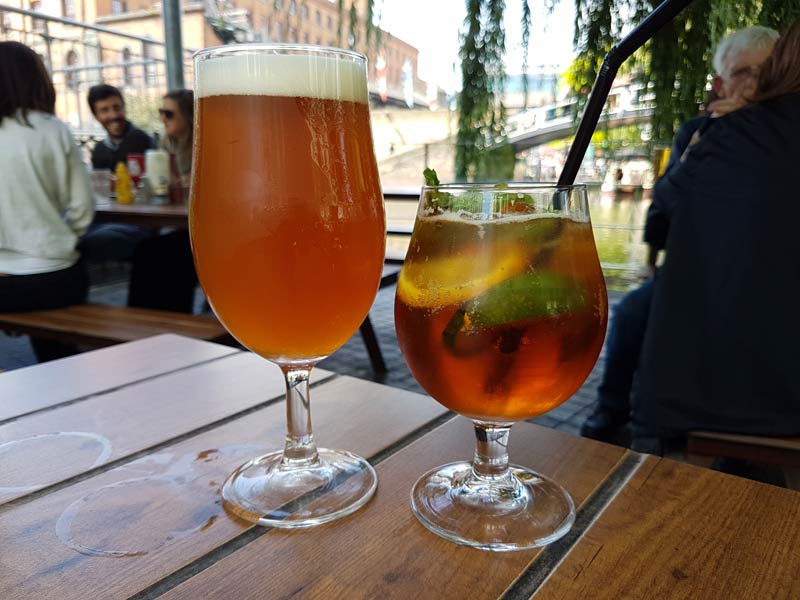 There are four very common and likely drinks you will find in England.
English Ale – England is well know for its cask ale or "real ale". It's decidedly less carbonated than beer served in the United States, and is also served at a warmer temperature. English beer styles include bitter, mild, brown ale and old ale. Every town in England, no matter how small, will have at least a pub or two serving typical English Ale. Many pubs allow patrons to drink along the sidewalks and outer premises of the pub, so you'll often see crowds of people standing outside with a pint, even in winter.
Pimm's Cup – Pimm's liquor was first produced in 1823 by James Pimm, who wanted to make something different for his patrons to drink. It's now a much-loved summer drink throughout England.A Pimm's cup consists of Pimm's #1, fizzy lemonade and fruit, mixed in a cup with ice.
Tea – If there's a national drink in England, it's likely tea. Everyone drinks tea, at all times of the day. It's not just reserved for breakfast. Afternoon tea is a tradition of eating a small tray of food along side a cup of tea in the late afternoon. You can also get a cream tea, which is just tea and scones. The most popular tea to drink is English Breakfast.
Gin Tonic – the gin craze is real in England. There are many new distilleries making gin across the country now, and even more bars with creative and extensive gin tonic menus, so you can mix and match to find your perfect pairing. My favorite gin tonic is served in a large round wine glass with plenty of ice and an appropriate garnish.
If you have a contactless credit card, you'll find it very useful in England. It can be used almost anywhere to pay.
The food in England is varied and a lot better than you've probably heard.
You pay via Oyster Card or contactless debit or credit card when you board the bus. Buses don't accept cash.
There is absolutely no need to drive or rent a car when visiting London or major cities in England, but you'll definitely need a car to get around outside the major cities.
Driving in the countryside can be difficult, as the roads are very narrow.
Get outside the city and see the countryside. It's very beautiful and quite a bit different than the city. You'll discover all sorts of lovely things s If you can, plan your flight arrival at Heathrow for low times to avoid unbearably long lines at Immigration.
By reading this England Travel Guide, you now know what to do and where to go, and have sorted out the right time to visit England, haven't you? So, pack your bags and book your tickets, because England awaits you!