GREECE TRAVEL GUIDE
Greece was once one of the most influential and powerful places on earth. The history that took place, and the ancient civilizations that made Greece their home are very captivating and allures many tourists to the area. While the mainland of Greece, and Athens in particular) is home to many of the top archaeological attractions for visitors, like the Acropolis citadel with the Parthenon temple, Greece's many islands also attract attention.
The Greek islands are made up of hundreds of thousands of islands throughout the Aegean and Ionian seas. The beaches of Greece are certainly one of it's main attractions, along with the stunning towns that have captured the minds of many through photos alone. Vacationers long to see the whitewashed houses covering the cliffsides in Santorini, and to stay up all night partying in Mykonos.
With so many things to offer visitors, it's no wonder that Greece is on your must-see destination list. The information in this guide should help you plan the perfect Greece vacation.
The only time you absolutely don't want to visit Greece is during the height of the summer season. It can become very overrun by tourists, plus the weather is hot and sticky. We recommend visiting in the shoulder seasons of May-June and September-October, as the weather is still really nice, the sky is always blue, and there are less people. If you really want to find a quieter side of Greece, and the busy busy islands, try visiting in the winter, from November to February. The weather might not be as reliable, but it won't be cold, and there will definitely be less people.
Athens
Athens is the capital of Greece, and is home to many of the top archaeological sites in Greece. You'll definitely want to spend ample time exploring in Athens.
Meteora
Located in central Greece, Meteora is a rock formation atop which is are 6 of the most impressively constructed Eastern Orthodox monasteries.
Naxos
Naxos has a bit of everything: history, great sandy beaches, lovely Greek villages, fun hikes, a few fun bars and nice restaurants.
Paros
This island is where to go for a peaceful, yet captivating Greek-island visit. There's plenty of great shopping and eating in Parikia and Naoussa.
Mykonos
A popular island (in the Cyclades islands group), Mykonos is known as a party island, with lots of clubs and a very lively atmosphere.
Santorini
Santorini is one of the Cyclades islands in the Aegean Sea, and a place that thoroughly captures the minds of visitors. See the top activities in Santorini.
Rhodes
The largest of Greece's Dodecanese islands, Rhodes is known for its beach resorts and medieval old town. Go there to relax and enjoy the history.
Corfu
An island in the Ionian Sea, Corfu is known for its Venetian influence, from the Venetian fortresses, to the medieval architecture.
People often go to Greece for two things – the history and the beach. You can certainly have one or the other, but we prefer to put them all together and enjoy a little bit of both.
It is practically required that you spends some time in Athens, exploring the ancient history of the country. You must visit the Acropolis and Parthenon. The best way to get the most out of a visit to these ancient sights is with a tour guide. We recommend this tour through Viator: Acropolis Walking Tour Including Syntagma Square and Historical City Centre. You can walk around the sights yourself, but you won't get nearly as much out of it without a knowledgeable guide.
There are 2 days trips from Athens that we also highly recommend. One is the UNESCO archaeological site of Delphi, which was the center of the ancient civilization in Greece and shouldn't be missed. You can see it on this day trip from Athens. The other is to the Meteora monasteries, perched high up on a sandstone cliff. You won't believe your eyes when you see this place. It's incredibly fascinating, and also a UNESCO-listed sight that you must see. Visit Meteora by train from Athens.
Of course, you'll also want to spend some time exploring the Greek Islands. The perennial favorites are Santorini, Mykonos, Rhodes, Corfu, Crete. But you should also consider the lesser-known and visited islands of Naxos, Amorgos, and Patmos. Visiting these islands will put you more in touch with Greek island culture because they aren't as spoiled by cruise ships.
Check out these posts for more indepth information: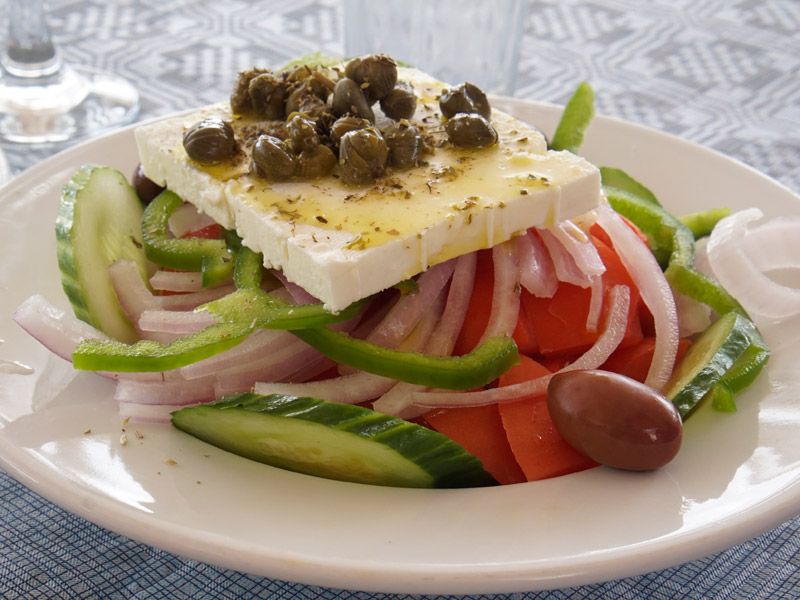 Greece is a country rich in tasty and unique foods, and eating is a large part of the culture, as well. So visiting without trying a wide variety of the foods would be to miss out on a major part of the culture and history of Greece. There are many influences from other Mediterranean countries nearby, like Italy and Turkey, but just as Greek coffee is similar to Turkish coffee, yet not quite the same, so is the cuisine.
Some of our favorite Greek dishes are moussaka, gyros, souvlaki, saganaki, and dolmades. You'll also surely try a few different, but all very similar Greek salads. For a full description of all of these dishes and more that you should look out for while in Greece, see our article on foods you must eat in Greece. We also highly recommend going on a food tour in Athens. It's one of the best ways to get to try everything. Try this Athens small-group food tour.
The Greek Islands are a great place to try and fall in love with the food culture of Greece. The bigger islands have some incredible food offerings (among the many touristy rip-offs, so be careful where you choose), as well as some of the best views you`ll ever have while dining. You can also find some great budget options. Don`t let the low prices scare you away – some of the best food can be found at little family-run shops.
One of my favorite things to drink in Greece is Greek coffee. It's very similar to Turkish coffee, but the beans are not as roasted. It is a thick coffee made from boiling and steeping the grounds in a special pot called a briki. Greeks also like to drink iced coffee called a Frappé, which is a foam-covered iced coffee drink made from instant coffee, water and sugar.
Greece makes some really wonderful wines. Santorini is home to a large amount of the wine produced in Greece. A wine tour to the vineyards around the island is a good way to taste the unique varietals found on Santorini and learn a bit about the way they grow their grapes on such volcanic soil and in high winds.
You'll also find a good number of craft beer being produced in Greece these days. There's the Santorini Brewing Company that produces the popular Donkey beer on the island. If you want a place where you can try a good number of the Greek micro brews in one place, try Beer Time in Athens.
How to get to the greek islands
⇒ Planning to do some island hopping? Check out our guide to the Greek Island Ferries: How to Take the Athens to Santorini Ferry.
Greek island hopping is one of the best parts of a Greece vacation. There are so many great places to see and enjoy, from Santorini, to Mykonos to smaller islands like Naxos. There are two ways to get to the Greek Islands – by plane or by ferry (unless the island you're visiting has no airport). See below for how to book your flights or ferries.
Greek Islands by air:
Athens International Airport, Eleftherios Venizelos, is one of the most organized and modern airports in the world. It is well connected with public transport, so it's easy to get there from anywhere in Athens. Many direct flights from abroad arrive in Athens. Greece also has many airports scattered around the Greek islands, as it is one of the top destinations for summer vacations. If the island you're going to has an airport, this is a very convenient option. Check routes and book your flights below:
Greek islands by ferry:
If you want to do the whole experience when in Greece, you must travel with ferries as this is the most popular way of transport between the Greek islands. An easy way to book your ferry tickets is through Ferriesingreece to book your ferry tickets. After booking your tickets, you can ask to receive them by mail or just get them printed from the kiosks at the port prior to your departure. You will also have the possibility to book multiple routes if you decide to do some island hopping. Last but not least, in case of cancellations or delays the customer support always informs you in advance and helps you reschedule if necessary. Check routes and book your ferry below: