Many people dream of traveling to Japan some day, with the hopes of seeing towering pagodas, colorful temples, and blossoming cherry trees. Japanese food is another inexplicably alluring part of Japan that brings tourists by the hordes to Tokyo, to eat sushi made by masters of their trade, to slurp ramen, to try unique delicacies only found in Japan, like okonomiyaki and takoyaki.
It's a fascinating country, full of amazing cities, surprises, and delights. You can spend time in Tokyo taking in the thrilling sights, learning about the culture and finding inexpensive adventures, or you can travel across the country admiring the multitude of temples, or eating incredible food. Whatever you choose to do in Japan, it'll be an adventure.
Japan can be very hot and steamy in the summer months, so it is recommended to avoid visiting from June to August, if you can help it. You'll be much more comfortable visiting in the spring, from March to May, or in the fall, from September to November, when the heat has died back and the rain has subsided.
Many visitors choose to see Japan in the spring when the iconic cherry blossoms are in bloom. Of course, that makes it a very busy time in an already crowded place. If you want to avoid the crowds, you might want to skip the cherry blossom season and visit on the shoulder months, like May and November.
In the fall, the leaves change and provide a blanket of reds and oranges across the country that is amazing to see. Winter is also a popular time to visit Japan, because of the many opportunities for skiing.
Check out these 5 best places to visit in Japan in winter.
Tokyo
Tokyo is unlike any other city in the world, with its incredibly busy intersections and incredible food. You can try a tea ceremony, visit the old Tsukiji market, or any of these day trips from Tokyo.
Osaka
Osaka is known as Japan's kitchen. You'll find so many foodie experiences in Osaka, like Dotonbori street food, along with amazing temples and fantastic day trips around the area.
Hokkaido
Hokkaido, the northernmost of Japan's main islands, is known for its many volcanoes, natural hot springs (onsen) and ski areas. It's a wilderness paradise for outdoor lovers.
recommended Japan itineraries
Planning a trip to Japan? Most people want to take a Japan vacation at some point in their life. ...
Japan and More offers a fully escorted 8-day Intro to Japan Tour that's perfect for experiencing the best of Japan. You'll visit Tokyo, Osaka, Kyoto, and Nagoya, plus the mountain village of Takayama. The cost of the tour includes all accommodations, transportation, entrance fees, some meals, and pre-departure help and advice. The tour group is small, at just 8 people. If this itinerary isn't long enough, they have a total of three different itineraries to choose from.
Discover Japan Tour: 14 nights – stay at a traditional Japanese Ryokan, visit the ancient capital of Nara, and Hiroshima Peace Memorial Park, ride a cable car up Mount Koya, soak in a Japanese onsen bath in Hakone
Explore Japan Tour: 21 nights – Stay 4 nights at a traditional Japanese Ryokan, experience a Buddhist temple lodging on Mount Koya, visit the beautifully preserved villages of Kiso Valley, relax in a hot sand bath in Beppu, witness the magnificence of the Great Buddha in Kamakura.
For more information, check out Japan and More's website. You'll get $100 off the cost of your tour by using our coupon code: SAJN. Not sure about a guide tour? Read this review by someone who's taken the trip.
Tokyo
Here's our list of great places to stay in Tokyo. We highly recommend the Intercontinental The Strings Tokyo Hotel. It's a really large hotel with nice rooms, located in Shinagawa, which is really close to shopping, eating and transportation. You can catch the bullet train to your next location at Shinagawa station, which is just a quick walk away. ⇒ Read reviews on Trip Advisor.⇒ An alternative at half the price is the Shinagawa Prince Hotel. (Read reviews on Trip Advisor.)
Osaka
There's only one place to stay in Osaka, if you ask me. It's the Osaka Marriott Miyako Hotel. It's in a convenient location for transportation, it's right above a mall with lots of restaurants and neighborhood dining options, it's got an insane view, and really comfortable rooms. (Read reviews of the Osaka Marriott on Trip Advisor.)
Kyoto
We recommend the Hyatt Regency, because it has a reliable standard for Western accommodations, however it's not as close to the main sights as we'd like to be. Another, closer choice is ANA Crowne Plaza Kyoto. Kyoto is more well known for its traditional ryokan guesthouses.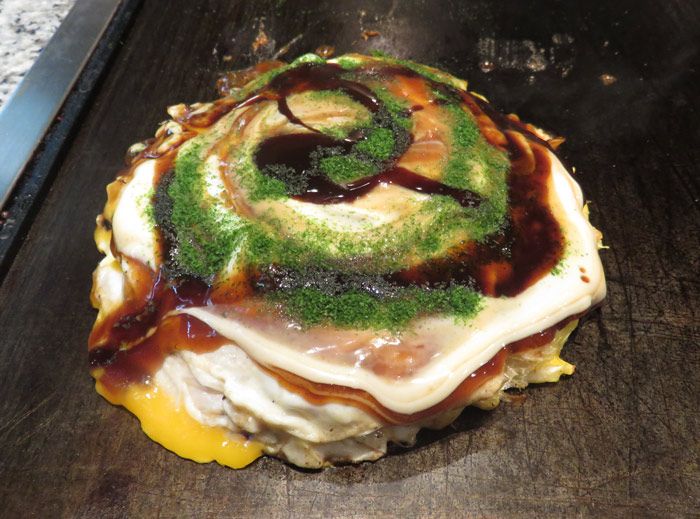 Japan has a rich food culture with many specialties and interesting foods to try. Sushi probably comes to mind first when we think about Japanese food, but it is by no means the only thing.
Ramen is another beloved specialty from Japan, and you'll find many varieties to try. One of my personal favorite foods to eat in Japan is okonomiyaki, a pancake-like mixture of cabbage, bonita flakes and sweet okonomiyaki sauce.
If you've never tried takoyaki, you'll find dozens of vendors selling it at food stands all over Osaka. There are many other "yakis" to try (yaki means grilled or fried), including yakitori, yakisoba, yakiniku, and sukiyaki. A good way to try all of these dishes is to go on a izakaya tour.
Izakayas are small bars where people tend to congregate after work for small snacks and drinks before going home. Read more about izakaya tours.
Another specialty you'll find throughout Japan, with entire restaurants devoted to just the one type of food, is gyoza. If you come across a busy gyoza shop, by all means – EAT THERE.
It's really fun to watch them make it, and the gyoza are really delicious. Learn how to make gyoza at home with our Global Gourmet recipe.Tokyo is an absolute food mecca, but we also love eating in Osaka, which has been called Japan's Kitchen, and also Nagoya.
Check out this Nagoya food guide for all the top places to eat.
Unique Things to Drink in Japan
There are so many great things to drink in Japan that you won't find anywhere else, but also regulars like beer and sake that you should enjoy while you're there.
You've no doubt tasted sake before. It's a rice wine made in Japan. You can tour sake factories in Tokyo and all over Japan. One of the best places to go for sake tasting is the Naha District of Kobe, just 30 minutes from Osaka. There you can try many different types of sake, from a handful of different producers.
Beer is a popular drink in Japan. There are a numerous breweries throughout Japan, some that you can tour, like Sapporo, Asahi and Kirin Ichiban.
Shochu is a traditional hard liquor that is often consumed in Japan. It is a distilled liquor, often made from rice, but it differs from sake, in part due to it's 25-35% alcohol volume.
You'll often find mixed drinks and cocktails in Japan made with shochu. One such drink is called Chuhai, which is shochu mixed with soda and sold in a can.
Of the non-alcoholic drinks, none are more popular than green tea and matcha. Not only are there numerous different kinds of drinks using green tea, you can also find many food products with matcha, like ice cream and chocolates.
Additional tips & information
Useful phrases
Say itadakimasu ("I humbly receive") before eating and gochisosama deshita ("thank you for the meal") after finishing the meal.
With drinks, always serve the person next to you first and wait for them to reciprocate. 
Kampai means "cheers" (never say "chin chin"; in Japanese it refers to male genitals!)
Etiquette
Don't pass food from your chopsticks to another's or plant your chopsticks in a bowl of rice – these gestures are associated with funeral rites.
When it comes to slurping, it's perfectly fine to slurp when eating noodles as it means you're enjoying the food.
Tipping
There's no need for tipping (taxis, restaurants, etc) anywhere in Japan. Japanese people never tip and it might in fact be seen as rude to do so.