Lithuania TRAVEL GUIDE
Getting its independence in 1990, the southernmost Baltic state Lithuania has a dark past. But it has freed itself from the shadows of the German and Soviet rule and is now one of the gems of European tourism. With numerous lakes and the large Curonian lagoon, you can call this country ever-blue. Sounds like evergreen? Well, this heaven-for-nature-lovers also has a large forest cover.
There even are dunes – high and white. There is the old medieval Vilnius and also, many other colorful towns. You will know what I am talking about once you reach there. So, let's see what this Baltic gem has to offer.
Situated somewhat closer to the north, Lithuania does have a freezing winter, but snow cover doesn't last long. But the days are shorter then. So, it's for your comfort to get in Lithuania in the late springs or summers. Thus, the ideal period would be mid-April to late-August.
You will get ample time to view this beautiful small country as the days start getting longer and temperature, warmer. Lithuania though is humid most of the times, even in the winters. Moreover, you have a better chance to get a flight to Vilnius or Kaunas in the summer as many airlines do not have their services to Lithuania in winter.
Further Read: Learn More About Rich Lithuanian Culture!
Lithuania is connected to the major cities in Europe, and when you're in, car rentals are readily available at the airports to get you anywhere in the country. The state is small and the roads, one of the best.
Vilnius
The largest city of Lithuania, and also the capital – cultural as well as economical – Vilnius is at the top of places to visit in Lithuania. It is famous for its Old Town area where one can see different architectural styles and is also one of the UNESCO Heritage Sites. Presence of a large forest cover led people to use wood for buildings, and you can still find old wooden buildings and churches in many small towns.
An organised tour can help you complete the Old Town (Senamiestis) visit in about 3-4 hours. There is the Vilnius Cathedral and the Cathedral Square. Nearby is the Gediminas' Castle (and museum) on the small hill. There is the old town hall building, and another place of interest is the Gate of Dawn which used to the entry point to this original Vilnius. In the Old Town, there also is the impressive Vilnius University.
For the lovers of modern art, the nearby Uzupis district is a neighbourhood full of colourful street arts and twisting streets. The area has a constitution of its own and the residents, also celebrate Uzupis Independence Day on April 1, yes, on April Fools' Day. You can also see the one of a kind statue of Frank Zuppa (a guitarist) there, near the New Town (Naujamiestiis).
If you are there, by chance, in March, you can catch the Kazukas Fair (on St. Casimir's Day). It is an event you shouldn't miss if you want to see traditional Lithuanian dances and folk songs. People come from all over Lithuania (and also nearby) to sell handmade crafts.
Day Trips from Vilnius
Trakai
About 30-km from Vilnius is Trakai, famous for its Island Castle. Situated on Lake Galve, this castle was used by the grand duke. You can take a row-boat to access this architectural beauty or take a walk on the footbridge. The town itself is beautiful, and you can walk around the lake or rent a boat to paddle on the lake.
Kaunas
The old town in Kaunas is situated at a place where the Nemunas River and the Neris River join. Monuments worth paying a visit there, are the Kaunas Castle, St. George Church and the Kaunas Cathedral. There also is the Museum of Devils in Kaunas. The museum has a collection of devil sculptures and figurines owned by the painter Antanas Zmuidzinavicius.
Kaunas is at a distance of 100-km from Vilnius and on the way is the Rumsiskes Open Air Museum. On display there, are homes from the five ethnographic regions in Lithuania.
Siauliai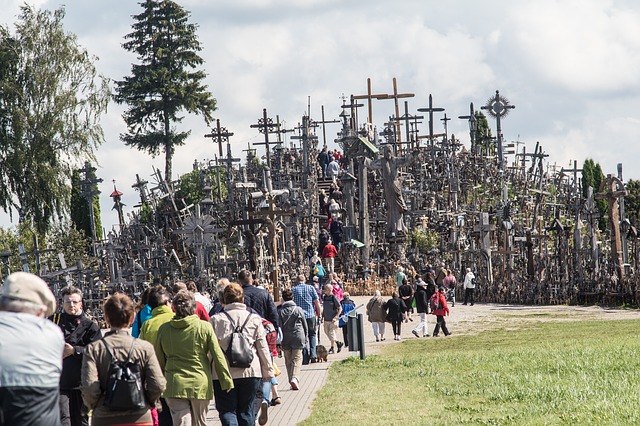 The northern Lithuanian city of Siauliai is 200 km away from Vilnius, and is the fourth largest city in Lithuania. It is famous for the Hill of Crosses, a pilgrimage site about 12 km north of the town. It's a small hill with an uncountable number of crosses of different sizes placed over the years. The practice started as a peaceful opposition to the Soviets, and the ritual continues as a mark of goodwill. Newlyweds also visit together and leave a cross there.
There also are many museums in Siauliai. There is one dedicated to photography, and one museum that only has bicycles. There also is a cat museum. Each one does its part in telling a story about the culture of Lithuania.
Klaipeda
A 3-hour ride from Vilnius (or 2 hours away from Siauliai), is the port city of Klaipeda. Even though much has been destroyed in the war, you still can spot many wooden-frame buildings there. In the historic old part of the City are the ruins of the castle which houses the Klaipeda's museum. Roaming the streets of Old Town, you will come across the Theatre Square, marked by a statue of a girl, Ann.
Next in the line is the water-side Sea Museum which also organises dolphin shows. Then there is the Sculpture Park. It used to be a cemetery earlier, but now you will see 100s of rock sculptures of famous persons designed by Lithuanian artists.
Day Trips from Klaipeda
Neringa
The Neringa district is a group of fishermen villages in westernmost Lithuania. It is situated on a long strip of land separated from the mainland Lithuania by the Curonian lagoon. This lengthy piece is called the Curonian Spit and is accessible only by ferries.
The ferry from Klaipeda takes passengers as well as vehicles to the Spit, and they dock at Smiltyne after a 10-minute ride. The 98-km long Curonian Spit is shared between Lithuania and Russia, and Nida is the last village before the border. These villages serve as beautiful beach resorts, and nearby is the Parnidis Dune – a huge mound of white sands – providing you with a panoramic view of Curonian Spit and the lagoon. On the way to Nida, is Juodkrante village, where there is the Hill of Witches. It's an area in the woods where there are scary wooden statues pertaining to Lithuanian folk stories and myths.
Silute
Silute is a town about 50 km south of Klaipeda. The Nemunas Delta there attracts hundreds of species of birds and thus, is a heaven for bird watchers. Angling enthusiasts can also make a good catch there. There also is the Minge village nearby, on Minija River, where the only mode of transport available is a boat.
Palanga
Palanga is a seaside resort 30-km north of Klaipeda. While Neringa is for those in search of seclusion, Palanga is known for its nightlife and of course, the beautiful beach. You can do a day-trip from Klaipeda but a night's stay is recommended if you are a party person. The nightclubs there come to life with colorful lights and music.
On the sea-front, there is the long L-shaped Titas pier. Apart from sea and night entertainment, Palanga has a large amber museum and the Birute Park – a botanical park.
Druskininkai
Situated on the Nemunas River, Druskininkai is a spa resort town south of Vilnius. It has a large number of spas, and the proximity with the borders of neighboring countries attract people from Belarus and Poland regularly. There also come many Russian health-seekers.
Surrounded by forests, Druskininkai also has the Soviet-camp style Grutas Park. The ground is designed in the form of concentration camps and has statues of Soviet leaders. There are swings for children and there also is a museum which plays documentaries. And there is a café, serving traditional Lithuanian dishes and also has a Soviet menu.
This health-centric town is a 2-hour drive from Vilnius.
You'll find many great choices of places to stay in Vilnius. We recommend staying in the town center, or nearby, for the best experience, so you'll be close to everything. There is always an affordable luxury option in many of the larger cities in Lithuania. We've listed a few below that meet our typical 4-star standard.
In Vilnius
In Klaipeda
In Palanga
Those were all the amazing feasts for the eyes in Lithuania and when it comes to stomach, don't forget the zeppelins. These are potato dumplings made in the shape of zeppelins. The dish which goes by the name cepelinai is made of potato dough, topped with sour cream and is filled with meat (vegetarian options are available).
Lithuanian cuisine is full of potatoes, and some more potatoes, and it's no surprise that cepelinai is the national dish of Latvia. Other things found in everyday Lithuanian dishes are meat, mushroom and beetroot. Another potato dish is bulviniai blynai – pancakes made with potatoes – served with sour cream, bacon sauce and dill. And then, Lithuanians love soups.
The cold saltibarsciai – a beetroot soup with boiled eggs – is the national favourite. It is usually served with boiled potatoes alongside. Another starter is pickled herrings, silke, served with boiled potatoes and the traditional dark rye bread. Then, there is the Turkish kibinai, baked pockets filled with meat (variations are there though).
Other prevailing dishes are vedarai (sausages), kugelis (a potato pudding), saslykai (meat kabobs) and kodunai (Polish meat dumplings). And for something to accompany drinks, Lithuania has kepta duona (salty fried bread). You get it with cheese sauce.
When Lithuanians drink, they drink their local beer – alus – and are proud of it. There, by the way, are regional differences. And apart from fried bread, they have a variety of snacks served alongside the drink – smoked cheese, smoked pig fats, pig ears, peas with ribs and many more. You can find them under beer snacks – uzkandziai prie alus – but don't try them all at once. Your stomach has the right to remain healthy.
Another traditional alcoholic beverage is mead, and also famous are vodka and wine. Then there is kvass, a mild alcoholic soft drink. The Lithuanians call it gira. You'll also find a range of fruit juices, made from seasonal berries. So, which one are you after?
We know you will love your trip to Lithuania. When you return, be sure to share with us which food and drinks made your list of favorites. And don't forget to mention the tourist spot you liked the most. I put my bet on the calm, romantic Neringa beaches!
This guide was written by guest blogger, Abhijeet Kumar.
I am a writer by heart… I love travelling.
I work, I travel, I write about it… and Repeat. Connect with me on LinkedIn.