The best way to experience a city like Barcelona – in the region of Catalonia that has incredible food – is on a Devour Barcelona food and wine tour. You'll do more than just eat and drink great food on this tour, you'll be immersed into a world where gathering with friends to enjoy a glass of wine and tapas is a way of life.
When visiting a city for the first time, we always scour the food scene and try to determine where we'll find the best food and wine. Luckily, we had already heard about Devour Barcelona from friends who had previously taken the tour. So one of the first things we did was book this tour.
What to Expect on the Tour
We first gathered in a small tapas bar in El Born neighborhood, where every table was full of locals jovially enjoying their Friday evening over a few small plates and copas de vino.
We tucked right in and tried a glass of Vermouth and some patatas bravas. Consequently, these were Nick's favorite patatas bravas of our entire trip to Spain, because the spicy bravas sauce was actually spicy, as promised. That's not typical in Spain.
The best part of the tour for me was that it was led by a certified sommelier. We've been on a lot of wine tours over the years and it is very rare to find such expertise in a tour guide. This makes a huge difference in the amount of information and knowledge that is given about the wine you're tasting.
Being led by an expert means you'll be given tips on how to smell and taste each wine so you get the most out of it. For example, we first tasted two cavas side by side and our guide, Fintan, helped us identify aromas and tastes as we sipped, and he helped us tell the difference between the two.
As we walked between stops, Fintan answered all of our questions about the wines and the food scene in Barcelona. He pointed out other places we might enjoy after the tour and offered his assistance during our time in Barcelona, genuinely wanting us to have a good experience in his adoptive city.
At the third stop, we walked into a very busy wine shop where the neighborhood locals were enjoying their evening with friends and wine. It was so full of spirit and liveliness that we wanted to join right in, and I'm sure they would have been happy to have us do so, but we had more tasting to do next door.
Wines of Catalonia You Might Try
There are actually quite a few wine regions located throughout Catalonia, from the northern border with France near Cadaques, all the way down to south of Tarragona.
If you've had Cava, it's from this area. The white wines of Penedes are also fairly well known outside of Spain, as are the rich, fruity reds of Priorat. We've also had the pleasure of visiting the Emporda region around the Costa Brava that is making some great wines.
Some of the wines you're likely to try on this tour include:
Cava from Penedes
White wine from Penedes using Xarel·lo, Parellada, and Macabao grape varietals
Red wines from Emporda using Samsó and Garnatxa Negra grapes
Red wines from Priorat using Garnacha (aka Grenache) and Cariñena (Carignan)
Fortified wine
Vermouth
Foods to Try in Barcelona
Spanish tortilla – One of my favorites – an omelette filled with egg and potato.
Pan con tomate – You'll get really well acquainted with this appetizer while in Barcelona. It's served as an opener almost everywhere. Spread some garlic and olive oil onto a piece of toast and then smother it with a ripe tomato. So good!
Gourmet, open-faced toasts
Manchego cheese
Mojama – filleted, salt-cured tuna
Melt-in-your-mouth Iberian pork or tender braised beef
When you're in Barcelona, even for a short trip or stopover, you must join a Devour Barcelona food and wine tour and see this wonderful side of the city for yourself. They offer four different tours, including the one we took, called the Barcelona Tapas & Wine Tasting Tour.
Each lasts from 3-4 hours and will take you to different parts of the city to learn about the food culture. Check out their website to book your tour. Read here for other great Barcelona highlights.
Conclusion
There's really no better way to spend an evening than walking around Barcelona with a guide tasting and sipping your way to some of the best food establishments that you wouldn't have found on your own. Highly recommended!
Like this post? Why not save it to Pinterest?
FOLLOW US on Pinterest, Instagram, Facebook for more great travel inspiration and tips.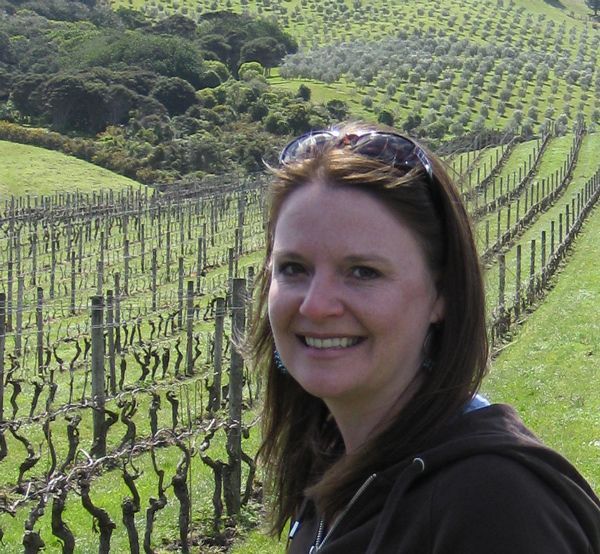 Laura Lynch, creator and writer of Savored Journeys, is an avid world traveler, certified wine expert, and international food specialist. She has written about travel and food for over 20 years and has visited over 75 countries.