This Discover Wine series focuses on regions of the world that you can visit for wine tasting.
In this edition, we explore the Moselle Valley Wine Region of Luxembourg, which begins just a few miles outside of Luxembourg City. There are many little towns along the Moselle River, that divides Luxembourg from Germany, and all along the hills surrounding the banks of the river are vineyards cascading down the hill.
It's a beautiful area. It's small and most of the wine produced in Luxembourg isn't widely distributed. That makes it a perfect wine region to travel to and explore.
Moselle Valley Wine Region
This area is quite unique in that it shares a border with two other countries, Germany and France, which also produce wine from the vineyards of the Moselle Valley. As you approach the Moselle River, you can begin to see the vineyards flowing down the steep embankments and back up the other side.
One side of the river is Luxembourg, and the other side is Germany. While the German Moselle region is larger, with 9,000 hectacres to Luxembourg's 1,300 hectacres, the vineyards of both are very well established, dating back to the ancient Roman times.
The types of wine you'll find in the Moselle Valley are for the most part white, though there is the occasional rose or pinot noir. They also produce a very nice sparkling wine called Crémant, that are made by méthode champenoise.
Although their German counterparts make some sweeter white wines, Luxembourg wine makers tend to produce dry whites, closer in style to dry Alcase wines. Nine different grape varieties are grown in the region.
They are riesling, pinot noir, pinot blanc, pinot gris, gewürztraminer, auxerrois, rivaner, elbling and chardonnay. From these grapes, they make both blends and single varietal wines.
How to Get There
The easiest way to get to the Moselle Valley is to fly directly into Luxembourg City. To get between wineries, restaurants, and points of interest, a car will be necessary to get around.
The region is very welcoming to visitors and is never overrun by tourists, even in the height of the season, so you'll often feel like you're having a private tour and tasting.
The Moselle Valley is located only about 30 minutes outside of the city. The roads are good and easy to drive. There's plenty of signage to make sure you don't get lost moving from one winery to another.
Where to Taste
While many of the wineries in the area are open by appointment only, that shouldn't deter you. The Visit Moselle website has a great list of all the wineries in the area and many of the listings include contact information and hours of operation.
If you send an email in advance (I'd try for a week or two, at least), you can set up appointments for tours and tastings with no problem. There are also a few open weekends each year when many of the area producers are all open for walk-ins, like the Pentacost Wine, Taste, Enjoy event on the first weekend of June.
There are also many wine bars and restaurants throughout the region where you can taste many wines from wineries that you might not make it to.
There are many great wineries and caves along the Moselle River that you can stop at for a tour and tasting. The towns of Wormeldange, Remich and Remerschen have a handful of wineries that you can visit together without much driving to do between.
From the city, you can take the E29 straight to Remich and start there, then head north on route 10 to Wormeldange, or south to Remerschen. There are wineries all along the way.
Here are a few we recommend:
Where & What to Eat
When you're visiting the Moselle Valley, you want to try some authentic dishes and mingle with the locals. I highly recommend booking a Sunday lunch at Koeppchen in Wormeldange, where the locals come out to enjoy a long, sumptuous afternoon.
The food is stunning and the location couldn't be better. The modern decor makes the place feel fresh and vibrant, and you can't ask for better service. Not only is the food fantastic, there is a really nice wine list to go with it. Believe me, you'll have a hard time settling on just one bottle of Luxembourg wine from this list.
The dish you absolutely have to order on the menu is Friture de la Moselle. It's a traditional dish of the Moselle region and you'll see everyone ordering a plate to enjoy. The dish is very simple. It's just small fish that have been deep fried and served whole.
You just pick them up and eat the meat from the bone. They are very tasty, and best of all, they're very local. Try them with one of the delicious Rieslings on the menu, like the Domaine Alice Hartmann.
Where to Stay in the Moselle Valley
Since the wine region is so close to Luxembourg City, it's fairly convenient to drive back to the city if you wish. There are many great hotels there and you'll be close enough to walk to the city when you have time to check out the other attractions of the city.
We recommend:
(Feel free to use the links below to read more reviews or book your stay at these recommended hotels. They are affiliate links and help us keep the lights on around here.)
In the countryside, there are also great hotels and vacation rentals that will allow you to stay right in the middle of the action. This way you can enjoy a nice relaxing dinner with wine and not have to do any driving until the next day's wine tour.
If you like to travel for wine, and to learn about and taste wines in regions that are new to you, the Moselle Valley Wine Region in Luxembourg is the perfect spot for you. You'll love the scenery, the river, the people — everything is exactly how you want wine country to be.
Like it? Pin it to Pinterest so you can find it again later.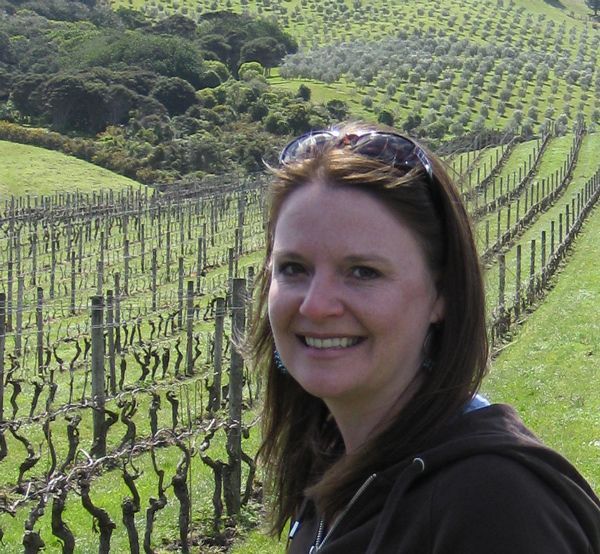 Laura Lynch, creator and writer of Savored Journeys, is an avid world traveler, certified wine expert, and international food specialist. She has written about travel and food for over 20 years and has visited 70+ countries.