Located in the north of Spain near the Basque region, and very near to the beloved food destination of San Sebastian, La Rioja is one of the country's most well known wine regions.
The Tempranillo and Granacha grapes grow abundantly, leading to the bright, fruit forward wines that are typical of the area. The Graciano and Mazuelo grapes are also important to the wines of Rioja. So get ready, we're going to show you where to go wine tasting in Rioja.
The regions wine-making tradition spans back to Roman times and was the first region in Spain to be awarded DO status in 1933. You'll find a few different selections of wine from Rioja, starting with Joven (young wine), Crianza which has been minimally aged, to Gran Reserva, which is the best of the best and has been aged the longest — generally no longer than 3 years.
Rioja wines are ready to drink when purchased, unlike wine from other areas that require more aging in the bottle to be drinkable.
Planning a Rioja wine trip? Here's more
How to Get to the Rioja Wine Region
La Rioja is located in the northern part of Spain, about 4 hours north of Madrid. If you fly into Madrid and rent a car, the journey will take you through another well-known wine region, the Ribera del Duero.
After a stop off there to try the wines, you'll easily find your way to the beginning of the wine valley, Haro, where the historic wine houses are located. Continuing east will take you into Laguardia, a small, but charming walled town, and Logrono, the capitol city of the region.
It's very easy to drive in the area. Roads are well maintained and marked. If you don't want to drive that far, you can fly into Bilbao, which is located at the north end of the Rioja valley.
From there, it's easy to get around to all parts of the valley via car. Plenty of tour companies run tours through the area, so if you're not into driving and scheduling visits yourself, you can easily get hooked up with a tour company and do it the easy way.
BOOK A TOUR
If you don't want to plan out your own wine tasting tour or drive around the area yourself, leave it up to the pros and book a group or private tour.
Where to Go Wine Tasting in Rioja
Wine tasting in Rioja is similar to other areas in that you generally are expected to take a tour of the facility after which you will taste a couple of the wines that they offer.
You almost always need a reservation (made at least a day in advance) and rarely do the bodegas offer a tasting room only option where you can just stop in and taste the wines.
However, in the wine-centric town of Haro, where wineries like Muga, Roda and Cvne are located, it is possible to do that. You can go on a tour if you like — and it's highly recommended because the cellars are so old and intriguing — but it's often not necessary if you just want to taste the wines.
MORE: Read our guide on the top wineries to visit in Rioja. Rioja is a large wine region and it's split up into smaller growing zones called Alta, Baja and Alavesa.
There are bodegas of interest to international wine tourists in each of these areas, but most tourists tend to center themselves in Alavesa. Here you have many to choose from. Some that I would recommend are Baigorri, Ostatu, Ysios, Eguren Ugarte, and Bodegas Luis Cana.
Make sure you balance your visits with stops at the larger, high-tech bodegas as well as smaller, family-owned bodegas. You'll get a full picture of the area and its history this way.
In the small town of Laguardia, be sure to stop at some of the centuries-old wine cellars that are built under the city, like Bodega El Fabulista.
Visit Logrono for a lunch-time pinchos crawl, then hit up some of the bodegas nearby like Franco Españolas, Campo Viejo and Marques de Murrieta.
Where to Stay in Rioja
The best place to stay is always subjective, but there are a few really lovely hotels that we like to recommend. You can see all our recommended places to stay in Rioja in this complete list, or read on below.
Marques de Riscal Hotel in Elciego. It's a 5-star resort run by Starwood. The hotel was designed by internationally acclaimed architect Frank O. Gehry and is an architecturally stunning building. There's also a winery on site that was founded in the late 1800s and is now one of the top producers of wine in the region, plus a Michelin-star restaurant. >> See reviews from Tripadvisor here.
A great alternative is the luxury boutique Hotel Viura. Also stunning architecturally, Viura has a very unique, modern design and is tucked away in a charming little village called Villa Buena de Alava. The restaurant at Viura is also fantastic. Whenever we go to Rioja, we stay here. It's really fantastic. >> See reviews from Tripadvisor here.
In Logrono, we love the Hotel Calle Mayor. It's in a prime location and it's quiet, small and very nice. You'll love it there. Plus it's really close walking distance to the Pinchos crawl street of Calle Laurel. >> See reviews from Tripadvisor here.
Another option that we love, but is a bit more removed from the wineries is Echaurren Hotel Gastrinomico in Ezcaray. Even if you only stay there for one night, as a treat, it's well worth the effort. The hotel is fantastic, and has two great restaurants that are a large part of the experience there. >> See reviews from Tripadvisor here.
One is a modern 2-star Michelin restaurant. The other is a more traditional-style menu. Both are worthy of a savored journey.
Where to Eat in Rioja
There is no shortage of incredible places to eat in the Rioja. Because the area is so big, and tends to draw a crowd that really enjoys fine dining, there are dozens of great dining options.
There are two Michelin-star restaurants in the area.
The Marques de Riscal Restaurant and the 2-starred El Portal de Echaurren in Ezcaray. Both are fantastic.
On the slightly less pricey side, Hotel Viura's restaurant has a great tasting menu with some really tasty food. Book in advance when you arrive.
The much-loved Hector Oribe in the small village of Paganos, just outside of Laguardia is not to be missed.
One of our most favorite things to do in Rioja is a pinchos craw in Logrono. Contained on two or three tiny streets in Logrono are dozens of pinchos bars offering everything from sauteed mushrooms to foie gras and the region's famous patatas bravas. You absolutely must go for lunch or dinner. It's a really great time.
When in Rioja for wine tasting, you should always plan for at least a couple of really top-notch winery lunches. It's a great way to taste the wines with food, the way they were meant to be enjoyed, and enjoy some local cuisine at the same time.
A few of the large wineries in Rioja offer lunches. Some of the best are Dinastia Vivanco, where you'll have a choice of a couple of different tasting menus, and Bodega Baigorri.
Plan enough time to enjoy the winery tour at both locations, as well as the expansive wine museum at Vivanca.
Tours You May Enjoy
CONCLUSION
We loved spending time in Rioja, especially during the fall, when the leaves were all gleaming gold and red. It's a world-class wine region that hasn't been spoiled by tourism.
Tell us why you love Rioja? What bodegas have you visited?
Like this post? Why not save it to Pinterest?
FOLLOW US on Pinterest, Instagram, Facebook for more great travel inspiration and tips.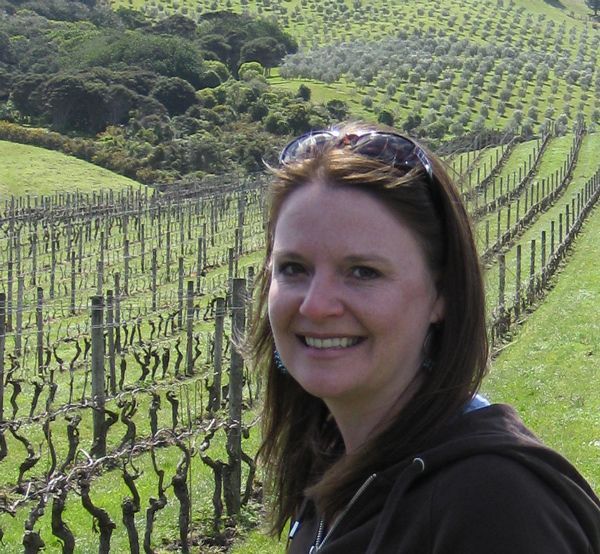 Laura Lynch, creator and writer of Savored Journeys, is an avid world traveler, certified wine expert, and international food specialist. She has written about travel and food for over 20 years and has visited over 75 countries.