One of my favorite things we did in Japan involved just one street. Yes, I realize there are millions of people living in Japan, hundreds of temples and shrines, parks and gardens, sky towers with incredible views, centuries old fish markets, Michelin-star restaurants, tons of izakayas. You name it. Japan has it. But for me, the star of the show is one single street in Osaka: Dotonbori.
Dōtonbori is one of the principal tourist destinations in Osaka. It runs along the Dōtonbori canal from Dōtonboribashi Bridge to Nipponbashi Bridge in the Namba district of the city. It's not a huge area. It covers only about 8 blocks. But it is absolutely jam packed with restaurants, food stalls and street vendors selling every type of food specialty Japan is known for. (Start with these 5 must-try foods).
Around 5pm, Dotonbori Osaka turns from a fairly quiet, mostly deserted street into a bustling and utterly jam-packed food metropolis with lines of hungry people queued up to buy trays of hot-off-the-grill yakitori, yakisoba, takoyaki, okinomiyaki, sukiyaki…. YAKI EVERYTHING! If you can eat it, they are selling it. On Dotonbori food is king!
Watch our quick video to see what Dotonbori is like!
How to experience Osaka's Dotonbori Street
We knew we'd arrived at the right place when we saw the famous Glico billboard of the runner crossing the finish line. An apropos beginning to our Dotonbori food journey. We'd taken the train from our hotel (we stayed at the incredibly awesome Osaka Marriott Miyako Hotel) to the Shinsaibashi Station and walked along the shopping street south until we got to Dotonbori, which I also recommend as something really fun to do. Once we arrived at Dotonbori street, we were completely mesmerized.
The street gets more and more animated as the sun goes down. Massive lines begin to form at the most popular food stalls, so we knew the most popular spots. For takoyaki, we found the most popular place to be right next to Ichiran on the back side of the canal. The line was always incredibly long there. Not to downplay the line at Ichiran, which is a very popular tonkatsu ramen restaurant with its own extreme line.
We were loving the angry chef who kept trying to bully us into buying his kushikatsu.
We did stand in a few long-ish lines, but for the most part, we found that we didn't really need to stand in any of the long lines to get really good food. There were so many options. I mean, how much better can the takoyaki be at that stand than any of the other 90 stands?
We had to try the gyoza, so we stood in a line where the only person working there was doing it all, from folding up new gyoza to grilling them and serving them. You'll know it as soon as you see the huge plastic gyoza in front of the restaurant. I can't say it's the best on the street, because we didn't try them all, but we did see them making the gyoza by hand, and they were really good! (Want to learn how to make gyoza at home? We have the recipe!)
The one line we stood in that was totally worth it was for the best okonomiyaki we had on our trip, which is said to be the best in Osaka. It was at a Dotonbori restaurant called Mizuno. They have a 6-seat teppanyaki grill upstairs and some tables with grills downstairs. We didn't wait very long and for a busy evening, we expected to wait longer – maybe like 15 minutes.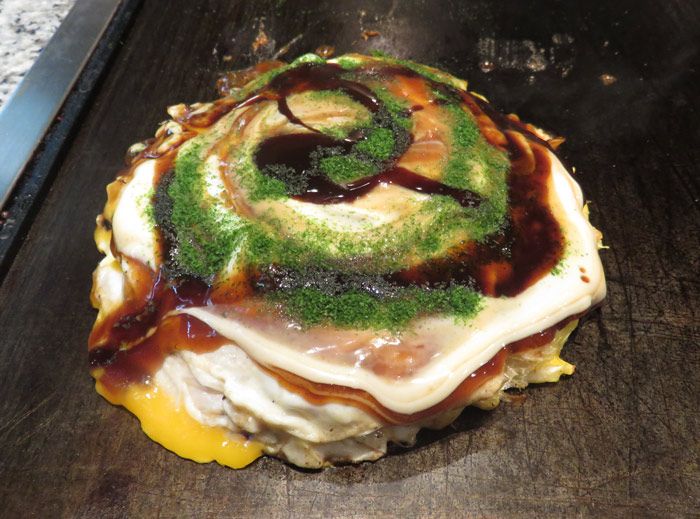 We ordered outside while we were still waiting, so they had our okonomiyaki already cooking on the grill when we sat down. If you're not familiar with this dish, it's a flour, egg, cabbage, type of pancake with typically either seafood or pork topped with bonita, sweet sauce, mayo and seaweed flakes. It's really good. We were not at all disappointed with the one we had at Mizuno. It was really good.
We spent about 3 hours walking around the main street of Dotonbori, sampling our way around, as well as weaving through the smaller side streets. We even went back a second night to do a bit more. It was a great place to grab dinner, both quickly and cheaply in Osaka, so if we'd had more nights to spend, we probably would have gone back more times.
I highly recommend adding it to your itinerary. Just remember that it doesn't really get going until at least 5pm. The later you go, the more enjoyment you'll get out of it. And don't even think about eating before you get there. An empty stomach, and an open mind, are absolutely required. Don't worry about not knowing any Japanese either. If you find a place where no one speaks English and there is no English menu, pointing to what you want is easy enough.
If you want to try best izakaya food and drink near Dotonbori in Osaka, try this Osaka Bar Hopping Food Tour with Magical Trip. You'll get to experience authentic Osaka foods and drink by pub crawling through local izakaya bars that travelers normally wouldn't find.
When you're done walking around, you can hop on the subway at Namba and head back to where ever you're staying!
Staying in Osaka and looking for a great place to stay? We highly recommend the Osaka Marriott Miyako Hotel. It's in a convenient location for transportation, it's right above a mall with lots of restaurants, and it's got an insane view and really comfortable rooms. (Read reviews of the Osaka Marriott on Trip Advisor.)
Don't want to do the planning yourself? Try a guided tour
If you've been wanting to plan a trip to Japan, but don't know where to start, we recommend looking into a guided tour with Japan and More. They offer anywhere from 7-21 day trips to discover all the best parts of Japan with a very small group, and the planning is taken care of for you.
PRO TIP: If you're planning on visiting another destination in Japan besides Osaka, I highly recommend looking into the Japan Railpass, specially priced for tourists. If you're going to travel to more than 2 destinations in Japan, it's definitely the way to go, as you'll save a bunch of money over buying separate tickets. Just one round trip from Tokyo to Osaka pays for the ticket. Every other ride you take is free.
Like this post? Save it to your Pinterest board with this image.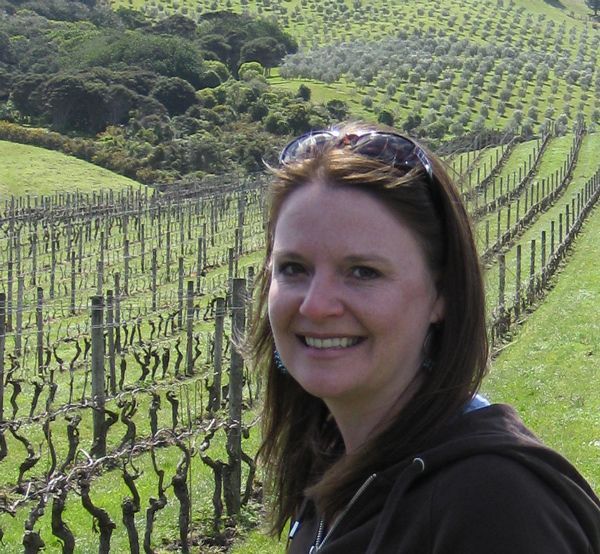 Laura Lynch, creator and writer of Savored Journeys, is an avid world traveler, certified wine expert, and international food specialist. She has written about travel and food for over 20 years and has visited 70+ countries.