The craft brewing scene in Boise, Idaho, is one of the best and offers a fun activity while visiting Boise. Many of the breweries have nice outdoor patios to relax at when the weather is nice. Some even have really good food, adding to the already great dining options in Boise.
When you're ready for a cold one, there are plenty of reasons to drink local at the craft breweries in Boise. We always think it's good to support local companies, but you won't be giving up any variety or flavor here. The beer being brewed in Boise today is both innovative and well crafted.
If you're only visiting Boise's downtown area, you'll love the ease at which you can get from brewery to brewery for a pub crawl, without driving.
There are quite a few breweries located right downtown that you can hop between to try a bunch of local beers all in one day. We had a really fun time trying the Boise breweries we've listed below.
» If you're spending time in Boise, you might also want to visit the wineries. Here are our favorites: 5 Must-Visit Wineries in Boise
Boise Brewing
Located right downtown, Boise Brewing is easy to find and walk to from any of the great downtown restaurants, important because Boise Brewing doesn't offer food. There are food trucks parked nearby sometimes though, or you can bring in food if you like. There's a nice sized tasting room inside the brewery where groups can easily hang out and not be cramped. Another cool aspect of this brewery is that it's community owned.
The choices of beer are astounding. It might take a few minutes staring at the menu to decide what to get. I always try the taster tray first so I can decide which ones I like best. Some stand outs are the Broad Street Blonde, Seven Cranes Cream Ale and Snowboarder Porter. They also offer memberships with monthly grower fills.
Address: 521 W Broad St, Boise, ID 83702
Powderhaus Brewing Co.
Powderhaus Brewing is a relative newcomer to the craft beer scene in Boise. The brewery facility is really nice with a lot of seating, both indoor and out. Don't come expecting to find food, unless a food truck happens to be parked outside. It's all about the beer here.
They specialize in alpine-inspired beers with northwest ingredients. Their regular-line up of beers includes favorites like Hinterland Porter, Deadfall Ale and First Turns IPA. On the seasonal menu is a beer called Schmidts & Grins dopplebock that I find amusing.
Address: 9719 W Chinden Blvd, Garden City, ID 83714
Woodland Empire
If you're looking for a place to play some darts or games with friends, Woodland Empire is the place. It has more of a bar feel than the other breweries. There is some outdoor seating, but it might be more fun to sit inside at the bar and try a few samplers, or play a few games.
We tried the sampler so we could get a good feel for the range of beers they offer. While I didn't love everything, there were a few standouts. The City of Trees IPA and a RyePA will appeal to hops fans. I personally like that they have some darker beers, like Oatmeal Stout and an Imperial Milk Stout.
Address: 1114 W Front St, Boise, ID 83702
Payette Brewing Company
Payette Brewing is one of Idaho's most recognized and reputable craft breweries. It's been around since 2010. On a regular basis, they have about 8 beers on tap with your usual brown ale, IPA and a stout or porter. They may also have an interesting seasonal using local ingredients.
The best part about Payette is that you can bet on all the beers being really good, even if it's not your favorite style. They know what they're doing and it has really paved the way for other breweries in the area. They also can their beer!
Location: 733 S Pioneer St, Boise, ID 83702
Cloud 9 Nano Brewery & Pub
Cloud 9 Brewery might be small – a nano brewery, they call it – only producing 500 cases per year, but the quality and variety they offer is impressive. They are also the first and only organic brewery in Idaho. While in Boise for only a few days recently, I overheard more than one person on two different occasions talking about how good the beer is at Cloud 9, and raving about the food.
Among the beers you'll find at Cloud 9 are a handful of regulars (including my favorite, the salted caramel stout), some creative seasonals and limited editions like lemon ginger wheat, and don't forget the root beer! They're even open 7 days a week now.
Address: 1750 W. State St, Boise ID 83702
Highlands Hollow
We like to pop into Highland Hollow, a brew pub on the north side of Boise, for a taster flight and some poutine and Thunder Monkey Hot Wings. The taster is a great way to try a lot of their beers, especially since they're just $1 each. They also have live local music on Wednesdays.
Highland Hollow has the honor of being the oldest microbrewery in Boise. It was established in 1992 under a different name, but one of the original brewers is still there. They have everything from an English pale ale to a stout, and lots of Northwest hoppy IPAs.
Address: 2455 Harrison Hollow Lane, Boise, ID
Barbarian Brewing
Barbarian Brewing is definitely on you shouldn't miss. They have both a downtown location and a brewery in Garden City. There is plenty of indoor and outdoor seating where you can enjoy a taster tray or a few pints of their creative brews.
You'll find fresh rotating IPAs, sours, Belgian ales, dark ales and various other barrel aged beers on tap. I particularly like the Earl Grey Sour and the Hey Arnold, an Arnold Palmer sour. For sure if you like sours you will love this brewery. They make innovative flavors and all are very solid beers.
Address: 1022 W Main St Boise, ID 83702 and 5270 W Chinden Blvd
CONCLUSION
If you're in to craft beers, you're going to love the beer scene in Boise. With so many choices, you're sure to find local brews that you love. Have you had some Boise beers? What's your favorite?
Where to Stay in Boise
If you're planning a wine or beer trip to Boise, or just want to check out the incredible food this area has to offer, we recommend staying in the Downtown area to keep things simple.
You can walk to a number of wineries and breweries, and dozens of restaurants from the boutique Hotel 43, on Grove Street. Not only is the location great, but the rooms are classy and nice and the service is great.
Read reviews on Trip Advisor. Book a stay on Expedia.
(Thank you to Southwest Idaho Travel Association (SWITA) for inviting us to visit Boise, Idaho, and sponsoring our trip. As always, all of the opinions and thoughts shared here are our own.)
Like this post? Why not save it to Pinterest?
FOLLOW US on Pinterest, Instagram, Facebook for more great travel inspiration and tips.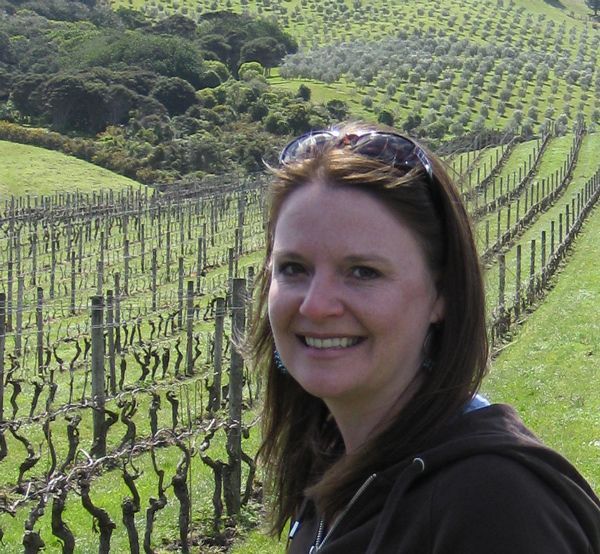 Laura Lynch, creator and writer of Savored Journeys, is an avid world traveler, certified wine expert, and international food specialist. She has written about travel and food for over 20 years and has visited 70+ countries.