Dubai is one of the seven emirates of the United Arab Emirates (UAE). The city has been developing at a mind-blowing pace as the world's ultimate tourist destination.
Essentially a desert city, Dubai has turned itself into a magnet for visitors with its liberal policies, superb infrastructure, excellent tourist amenities and spectacular manmade marvels. Read about traveling to Dubai with our Essential Travel Guide to Dubai.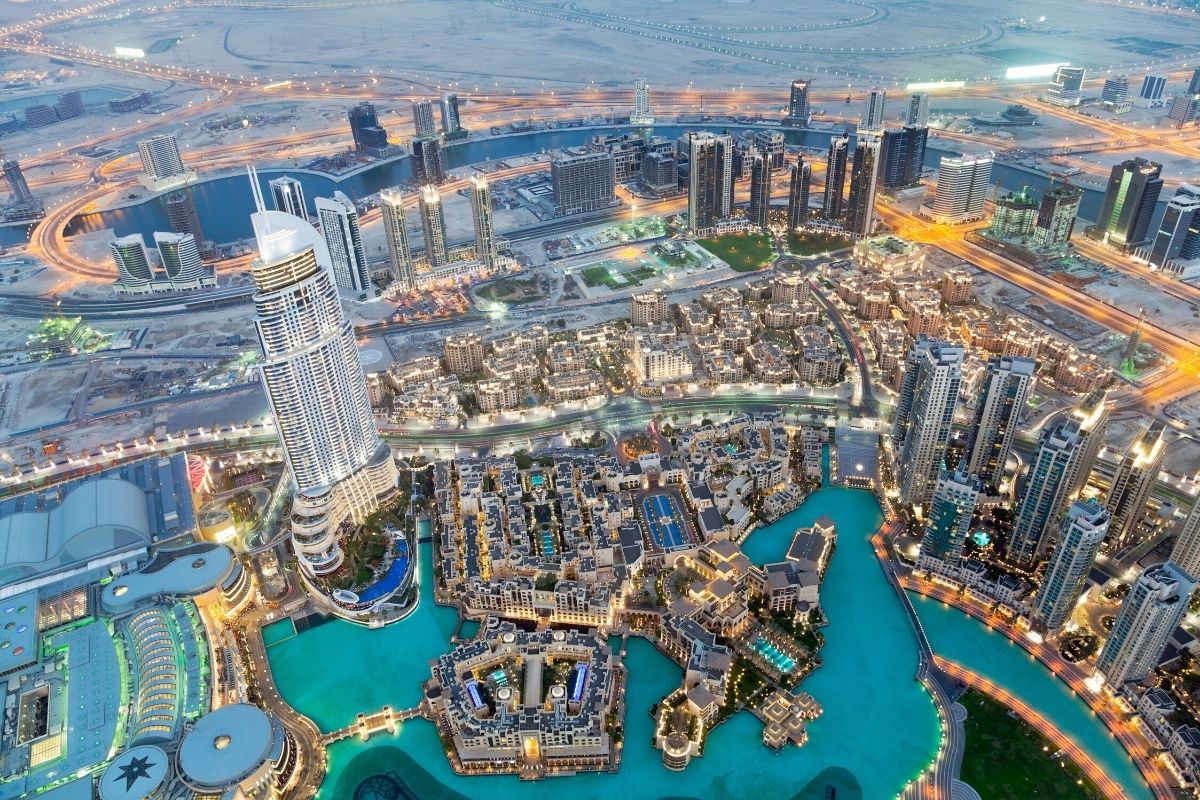 You must check out the magnificent Burj Khalifa, the tallest building in the world; the manmade Palm Islands; the Dubai Fountain, the Dubai Mall and so many others.
You might think that, being so modern and new, Dubai has nothing to offer tourists except shopping and glitz, but that's really not the case.
You'll likely discover that you enjoy Dubai, and nearby Abu Dhabi, more than you ever thought possible, once you've given it a chance.
↓ Click to jump directly down to the Shortcut Guide Infographic
When To Go to Dubai
Seasonal Travel: The best time to travel to Dubai is from October to March. The weather is mild, and visitors can sunbathe on Dubai's beaches safely. The city throngs with tourists during this period though, so remember to book reservations for hotels and sights such as the Burj Khalifa in advance. It tends to rain a bit from January to March, so carry an umbrella if you need to.
Off-season Travel: During summer, the heat is oppressive and humidity levels are also very high. Heat strokes are common, so best to keep your head covered. Wear plenty of sunscreen and drink lots of water. Literally every building, taxi, metro and boat in Dubai is fully air-conditioned.
So as long as you don't walk the streets, you can still visit Dubai during the summer. Off-season travelers can benefit from discounted airline tickets, and discounts and freebies offered by hotels and attractions.
Dubai – Festivals And Events
January-February: Dubai Shopping Festival
February: Dubai Food Festival
March: Al Marmoom Heritage Festival)
October: Islamic New Year
December: Dubai International Film Festival
Where to Go in Dubai
Visit the Jumeirah district for its mixed cultures, fabulous beaches, beautiful villas and the Jumeirah Mosque. Downtown Dubai is home to the Burj Khalifa, the Dubai Mall, the Dubai Fountain and other fabulous skyscrapers. Dubai Marina has the world's largest manmade port, Jebel Ali, along with a lovely open-air market, fabulous beaches and more.
The Satwa district with its gold Souqs, Indian restaurants and supermarkets is a good place to visit. Bur Dubai and Deira are Dubai's historic and financial districts, located on either side of the Dubai Creek. Here you'll find souqs, floating restaurants and the famous Dubai Creek.
Don't forget to enjoy the amazing Dubai Dhow cruise for two hours of absolute fun and entertainment while admiring the glittering Dubai skyline. The two manmade hills, Arabian Ranches and Emirates Hills are lovely, with their lovely villas. Dubai's International City is built in the middle of the desert and is famous for its architectural design.
What to Do in Dubai
Building an itinerary is a great idea to make sure you've researched the things you want to do and booked tours if necessary. Here's a 7-day Dubai itinerary that we recommend.
If you want to take part in some of the fantastic activities we've suggested in our shortcut guide (below), here are some quick links you can use to book in advance. There are a lot of things you can do in Dubai without reservations, but we do suggest booking these ones in advance because they fill up fast.
(Note: these are affiliate links, which cost you nothing to use, but earn us a small commission.
Tours to Book:
Where To Stay in Dubai
Dubai has its share of 5-star hotels and it can be very tempting to spend your entire budget on one of these amazing rooms with views that are unbelievable. If you visit Dubai during high season, you'll have a hard time finding any deals, but even five star hotels offer discounts on rooms during the off-season, so keep your eye out for deals.
Three of the most convenient locations for travelers are Downtown Dubai and near The Dubai Mall, Jumeira Beach and Dubai Creek. You may be wanting to stay on the Palm, which has a lot of really great hotels and restaurants, but just be aware that it takes a long time to get from the Palm to downtown and other popular activities.
We stayed at the JW Marriott Marquis (see on Trip Advisor) in Downtown Dubai. It was convenient to transport links on the metro. There were always taxis available to take us where we needed to go. And it was a lovely hotel with lots of restaurants and bars.
However, I think it might have been even more convenient to stay near The Dubai Mall. When we go again, we'll book a room at Palace Downtown ( see on Tripadvisor) or Address Dubai Mall (see on Tripadvisor). Staying at the mall is convenient for many reasons, the most of which is that it's just easier to to get to everything you'll want to see from there.
If you want to splurge, the Burj al Arab is a gorgeous hotel with stunning architecture and equally amazing views. It's not cheap, but it's one of the most worthy splurges in the world. It's a 5-star ultra luxury hotel on a man-made island with a private beach – the 7th tallest hotel in the world. If you don't stay, there are other more affordable ways to visit the Burj al Arab and get a peek inside.
Where & What To Eat
Dubai's hotels, restaurants and eateries offer all kinds of cuisines – Iranian, Indian, Pakistani, Emirati, European, Chinese, Filipino, Japanese and more.
There are many luxury restaurants and bars in Dubai. Be sure you've packed your dresses and travel blazer for this trip. You'll need them. Many restaurants have dress codes. You can't just walk in wearing what you had on for touring around.
Some of our favorite restaurants:
Coya – Peruvian – Four Season Jumeira Beach
Pai Thai – Madinat Jumeira
Nobu – Japanese/Sushi – Friday Bottomless Brunch! – Atlantis, the Palm
The UAE's answer to the ubiquitous burger is the Shawarma roll. Meat is barbecued on skewers and served on pita bread with assorted veggies and yummy dressing. They are cheap and made of quality chicken, beef or lamb.
Fala-Fil is another cheap snack when you're on the move. You'll find plenty of American fast food chains all around Dubai, but give those a pass and explore the more exotic eateries.
Dubai is famous for its excellent restaurant chains, such as the Karachi Darbar and Jabal Al Noor. The Pak Liyari Restaurant is well known for its amazing biryani, while Dubai Frying Pan Adventures is famous for regional foods.
The Royal Kebab Restaurant, Jedoudna Restaurant, BBQ Tonight, Noodle House, Toscana, Lal Qila Dubai and Karam Beirut are some other great budget eateries.
Tour You May Enjoy:
The 10 Tastings of Dubai With Locals: Private Food Tour
What & Where To Drink
Dubai's nightlife has grown along with its skylines and liberal attitudes. You'll find classy nightclubs and bars at most 3 to 5 star hotels. Dubai's nightclubs often host world-class DJs, and several A-list musical celebrities perform at the Burj-Al-Arab and other top hotels.
It is important to keep in mind, however, that there are severe laws in place with regard to alcohol in Dubai. Only licensed premises are allowed to sell alcohol to guests, which will be bars, nightclubs and hotels with bars attached. During Islamic holidays alcohol will not be sold.
This is especially true during the holy month of Ramadan, when even non-Muslims will not be served food or drinks during the daylight hours.
Dubai's laws are very strict when it comes to drinking in public places, and drunk driving is absolutely not tolerated. A month's jail sentence plus a hearty fine or outright deportation awaits anyone who drinks and drives.
Supermarkets are not allowed to sell alcohol – not even food items that might contain alcohol – such as fruit cakes. Always carry your identification card when visiting a bar; 21 is the legal age for drinking.
Besides the great bars and cocktails we mention in our shortcut guide below, here are a few more good bars to check out while you're in Dubai: Longs Bar (near Financial center metro); Left Bank (Madinat Jumeirah), The Rooftop Swimming Pool (Hilton Dubai Creek); The Cocktail Bar (Jumeirah Beach Hotel); The Terrace Bar (Park Hyatt Dubai).
How to Get to Dubai
International flights come into Dubai International Airport (DBX). From there, it's a 15+-minute taxi ride or 30-minute train ride to the city center, depending on where you're going.
On the train, you can reach downtown Dubai by taking a Red Line metro from either Terminal 3 or Terminal 1. A ride will cost only 4 AED, but you will need to purchase a red metro card before boarding, and you can only take 2 pieces of luggage aboard with you.
More Tours to Book:
Essential Travel Guide to Dubai
Now that you've read this Dubai travel guide, you know where to go and what to do. Make sure you follow Dubai's rules with regard to alcohol, clothing and public behavior and you'll be bound to enjoy your trip to this magnificent city.
Like this post? Why not save it to Pinterest?
FOLLOW US on Pinterest, Instagram, Facebook for more great travel inspiration and tips.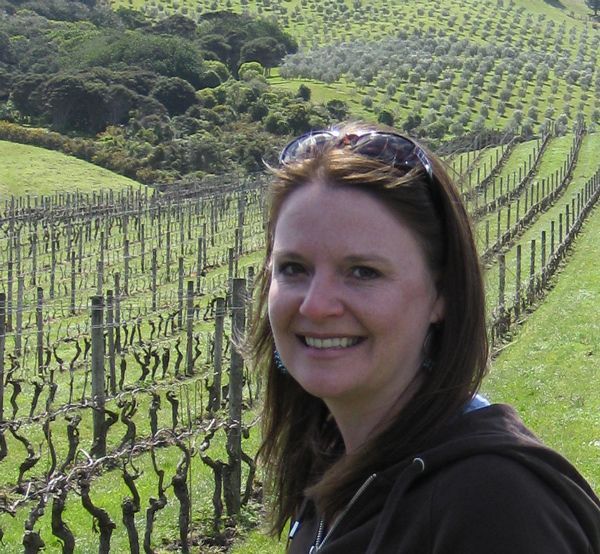 Laura Lynch, creator and writer of Savored Journeys, is an avid world traveler, certified wine expert, and international food specialist. She has written about travel and food for over 20 years and has visited over 75 countries.