While some people are willing to travel anywhere in the world, many would-be travelers aren't so willing. I've always been an adventurous traveler, but the rest of my family doesn't share my excitement.
When it comes to traveling, they worry about how difficult it may be to get there and how hard it will be to get around with the language barrier and unfamiliar customs. These fears keep them from going anywhere other than Hawaii for vacation.
Why Try an "Easy" Destination
These are all legitimate concerns, but there are plenty of locations outside the U.S. where none of these concerns apply.
I mean, let's face it, my parents aren't going to be convinced to travel to far away countries like India or Japan, but I do think they can be convinced to travel outside the country if the location is close to home and easy to navigate.
If you're been avoiding vacationing outside the U.S. due to travel fear, consider one of the easy International travel destinations listed here for your next trip. And if you're willing to travel a bit farther than 5-6 hours, a whole other set of possibilities open up for leery travelers like my parents.
The criteria used to select these locations was:
Easy to get to (no more than a 6-7 hour, direct flight from most major cities)
English is the primary language used at the destination (on a resort, especially — everyone will speak English)
A lot of planning and organizing is not required. In fact, at the beach locations you can sit back and relax and never leave the resort if you don't wish to.
Customs and practices are very similar to the U.S. so you won't feel out of place or nervous.
12 Easy International Vacation Ideas
1. Cancun, Mexico
Cancun is the #1 travel destination for U.S. travelers abroad. This can be attributed to a number of reasons, all of which also make it a very easy place to visit. It's close, so the flights are short and often cheap — good deals crop up regularly to Cancun.
Amazing all-inclusive resorts line the stretch of white sandy beach, and stretch down the coast into the Mayan Riviera. You might need to be a bit careful while traveling around the area (I wouldn't recommend renting a car and trying to get around on your own).
There are plenty of reputable companies that will cart you around to see the archeological sites and to take a dunk in a cenote — which was one of the most amazing things I've done on any vacation. You can also get a real taste for the Mexican culture outside of the resorts in Cancun, if you want to.
2. Puerto Rico
Technically, it's a U.S. territory, not another country, but that just makes it even easier. San Juan, the main city, with its cobblestone streets and vibrant nightlife, has a laidback feeling that contributes to a relaxing vacation, and golden-sand beaches are not far away.
There are dozens of comfortable resorts in the city and directly on the beach that will cater to all your vacation needs and make sure you feel right at home. The only thing you'll need to worry about is what cocktail to order.
3. Toronto, Canada
A very modern city along the shores of Lake Ontario, Toronto is the fifth-largest city in North America and feels quite a bit like New York or Chicago. If you enjoy city life — bustling markets, a vibrant restaurant scene and world-class museums — this is a great, and easy destination to enjoy without the hassle of language issues.
Getting to Toronto from the United States is easy, as there are direct flights from key destinations, with just one stop-over from secondary markets. The flight is just 6 hours from Portland, Oregon, and an hour and a half from New York.
4. Dominican Republic
There are a couple of great beaches in Dominican Republic — Punta Cana and Santa Domingo — where both European and U.S. travelers flock to relax in the sun. It's easy to get to — a quick flight from Miami — can be inexpensive and provides luxury resort accommodations with all-inclusive options.
You don't even have to leave the resort if you don't want to, but there's plenty to see and do. Stroll the charming town of Santa Domingo, enjoy more than 40 miles of uninterrupted beach views of the Costa del Coco (Coconut Beach) or go inland and experience the natural splendor of the island's mountains, streams and valleys.
5. Grand Cayman Island
Miles of pristine beaches and an impressive food scene make Grand Cayman a great location for relaxation and indulgence. The island is only 22 miles long, so you can easily drive from Seven Mile Beach on the west side of the island to the East End on a day trip.
I hesitated to add Grand Cayman to the list because they drive on the left and that can be intimidating to some travelers, but you don't have to drive in order to get around the island.
There are also a number of great resorts where you can hang out for a week without ever needing to leave. Just choose a hotel on Seven Mile Beach and you'll have everything you need within walking distance.
» Look for hotels in Grand Cayman
6. Luxury Barge Cruising in France
If you've never looking into barge cruising before, you absolutely should. One the list of easy travel experiences, taking a barge cruise is perhaps one of the easiest there is. Not only is the entire itinerary planned out for you, you will also have a driver and tour guide with you at all times.
So even in France, where the language and customs might be a bit different than the U.S., you don't have to worry about it for a second. You will always have an English-speaking guide with you.
A luxury barge cruise is one of the best ways to have a completely relaxing vacation. The boat meanders slowly down the canal, passing through some of the most beautiful and lush countryside. You stop every day for excursions to nearby vineyards and museums.
All of your meals are prepared and served for you by a professional chef. You can take leisurely walks or bike rides down the canal, alongside the boat. Or you can just sit back and watch the scenery pass by.
Check out European Waterways – they're the best! You can also read the full review of our barge journey through Burgundy, France.
7. Iceland
Absolutely packed full of a natural wonders and stunning beauty, Iceland is a perfect destination for leery travelers. The tour companies have worked out a brilliant system where you can sign up for everything you want to do all in one place.
You can book round-trip airport transfers, a stop at the Blue Lagoon, a Golden Circle tour, a Northern Lights tour and any other things you wish to do all with one company. You'll pay just once and have all of the details of your excursions taken care of by one tour company. It doesn't get any easier than that.
While Icelandic is the main language, English is spoken everywhere in Reykjavik and where ever tourists might be found. You might even get to see the Northern Lights in Iceland if you go during the winter months.
8. Ireland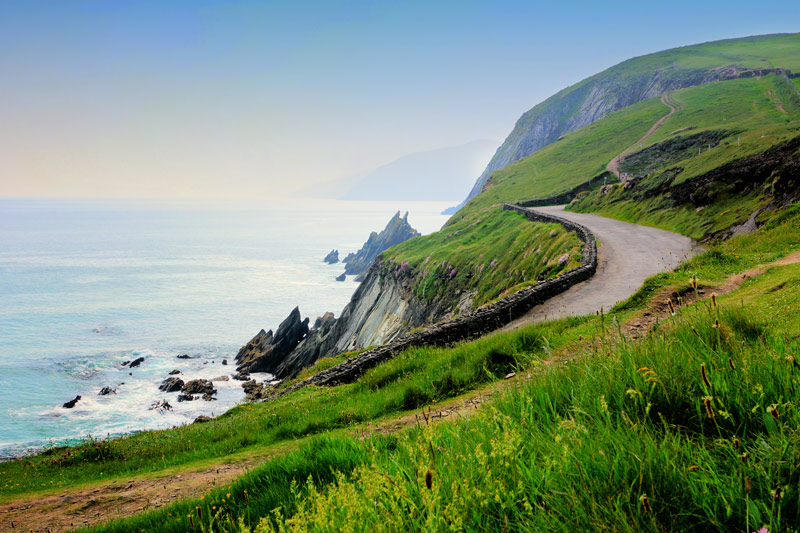 One of the easiest countries to travel around is Ireland. Most tourists take advantage of the beautiful countryside by renting a car and driving from place to place. Start out by flying into Dublin and spending a few day seeing the city.
Then take a car around to the west side of the country, which they have dubbed the Wild Atlantic Way. This includes many of the most popular areas of Ireland to explore, like Donagal, counties Clare, Galway and Kerry.
Some of our favorite areas to explore are part of Ireland's Ancient East, which includes Tipperary and the adorable town of Kilkenny, plus Kildare.
English is the official language in Ireland. The roads are a bit narrow in places, but well marked, and most hotels offer free parking. It's very easy to drive around , with the exception of driving on the left. Also be ure to note that you MUST add the extra insurance to any car rental in Ireland. It's mandatory.
9. Scotland
Aside from the sometimes hard-to-understand accent, a trip to Scotland is like visiting an unspoiled, natural paradise. Most travelers start in Edinburgh or Glasgow and then start driving north into the wild and beautiful countryside.
To see what you're missing in Scotland, check out our guides to Edinburgh, the Scotch Whisky Trail, and the lovely area of Fife. There is incredible food in that area, and it's definitely fit for foodies.
We also highly recommend visiting some of the isles, like Isle of Skye and Islay (particularly if you're a fan of peaty whisky!).
See our 7-day itineraries that are perfect for exploring the west of Scotland and the east of Scotland.
10. New Zealand
In New Zealand, you can rent a car and travel throughout either the North or South Island easily. A quick flight between the two Islands will likely be needed though, due to distance, unless you have at least two weeks and don't mind lots of driving.
We spent some time in Auckland, with amazing wine tasting on Waiheke Island, before heading to the fun and quirky Rotorua area. You might also want to visit Hobbiton, if you're a Lord of the Rings fan, and the nearby glowworm caves. Here's our 7-day itinerary for the North Island, which is a very nice trip, and easy to do.
You might also want to check out our post with 9 romantic destinations to visit in New Zealand.
11. Australia
In Australia, though you can drive from town to town, getting between the bigger cities will require flights. It's one VERY large country. You can visit Sydney, which is bustling with things to do like great beaches and cafes, or spend some time in the wine country of South Australia (Barossa, McLaren Vale and Adelaide), our personal favorite.
We also really enjoyed Melbourne and the Yarra Valley wine region just an hour away. Of course, you can also arrange a tour to the outback or the Great Barrier Reef, if you want to see something completely unique to Australia.
English is the official language of Australia and the people are very nice and accommodating.
12. London, England
Another great place to vacation with ease is London and the surrounding English countryside. Since England speaks English and has many of the same customs as the U.S, it's an easy travel destination that won't put you too far outside your comfort zone.
There are tons of great things to do in London so you won't even have to leave the city if you don't want to drive on the left. If you love food, be sure to check out London's food markets, especially our favorite Borough Market. Here are all the top iconic landmarks to check out, and a guide to see all the top sights along the Thames in one day.
There are also great train systems that can take you to places like Stonehenge, Windsor, and Bath without having to get in a car.
CONCLUSION
See how easy it is to travel internationally? There are many easy international travel destinations to go to where you won't feel overwhelmed or unsafe. The pleasure of traveling doesn't have to be scary or inconvenient. Get out there and see the world!
Like this post? Why not pin these images on your Pinterest board and share it with friends?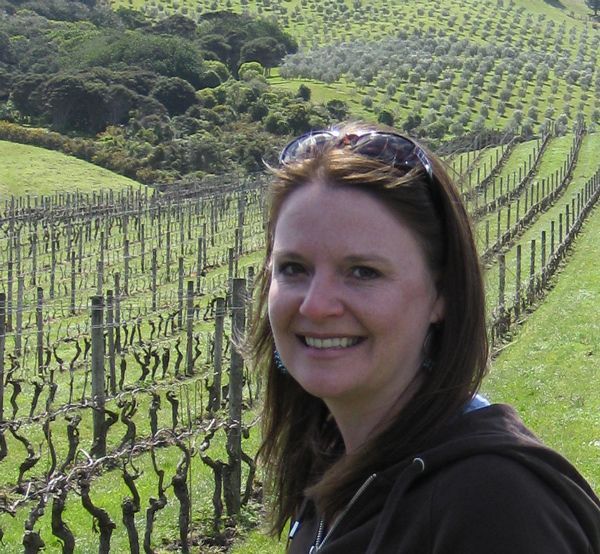 Laura Lynch, creator and writer of Savored Journeys, is an avid world traveler, certified wine expert, and international food specialist. She has written about travel and food for over 20 years and has visited 70+ countries.