Boise, Idaho, is one of those small cities where you will thoroughly enjoy eating and drink in the northwest. You might not have guessed it, but Boise is actually a major food city, with a lot of impressive options for places to eat and drink, both in and out of the downtown core.
We spent a weekend exploring the plethora of fantastic places to eat and drink in Boise and want to share some of the great options with you.
Just be forewarned, there are so many great places to eat that you may end up eating two dinners in one night. Or was that just us?
And one more tips for dining out in Boise. These restaurants are very popular, so it's important to make a reservation as far in advance as you can. It's difficult, at best, to get a table as a walk in for dinner.
Here are our picks for the best places for where to eat and drink in Boise, Idaho.
>> If you're spending a weekend in Boise, we highly recommend spending some time wine tasting and beer tasting at the many area wineries and breweries.
Bittercreek Alehouse
You can feel the energy flowing from the enormous dining room that spills out onto the outdoor patio as you approach this casual spot right in the middle of downtown Boise. I got the feeling that the place is always packed. When we arrived at 8:30 on a Friday evening, it was hopping, and more than just ourselves were left standing around waiting for table. To me, that's a sure sign that Bittercreek Alehouse is doing something right.
We waited an hour and returned to find two seats at the bar. We ordered a burger with fries and some beer from their extensive selection of beers on tap. If you're a beer drinker, you will love the list of local and not-so-local beers, including some ciders and even a kombucha.
Although we ordered a burger, there were tons of things on the menu we were deciding between, like poutine, mac n' cheese, duck carnitas tacos and the fish and chips that I've heard are amazing.
Want to know more about the craft beer in Boise? Check out this post for more information.
Address: 246 N 8th St, Boise, ID 83702 Phone: (208) 345-1813
Red Feather Lounge
Located right next door to Bittercreek Alehouse, you can sit back and enjoy your food while everyone next door scrambles for a spot. At least, that's what we did! The menu at Red Feather Lounge is a bit more fancy, with items like the delicious braised shortribs with parmesan risotto that we ordered to go with the Red Feather salad, that has kahlua-spiked black walnuts on it. Yum.
The atmosphere is just more laid back and relaxing than next door. You can still sit outside on the patio, or belly up to the bar inside. Either way, this is a great spot for a plate of really good, well-thought out food.
Address: 246 N 8th St, Boise, ID 83702 Phone: (208)429-6340
Barbacoa
Barbacoa is not located downtown. It is instead located alongside a little lake with a walking trail nearby, so the atmosphere is more tranquil and serene. The restaurant itself is always packed with hungry eaters enjoying the Latin American Steakhouse cuisine in this modern, well-designed masterpiece of a restaurant. Every seat in the place has a view of some incredible piece of art, from the ice antlers in the main dining room, to the wine trellis near the bar. It's a very unique and interesting space.
The food lives up to the hype. While it's not the cheapest meal you'll eat in Boise, the premium you'll pay to eat here is well worth it. The food is thoughtfully presented, very well cooked and flavorful. We loved the tableside guacamole, and then those BBQ ribs! Diners love the hot rock-cooked steaks and the martinis served in ice glasses. Barbacoa is doing it right!
Address: 246 N 8th St, Boise, ID 83702 Phone: (208) 429-6340
The Basque Market
I love it that Boise has a Basque Block. It's just one single block in the middle of downtown that shares the love of the Basque region in all different ways. The Basque Market is one of the shops on the block. They sell all kinds of great basque products for the kitchen – pantry items, wines and kitchen tools – as well as offering catering for large events.
They also have a pretty extensive menu of Basque tapas that you can order and eat right there in the store. We had the opportunity to try out a couple of their tapas, or pintxos, as they are called in the Basque region of Spain, along with some Spanish wines, and everything we ate was fantastic. I would highly recommend it as an afternoon stop off while walking around the downtown area.
Address: 608 W Grove St, Boise, ID 83702 Phone: (208) 433-1208
Bardenay Restaurant & Distillery
There are a few locations in the area where you can enjoy Bardenay's food and cocktails. We visited the one downtown in the Basque Block and the one at the airport. I hear from my sister that the other location is fantastic as well.
The downtown distillery has a spacious, wood interior, and a large outdoor patio. We had brunch there on a Saturday morning. After a couple of mimosas and some biscuits and gravy, we were set for our day of wine tasting at the 44th Street Wineries.
The offer a variety of home distilled beers, gin, and vodka, so it's recommended to try one of their offered cocktails using their liquor. They also offer a variety of accouterments to your martini, like marinated Basque olives (if you ask for them). The trout appetizer plate or a cheese board goes great with the tasting.
Address: 610 W Grove St, Boise, ID 83702 Phone:(208) 426-0538
Bodovino
I wish we had a place like this in Seattle. I would go there all the time and spend all my money on 1 oz pours of wine. Bodovino has a unique system. You purchase a reusable debit card for $3, add money, and then you're set free to explore.
There are several self-serve wine dispenser machines containing bottles from nearby and around the world, throughout the bar that allow you to choose the amount of wine you would like, from 1 oz to 5 oz, and pay accordingly to the size via the debit card system.
They also have a full menu for lunch and dinner, plus a great selection of appetizers and cheese plates that pair well with your wine selections. We tried to keep ourselves to a minimum, but it's hard. There are so many wines! It's just about as close to being a kid in a candy store as you can get as an adult. Read more about Boise's fantastic wine scene.
Address: 404 S 8th St, Boise, ID 83702 Phone: (208) 336-8466
Fork
Fork is also located downtown, right on the corner of 8th & Idaho. The space is very nice. It has a cool vibe with a big, open dining area. The bar is a great place to hang out for a few cocktails. There's a nice. open outdoor space, as well.
When you see the menu, you'll agree that there are plenty of great choices, like the Prime Rib French Dip, the Bam Sammy, or the BCS Salad. They also have fun things like asparagus fries and lamb lollipops. Also a great spot for brunch, but it doesn't open until 11:30am, so it was a little too late for us to give it a try.
Since it's right in the middle of downtown it's an easy place to stop for a drink or snack while you're in town.
Address: 199 N 8th St, Boise, ID 83702 Phone: (208) 287-1700
Juniper
The best part about Juniper is the atmosphere. It feels very upscale with its modern and dimly lit interior, and it's the perfect spot for people-watching in the summer on the large patio. They serve fantastic gin and tonics, and even have house-made syrups for their cocktails. Ask for what's local and you'll likely find they have a lot of choices.
Juniper also has a happy hour and a full dinner service, along with brunch that is pretty popular, especially as a stop off after the Saturday market. Get there early so you don't have to wait in line for their yummy biscuits and gravy and house-squeezed juice.
Address: 211 N 8th St, Boise, ID 83702 Phone: (208) 342-1142
Sockeye Brewing
Sockeye Brewing is housed in a large building with both indoor and outdoor seating. There's plenty of room for guests and a relaxed atmosphere. Year round they have 6 craft beers on tap along with rotating seasonal offerings. With nearly 100 years of experience with brewing there is definitely a beer for everyone. I especially enjoyed their Coco Peak Milk Stout on nitro.
If you're looking for something to eat, then you will like their extensive menu of both pub food and seafood delights. With sockeye in their name you can't be surprised that many of their dishes have salmon in them. The beer battered salmon tacos were absolutely delicious, and only emphasized their care for seafood. Try the spicy blue burger with blue cheese and roasted jalapenos or the sockeye salmon cakes. We also recommend the poutine because who doesn't love fries with cheese curds and gravy?
Address: 12542 W Fairview Ave, Boise, ID 83713 Phone: (208) 322-5200
CONCLUSION
As you can see, there are a ton of choices for where to eat and drink in Boise, Idaho. It's definitely solidified its status as a food destination in my mind. Do you have a favorite place to eat and drink in Boise? Tell us about it in the comments.
Where to Stay in Boise
If you're planning a wine or beer trip to Boise, or just want to check out the incredible food this area has to offer, we recommend staying in the Downtown area to keep things simple. You can walk to a number of wineries and breweries, and dozens of restaurants from the boutique Hotel 43, on Grove Street. Not only is the location great, but the rooms are classy and nice and the service is great.
Read reviews on Trip Advisor. Book a stay on Expedia.
(Thank you to Southwest Idaho Travel Association (SWITA) for inviting us to Savor Idaho and sponsoring our trip to Boise. As always, all of the opinions and thoughts shared here are our own.)
Pin it for later!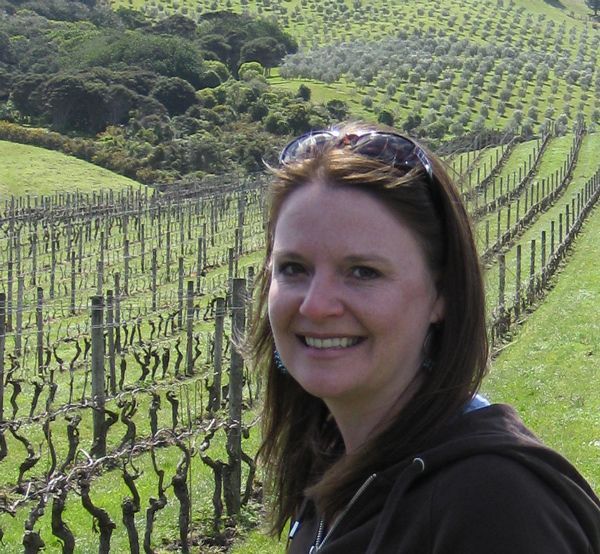 Laura Lynch, creator and writer of Savored Journeys, is an avid world traveler, certified wine expert, and international food specialist. She has written about travel and food for over 20 years and has visited over 75 countries.