Boise, Idaho, has quite the food scene, despite what you might think for a small city located in southwestern Idaho. I certainly wasn't aware of the ever-growing and quite impressive food situation in Boise. But after a weekend spent indulging in a Boise food crawl, to include the stunning Barbacoa Grill, my mind has been changed.
(See all our coverage of Boise's food scene.)
I've dined at numerous high-end restaurants in Seattle that didn't impress me half as much as Barbacoa Grill in Boise did. If you're looking for somewhere to eat in Boise, I highly recommend Barbacoa. Here's why.
Immediately upon entering the obviously modern and trendy restaurant, I was blown away and that elation ever dissipated throughout our meal.
The owner clearly had a unique vision when designing the space. The entryway features cow hides with dozens of doorknobs shuffling up the wall like a bizarre climbing wall (I was told someone actually attempted that feat a few weeks back. I wish to think society is better than that).
Above the hostess stand and through the walkway leading to the dining room and bar is a trellis of wine that wraps overhead – something I aspire to install in my own home someday.
The bar is decked out with funky modern art and glass bubbles handing above the stools. The dining room features an enormous chandelier of "iced" antlers made by local glass artist Filip Vogelphol. Large, comfortable high-back benches serve as seating.
As we made our way through the dining room, packed with excited diners, we were lured by the fresh air and light that flowed in from the large sliding windows that had been retracted to expose the entire side of the building to the picturesque lake hiding behind the building. There are essentially three layers of seating that are exposed to the outdoors, though each section still feels private. On a nice night like the one we had, I couldn't imagine a better place to be eating dinner.
Pro Tip: If you want a private, romantic and/or extra-special dinner spot, I highly recommend asking for the corner fire pit table outside. Very awesome!
Once we pulled our attention away from the decor for a moment to study the menu, we really saw what we were up against. There were no less than 10 things on the menu that I wanted to order. Rather than tackle that project, we flipped through the cocktail menu on the iPad and chose some drinks.
Hello. My martini was delivered in a glass made of ice. Yes, an ice glass. And despite the 78 degree weather, it didn't melt or break during the 40 minutes I was sipping from it.
I'm not one to pass up table-side guacamole, so we ordered that first and spent a few minutes watching the waiter make the perfect bowl of dip. Some guacamole, even when made fresh, just doesn't hit the mark, but this one was really good. Unfortunately for us, because we had a lot of eating to do and it was very filling.
The menu proved too daunting for us, so we turned to our waitress, Sherry, to help decipher the options. She suggested the tuna tartare with mango sorbet as an additional appetizer. I love tuna tartar, so I was happy to take that recommendation. It was a typical presentation, except with the addition of the sorbet on top, which I really liked. It added a sweet and cold element that elevated the dish.
I chose the BBQ Ribs with tequila barbecue sauce and chipotle grilled corn on the cob. It was a full rack, which was way too much for my waning appetite, but it looked so delicious when it arrived at the table. The meat was so tender. It started falling off the bone as soon as I cut into it. The grilled corn was somewhat hard to eat with the husk still on, but it was worth it for the presentation.
Nick had the Rib Eye steak with a side of Jalapeno green rice. One of the special features offered on Barbacoa's menu is the hot rock method of cooking for their steaks. It comes naturally with the "Hot Rock" Filet, but you can have any steak served on the rock. Although a little gimmicky, we wanted to check it out.
As we feared, our steak was almost immediately overcooked on the 500 degree rock, since we spent the first few minutes after it was delivered taking these lovely photos to share with you. Bottom line on the hot rock – if you want to order it that way for presentation sake, remove it from the rock to the side of the plate before it overcooks.
The jalapeno green rice was served on a small cast-iron skillet and very closely resembled risotto, with bubbling cheese baked on the top. It was insanely rich and decadent. I'm thinking maybe they should rename this item on the menu, because "jalapeno green rice" doesn't do it justice. It was like the rice version of mac 'n cheese.
We didn't make it to dessert. If you want to know why, scroll up and remind yourself what we already ate (and we took half of it home!). However, we did see a few tempting choices on the menu, including the fried ice cream lollipop tree and the campfire smores with candied bacon.
We also learned that they have a special dessert when you come in for your birthday. It's cotton candy spun around bits of cake with a candle in the middle.
I would love to have a restaurant like this in Seattle. It was perfect for a laid-back Saturday evening like ours, but also classy enough for a special evening out. Plus, there were so many more things on the menu I wanted to order! You know I'll be thinking about that for a while.
(A big thank you to Barbacoa and to Southwest Idaho Travel Association (SWITA) for hosting our evening at Barbacoa. As always, all of the opinions and thoughts shared here are our own.)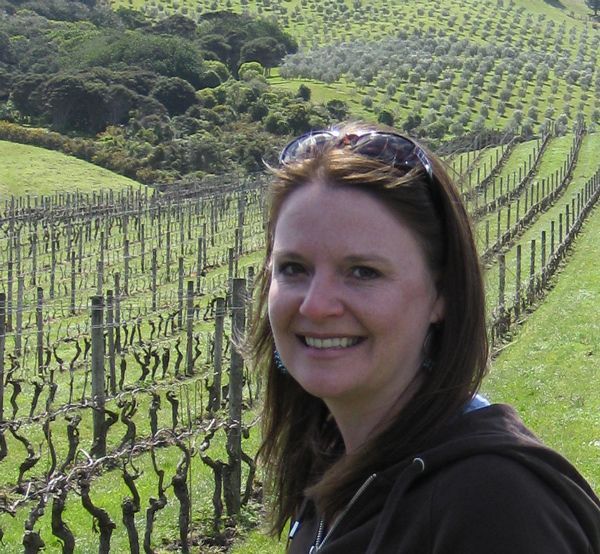 Laura Lynch, creator and writer of Savored Journeys, is an avid world traveler, certified wine expert, and international food specialist. She has written about travel and food for over 20 years and has visited 70+ countries.