Home to the world's most famous and exquisite Champagne houses, Epernay is the ultimate destination for wine enthusiasts. Located in the heart of the Champagne region in northeastern France, this charming town offers an unforgettable experience.
We were not sure what to expect before our first trip to Epernay, but we were very pleasantly surprised by how simple it was to get around, to walk between Champagne houses, and just how much Champagne we'd be drinking! You seriously have to pace yourself on the Avenue of Champagne.
In this blog post, we will share everything you need to know about visiting the Epernay Champagne houses – where to taste, how to get there, tips for your visit, where to eat, and where to stay. So, pop the cork and get ready to immerse yourself in the sparkling world of Champagne!
When planning a visit to Epernay, it is important to research the Champagne houses in advance to ensure you can visit the ones you want to visit. We have a really easy tool for booking your appointments below.
Each Champagne house offers unique tours and tastings. We've been to all of these houses and have offered our thoughts and recommendations below.
Planning your trip to Epernay?
Below are some of our top picks to help you plan!
Where to Stay in Epernay:
Le Suites du 33 – Located at 33 Avenue de Champagne, easy walking distance of everything, and right next to Champagne de Venoge.
La Villa Eugène – 5-star luxury hotel with roundtrip airport shuttle, terrace, and garden
Best Tours and Experiences in Epernay:
Epernay and Vineyards with Champagne Tasting – Visit 3 Champagne houses, where you'll try a variety of champagnes. There's also an included three-course lunch. (8 hours)
Epernay full day tour with lunch – Visit 2 Champagne houses, visit Hautvillers where Dom Perignon created Champagne, plus lunch and a tasting class. (8 hours)
How to Visit Epernay Champagne Houses
Visiting Champagne houses in Epernay is not only a great way to learn about the history and production of Champagne, but it is also an opportunity to explore the city and its surroundings. The Avenue de Champagne is an easy walking road that contains many of the major houses and it's very simple to walk between them.
Self-Guided Tour
I usually prefer to do self-guided touring when I visit wine regions because it gives me the greatest flexibility and I actually really like researching and choosing the wineries I want to go to.
While there is a little more work involved because you have to set up all the tours yourself, there are tools that will help make this super easy. The one I use is called Rue des Vignerons. It's a French website that makes booking wine appointments super easy.
You can book online up to 30 minutes before and your appointment is confirmed instantly. This is the website I used to book all of my Champagne tasting appointments.
In our descriptions below, I will give you links directly to Rue des Vignerons for each winery so you can easily book it.
---
Group/Private Tour
There are many group and private tours to choose from. You can go on a group tour, which are plentiful, often including up to 8 people and are on a pre-planned route so you don't have to take care of a single detail.
Below are two tours we recommend:
Getting to Epernay
Epernay is easily accessible by train from Paris, which makes it an ideal day trip or weekend getaway destination. From Paris Gare de l'Est, you can catch a direct train to Epernay, with a journey time of about 1 hour and 20 minutes.
The Epernay train station is within walking distance from the Avenue de Champagne, where most of the famous Champagne houses are located. Alternatively, you can rent a car in Paris and drive to Epernay, which is approximately 140 km away and takes about 1.5 hours.
Champagne House to Visit in Epernay
We highly recommend you drive all the way into Epernay and spend at least a day walking along the Champagne de Avenue, where you'll find nearly a dozen Champagne Houses to visit.
We really like that it's possible to walk between each of them, because the tastings are full glass pours. You'll want to have time to enjoy it, rather than skipping quickly between them.
Moet & Chandon
One of the most well-known Champagne houses in the world is Moet & Chandon. In Epernay, they also have one of the largest Champagne houses. It's impressive to look at, even from the outside.
If you take a tour, you'll have a chance to visit their cellars and see a bit of the over 28km worth of underground cave system they have.
You'll learn the history of the family, the Champagne and the area from the guide as you walk along. The tour ends with a tasting. You can choose between a Signature Tour, Imperial Tour or Grand Vintage Tour. Prices range from 40-75€.
Location: 20 Avenue de Champagne, 51200 Épernay
Hours: Sunday to Wednesday 9:30-11:30 and 2pm-4:30pm
Email: Contact form
---
Champagne de Venoge
This Champagne house was established in 1837 by the De Venoge family, originating from Switzerland, near the Venoge river, which flows into Lake Geneva. The family has been building their international fame ever since.
The tasting room is a small house outside of the grander main house. You can stop in any time you like for a tasting at the bar. We actually happened to stay in the apartments across the courtyard, Le Suites du 33, which is a fantastic location for visiting the Champagne houses on the Avenue de Champagne.
Here you will be able to do a tasting of two Champagnes: a brut from their emblematic Cordon Bleu range and a carafe from their Princes range, or two from the Princes range. You can also pair a glass with small snacks, or you can do a full tasting and tour with either 2 or 4 tastings at the end.
Location: 33 Av. de Champagne
Website
---
Champagne Comtesse Lafond
Champagne Comtesse Lafond is a small Champagne House named for the owner's grandmother. Baron Patrick de Ladouchette has carried on the family's reputation for great Champagne, with styles ranging from extra brut to rose.
The operation is located in a majestic castle on the Avenue – one that you'll definitely want to see. They will be happy to give you a complete tour of the domain: the castles' salons and gardens. You can even learn how to use a Sabre to open a Champagne bottle.
Location: 79 Avenue De Champagne, 51200 Épernay, France
Hours: 10am-1pm 2pm-6pm
---
Champagne Mercier
Mercier was founded in 1858. In 1871, Eugène Mercier started an innovative project to build cellars at the winery in Epernay, in the heart of France's Champagne country. He told the architects to "count by kilometers and not by meters,".
A few years later, a whopping 18 kilometers of cellars were open to the visitors. You can visit and discover the Maison Mercier and some of those cellars on an electric train ride that takes you around the cellar. You'll also have an opportunity to try one flute of Brut Mercier, one flute of Rosé Mercier and one flute of Reserve Mercier. The price ranges from 26-30€, depending on how many you'd like to try.
Location: 68 Av. de Champagne, 51200 Épernay, France
Hours: 9:30am-4:30pm (2 hr break for lunch)
---
Champagne Jacquinot & Fils
Pierre Jacquinot, originally a winegrower and farmer, developed the family vineyard after the First World War, during which he was wounded. In 1929, Pierre Jacquinot set up his own grape pressing business and began producing his own wines. His two sons, Jacques and Jean-Guy, joined the business and together they created the Champagne house.
You can visit for a tasting and tour. It's one of the deepest cellars in Epernay, located 20 meters underground, dug by hand 1873. Dive into the heart of the champagne making process on a guided tour through the cellar, vats and machinery. Then enjoy 3 non-vintage champagnes, a private Cuvée glass, a Blanc de Blancs, and a Blanc de Noirs.
---
Champagne Alfred Gratien
The Alfred Gratien Champagne House was founded in Epernay in 1864, and the same line of cellar masters has been perpetuating and passing on their knowledge for four generations: rigorous selection of grapes from the best vintages, respect for the terroirs, vinification in small oak barrels and production of limited volumes. Today Nicolas Jaeger is the head of the cellars and the one who continues the style of the Alfred Gratien house and ensures the continuity of that philosophy.

During a tour at La Maison Alfred Gratien, you can visit the century-old cellar, dug 18-meters underground and storing nearly a million bottles. You can do a tasting of 2 Champagnes, or embark on a tasting and tour with either 2 or 4 cuvees. You can also do a Champagne and cheese tasting.
---
Collard-Picard
Champagne Collard-Picard was founded in 1996 by Olivier Collard and Caroline Collard-Picard. It is a privately owned grower-producer Champagne house. They have both a cellar and a shop. To visit the cellar, you must make an advanced appointment for a visit and private tasting with Mr. Collard.
You can stop in at the stop on the Avenue de Champagne during opening hours for a tasting of their classic, prestige, and exceptional lines, as well as the Coteaux Champenois Rouge. Our favorite is their Premier Cru Rose Champagne, using the "de Saignee" vinification technique.
Location: 15 Avenue de Champagne, 51200 Épernay
Hours: Everyday 10 or 10:30-5:30 (open until 7pm Saturdays)
Website
---
Champagne de Castellane
You'll see the giant tower of Castellane the moment you enter town. This is one of the larger Champagne brands, so you can expect there to be a full and large tour group. When you arrive, you can visit the museum of winemaking and climb the tower.
The tour lasts around 45 minutes and goes through the winemaking process, into the underground cellar and back to the bar where you'll try a few different Champagnes.
Location: 63 Avenue de Champagne, 51200 Épernay
Hours: Every day from 10am-noon and 2pm-6pm
Email: visites@castellane.com
Tips for Visiting Champagne Houses in Epernay
Visiting Champagne houses in Epernay can be an unforgettable experience, but it's important to plan ahead to make the most of your trip. Here are some tips to help you prepare for your visit.
Best Time to Visit
The best time to visit Epernay is between May and October, when the weather is pleasant, and the vineyards are lush and green. Keep in mind that during the harvest season (usually September), the Champagne houses may be busier and have limited availability for tours.
What to Wear
When visiting the Champagne houses, opt for comfortable and semi-formal attire. Avoid high heels and sandals, as some tours include walking through the vineyards or damp cellars. Don't forget to bring a light sweater or jacket, as the cellars can be chilly even during warmer months.
Reservations
It is highly recommended to book your Champagne house tour and tasting sessions in advance. The best way to do that is to click those handy buttons I included above to make a reservation through Rue des Vignerons.
When making your reservation, be sure to let the house know if you have any special requests or preferences. Some houses may be able to accommodate dietary restrictions or offer private tours for an additional fee.
It's also important to arrive on time for your appointment, as many houses have a tight schedule and may not be able to accommodate late arrivals.
Where to Stay
Epernay is a beautiful city with a wide range of accommodation options, but not a lot of hotels, and even less international brands you might be looking for.
My top two recommendations are:
Le Suites du 33 – It's located at 33 Avenue de Champagne, so it's within easy walking distance of the Champagne houses. Breakfast and parking are included. There's also a tasting bar for Champagne de Venoge on site.
Hôtel La Villa Eugène – A luxurious 19th-century mansion with a beautiful garden, Hôtel La Villa Eugène offers spacious, elegant rooms and exceptional service.
Where to Eat in Epernay
La Grillade Gourmande: This gourmet restaurant serves delicious traditional French dishes, including a selection of mouthwatering desserts. Paired with a glass of Champagne, your meal is guaranteed to be memorable.
La Cave à Champagne: With an impressive selection of over 250 Champagnes, La Cave à Champagne offers a unique dining experience. Enjoy their carefully crafted menu that complements the wines perfectly.
Le Theatre: Classic French dishes in a lovely 19th-century building near the Theater in downtown Epernay. Choose from the extensive list of Champagnes to pair with your meal.
Before You Go
Since you made it to the end of this article, you're probably pretty interested in wine tasting. Here are a few more articles we think you might enjoy.
Like this post? Why not save it to Pinterest?
FOLLOW US on Pinterest, Instagram, Facebook for more great travel inspiration and tips.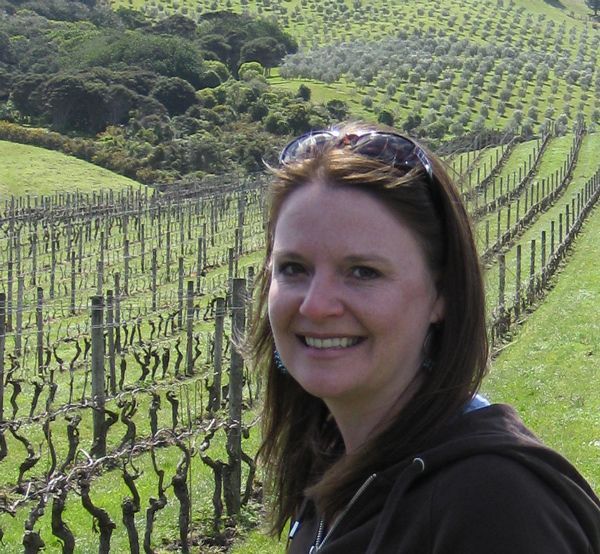 Laura Lynch, creator and writer of Savored Journeys, is an avid world traveler, certified wine expert, and international food specialist. She has written about travel and food for over 20 years and has visited over 75 countries.