As soon as the kids are out of school for the summer, families start heading out on road trips around the country. A road trip is an affordable way for a family to experience new places and activities together. It also offers opportunities to see multiple locations in one trip.
The perfect U.S. road trip includes one or more of the top U.S. cities for family travel, plus a few smaller towns and attractions along the way.
You may be planning to do the trip in your family car, but another fun way to do a road trip in the United States is in an RV rental. There are many parks throughout the country where you can park for the night or stay for a week if you want, while you're enjoying the countryside.
To get started planning a great summer family road trip, check out these exciting destinations. Plan to stay for a night or two in any of these cities to build an educational and exciting trip the whole family will enjoy.
And don't forget to check out this packing list before you go! If you're taking your dog or cat along, you'll need to put extra thought into supplies for them, like the best cat carrier for car travel.
» Looking for more travel inspiration in the United States? See our U.S. Summer Vacation Ideas and 12 U.S. National Parks to Visit. Here are a few more fabulous U.S. Cities to visit.
8 Great U.S. Road Trip Destinations
Washington, D.C.
Washington, D.C., tops the list of the best stops on a family road trip. It's a favorite with families because it's both awe-inspiring and engaging. The nation's capital has many museums and monuments, and most of them are free to visit.
You can spend more than a few days visiting Smithsonian museums, seeing the Jefferson and Washington memorials, learning about printing and engraving money, and expanding your knowledge of American history.
A tour through the Capitol Building or the White House, a walk along the National Mall, and a stroll through the cherry blossoms at the Tidal Basin in spring are among the activities that families enjoy the most in Washington, D.C.
Another place you cannot avoid visiting is the National Gallery, especially if you are interested in art. Here you will find famous paintings from not only American but also foreign artists.
⇒ Check out our guide with the top 50 things to do in Washington.
Tours your family may enjoy:
West Coast, USA
The west coast of the United States is one of the best places for a roadtrip because the entire stretch of the road – Highway 1 – extends all the way from Canada to Mexico, with plenty of incredible side stops in between, like Seattle, Astoria, Newport, San Francsico, and San Diego.
A road trip is the best way to see the splendor of nature along this stretch of road. Keep your eyes peeled for sea lions and whales in the ocean, and towering rock formations all along the coast. Check out this detailed road trip guide for everything you need to know about taking a road trip along the west coast.
Some of our favorite places along the west coast to see and stop are:
Long Beach, Washington for endless stretches of sandy beach
Cannon Beach, Oregon for a look at Haystack Rock
Newport, Oregon for the Oregon Coast Aquarium
Redwoods National State Park in California
Monterey, California for its aquarium and Cannery Row
Big Sur for it's dramatic cliffside views
Pismo Beach, California – beautiful beach and great area for wine tasting
Baja California, Mexico
If you find that you want to spend more time road tripping through California check out these 12 different road trip routes and itineraries throughout the state.
The northwest holiday is incomplete without a visit to the famous San Juan Islands. The beauty of nature can be felt by strolling through the wilderness of the islands. There is a mystic aura about the island that attracts thousands of tourists from America and abroad.
The 3-4 hour cruise on an ancient ship gives a nostalgic feeling of the days of past and the lives of the seafaring men.
Whale watching, mountain biking, cascading rafting the adventure never stops in this part of America. The place has so much to offer that you can't help but come. So come vacations pack your bags and head northwest because its here that the party begins.
Tour your family may enjoy:
Half-Day Whale Watching Tour From Monterey
Savannah, Georgia
Georgia offers mountain views, fabulous beaches and historic sites that are all perfect for that short relaxing stay. Whether you're looking for adventure or just a place to take in the beauty of the genteel South, Georgia offers all you are looking for and more.
One great city to visit in Georgia is Savannah. Savannah, Georgia, is a fun and interesting place to visit, as it's full of Southern charm. There are cobblestone streets, enormous oak trees covered in moss, and picturesque antebellum mansions that will give you a glimpse into the historic past of the Southern United States. You can take a riverboat cruise, rent bikes and tour around the historic city, and even relax on the nearby sandy beaches.
Cloaked in an air of mystery and the subject of books and movies, Savannah, Georgia is a quintessential Southern city. The city was founded in 1733, as Georgia's first city, when the colony's founding father James Oglethorpe landed there with the colony's first 120 settlers. Savannah features 21 squares in a grid, making it America's first "planned city".
The exquisite architecture is characteristic of early Southern plantations and opulent 19th century mansions. While here, walking and trolley tours are available to see the city's many historic buildings and sites.
Savannah isn't all history, however. While here, one can shop to their heart's content, whether in the Historic District's cobblestone River Street shops or in the Southside's shopping malls. Savannah also has an antique district at the streets of Broughton and Bull, where those who prefer history in their souvenirs can find that as well.
Eating in Savannah can be a grand experience, too, with restaurants here ranging from haute cuisine to down home country cooking and everything in between.
Tours your family may enjoy:
New Orleans, Louisiana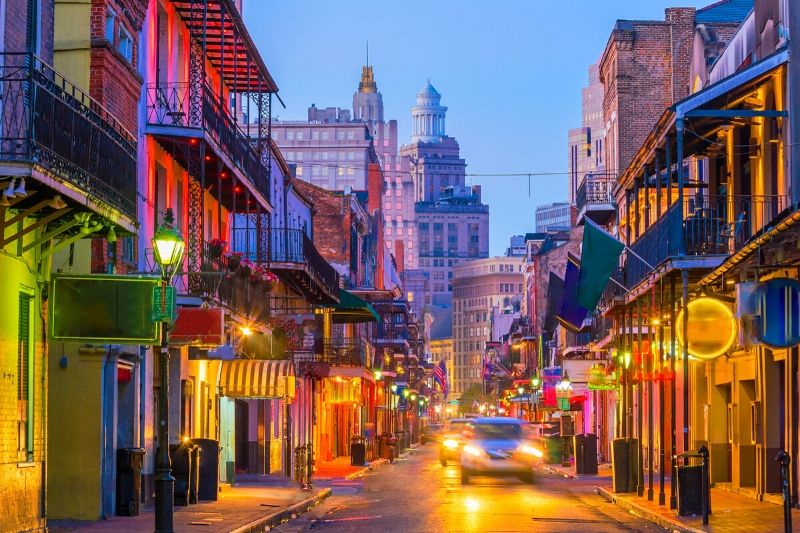 A city unlike any other in the Unites States, New Orleans is known for its mix of African, French, and Southern culture; its unique food; and its vibrant music scene. You can learn a lot about the different cultures, familiarize yourself with Cajun and Creole cuisine, and enjoy the lively atmosphere.
However, you may want to steer clear of Bourbon Street with kids. A paddle wheel steamboat tour along the Mississippi River is a highlight of any visit to New Orleans.
New Orleans is also home to the Audubon Zoo, which is one of the nation's best zoos. There are more than 1,500 animals that come from many different countries worldwide. In fact, when you visit the Audubon Zoo you will see 350 different species of animals, which is simply amazing!
The city is also world-famous for its food. Specialties include beignets, square-shaped fried pastries that are sometimes called French doughnuts (served with coffee and chicory "au lait"), Po'boy and Italian Muffaletta sandwiches, Gulf oysters on the half-shell and other seafoods, etouffee, jambalaya, gumbo, other Creole dishes, and the Monday evening favorite of red beans and rice. See all the iconic foods you must try in New Orleans.
Tours your family may enjoy:
Phoenix, Arizona
Arizona's main gateway is Phoenix and an ideal location for basing a hub-and-spoke itinerary. You can travel no more than 30 miles in any direction and arrive at one or more areas offering a selection of enjoyable touring sites and activities. Here is a sampling of what is available.
Phoenix, Arizona, is a great city to add to a family road trip to discover the Southwest. Phoenix is known for its year-round sun and long, warm days. It's perfect for mountain biking, hiking, and exploring the cactus-filled desert landscape.
Moms will love the spa resorts, where relaxation is high on the list of things to do. It's not all about outdoor activities in Phoenix, however. There are many museums, shopping districts, and art galleries to add variety to your itinerary.
Anchored by the Phoenix Civic Plaza, Copper Square is taking the best of Old Town and shaping it into a multi-use complex. It is an example of contemporary city-center living style with a mix of residential, commerce, sports, cultural and arts facilities, shopping and other urban amenities.
Other highlights of Copper Square are its more than 90 restaurants, lounges and markets and Arizona Center, where you find a myriad of specialty shops, movie theaters and performance venues. Other theater and performing arts venues include the Arizona Youth Theater, the Dodge Theatre, the Herberger Theater Center, the historic Orpheum Theater and Symphony Hall.
On the chance that it does rain or the kids simply need a break from the great outdoors, take advantage of Valley's cultural side. Children of all ages will enjoy exploring a re-created Zuni Pueblo and participating in hands-on activities at the Heard Museum, discovering science and technology at the Arizona Science Center, or taking in a performance at one of the children's theaters, Childsplay or Valley Youth Theatre.
Another attraction that's a great addition to a family road trip in Arizona is the Grand Canyon. It's about a 3.5 hour drive from Phoenix, and definitely worth the drive. Among the hiking and other activities, one of the best things is the view. Check out these great Grand Canyon viewpoint spots.
Tours your family may enjoy:
Orlando, Florida
A convenient location, supervised children's programs, a swimming pool, and an on-site restaurant are some of the top features parents look for when booking a kids holiday. As the USA's top destination for families, Florida takes its responsibility seriously – creating fun for the whole family.
A Florida holiday is heaven with outstanding kids' programs and facilities. Kids' programs have made a major mark on the standards of top Florida resorts during the past few decades. Many resorts design activities to give parents time with their kids and time alone as a couple.
Florida resorts have worthy kids programs, along with accommodations that feature family friendly amenities. Florida has long held the title of "Most Kid Friendly Holiday Destination" due to an abundance of theme parks and miles of sandy beaches. Ranging from the large theme parks around Orlando, to nature oriented kid programs in the Everglades, there is so much to see and do that the children will love!
There's always the Disney option. Walt Disney World in the Orlando area is much more than the Magic Kingdom, the first of the Disney theme parks. The resort encompasses three other parks – Epcot, Disney-MGM Studios and Animal Kingdom – as well as hotels (both luxury and affordable), campgrounds, water parks, golf courses, shopping centre, dining and entertainment district.
Aside from water parks and Disney-centered Orlando, Florida has many other attractions that children of all ages will enjoy. Older children and teenagers can make a stop in Tampa for Busch Gardens Tampa Bay. This park is full of wild roller coasters, exciting water rides, and shows. The draw for younger children, however, is the zoo-like experience with their exotic animals.
The Kennedy Space Center is a way for children and adults to have fun while learning about the past, present, and future of space exploration. At Crystal River and Homosassa between November and March kids can swim with the manatees and learn about these prehistoric creatures.
Tours your family may enjoy:
How to Keep Kids Occupied on Road Trips
Books and children's magazines: Time passes quickly when children are engrossed in a story. Take this opportunity to teach your children the importance of reading. If your kids can't read in the car, try books on tape or compact discs.
Crafts: Have the kids put together scrapbooks with items from the trip. Pack instant cameras, glue sticks, markers and construction paper to get them started.
Puzzles, board games and cards: At first these activities might seem unfit for road trips, but many newer versions are designed for travel. These games either come in compact cases or with magnetic boards to keep pieces from being lost in the vehicle.
On-screen entertainment: Increasing numbers of consumers are purchasing vehicles with liquid crystal display TV screens for passenger viewing. Today, not only can your kids play video games and watch DVDs in the car, they can catch their favorite television shows as well.
CONCLUSION
Visiting these fascinating cities during your family road trip is a great way to spend a summer, enjoy coveted family time, and learn a lot along the way. You'll see many parts of the United States, learn a lot about American history, and build many lasting memories.
Like this post? Why not save it to Pinterest?
FOLLOW US on Pinterest, Instagram, Facebook for more great travel inspiration and tips.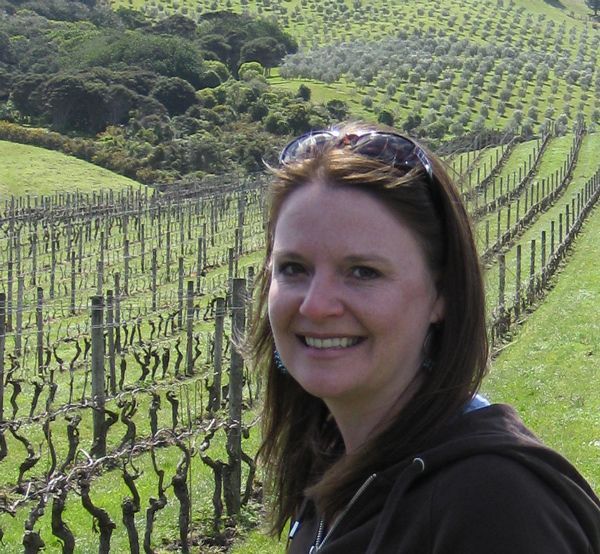 Laura Lynch, creator and writer of Savored Journeys, is an avid world traveler, certified wine expert, and international food specialist. She has written about travel and food for over 20 years and has visited over 75 countries.