Note: All tours and travel to Ukraine is paused until peace is restored. Please consider donating to Ukraine to help their citizens in a time of need.
Ukraine isn't one of the most visited places in Europe, by any means, but that doesn't make it an any less beautiful and fascinating place to visit. In fact, Ukraine has everything a tourist could want: great food, beautiful beaches, castles, countryside and friendly people.
Within Ukraine there are many interesting and unique attractions that draw tourists, including modern cities, untouristed villages, many UNESCO World Heritage sites and the captivating remains of Chernobyl.
If you're looking for an off-the-beaten-path type of destination that will make you really feel like you're traveling to an undiscovered destination, then Ukraine is where you should go. Not only is it easy on the budget, it's rich in culture and history, and is really the perfect place to explore.
Here are 8 fascinating places to visit in Ukraine. You can visit for a week or a month, or even tack a few places on to a longer Europe trip. However much time you spend there, we're sure you're going to enjoy it.
Planning for Europe? Here's more…
Places to Visit in Ukraine
1. Kyiv
Ukraine's capital, Kyiv, is located in north-central Ukraine and is one of the most visited cities in Ukraine. It's a city with an interesting history that you can learn about in the many museums, churches, and monasteries, like Kyiv Pechersk Lavra (aka Kyiv Monastery of the Caves).
In fact, Kyiv has one of the largest open-air museums in Europe, the Museum of Folk Architecture & Ethnography. As it is one of the oldest city in Eastern Europe, dating back to 482 AD, there is an interesting mix of old and new, from the historic Soviet architecture to the ever-popular theatre, to the many bars and sidewalk cafés.
2. Lviv
Lviv is the largest city in western Ukraine and one of the oldest, having been founded in 1256. It's also the most popular for culture in Ukraine, drawing tourists who appreciate its spectacular operas and ballets, along with modern cultural pastimes, like creative cocktail bars and restaurants.
You can't go to Lviv without exploring the many monuments, galleries, and archaeological projects that date back to the 5th century. The architecture blends Central and Eastern European styles to make you feel like you're walking through Poland or Germany rather than the Soviet brutalism you often find in the region.
The city is poised for tourism and has plenty of nice hotels, tours you can take to see the main sights, and the ease of English-speaking tour guides and information that are hard to come by in other parts of Ukraine.
3. Chernobyl
Some of us wouldn't give a second thought to visiting the location of the notorious 1986 nuclear disaster that caused this city to be abandoned and led to the death of thousands, but there are others who will no doubt find it truly captivating.
You can now tour Chernobyl to explore the remains of a town that is frozen in time, with demolished buildings, crumbling artifacts of a place that was deserted in one horrific moment in time. You can learn about the disaster and see for yourself the destruction.
If you're worried about the level of radiation still present at the site, you will have to decide for yourself; however being that it occurred more than 35 years ago now, the level of radiation is now deemed safe for a day trip.
4. Odessa
You've likely heard of Odessa already and know that it's a major tourist hub in Ukraine. It's known for its beaches and 19th-century and Art Nouveau architecture, including the Odessa Opera and Ballet Theater.
Located on the north-western shore of the Black Sea, the most notable thing you might remember about Odessa is that it was the site of a major Russian Revolution uprising by crew members of the Battleship Potemkin, which was made into a silent film in 1925.
Odessa is now a booming tourist-friendly city with gorgeous beaches, wineries, cafes, and tons of restaurants. The main pedestrian street, vul Derybasivska, is jam-packed with restaurants, bars and both domestic and international tourists in the high season.
5. Kharkiv
Being just 40 kilometers from the Russia border, Kharkiv might not be on your list of places to visit in the near future, but it is worth visiting when quieter times prevail. It was founded in 1655 and was the first capital of the Ukrainian Soviet Socialist Republic (December 1919-January 1934).
Today, the city is an industrial hub and is growing and changing into a more modern, tourist friendly place, with theatres, museums, and music festivals that showcase its heritage and cultural relevance.
Kharkiv is home to "Freedom Square" where the Derzhprom building was built in 1925, and is one of the most prominent examples of constructivist architecture. Believe me, you'll want to spend some time admiring this building and the other interesting pieces of architecture, including the underground metro system. Many of the stations are quite fascinating.
6. Chernihiv
Located in north central Ukraine, Chernihiv is another city you should visit for its architecture and growing modern vibe. It is one of the most ancient and most interesting cities in Ukraine, with a lot of history to discover and many unique historic sights.
The majority of its unique monuments are concentrated today in the historical center of Chernihiv. The Saviour Cathedral and Boris-and-Gleb Cathedral, along with Trinity Monastery are three remarkable structures to see.
Stronghold is the historic center of the city and from there you can admire the city and the golden cupolas of Catherine's Church. Not far from there is the Red Square that is surrounded by outstanding architecture.
Aside from buildings to look at, the city also has good beer, ancient monasteries, palaces, vast gardens and the Desna River.
7. Kamianets-Podilskyi
If you're into medieval fortresses, then you can't miss a visit to Kamianets-Podilskyi, a city in western Ukraine that has a well-preserved Old Town with Kamianets-Podilskyi Castle, a medieval fortress featuring several original towers.
This fortress is the main reason that people visit Kamianets-Podilskyi and you won't be disappointed. It towers over the countryside landscape, making a great impression as you approach. It's built on a giant rock and surrounded by the Smotrych River Canyon.
The castle isn't the only reason to visit this city, however. The Old Town is a perfect example of medieval times and has all the remnants you'd expect to find. They're very well prepared for visitors, as well, so it's easy to get around.
8. Bukovel
Bukovel is the ski resort of the Carpathians and a perfect winter destination for those who like skiing and snow sports. It's surrounded by mountain peaks and is Ukraine's biggest ski destination and one of the largest ski destinations in eastern Europe. There are 68 km of slopes available and 16 lifts.
From November to April the conditions are ideal for skiing and snowboarding. There are plenty of hotels, restaurants, spas and entertainment going on in winter. Outside of this peak season, you can go climbing, mountain biking, and dip into the healing mineral spring waters.
Conclusion
Now you can see why Ukraine should be on your list of travel destinations, particularly if you love the outdoors, history, and architecture. There are plenty of fascinating places to visit in Ukraine where you'll discover something remarkable.
Like this post? Why not save it to Pinterest?
FOLLOW US on Pinterest, Instagram, Facebook for more great travel inspiration and tips.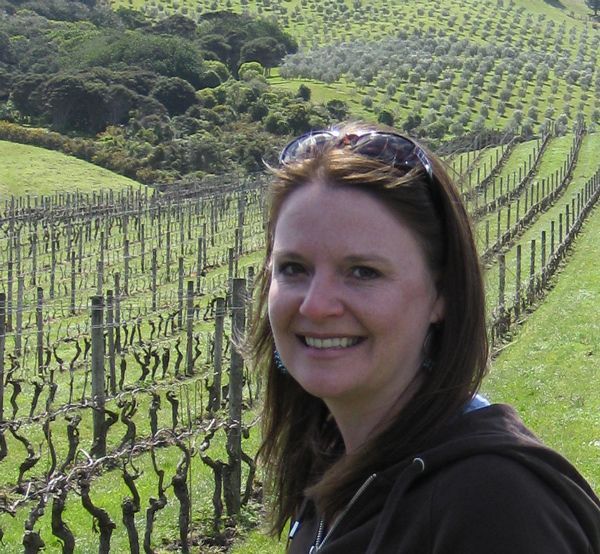 Laura Lynch, creator and writer of Savored Journeys, is an avid world traveler, certified wine expert, and international food specialist. She has written about travel and food for over 20 years and has visited 70+ countries.