Thailand is one of my favorite countries to explore for food. There are so many great dishes they make there that we've never tried back in the United States. The flavors of coconut milk, lime and galangal will mesmerize you and leave you wanting more once you've gone back home. Thankfully there are Thai restaurants that make these dishes at home, but what about trying to make them yourself in your own kitchen! It's not as difficult as it may sound.
I'm an avid home cook and love to explore other cultures through food. Even if it's not possible to completely duplicate a dish you experienced while in another country, it's always worth it to experiment at home. You may be surprised at how the flavors you loved while on vacation can take you back. It doesn't have to be perfect to be savored.
Check out our Global Gourmet recipe series for more International inspiration.
Here are a few of our favorite Thai food recipes to make at home
Som Tam
Som Tam is a spicy green papaya salad that is very popular in Thailand. Slivers of unripened papaya mix together with the flavors of Thailand — fish sauce, galangal, palm sugar and lime juice — to form this crunchy, tangy salad.
Recipe
Tools: Mortar and Pestle is required
Preparation Time: 15 minutes
Serving Size: 2 serving
Ingredients:
2 cups shredded green papaya
1 cup shredded carrot
2 tsp dried shrimp
2 tbsp fish sauce
1 tbsp palm sugar
Juice of 1/2 lime
10 cherry tomatoes, cut in half
5 green beans, cut into 1 in pieces
3 tbsp peanuts, chopped
2-3 Thai red chilies, based on desired heat level
1-2 cloves garlic, finely chopped
Preparation:
Crush chilies and garlic in the mortar.
Add fish sauce, sugar, lime juice, peanuts and dried shrimp and pound the ingredients until well mixed.
Add shredded papaya, carrots, tomatoes and beans. Mix and lightly pound with the pestle to release flavors.
Serve cold.
Tom Ka Gai
Tom Ka Gai is a classic Thai soup that combines the sweet and savory flavors of coconut milk, spicy red chilies, chicken, aromatic galangal and tender mushrooms into a rich and velvety soup that's hearty enough to be a meal on its own.
Recipe
Preparation Time: 10 min
Cook Time: 10 min
Serving Size: 4 servings
Ingredients:
1 can Coconut Milk
1 cup Chicken Broth
1/2 lb. Chicken
2 tbsp Fish Sauce
2 tsp Palm Sugar
1 stem Lemongrass cut into 1 in pieces
1 ounce Galangal (or ginger), sliced
2 Kaffir Lime Leaves, fresh or frozen
5-6 Mushrooms, halved
1 Lime, juiced
Handful of cilantro
Preparation:
Combine coconut milk and broth in large sauce pan and bring to a boil over medium-high heat.
Add chicken and boil until cooked. 5 minutes.
Add fish sauce, palm sugar, lemongrass, galangal, lime leaves, mushrooms and lime juice. Cook on medium for 5 minutes.
Add cilantro and serve.
Pad Thai
Pad Thai is the most popular dish served in Thai restaurants throughout the world, and can be found in many versions throughout Thailand. It consists of rice noodles stir fried with tamarind, bean sprouts, tofu, egg and ground peanuts.
Recipe
Preparation Time: 15 min
Cook Time: 15 min
Serving Size: 2 servings
Ingredients:
4 oz medium rice noodles, prepared per package instructions
1 tbsp peanut or veg. oil
1 tbsp tamarind paste
2 tbsp oyster sauce
2 tbsp fish sauce
1 tbsp palm sugar
1-2 cloves garlic, chopped
1/2 lb. Chicken Breast, sliced thin
1 Egg
1 handful bean sprouts
3 tbsp green onion, chopped
2 tbsp peanut, roughly chopped
Lime wedge
Preparation:
Prepare the sauce by mixing together the tamarind, oyster sauce, fish sauce and palm sugar in a small dish.
Heat oil in a wok over high heat until smoking.
Add chicken and saute until almost cooked. Add the garlic.
Create a well in the center of the wok and crack the egg into the center. Stir to scramble, then combine in with the chicken.
Create another well in the center of the wok and add the noodles plus a splash of water. Stir the noodles until they soften, then mix in with chicken.
Add the sauce to the pan and stir to combine. Add green onions and bean sprouts. Cook for 2 min.
Remove from heat and serve. Garnish with peanuts and a spritz of lime.
Spring Rolls
Thai spring rolls are the perfect appetizer and snack food. Crispy on the outside, they are warm and chewy on the inside — stuffed with vegetables and minced chicken or tofu, then dipped in a sweet and spicy chili sauce.
Recipe
Preparation Time: 20 min
Cook Time: 15 min
Serving Size: 10 spring rolls
Ingredients:
10 Spring rolls wrappers
3 oz prepared glass noodles
5 oz minced inced chicken
3 oz carrot, shredded
2 oz bean sprouts
1 clove garlic, minced
1 1/2 tbsp fish sauce
1 1/2 tbsp oyster sauce
1 tbsp white or palm sugar
1/2 tbsp plus 1 cup peanut or veg oil for deep frying
1 egg beaten
Preparation:
Heat 1/2 tbsp oil in medium frying pan or wok over medium high heat.
Add the chicken and saute until cooked, about 3 minutes. Add in garlic.
Add the vegetables, glass noodles, fish sauce, oyster sauce and sugar. Stir to combine.
Allow to cool slightly.
Spoon 2 tbsp of the filling into the center of each wrapper.
Fold the wrapper in half to form a triangle, then fold the side ends in until they touch in the center of the roll.
Rub egg mixture along the point of the wrapper, then finish rolling, as tightly as possible. Roll all 10.
Over medium-high heat, deep-fry the spring rolls until golden brown, being careful not to crowd the pan. Alternatively, deep fry rolls in a deep fryer at 360 degrees for 4 minutes.
Remove spring rolls from the hot oil and place on a paper towel to drain. Serve hot.
Green Curry
Green curry paste is combined with coconut milk to create this popular curry dish. Chunks of chicken are mixed with vegetables like red bell peppers and zucchini in this version, but you may also find potatoes and other vegetables mixed in.
Preparation Time: 10 min
Cook Time: 10 min
Serving Size: 2-4 servings
Ingredients:
1 tbsp vegetable oil
2 tbsp green curry paste
1 can coconut milk
1/2 lb chicken breast, sliced
1 red bell pepper, sliced thin
1 zucchini, cubed
2 tbsp fish sauce
2 tsp aalm sugar
1-3 Thai red birds eye chilies, depending on desired heat
Preparation:
Heat oil in a medium frying pan or wok over medium high heat for two minutes.
Add green curry paste, whisk together with oil and sauté until fragrant.
Add half of the can of coconut milk. Whisk together and bring just to a boil.
Add chicken, stir and sauté until chicken is cooked, about 5 minutes.
Add red bell pepper slices and zucchini. Cook for 2 minutes.
Add fish sauce and palm sugar (white sugar can be substituted) and remaining coconut milk. Boil for 1 minute. Remove from heat.
Serve the curry over rice in a bowl and garnish with the desired number of chilies for heat.
Where to Find Ingredients
If you live in a city that has an Asian grocery, or even a large supermarket with a good Asian section, you should be able to find all the ingredients you need there to make these favorite Thai food recipes. Smaller towns will be harder. If you aren't able to get the ingredients at your local market, there's always Amazon! Here are a few of the items you can find online: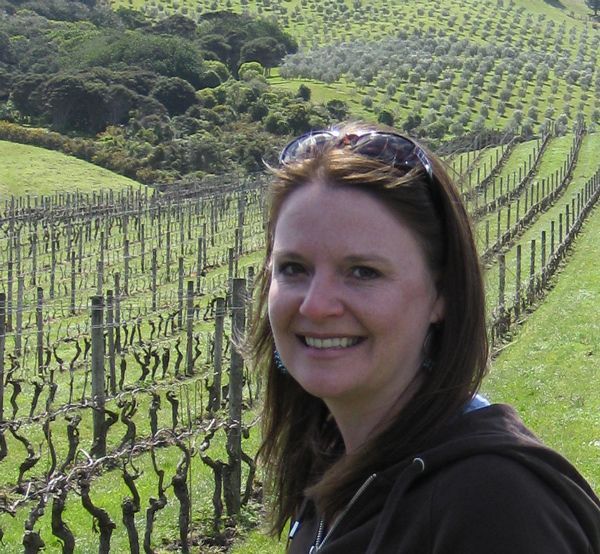 Laura Lynch, creator and writer of Savored Journeys, is an avid world traveler, certified wine expert, and international food specialist. She has written about travel and food for over 20 years and has visited 70+ countries.