The Olympic Peninsula is truly one of the most beautiful areas of the Pacific Northwest, especially in its springtime splendor. While many people visit this area for the Olympic National Park, there are many other reasons to stay and enjoy, like the plethora of fantastic Olympic Peninsula wine and cheese.
Located just two hours northwest of Seattle, the Olympic Peninsula is a perfect location for a weekend getaway. The dramatic views of the Straits of Juan de Fuca, the lush and fertile countryside, the locally made wines and cheeses – it's really hard to beat.
There are nine wineries from Port Townsend to Port Angeles. It's an incredibly scenic stretch of the Puget Sound, so driving from one winery to the next is a treat all on its own.
» Check out more things to do in the Pacific Northwest, great things to do in Seattle on a nice day, and what to do in the San Juan Islands.
Visiting Olympic Peninsula Wineries
It's easy to reach the Olympic Peninsula by car from Seattle. While you don't strictly need a car to get around, it will be quite a bit more difficult to take public transportation or get taxis to each of these wineries. Going in a car allows you to stop off anywhere you want.
If you have a designated driver, or you've perfected the art of sipping and spitting while wine tasting, you can make it to quite a few wineries in one day. I would recommend making a schedule that includes five or six wineries.
Finnriver Farm & Cidery
Finnriver Farm & Cidery is in Chimacum, Washington. With over 30 acres of farmland along a restored salmon stream, Finnriver could take an entire day to explore. They use their Finnriver estate-grown, freshly harvested organic cider apples and pears, and occasional apples from their network of small regional orchards, to make hand-crafted sparking hard ciders and wines in interesting flavors, like my favorites Fire Barrel Cider and Habanero.
Hours: Wednesday – Sunday, 12-9pm; pizza available Fri-Sun
Address: 124 Center Rd, Chimacum, WA 98325
Eaglemount Wine & Cider
Eaglemount Wine and Cider, in the countryside of Port Townsend, produces half a dozen wines and even more cider varieties, including the unique Quince Cider and the dry-hopped Boot Brawl Cider. The barn tasting room is located outside of town, down a long lane. They have many different wines and ciders to taste while you're there, plus some other local products to buy.
Hours: Friday, Saturday & Sunday Noon – 5:00PM (other days by appt)
Address: 1893 S Jacob Miller Rd, Port Townsend, WA 98368
Wind Rose Cellars
Wind Rose Cellars is the only downtown tasting room, right in the middle of the Sequim, Washington's historic downtown center. Wind Rose focuses primarily on Italian varietals such as Primitivo and Barbera, grown in eastern Washington. The tasting room is cozy and friendly, with lots of wines to taste and a good selection of little bites to pair with them. They also feature live music most nights of the week.
Hours: Thursday, Friday and Saturday 1-6pm. Sunday 1-4pm
Address: 143 W Washington St, Sequim, WA 98382
Olympic Cellars
We love visiting Olympic Cellars in the giant, century-old barn on Highway 101. They were the first winery on the Olympic Peninsula and have been making wine since 1979. It's family owned and women operated. If you've seen the Working Girl Wines label, this is that winery. I love their Cabernet Franc and 100% Petit Verdot. Since the barn is located right off the highway, it's the easiest to get to. They have all kinds of products inside to browse and purchase. They host events and concerts too, so check out their schedule.
Hours: Daily 11am-5pm
Address: 255410 US-101, Port Angeles, WA 98362
Harbinger Winery
Harbinger Winery is an artisan winery focused on making premium, ultra-drinkable wines, with a focus on "out of the ordinary" varietals and traditional favorites, like Albarino, Cab Franc, and Barbera. Their tasting room/winery is a great one to visit, with cozy couches next to aging barrels of wine, a long table full of the medals that have been won for the outstanding wines and even a couple of local beers on tap to enjoy on their outdoor patio.
Hours: Daily 11am to 6pm
Address: 2358 Highway 101 West, US-101, Port Angeles, WA 98363
Camaraderie Cellars
If I owned a house, I would want my backyard to look exactly like the one at Camaraderie Cellars. They have truly optimized their space by including a large fire pit on the front patio, a charming and rustic 8-person dining area enclosed by a hand-made wooden fence with a marble slab table in the middle.
The tasting room spills out onto a the perfect patio canopied with barrel staves and a bunch of other wine-related decorations. They've been making consistently high quality wines for over twenty-five years. We loved their newly released Cabernet Franc.
Hours: Fri-Sun Noon-5:00pm
Address: 334 Benson Rd, Port Angeles, WA 98363
FairWinds Winery
FairWinds Winery is in Port Townsend, an hour drive back to the east. They have a few varietals we don't often see in Washington, including an Aligote (a white grape from Burgundy in France) and Lemberger. They also have a Merlot that had been barrel aged for longer than usual that has a smooth and luscious mouthfeel.
Hours: Saturday and Sunday Noon- 5:00pm
Address: 1984 Hastings Ave W, Port Townsend, WA 98368
Marrowstone Vineyards
Marrowstone Vineyards is located on Marrowstone Island, which is a sliver of land to the east of Port Townsend. The location up on the bluff has a beautiful view of the water. They have planted their own vines on the property, which is an interesting prospect as it's typically too cold of a climate to grow grapes. The tasting room has picnic tables and you can purchase charcuterie boxes to go with your wine.
Hours: Fri & Sat Noon-8:00pm, Sunday Noon-5:00pm
Address: 423 Meade Rd, Nordland, WA 98358
Alpenfire Orchard & Cidery
Alpenfire is one to add to your cider list. Alpenfire's ciders range in style from old world to new world; from barrel matured, bittersharp, bone dry varieties to luscious pommeaus made with fresh pressed juice and apple brandy, right from their own orchard. You can visit and taste the line up of yearly and special release ciders. You can bring a picnic to enjoy in the orchard.
Hours: Saturday Noon-5:00pm
Address: 220 Pocket Ln., Port Townsend
What to Do After Hours in the Olympic Peninsula
Where to Eat
Settle into a booth at the downtown Port Angeles gastro pub, Next Door, for dinner. They're well-known for their massive burgers and french fries that come lots of different varieties like blue cheese fries. They also have a gooey and delicious Mac and Cheese and a gravy-tastic poutine that can be customized with the toppings of your choice.
Where to Drink
If you haven't drank enough wine yet, belly up to the bar at Wines on the Waterfront and enjoy a bottle of something local. It's a small wine bar, mostly visited by locals, with some of the best prices on bottles. It's an excellent spot for superb wine and intimate conversation with friends.
Stop off at Port Townsend Brewing Company for a beer sampling. They have 13 different beers and you'll would want to try them all. It's a popular place for locals
Where to Stay
We stayed the night in Port Angeles at the Olympic Lodge, which is newly remodeled and very comfortable. Another good choice in the area is a waterfront room in the Red Lion Port Angeles, which is a bit closer to town and is more convenient for walking to dinner and nightlife.
CONCLUSION
If you're looking for more fun things to do in the Seattle area, a trip to the Olympic Peninsula is within easy reach. You can plan your own winery tour, or just hop around to the little towns along the way and enjoy a few days of coastal views. Learn a little bit more about Washington wine at these Olympic Peninsula wineries.
Like this post? Why not save it to Pinterest?
FOLLOW US on Pinterest, Instagram, Facebook for more great travel inspiration and tips.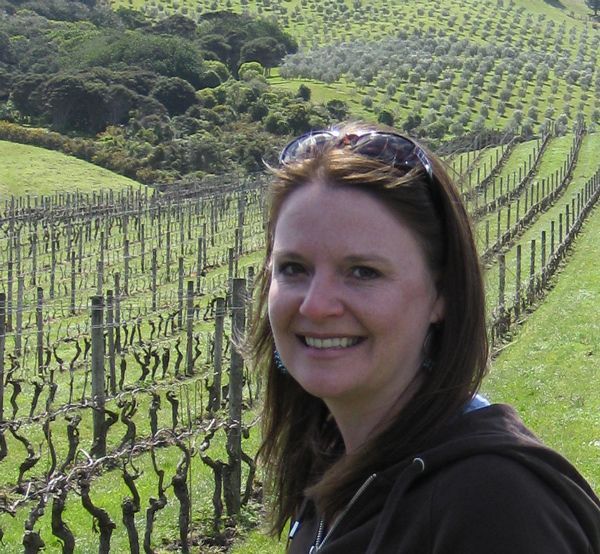 Laura Lynch, creator and writer of Savored Journeys, is an avid world traveler, certified wine expert, and international food specialist. She has written about travel and food for over 20 years and has visited 70+ countries.