I haven't spent much time in Fort Lauderdale in recent years, so I was completely unaware of just how much the food scene has changed there in the past 10 years, especially along trendy Las Olas Boulevard, where there are dozens new and exciting options for foodies. While I was in Fort Lauderdale for the TBEX (Travel Bloggers Exchange) conference, I had a chance to check out Las Olas Boulevard, which is a hotspot due to its proximity to the beach and its abundance of trendy shops, bars and restaurants.
As with any trip I take, my first order of business in Fort Lauderdale was a food tour. Within a couple hours of arriving in the city, I was well on my way to discovering some of the food spots that are lighting up the dining scene on Las Olas Boulevard. This wasn't your typical food tour, however. The Greater Fort Lauderdale Convention & Visitors Bureau teamed up with the Water Taxi and the guys at Cycle Party to show us a really good time. I suppose anytime you have a captive audience of 15 camera-laden travel bloggers at your beck and call, you would strive to exceed all expectations.
And that is what they did! We were greeted by a team from the water taxi service, who took us on a short waterway tour from the convention center over to the Las Olas Boulevard area. When we arrived, you can image our surprise when we realized our mode of transportation for this tour was a Cycle Party. You know what that is right? Those 15-person wagons that are powered entirely by pedaling as fast as possible through the streets, often accompanied by motivating party music. It was definitely not what I was expecting, but clearly we were all in for a really fun afternoon. I've always wanted to ride on one of those bikes!
And so we climbed up into our cycle seats and pedaled away to our first stop along Las Olas Boulevard. YOLO is a trendy restaurant with a lovely outdoor patio where you can relax on couches surrounding a fire pit, and an exciting open-kitchen concept inside so you can watch the chefs in action. YOLO serves "thoughtfully prepared contemporary American cuisine paired with warm hospitality in a sophisticated, bustling setting."
I can see hanging out at this restaurant with friends, enjoying a summer evening on the patio, grabbing one of their inventive cocktails and snacking on a few of their shareable appetizers. We sampled the Grilled Artichokes with lemon aioli dipping sauce, the Szechuan Calamari with Garlic Chili Sauce and the Fire Roasted Corn Dip, all of which were impossible to stop eating. The artichokes were delicious on their own, but once I slathered on the dipping sauce they became irresistible. Everyone at the table clambered for the last scoop of the corn dip.
Yolo has also brightened up the dining scene with their specialty cocktails. And they don't hold back on the booze! The Devil's Hammer is just as it sounds – it packs a serious punch. It has Tequila, Cherry-infused Bourbon, Agave Nectar, Mint Leaves, Orange and Lime. We also had a Strawberry Caipirinha, which was almost too beautiful to drink (though I got over that pretty quick). The Dragonberry Mojito with fresh blackberries was also a hit.
After we ate all of that, we weren't opposed to more exercise on the Cycle Party bike. We had plenty of calories to burn off. It might look like it would be easy to get around on that bike, since there are 12 people pedaling at once, but it's really not as easy as it looks. The lively music and waves and cheers from bystanders who got the pleasure of watching us party our way down the street in slow motion helped motivate us on to the next stop.
American Social is located right on the Boulevard and is the place to go if you're looking to try some of the local craft beer. They even have pour-it-yourself beer taps at some of the tables. The beer scene is slowly starting to unfold in Fort Lauderdale and South Florida, and you can find a few of those local beers on taps here, like Funky Buddha, Hollywood Brewing and Blue Point Brewing.
They serve American comfort food classics with an upscale twist, like shrimp & pesto flatbread, lobster grilled cheese and a Cuban sandwich with Serrano ham. We tried a bunch of different flatbreads, including the Truffle Wild Mushroom and BBQ Boursin Shortrib. Yum to all of them!
My favorite of the dishes we tried here was their famous Chicken & Waffles. The breading on the fried chicken was especially noteworthy. It was seasoned so well that the salty, savory flavor wasn't overwhelmed by the sweetness of the syrup, which is usually my complaint. The dish was topped with a bourbon mascarpone and cherry compote that kicked it up a notch. It was quite good.
Our final savory stop was at Fork & Balls, which wins for most creative name. I liked the look of this place the second we pedaled up. The exposed brick and reclaimed wood gives it a trendy, yet rustic feel that carries into the menu. They feature balls of all kinds – turkey, beef, chicken – you name it. They even have Quinoa Kale balls. And there are sauces to go with every food mood you might be in.
I should also mention that they have a really great Brussels Spouts dish that's a must-have. The sprouts are grilled up with bacon and swimming in a toasted garlic-tomato sauce with parmesan. Delicious. Just take a look at that spread!
You can't end a food tour without something sweet. So we pedaled ourselves over to Kilwins, Fort Lauderdale's premier location for hand-crafted chocolates, fudge and ice cream. The locals on our tour couldn't rave about this place enough, and I can see why. They have over 100 different confections, from chocolate truffles to hand-dipped caramel apples and homemade Mackinac Island fudge. I haven't even mentioned the ice cream flavors that can be enjoyed in a hand-rolled waffle cone.
I didn't do nearly enough pedaling to make up for all the calories consumed along the way, but the Cycle Party sure was a fun way to get around and added a unique spin to the typical food tour. It would definitely be a fun idea for a birthday party or bachelor(ette) party, or even just to get some friends together and recreate our food tour! Cycle Party offers cocktail tours, downtown pub crawls and beach pub crawls, all of which are really easy to book on the website. Up to 15 people can hop aboard and every tour is accompanied by a professional driver who will steer you around for a couple hours of fun!
A great big thanks to the Greater Fort Lauderdale Convention & Visitors Bureau and TBEX for taking us on this wild ride through Las Olas Boulevard and showing us how great the Fort Lauderdale food scene has become. All opinions are my own.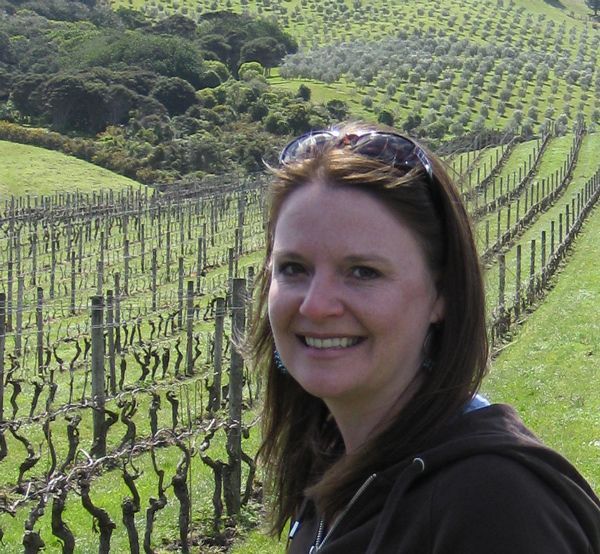 Laura Lynch, creator and writer of Savored Journeys, is an avid world traveler, certified wine expert, and international food specialist. She has written about travel and food for over 20 years and has visited 70+ countries.