You're going to need a lot of stomach space for your trip to Istanbul, because there are many food temptations that you'll want to try while visiting this amazing cosmopolitan city. We're talking mounds of Turkish delight, döner kebab street food vendors everywhere, and sticky sweet baklava after every meal.
Istanbul has a diverse food culture that includes influences from the Ottoman empire, Central Asia, the Balkans and Caucasus. There are some really great foods you must try in Istanbul and we've got a list of 15 of our favorites right here for you.
» Planning your Itinerary for Turkey? Check out our guides to Cappadocia and Istanbul.
Planning your trip to Istanbul?
Where to Stay in Istanbul :
Best Tours and Experiences in Istanbul :
Go on an Istanbul Food Tour
Taking a city food tour is a great way to immerse yourself in the food culture of a city – to taste and try local products and dishes you may not find on your own. One of our favorite city food tours was in Istanbul, because of the diversity of food we ate.
When you're in Istanbul, after seeing the top sights, make sure you seek out the food you must try in Istanbul on a food tour!
I recommend the Taste of Two Continents Food Tour with Yummy Tours. You'll get a chance to sample cuisine from both the Europe and Asia sides of the city. Sip Turkish coffee, visit multiple restaurants, and discover Istanbul's must-try dishes.
Of course, you don't have to go on this tour to get the amazing food you must try in Istanbul. Just make a list for yourself of the things you want to try and ask locals where to find the best. There are a lot of English speakers in Istanbul, so it's not difficult to get around.
Foods You Must Try in Istanbul
1. Pomegranate Juice
One abundant street food sold on carts throughout the city is pomegranate and orange juice. I love pomegranates and to see so many of them ready to be squeezed — yummm. Definitely be sure to stop at one of the vendors for a tall glass of freshly squeezed juice. Just make sure you ask the price of the glass you're buying before requesting it – they may try to charge you the max price if you don't ask first.
2. Simit
Another Turkish specialty that's easy to find on the street is simit. It's a pretzel-like, twisted bread, much like a bagel, covered in sesame seeds – slightly chewy with a crunchy exterior. At Karaköy Özsüt, open since 1915, we dipped freshly baked simit in fresh honey and buffalo-milk clotted cream, called kaymak, made from the restaurant's own buffalo herd. The kaymak was so creamy and delicious. Add a cup of strong Turkish tea and you have a great breakfast.
3. Turkish Delight
Also known as Lokum, which means morsels, Turkish Delight is made with starch and sugar. It can be found all over Istanbul in sweets shops and stores. You'll find it in mounds of varying flavor that you can choose from. The candy has a soft squishy texture and is typically speckled with chopped pistachios or dredged in sugar on the outside.
The most common flavor is rose, but there are now dozens of other flavors like orange, lemon, pomegranate, and hazelnut.
4. Balik Ekmek
This scrummy street food is a very common sight in Turkey, especially in areas close to the sea. The fish fillet which is generally grilled but can be fried too is typically an oily fish such as mackerel, served with onions and lettuce, inside a Turkish bread roll.
5. Midye Dolma (Stuffed Mussels)
Midye dolma is a popular and common street food snack in the coastal cities of Turkey. The mussels are stuffed with aromatic, herbed rice, then steamed until cooked. You can often grab a plate of mussels from a street vendor. They're so addictive.
We enjoyed them alongside a plate of typical appetizers like Hummus, Tabbouleh, Babba Ganoush, Spinach and potato salad.
6. Pide
Pide is like a Turkish pizza. It's a delicious flat bread, grilled and crispy, topped with ground meat and/or veggies. It's often served as an appetizer before the meal, or with the meze platter. I love how crispy the bread is and the wonderful flavor from the toppings.
For a savory lunch, we stopped at a restaurant in Göztepe and had a number of Turkish dishes, including pide. It makes a great snack, but we almost always ordered it as an appetizer with dinner.
7. Lahmacun
Here's another pizza look-alike for you. Lahmacun is similar to pide, but thinner and not as crispy. It's topped with ground meat, or a sort of tomato paste, and it's thin enough to roll into a tortilla shape to eat.
Lahmacun is also round shaped and smaller than a pide, which is oval and much bigger. The topping is also slightly different, but you'll find all kinds of variations, so it's not as clear cut as you might think.
8. Doner Kebab
You cannot leave Turkey without tasting a doner kebab if you do so your trip will be incomplete. Doner kebab is a large piece of meat that is roasted vertically as it rotates. The large rotating kebab is sold in thinly sliced portions that will blow you away. You'll find it all over Istanbul.
There are different types of doner kebab, but by far the most popular is the lamb and beef doner kebab. This can be served with onions, pickles, tomatoes, yogurt rolled up in flatbread or if you like you can have the slices of lamb and beef with no sides.
I recommend you visit Bayramoglu Doner in Istanbul for some of the best doner kebabs. You will pay about 6 to 24 Turkish lira ($1.70 to $6.81) for a meal. The place is open daily from 11am to 11pm.
9. Manti (Turkish Ravioli)
Foodies around the world are still debating whether this dish is pasta or dumplings. I think because of the way it is served it looks more like pasta. The dumplings are made with flour, eggs, water, and salt.
Turkish manti is usually stuffed with lamb and topped with chili powder, ground sumac, tomato sauce, garlicky yogurt, and hot butter to create a very tasty meal.
Some restaurants to sample amazing manti in Istanbul are Casita Mantı Nişantaşı, Bodrum Mantı (Arnavutköy), and Aşkana (Ulus).
10. Baklava
You'll be hard pressed to eat much of this super sweet dessert, unless you have a strong sweet tooth. Baklava is a rich, sweet dessert pastry made of layers of filo, filled with chopped pistachios or walnuts and drizzled with honey and dipped in pulverized pistachios. It's almost pure sugar, but it's incredibly delicious. You can find it in just about any pastry shop or as a dessert at any restaurant in Istanbul. Some of the city's best can be found at Karaköy Güllüoğlu.
11. Katmer
In the bustling Moda neighborhood, we sampled another pistachio dish called katmer. Very similar to baklava, katmer is a breakfast pastry made out of sheets of phyllo dough wrapped around kaymak and covered in chopped pistachios. It's very sweet, crunchy and delicious. Very reminiscent of baklava.
12. Meze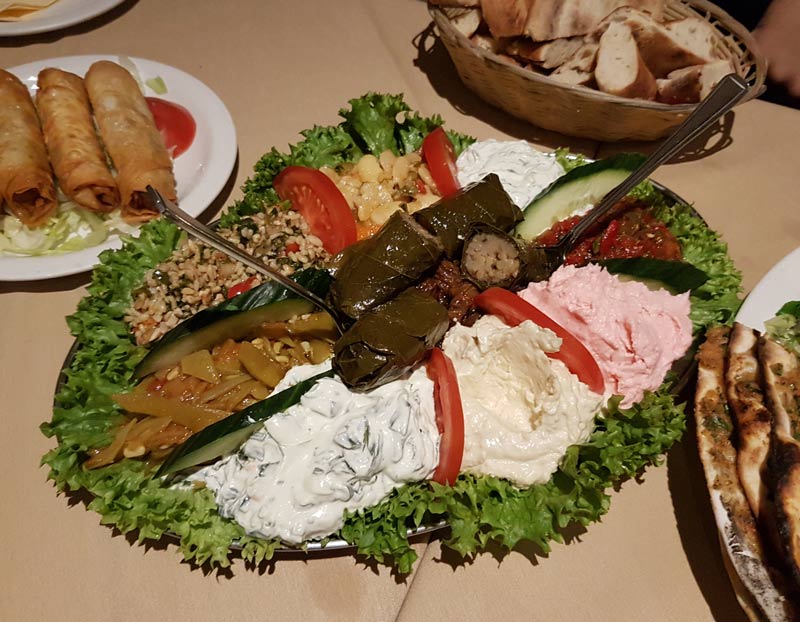 These are more like appetizers that you can order as you have drinks or before a meal in Turkey. The range of meze is wide but most are made from ingredients like yogurt, meatballs, eggplant, white cheese, and rice stuffed vine leaves. Some of the popular mezes that will stimulate your appetite include:
Köpoğlu, which is prepared using fried eggplant cubes, yogurt, and tomato sauce.
Fava, which is mashed broad beans
Muhammara. A dip made from lemon juice, pomegranate molasses, walnuts, and red pepper paste.
Souvlaki (Grilled meat on skewers)
Tarama (Mashed potatoes)
13. Kumpir
Another fantastic street food that's popular in Istanbul is Kumpir, which is a stuffed baked potato, or jacket potato (for the UK travelers). A Turkish baked potato is fluffy on the inside, served with butter and cheese, plus any an all other toppings you might like, such as ground meat, veggies, olives, sauces and more cheese. This tasty dish is a very popular street food and can be found throughout Turkey.
14. Lotus Root Ice Cream
No food tour of Istanbal would be complete with trying the famous wild lotus root ice cream. You often see street vendors playing around as they scoop and hand over this stretchy ice cream to unsuspecting tourists who try to grab the cone only to have it yanked away repeatedly by the vendor.
It's quite comical. We stopped at Ali Usta, well-respected in Istanbul for their ice cream. Our favorite was the lemon. It has no cream content in it, but the lotus root makes it feel and taste creamy.
15. Turkish Coffee
And finally, a stop near the waterfront for some Turkish coffee. We fell hard for the Turkish coffee's strong roasted scent and bitter roasted, textured flavor. It comes in a small glass, is very thick, and can be sweetened to your preference.
It's unfiltered, so it has a higher concentration of caffeine and other beneficial compounds that may provide several health benefits. Once you finish drinking it, there's a thick layer of coffee sludge at the bottom of the cu.
Frequently Asked Questions
What foods are Istanbul known for?
Some of the foods Istanbul is famous for include kebabs made from lamb, goat, and beef, Turkish delight, a soft candy made of starch and sugar and comes in different flavors; baklava, a sweet dessert made of alternating filo pastry dough filled with chopped nuts and layered with lots of sugar syrup or honey, and Turkish coffee, a national delight, Turkish coffee is known for its strong roasted scent and bitter textured flavor.
What is a must-try in Istanbul?
When in Istanbul, you must try the following; simit, Turkish Delight, Balik Ekmek, Midye Dolma (Stuffed Mussels), Pide, Lahmacun, Doner Kebab, Manti (Turkish Ravioli), Baklava, Katmer, Meze, Kumpir, Lotus Root Ice Cream, Turkish Coffee, and Pomegranate Juice.
What is the most common food in Istanbul?
The Döner Kebab is the common food in Istanbul. It's made by stacking thin slices of meat and roasting on a vertical spit until crispy while the inside remains juicy. Thin slices of the meat are often served on a flatbread and enjoyed plain or with vegetables. The Döner Kebab is enjoyed by locals and visitors alike, and you will find kebab vendors on almost all streets.
How to get to Istanbul?
Istanbul is a major travel destination with a variety of transport options available.
By Plane. This is the quickest and most preferred with two international airports, Istanbul Airport (IST) and Sabiha Gökçen International Airport (SAW), which serve domestic and international flights.
By Train. There are several connecting trains from and to the neighboring European countries. However, this might take longer as there are multiple transfers along the way.
By car. Turkiye boosts an impressive road network that you can use to get in and out of Istanbul.
By bus. Several long-distance bus services connect Istanbul to other major cities in Turkiye and neighboring European countries.
By sea. Take a cruise ship or ferry along the Bosphorus Strait to get in and out of Istanbul.
Conclusion
All of these Turkish foods can be found easily in Istanbul. You haven't truly finished exploring the city without trying them all, so get ready for a culinary extravaganza that will leave you wanting more.
Like this post? Why not save it to Pinterest?
FOLLOW US on Pinterest, Instagram, Facebook for more great travel inspiration and tips.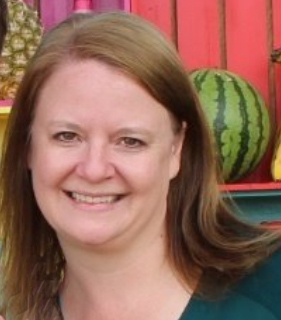 Laura Lynch, creator and writer of Savored Journeys, is an avid world traveler, certified wine expert, and international food specialist. She has written about travel and food for over 20 years and has visited over 75 countries. Her work has been published in numerous guidebooks, websites, and magazines.