Taking a city food tour is a great way to immerse yourself in the food culture of a city – to taste and try local products and dishes you may not find on your own. One of our favorite city food tours was in Istanbul, Turkey — with Istanbul Eats Culinary Backstreets Walks. Their tours never exceed seven people and the price includes everything you'll sample along the route.
When you're in Istanbul, after seeing the top sights, make sure you seek out the food you must try in Istanbul on a food tour!
We chose the Two Markets, Two Continents tour. We met our tour guide Megan and a couple of other foodies in the historic Persembe Pazarı of Karaköy, at a fish market under the Galata Bridge, just in time for breakfast. Walking through the market, we watched vendors clean fish and arrange it in neat piles on their stands. Istanbul is divided into two continents, so the tour includes both the European and Asian sides. This required a quick ferry ride to the Asian neighborhood of Kadikoy.
We passed an unbelievable amount of tiny backstreet restaurants — rickety plastic chairs and table set up outside every shop — where you could sit down for some fresh fish or kebab.
1. Pomegranate Juice
One abundant street food sold on carts throughout the city is pomegranate and orange juice. Our first stop was for a tall glass of freshly squeezed juice. I love pomegranates and to see so many of them ready to be squeezed — yummm. Just make sure you ask the price of the glass you're buying before requesting it – they may try to charge you the max price if you don't ask first.
2. Simit
Another Turkish specialty that's easy to find on the street is simit. It's a pretzel-like, twisted bread, much like a bagel, covered in sesame seeds – slightly chewy with a crunchy exterior. At Karaköy Özsüt, open since 1915, we dipped freshly baked simit in fresh honey and buffalo-milk clotted cream, called kaymak, made from the restaurant's own buffalo herd. The kaymak was so creamy and delicious. Add a cup of strong Turkish tea and you have a great breakfast.
3. Turkish Delight

It's very interesting to see how the two continent's cuisine differs. Obviously, desserts like Turkish Delight and Baklava can be found everywhere. We sampled a number of treats, from rose-flavored Turkish Delight to what is considered by many to be the best baklava in the world, as well as some very pretty marzipan fruits.
4. Stuffed Mussels
I had been too squeamish to try the stuffed mussels we saw being sold everywhere. I'm not at all a picky eater, but I am cautious about the cooking and storage of street foods. An unhappy stomach makes for an unhappy journey, so you have to be careful.
I was happy that we were able to try them with the assurance from our guide that these were the freshest and best in the area. They were slightly breaded, stuffed with rice and baked in the shell. We enjoyed them alongside a plate of typical appetizers like Hummus, Tabbouleh, Babba Ganoush, Spinach and potato salad.
5. Pide
For a savory lunch, we stopped at Göztepe's and had a number of Turkish dishes, including pide. Pide is like a Turkish pizza. It's a delicious flat bread, grilled and crispy, topped with ground meat and/or veggies. It's often served as an appetizer before the meal, or with the meze platter.
6. Doner Kebab
You cannot leave Turkey without tasting a doner kebab if you do so your trip will be incomplete. Doner kebab is a large piece of meat that is roasted vertically as it rotates. The large rotating kebab is sold in thinly sliced portions that will blow you away. You'll find it all over Istanbul.
There are different types of doner kebab, but by far the most popular is the lamb and beef doner kebab. This can be served with onions, pickles, tomatoes, yogurt rolled up in flatbread or if you like you can have the slices of lamb and beef with no sides
I recommend you visit Bayramoglu Doner in Istanbul for some of the best doner kebabs. You will pay about 6 to 24 Turkish lira ($1.70 to $6.81) for a meal. The place is open daily from 11am to 11pm.
7. Manti (Turkish Ravioli)
Foodies around the world are still debating whether this dish is pasta or dumplings. I think because of the way it is served it looks more like pasta. Turkish manti is usually stuffed with chickpeas, lamb, yogurt, and topped with chili powder, ground sumac, garlic, and hot butter to create a very tasty meal.
Some restaurants to sample amazing manti in Istanbul are Casita Mantı Nişantaşı, Bodrum Mantı (Arnavutköy), and Aşkana (Ulus).
8. Katmer
In the bustling Moda neighborhood, we sampled another pistachio dish called katmer. Very similar to baklava, katmer is a breakfast pastry made out of sheets of phyllo dough wrapped around kaymak and covered in chopped pistachios. It's very sweet, crunchy and delicious. Very reminiscent of baklava.
9. Meze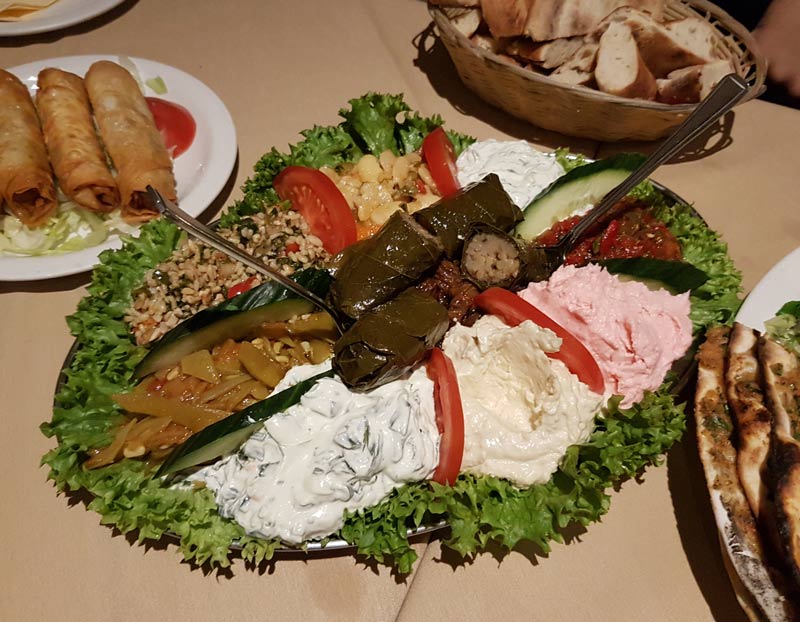 These are more like appetizers that you can order as you have drinks or before a meal in Turkey. The range of meze is wide but most are made from ingredients like yogurt, meatballs, eggplant, white cheese, and rice stuffed vine leaves.
Some of the popular mezes that will stimulate your appetite include:
Köpoğlu, which is prepared using fried eggplant cubes, yogurt, and tomato sauce.
Fava, which is mashed broad beans
Muhammara. A dip made from lemon juice, pomegranate molasses, walnuts, and red pepper paste.
Souvlaki (Grilled meat on skewers)
Tarama (Mashed potatoes)
10. Lotus Root Ice Cream
No food tour of Istanbal would be complete with trying the famous wild lotus root ice cream. You often see street vendors playing around as they scoop and hand over this stretchy ice cream to unsuspecting tourists who try to grab the cone only to have it yanked away repeatedly by the vendor. It's quite comical. We stopped at Ali Usta, well-respected in Istanbul for their ice cream. Our favorite was the lemon. It has no cream content in it, but the lotus root makes it feel and taste creamy.
11. Turkish Coffee
And finally, a stop near the waterfront for some Turkish coffee. Neither of us are coffee drinkers, but we fell for the Turkish coffee's strong roasted scent and bitter roasted, textured flavor.
Of course, you don't have to go on this tour to try this array of amazing food you must try in Istanbul. Just make a list for yourself of the things you want to try and ask locals where to find the best. There are a lot of English speakers in Istanbul, so it's not difficult to get around.
Like this post? Pin the images below on your Pinterest board to share with friends!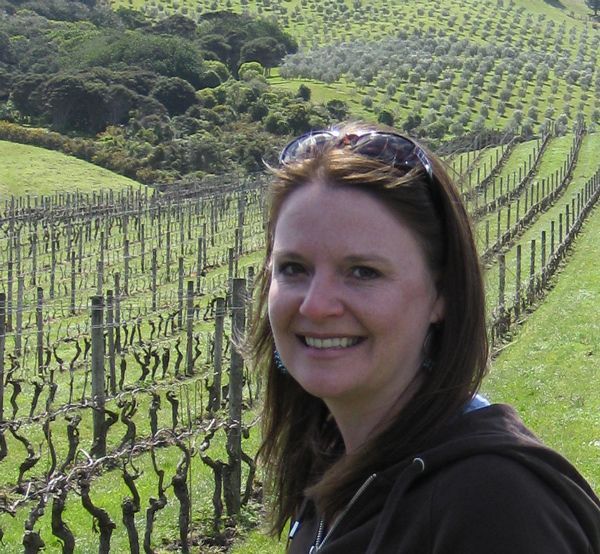 Laura Lynch, creator and writer of Savored Journeys, is an avid world traveler, certified wine expert, and international food specialist. She has written about travel and food for over 20 years and has visited 70+ countries.