This article has links to products and services we recommend, which we may make commission from.
We visited Tallinn, Estonia, as part of a cruise through the Northern Europe, and what an amazing visit it was. The old town of Tallinn is listed as a UNESCO World Heritage Site, and you'll see why the second you set foot there.
Tallinn is incredibly charming and so well-preserved as a medieval walled city that it draws in and fascinates visitors from all over the world. In fact, Tallinn's port is fast becoming one of the busiest cruise destinations on the Baltic Sea. And that's certainly something we experienced first hand during our visit there.
I'm a firm believer that the best way to get to know a city is through its food. So we embarked on a sightseeing and food tour in Tallinn, Estonia, through the cobblestone streets, to discover the traditional and modern food & drink that is enjoyed by locals in Estonia, today.
Tallinn's Old Town is split up into two parts – the lower town, called All linn, and the upper town, called Toompea. Both are very different. The lower part of town is where most of the restaurants and bars are, while the upper part of town feels more like an upscale neighborhood. At the top of the hill is an enormous Russian Orthodox Church, left over from the period of time when Estonia was part of the Russian Empire.
⇒ See where to stay in Tallinn at the end of this post.
You might also like: Awesome Things to Do in Tallinn Estonia by Pretty Wild World
During the Soviet Era, they almost demolished it due to the communist views against religion, but luckily it was spared and meticulously restored after when Estonia regained their independence. It's an incredible piece of architectural history in the city.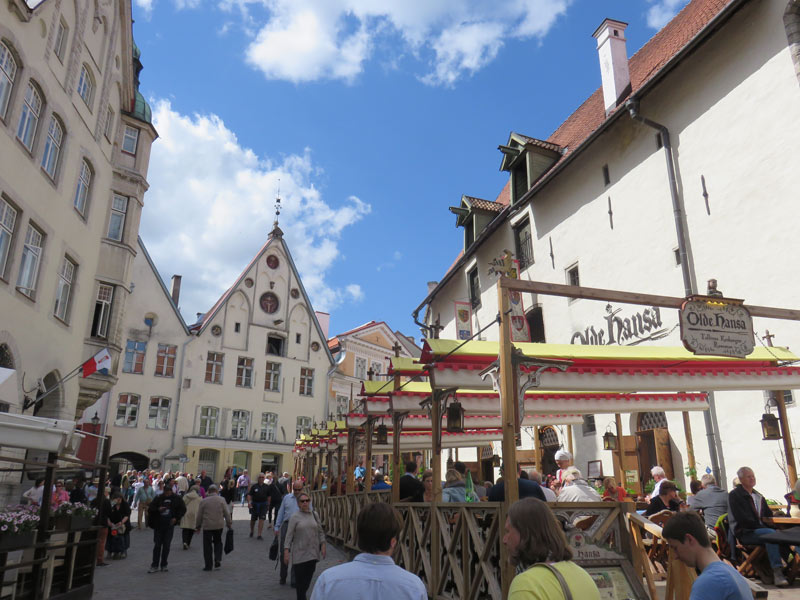 As we were walking around the lower part of old town, we saw dozens of opportunities to stop off at restaurants and bars along the narrow passage ways. Outdoor seating was plentiful and everyone was taking advantage of the beautiful weather to enjoy a pint or a snack outside. Since we had a little time before our tour began, we stopped off for a taste of the local Estonian beer by Õllenaut OÜ, called Eesti Rukki Eil. It was a pretty tasty Rye Ale. In old town, you'll find plenty of opportunities to stop off for an Estonian beer.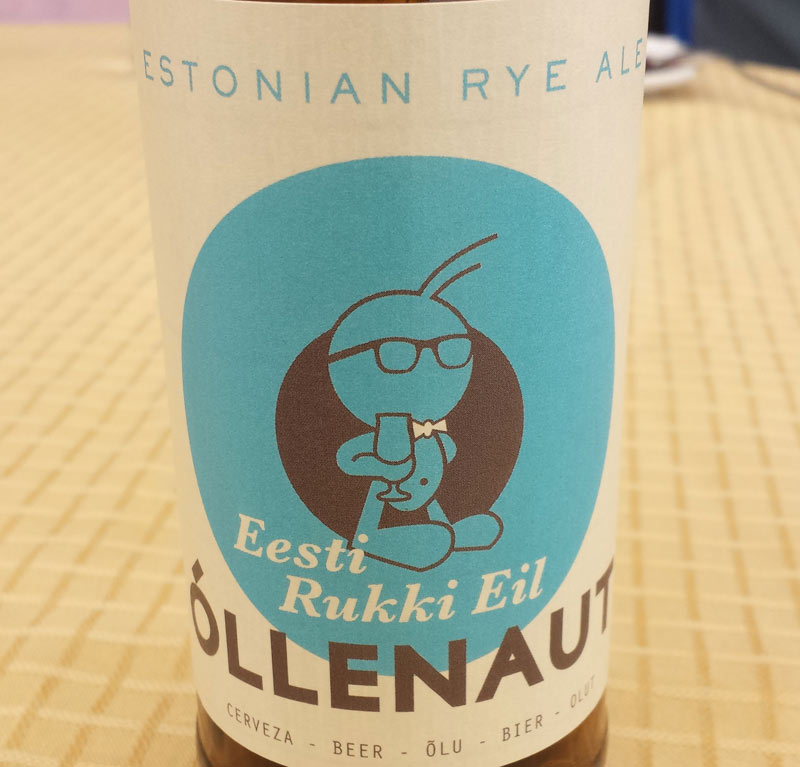 Where to Find the Best Estonian Food in Tallinn
We started our food walking tour in Tallinn by meeting our guide from Food Sightseeing Estonia at the old town information center. It was an extremely busy day in Tallinn, as there were six major cruise ships docked in port that day. Clearly people are wanting to experience the charm of old town Tallinn, but it would have been nice to have it a little less crowded than it was. I suppose that's just a reason to return at another time. If you go on your own, and not part of a cruise, I would encourage you to check the city's port calendar to see which days have the fewest ships in town.
Peppersack Restaurant
Our first stop on our food tour of Tallinn was at a medieval eatery called Peppersack, which is housed in a large historical building that has been used for many purposes over the years, but has now been fully restored as a restaurant with plenty of room for large groups. We started our culinary journey here with a bowl of winter squash and parsnip soup and a shot of pepper vodka.
The bread basket that came with the soup ended up being our favorite part of the stop. The bread was soft and warm and the butter that came with it was a mixture of butter and mayonnaise or sour cream – it was so good spread over the bread that the bread became more of a vessel for the butter than the main attraction.
Gourmet Market
The second stop we made was to one of the modern food markets in the city called Gourmet Market, which had shelves worth of great local products that you can just grab off the shelf and take with you, along with a pre-made section with pastries, sandwiches and desserts that all looked incredible.
We tried two spreads: Rostpeedi Hummus, made from oven-roasted beets and Varske Pesto, which translates to "fresh pesto". We spread them both on thick, chewy pieces of rye bread and washed it all down with a traditional drink called Kali that is a homemade fermented drink somewhat akin to beer, but contains only small traces of alcohol. It tastes something like a flat, malty beer.
One of the coolest things about Estonia is the old town wall that surrounds the city. Built in 1265, the walls are still largely in tact and preserved. You are allowed to climb up the various towers along the wall, where Estonian citizens were once required to perform guard duty, for an incredible view of the city and then walk along portions of the wall. At the top of the tower, we had a shot of traditional Estonian schnapps called Astelpajunaps along with a chocolate truffle from the gourmet market.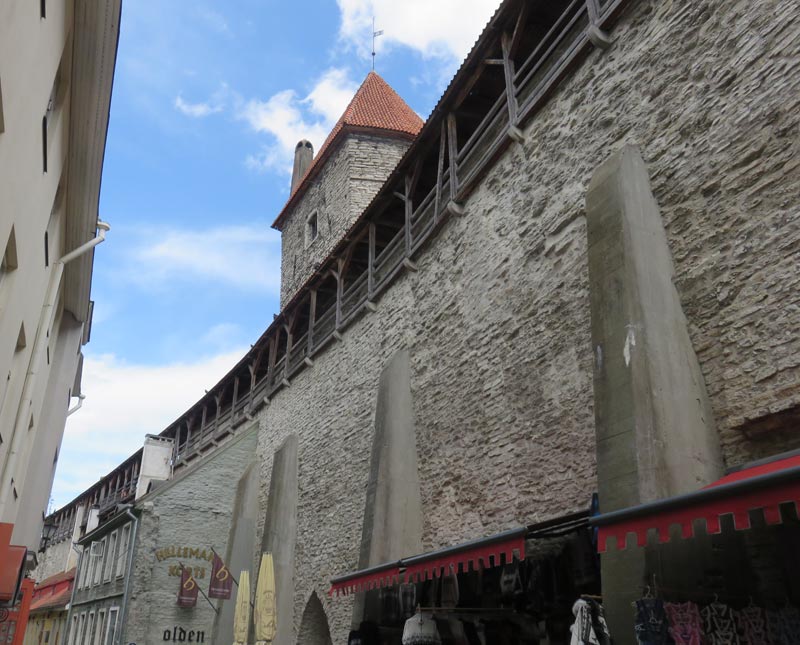 Raeapteek
One thing about Estonia – the locals lay claim to a lot of different things, making up elaborate stories to prove their worth. One such thing is the history of marzipan. Estonia claims to be where marzipan was created, by a doctor's assistant who was tasked with creating an elixir for a customer with a broken heart. He put almonds and honey into the medicine in the form of a paste that the customer loved so much, it eventually became a treat served around the world. There's now way of knowing the truth behind this story, but we learned all about it the oldest continuously operating pharmacy in Europe, called Raeapteek in Town Hall Square, where marzipan is said to have been created.
Kuldse Notsa Korts
After walking around the town square for a while, we were getting hungry. The next stop we made was to an Estonian country restaurant called Kuldse Notsa Korts. The interior was a cute and classic old country restaurant with picnic tables and a small bar. It was here that we were faced again with the dreaded fish on rye, which we'd already had the joy of sampling in Russia. None of us were very keen on this traditional snack that is served all over Northern Europe.
In Estonia, it's called kiluvõileib. It consists of a piece of rye bread, a schmeer of mayo, two or three raw sprats (little fish, like sardines), topped with sliced boiled egg, red onions and chives. It's a beloved dish in Estonia and is served regularly at parties and get-togethers. We were just not big fans of it. Along with the kiluvõileib, we also had a cup of kama, which is a traditional summer drink that consists of a milled kama flour mixture and a soured or fermented milk product. It tastes a bit like yogurt and oatmeal blended together.
If you continue walking up the street that Kuldse Notsa Korts is on, you'll end up at the narrow passage between the lower and upper parts of the city. The upper part of town is where the aristocrats of the city lived and the riff-raff lived in the lower part. You can definitely see the difference in socio-economic status as you ascend the hill.
At the top, we walked around to see the cathedral, Toompea Castle and Stenboch House, which is the official seat of the Estonian government. It's a beautiful area with many great vantage points from which to capture the splendor of the city from above.
Luscher & Matiesen museum and wine bar
Our last stop on the food tour was to a wine shop, because no food tour is complete without wine, even when you're in Estonia, where not much wine is produced. The majority drinks vodka in Estonia, not wine. The Luscher & Matiesen museum and wine bar is located along a backstreet in the upper town and has a long history of wine, juice and soda making. Their story is quite interesting and definitely worth a visit.
The food tour in Tallinn was so much fun. I highly recommend it. (I wasn't paid to provide this review of their services, by the way. All opinions are my own. I just really enjoyed the tour.) It's a great way to learn a little bit more about the food culture in Estonia, while checking out the sights along the way.
Where to stay in Tallinn, Estonia
If you're planning a trip to Tallinn, Estonia, I would recommend staying in or new the old town, as it's really fun to walk around there and it's where you'll likely spend most of your time. Our top two recommendations are Hotel Telegraaf and Swissotel Tallinn. You can check out prices and book on Expedia using these links:
Have you been to Tallinn? What do you think of the Estonian food you ate there? We'd love to hear about what you liked.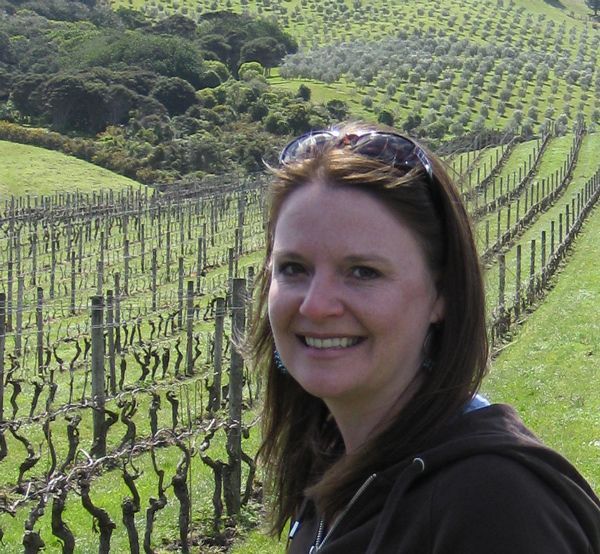 Laura Lynch, creator and writer of Savored Journeys, is an avid world traveler, certified wine expert, and international food specialist. She has written about travel and food for over 20 years and has visited 70+ countries.