Our Global Gourmet recipe series is designed to bring the foods we loved while traveling into our own kitchens and onto our own dinner tables.
The key to recreating International dishes at home is to start with an authentic recipe, adapt it to substitute ingredients you can't find or don't know how to work with, and simplify difficult techniques. Then it becomes more approachable and possible to make and enjoy at home.
This month's Global Gourmet recipe is a dish we fell in love with while traveling in France.
Roast Duck à l'Orange
Roast Duck a l'Orange is a classic French dish. It was once served ubiquitously and ordered regularly, though it's actually quite difficult to find it on menus anymore, unless it's a reconstructed, reimagined version.
But we love the old classic and since it's pretty easy to make at home, we're brining it back! The crispy duck skin is full of juicy rendered fat, while the meat is slightly rare and totally scrumptious. The sauce is a glaze of orange, red wine and a bit of sugar for a slight sweetness that is balanced with the acidity of vinegar.
There are dozens of different recipes out there for making Roast Duck a l'Orange, and many of them are tedious and difficult, calling for a long list of ingredients that would be painful to have to find in the store. That's why I've streamlined this recipe to include less ingredients and be quickly to put together.
I know whenever I looked at those longer recipes I gave up on wanting to make the dish because I knew it would take hours, and who has that kind of time.
Using this recipe might not be the original, classic way to make Roast Duck a l'Orange, but as I said in the intro, I'm looking to make traditional International dishes accessible to make at home, for cooks who don't have the time to mess with crazy ingredients and processes. I promise it'll be just as good!
I love serving duck because the end result is so delicious. There's nothing like a good crispy skin duck breast sliced and served alongside a sweet and sour sauce, like this Orange Sauce. While it doesn't seem like a weeknight meal, it's definitely a weekend treat kind of meal.
Pairing Roast Duck a L'Orange with Wine
The perfect red wine to go with Duck a l'Orange is going to be a Côte du Rhône from the Southern Region of the Rhone Valley. Big bold reds are produced here, due to the long, hot summer days and the fierce wind that whips through the vines.
Grenache is the main grape in the Côte du Rhône AOC, requiring at least 40% of a blend to be Grenache. Côte du Rhône actually accounts for 2/3 of the entire wine production in the Rhone Valley, so there are plenty of choices.
Côtes-du-Rhône wine when made with mostly Grenache, has a spicy fruitiness and sometimes even an orange flavor, along with a balanced acidity that makes it spectacular with the sauce in this dish and cuts through the fattiness of the duck. So those are the blends we'll be looking for.
Pinot Noir is also a classic pairing with duck, which you've probably been serving at your Thanksgiving dinners for years. My family has always served Duck in Wine Sauce at Thanksgiving and it does pair nicely with a light Pinot Noir from Oregon. Seeing that's where my family is from, it's always been the most likely pairing. It's not overpowering on the palate and doesn't interfere with the spices in the sauce, so it's a great pairing.
Here are some options that you might find in your wine store that will pair nicely with the Roast Duck à l'Orange. If you can't find these, ask your local wine expert to suggest something similar. You can also buy these wines directly from wine.com, through the links I've placed here for you.


How to Make Roast Road Duck à l'Orange
The most time-consuming part of this operation is getting the duck in the oven. Take the gizzards out of the cavity, clean it inside and out with cold water, pat it dry, remove any excess skin from around the neck area and set it on a roasting rack.
It's important to elevate the duck off the roasting pan so it doesn't sit in its own grease as it cooks. The fat will run off into the pan and form the tasty bits that we'll use to make the orange sauce a bit later. And believe me, plenty of fat will run off the duck as it cooks, so make sure you don't use a pan that's too shallow.
Here is the roasting pan that I love for roasting duck. You can use them to roast any bird (turkey, chicken, etc.). If you're in the market for a new pan, check this one out.
Because you want the duck to get really crispy, it's okay to cook it to well done. I prefer for the breast to be more rare, so I take the duck out halfway through cooking, remove the breast and put the rest of the duck back into the oven for further cooking.
I've learned that if you don't cook the rest of the duck long enough, it's hard to get the meat off the bones. So cook it to at least 170 degrees.
Once the duck is fully roasted, remove it from the oven to cool while you make the potatoes and the sauce. Since duck fat is one of the best fats for cooking crispy potatoes, I like to make duck fat fried potatoes on the side, but you could serve the duck with mashed potatoes or really any other side you want.
Strain off most of the fat from the roasting pan and use that to fry the potatoes. This will leave a shallow pool of duck fat and juices, along with some nice crispy bits at the bottom of the pan that you'll use for the sauce. I've found a really easy way to do this is to use a fat separator.
I like to deglaze the roasting pan on the stove, set to medium heat, to get the yummy bits up off the pan. To do that, pour 1/2 cup of duck or chicken stock into the pan and scrap off the bits. You should have about 1/2 cup of liquid/oil left in the pan.
Pour the juice off into a medium sauce pan and heat it up. You're going to add the sugar and red wine to that and allow it to get a little caramelized before adding the vinegar.
Once the mixture has begun to bubble, add the orange juice that you squeezed and mix it all together. Then allow it to reduce by half. It will become thicker as it cooks down.
When everything's ready to go, put the duck breast back in a hot frying pan, skin side down, to crisp it up again. It doesn't take long. Be careful not to burn it.
When it's crispy, remove it from the pan, slice it thin, plate it and drizzle the orange sauce over the top. And you're done! A perfect plate of Roast Duck à l'Orange.
Other Recipes to Try
Yield:

6 servings
Roast Duck à l'Orange
Cook Time:
3 hours
35 minutes
Total Time:
3 hours
55 minutes
Duck a l'Orange is a French dish that melds together the fattiness of duck with the sweet and acidic compliment of the orange sauce.
Ingredients
1 3-4 lb. duck
4 large oranges
1 cup low-salt chicken or duck broth
1/4 cup sugar
1/4 cup red wine
2 tablespoons Sherry wine vinegar
Instructions
Preheat oven to 350°. To prepare the duck, take the gizzard and neck out of the cavity, wash inside and out with cold water, pat dry with a paper towel. Sprinkle salt and pepper inside the duck. Score the skin all over with a sharp knife, being careful not to cut into the flesh.
Cut one orange into four pieces and stuff inside the duck. Skewer the neck opening with a toothpick to hold it together. Tie the drumsticks together with kitchen string. Place the duck, breast side up, on a rack in a large shallow roasting pan.
Bake, uncovered, 2-1/2 to 3-1/4 hours or until a thermometer reads 180°. Cover loosely with foil if duck browns too quickly. Cover and let stand 20 minutes before removing the orange and carving.
Shave the peel from the remaining 3 oranges. Juice the oranges.
Remove most of the rendered fat from the roasting pan and reserve, leaving behind a small amount of fat and drippings. Place the roasting pan over medium heat on the stovetop, add broth and use a whisk to deglaze the pan. Pour the liquid into a medium saucepan and return to medium heat.
Add the sugar to the roasting liquid and stir to combine. When the sauce begins to bubble, add the vinegar, wine, orange juice and orange peels and maintain a simmer until the sauce has reduced by half and thickened. Remove the orange peels.
Carve the breast from the duck, slice and plate. Pour the sauce over the duck and serve.
Note: The reserved duck fat can be used to fry potatoes as a side dish, or frozen for later use.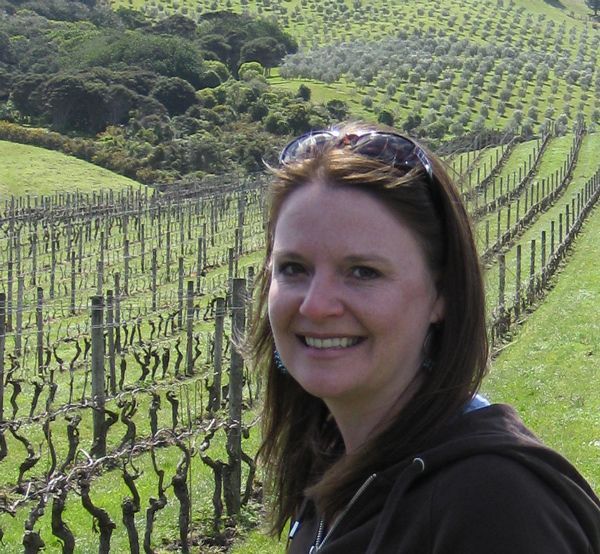 Laura Lynch, creator and writer of Savored Journeys, is an avid world traveler, certified wine expert, and international food specialist. She has written about travel and food for over 20 years and has visited 70+ countries.