This Global Gourmet recipe is a dish we fell in love with while traveling in Argentina.
As you can see from the tempting photo above, the first dish is from my favorite wine region of Mendoza, Argentina. We completely fell in love with the food in Mendoza, but particularly loved the hand-crafted empanadas with their crispy and flaky exterior and steamy meaty interior.
There are many types of empanadas served throughout Argentina and Spain, but the ones we're making today are called Empanadas Mendocinas. They are the traditional variety made in Mendoza, Argentina.
Our Global Gourmet recipe series is designed to bring the foods we loved while traveling into our own kitchens and onto our own dinner tables.
How to Make Argentine Empanadas
The key to recreating International dishes at home is to start with an authentic recipe, adapt it to substitute ingredients you can't find or don't know how to work with, and simplify difficult techniques. Then it becomes more approachable and possible to make and enjoy at home.
The biggest differences between these empanadas and other variations are that they are baked instead of fried, they use a different type of dough and they don't include raisins- which are common in other types of empanadas.
The use of smoked paprika and chili powder are also important, though you can certainly get away with using Spanish paprika instead. I found a great Argentinian Empanadas recipe for Empanadas Mendocinas on Laylita.com and that is what I based my own recipe on.
I made some minor adjustments, but this traditional recipe needs very little modification to be suitable for a home cook. There are three stages to this recipe. Before you get started, I recommend you collect and prepare all of the ingredients in the proper quantities, as that will make the process flow much more efficiently.
Step One: Make the Dough
The first step is making the dough. You can purchase pre-made wrappers in some specialty grocery stores, but what's the fun in that? If you have a food processor (or a kitchen aid mixer), this process is extremely easy. And even if you are doing it by hand, it's not difficult.
Mix the dry ingredients together in the food processor, then add the butter (or lard) and egg yolk and mix them together until a crumble forms. Note that I used lard for the dough. That's because I had some in the freezer and wanted to give it a try, but butter works just as well, and might even make for a flakier dough.
Add the milk into the crumble a little at a time. I didn't need an entire cup. I used 3/4 cup. Once the dough holds together, remove it and put it in the fridge to chill. (Don't add too much milk or the dough will be too wet.)
When you roll out the dough, split it into two because it's too much dough to roll all at once. I made it just under 1/8 inch thick, but you can adjust that to taste. If you make it too thin, it won't hold the ingredients.
I used a glass that was 4 inches wide at the mouth to cut the circles. I tried one at a 3 inch width (the top circle in the photo) and I thought it was just a little too small.
Step Two: Make the Meat Filling
The next step is to make the meat filling. As I was measuring out the spices to combine with the meat, I thought it was going to be too much and overpower the whole dish. It looked like a lot to me. But I trusted the recipe and put it all in and I'm glad because it wasn't overpowering and with less it wouldn't have been as flavorful as the empanadas I remember from Argentina.
So just mix together the meat and the spices, then saute the onions in the butter until they are translucent, then put in the meat mixture and crumble it as it browns. The final product will be a bit greasy. Don't drain off the grease. That's part of the magic.
All that spicy flavor will soak into the crust. If you allow the meat mixture to cool before you do the stuffing, it will be easier to scoop. Once it's cooled, add the olive slices and green onions.
Step Three: Assembling & Baking
The last step is assembling and baking the empanadas. Again, make sure you prep everything ahead so you're ready to stuff, assembly line-style. You should have a plate of dough rounds, a bowl of filling, sliced hard boiled eggs, and two small bowls: one with egg white, one with egg yolk.
Place a dough round in the palm of your hand. Dip a finger in the egg white and run it around the outer rim of the round to coat it. Spoon some filling into the center (don't over do it!), top it with a slice of egg and press the edges closed.
Just press round the half-moon shape with your fingers to hold it together. Once all of the rounds have been stuffed, then you can go back to each empanada and add the decorative edge.
Using the Repulque Technique to Seal
The decorative scalloped edge on an empanada is called a repulque technique. Some people like to use a fork to crimp the edges to keep the filling inside, but I think the repulque technique is much more effective (not to mention better looking), so it's worth giving it a try, even if you're not good at it.
To make the edge, pick up the empanada and hold it in one hand with the edge facing toward your fingers. Then using the fingers of your other hand, pinch and lightly pull a bit of dough up twist it over the edge, then press to seal it.
Do this over and over until you've made it all the way around the crescent. You probably won't do well at it the first time. But practice makes perfect. Now is when you decide if you want to make them the traditional way, or the slightly heathier way. That's deep frying vs baking.
It's really simple to do either, so it's your choice. I think it's a little easier, and cleaner to bake them, so that's my preference at home. You don't need the oil. But if you have it and want to do them the truly authentic way, you should deep fry them. Don't they look good bubbling away in the oil?
If you're going to bake them, brush the tops of the empanadas with the egg yolk and arrange them on a baking sheet. Bake them in a 400 degree oven for about 20 minutes. Start watching them at 15 minutes to gauge their progress.
I baked one batch for 18 minutes and one batch for 21 minutes. You want them to have a nice golden hue and when they reach that stage, take them out so they don't get overdone.
You can eat them all right away, or save some for later. I often freeze a bunch of the before they are cooked and just put them in the oven when I'm ready to eat them.
They can be freezed either before or after cooking. It's your preference.
Wine Pairing Suggestions
Argentinian Empanadas Mendocinas pair very well with the premier wine of the region – the Malbec. Although Malbec is grown around the world, Argentina grows more than 70% of the world's Malbec grapes.
The reason they grow so well in Mendoza is the high elevation which allows the grape to produce enough acidity to create a bold and age-worthy wine. That's why a French Malbec is not as bold and smoky and is often used as a blending grape. You can usually identify a Malbec wine from its magenta rim (keep that fact in your arsenal for your next blind wine tasting party).
Malbec is a good choice to pair with Empanadas Mendocinas because it's fruit-forward smoky flavor holds up well to the spice used in the meat filling, like cumin, smoked paprika and chili powder. The finish is not as long lasting as a Cabernet Sauvignon, so the wine doesn't compete with the food.
There are a great many Argentina Malbecs on the international market, and you will probably find at least a dozen on the shelf at your local wine retailer or grocery store. Since selection will vary, it's a good idea to ask the wine purveyor what they recommend.
Also try these great dishes:
Yield:

16 -22 Empanadas
Empanadas Mendocinas
Prep Time:
1 hour
15 minutes
Total Time:
1 hour
33 minutes
These hand-crafted empanadas have a crispy and flaky exterior and steamy meaty interior.
Ingredients
For the dough:
3 cups all-purpose flour
1/2 teaspoon salt
1 egg yolk, reserve the egg white
1/2 cup lard, or unsalted butter chilled and cut into small pieces
3/4 - 1 cup of milk, start with 3/4 and add additional if necessary
For the Empanada Filling:
1 lb ground beef
1 cup sweet onions, diced
1/2 cup butter
2 tbsp smoked paprika, or Spanish paprika
2 tbsp chili powder
1 tbsp finely chopped fresh oregano, or dried
½ tbsp ground cumin
1/2 cup finely chopped green onions
3 hard boiled eggs, sliced
1 egg, divided
¼ cup sliced green olives
Salt and pepper to taste
Instructions
Dough Instructions:
In the food processor, pulse together the flour and salt.
Add the lard (or butter) and the egg yolk and mix well.
Slowly add the milk until a clumpy dough forms. Be careful not to over process. Use only enough milk to form dough. Too much will make it wet and sticky.
Divide the dough ball in half and refrigerate for 30 minutes.
On a lightly floured surface, roll a ball of dough into a thin sheet (about 1/8" thick) and cut out round disc shapes. You can use a round cutter or the mouth of a large glass or bowl that measures approximately 4 inches across.
Use the dough immediately or store it in the refrigerator/freezer to use later. Dough will keep in the refrigerator for 3-4 days, and in the freezer for up to 2 months.
Note: If you don't have a food processor, just use your hands to mix the ingredients together instead. Use a dough cutter to incorporate the lard/butter into the mixture.
Empanada Filling Instructions:
Combine the ground beef, paprika, chili powder, oregano, cumin, salt and pepper in a large bowl. Mix all the ingredients together and chill until ready to use. (Note: it may seem like too much of the spices, but it isn't).
Melt the butter in a large frying pan over medium-low heat. Add the onions and salt and sauté until the onions are translucent and soft. About 8 minutes.
Add the meat mixture to the onions and cook on medium heat until the meat is cooked through, stirring and crumbing the meat as it cooks. Remove from heat.
Once the mixture has cooled slightly, mix in the chopped green onions and olives.
To assemble the empanadas:
Brush the edges of a dough round with the reserved egg white. Add a spoonful of the meat mixture to the center of the round, add a slice of egg.
Fold the dough round in half and press the edges gently with your fingers to seal. To create the decorative edge, twist and press along the edge to create a scalloped look. This also helps to seal in the filling.
Brush the tops of the empanadas with the egg yolk to give them a golden hue when baked.
Pre-heat the oven to 400 F and bake for about 25 minutes or until golden.
Nutrition Information:
Yield:
8
Serving Size:
3 empanadas
Amount Per Serving:
Calories:

739
Total Fat:

47g
Saturated Fat:

20g
Trans Fat:

1g
Unsaturated Fat:

22g
Cholesterol:

222mg
Sodium:

659mg
Carbohydrates:

51g
Fiber:

4g
Sugar:

2g
Protein:

29g
Like this post? Pin it for later!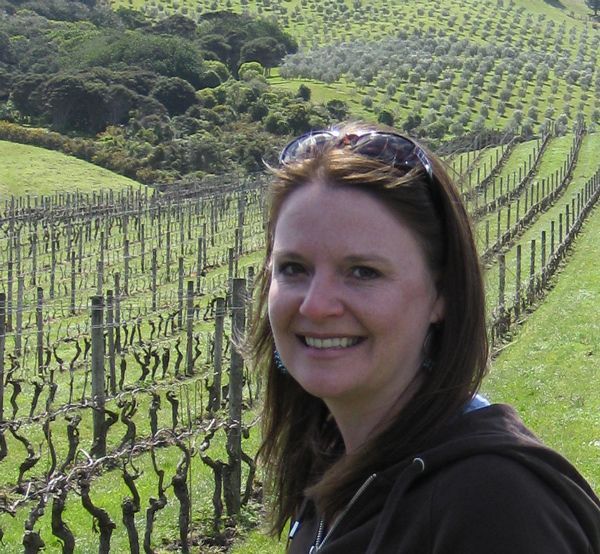 Laura Lynch, creator and writer of Savored Journeys, is an avid world traveler, certified wine expert, and international food specialist. She has written about travel and food for over 20 years and has visited 70+ countries.