Located in southeastern France in the foothills of the French Alps, the charming city of Annecy is not only stunning but a perfect destination for food lovers who love to sample the local cuisine and discover local products.
In case you were under the impression that the French Alps were reserved for winter activities alone, that's not at all the case. In fact, Annecy's beauty increases dramatically when the flowers bloom and the liveliness and laughter around the lake ramps up with summer fun.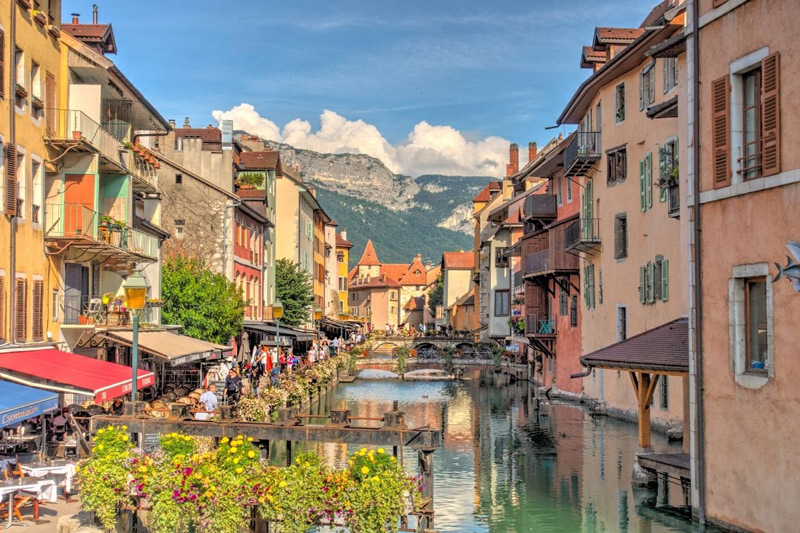 The city is full of charming cobblestone streets, colorful buildings, and medieval architecture. Everywhere you turn, there is a surprise waiting – down a narrow alley or around a bend of the canal. Annecy has it all. There's a castle on the hill, an impeccably maintained old town, a sparkling clear lake, fantastic food, and a mountain backdrop like you only expect to see in a fairytale.
It's not just a one-season city. There are many things to do in Annecy all year round. The lake provides respite from the heat in summer. You can rent a motor boat or paddle boat, take a lunch cruise or afternoon boat ride across the lake, or even just cycle around on the bike path. In the winter, there are many world-class ski resorts nearby.
The time of year we recommend visiting Annecy is in the spring or fall, however. If you want to discover the best food products and have as much chance as possible to talk to local food purveyors and try local restaurants without long lines to get in, the shoulder seasons are the best time to go.
Planning your trip to Annecy?
Where to Stay in Annecy:
Best Tours and Experiences in Annecy:
Annecy: Cheese & Wine Tasting – Embark on a private tasting tour in Annecy, French Alps, led by an expert sommelier and cheese specialist, where you'll savor a selection of local wines and delicious cheeses.
Annecy Segway Tour (2h) – Experience the beauty of Annecy and Lake Annecy on an extended 2-hour Segway tour, covering the waterfront promenades, the Old Town, the Imperial Palace, scenic canal ways, and the Thiou River.
Private Market Tour and Modern French Cooking – Discover the contemporary side of French cuisine with a private market tour, cooking demo, and 3-course lunch in a chic apartment.
YOU MIGHT ALSO LIKE: 3 Incredibly Beautiful Year-Round Destinations in the French Alps
Foodie Things to Do in Annecy
As you stroll around Annecy, you'll quickly see how Annecy is a food lover's paradise. The narrow streets of the old city are packed with cheese and charcuterie shops, ice cream stands, bakeries, cafes, and even chocolate shops.
You could spend hours browsing around the food shops, sitting at a cafe for a coffee, or stopping for a glass of wine. If you go to Annecy and don't try one of the famous cheese dishes, you're really missing out.
Dishes like Tartiflette, Fondue Savoyarde, Raclette, Crozets, and Diots should be on your radar as you scan menus and decide what and where to eat.
There are many typical restaurants in Annecy where you can get these specialty dishes. Many of them are tourist restaurants, so make sure to set your expectations appropriately.
Below are some of our favorite and recommended foodie places to discover in Annecy. We cover all of the delicacies mentioned above, so you know what to eat and drink, and where to find the best!
Annecy Old City Market
On Tuesday, Friday, and Sunday mornings, the streets of Annecy become crowded with activity as both locals and tourists swarm around the fresh produce market between 7am and 1pm. If you're lucky enough to be visiting on one of these days, you must have a look around the Old City Market.
While the Tuesday market is mostly fresh foods, Friday and Saturday add more crafts and textiles into the mix. The market is spread out over several streets in the old part of town. You'll find all kinds of local food specialties, as well as fruits, vegetables, bread, and cheese.
Fromagerie Pierre Gay
The first thing I think of in association with Annecy is cheese. The city is an epicenter of sumptuous French cheese. There's nowhere better to see the vast array of Savoie and French cheeses than at Fromagerie Pierre Gay.
Well-known around the area, Pierre Gay won France's most prestigious craftsmen award in 2011. He is as friendly and welcoming as he is serious about cheese. He and his welcoming staff will make sure you're well taken care of when you visit the shop on rue Carnot. They will provide expert advice and recommendations so you can discover new favorites.
You may be tempted to spend your time admiring the cheeses in the case at the front of the store, but don't miss the chance to see the cheese aging in the cellar under your feet near the back of the store, where there's a glass floor offering a peek at the precious wheels of cheese from all over France.
Pierre works closely with local producers and distributors to source top-quality cheeses that he finishes aging in-store.
Location: 47 rue Carnot
Hours: 8am – 7pm most days, closed Sunday.
Boulangerie Rouge Annecy
There are many bakeries to choose from in Annecy, but we definitely recommend Boulangerie Rouge, where you can also pick out a few Savoie favorites, like Gâteau de Savoie (a very light and fluffy sponge cake) and Brioche aux Pralines (brioche with red pralines and sugar).
There might be a line formed at the door to Boulangerie Rouge because it's very popular with the locals for the many variations of bread they sell. The line moves quickly though, and you don't want to miss these specialties of Savoie.
Location: 3 Rue du Lac
Hours: Open 7:30am to 7:30pm, closed Monday.
Le Salon Francais
There are some really lovely wines in Savoie, and Le Salon Francais is the perfect place to try a few. Opened last year, this wine bar has rapidly expanded, to the point of combining two storefronts into one to accommodate more wine fans.
You can choose your perfect atmosphere from three different seating areas. There are a few outdoor tables, some high tables at the front of the bar, and comfortable couches near the back with soft lighting and warm, rich decor. We love the upside-down lamps around the bar.
Le Salon Francais has a good selection of wine by the bottle, including a few local Savoie wines, as well as wines from around France. You can also get one or two local wines by the glass. If you're a bit hungry, they work with the best local purveyors of bread, cheese, and charcuterie to offer a selection of small plates.
Location: 26 rue Royale
Hours: Open Mon-Sat 6pm to 1am. Closed Sunday.
La Rose des Neiges
Gourmet pastries and chocolates by Philippe Rigollot can be found on one of the main streets in Annecy at La Rose des Neiges. You can't miss the bright pink exterior, or the eye-popping delights you can see through the window. This is Philippe's second location in Annecy.
The other shop is a bit harder to find, as it's tucked under a building in Place Georges Volland, but you can find even more sugar works of art at that store. Both are well worth the visit if you've got an artful sweet tooth.
Philippe was featured on the documentary Kings of Pastry where he won the prestigious title of Meilleur Ouvrier de France, France's most prestigious craftsmen award.
Location: 2 Rue Jean Jacques Rousseau and 1 Place Georges Volland
Hours: Open Mon to Sun 9:30am to 7pm (Sun til 6pm), closed Wed. Shop on Georges Volland: Mon-Sat 8am to 7pm, Sun 8am to 1pm, closed Wed.
Le Palais des Glaces
You can't walk through the old town of Annecy without discovering at least a dozen or more ice cream shops. We have it on good authority that Le Palais des Glaces (yes, it's the Ice Palace!), is one of the very best in town. You may have to queue a bit if it's warm outside.
Everyone wants to try their homemade waffle cones and choose from the many flavors. The ice cream here is made in the traditional way of making Italian gelato, with all natural ingredients and using the least amount of sugar possible.
Location: 6 rue Perrière
Hours: Open every day in summer from 11am to midnight, 1am on Saturday.
La Fermette's Raclette Sandwich
A quick place to grab lunch or a snack is La Fermette. They have a small shop with all kinds of local products, like cheese, salame, liquors and packaged snacks. But the star of the show here is the raclette sandwich, which consists of crunchy French bagette, a few slices jambon, with a lot of gooey, warm raclette cheese spread on top.
There's no where to sit near the shop, so you'll just take your sandwich to go, and eat it while walking around town. If you like raclette cheese even a little bit, you must stop here!
Address: Rue du Pont Morens
La Cave
If you're just walking around Annecy, you won't stumble upon this restaurant. La Cave a cozy little wine bar located down a small alley, off one of the main roads. It's a quiet place, set away from the noise and bustle on the street. They don't have an extensive food menu.
Their focus is on the great wine list. But they do have a seasonal menu that pairs well with the wine. The atmosphere is very pleasant and the staff is very helpful in choosing wine.
When the weather is nice, the outdoor patio is the place to be. We ordered the menu of the day for lunch and tried three different glasses of local Savoie wine to go with it. Our meal consisted of an asparagus starter, a fish main dish, a cheese plate, and dessert.
Location: 8 rue du Paquier | Passage Des Echoppes
Hours: Mon – Sat: 17:00 – 01:00, Tue – Fri 12:00 – 13:30, Sat 12:00 – 14:00
Restaurant Jean Sulpice
The L'Auberge du Père Bise on the eastern shores of Lake Annecy is where owner and restauranteur Jean Suplice creates beautiful plates of food in a magical environment. Surplice was awarded a 2nd star from the Michelin guide in early 2018, less than a year after opening Restaurant Jean Sulpice in 2017 with his wife Magali.
The food and the experience certainly do live up to the 2-star rating. If you're lucky enough to dine outside, you'll be rewarded with a fantastic view and peaceful, quiet surroundings in which to dine on creative dishes like those you'll see in the video below.
What to Do & See in Annecy Besides Food
Lake Annecy: Take a leisurely stroll along the shores of Lake Annecy or rent a boat to explore the crystal-clear waters. The lake offers beautiful views of the surrounding mountains and the town.
Old Town (Vieille Ville): Wander through the cobbled streets of Annecy's Old Town, exploring the medieval architecture, colorful houses, and charming canals. Don't miss the Palais de l'Île, a historic building located on a small island in the Thiou River.
Château d'Annecy: Visit the Annecy Castle, which overlooks the town and the lake. The castle houses the Annecy Art and History Museum, providing insight into the region's cultural and historical heritage.
Jardins de l'Europe (Gardens of Europe): Relax in these beautifully landscaped gardens near the lake. It's a great place for a leisurely walk or a picnic, especially during the warmer months.
Palais de l'Isle: This medieval palace in the middle of the Thiou River has served various purposes over the centuries, including a prison and a courthouse. Today, it's a museum that provides insight into Annecy's history.
Places to Stay in Annecy (Haute-Savoie Region)
Many of the hotels near the old town of Annecy are small, boutique hotels. You won't find big chain hotels in this village. There is a hotel or nearby resort to meet every budget and style. Take a look at our suggestions below.
Atipik Hotel Alexandra
The Atipik Hotel Alexandra is a good base for your adventures in Annecy. Its great location right in the center of Annecy, within walking distance of everything you want to see makes it a great place to stay, even if the rooms are small and simple.
The rooms are clean and adequate, and there is a nice breakfast room/lounge area where you can begin your morning or grab an apertif. If you're wanting more space, be sure to ask for one of their larger rooms. And keep in mind that there is no elevator and some rooms are located on the 3rd floor.
Location: 19 rue Vaugelas | Website
L'Auberge du Père Bise
Located on the eastern shore of Lake Annecy is the impressive L'Auberge du Père Bise, a luxury hotel that is also home to Restaurant Jean Sulpice, which is an experience all on its own (see the video for drool-worthy glimpses of the food). The hotel could not be located in a more spectacular spot.
The views are unbelievable. You can even get to the hotel via a water taxi from the town of Annecy. Then, once you're there, all you have to do is relax and enjoy. Pull up a seat next to the water's edge and soak it all in. Many of the hotels near the old town in Annecy are small, boutique hotels.
Frequently Asked Questions on Things to Do in Annecy & French Food
What food is Annecy France known for?
Annecy, France, is known for its delightful Savoyard cuisine. Some of the famous dishes and food specialties from Annecy include Fondue Savoyarde, Raclette, Tartiflette, Crozets, Crozets, Pormoniers, and Savoyard Wines.
Is the food in Annecy expensive?
The cost of food in Annecy can vary depending on the type of dining establishments you choose and your preferences. Generally, Annecy is a popular tourist destination, and like many tourist areas, some restaurants and cafes may have higher prices than non-touristy regions in France.
How many days should I spend in Annecy, France?
A recommended minimum stay in Annecy would be 2 to 3 days to get a good taste of the city and its surroundings. However, if you have the flexibility, extending your stay to 4 or more days would allow you to fully immerse yourself in Annecy's beauty, culture, and activities.
Where can I experience traditional French dining in Annecy?
You can find traditional French cuisine in local restaurants in the Old Town. Look for establishments serving classic Savoyard dishes and French wines.
CONCLUSION
We know you're going to love Annecy as much as we did. It's truly one of the most beautiful towns we've ever been to. Aside from it being a great foodie destination, it has a lot of other amazing things going for it. Make sure you plan enough time there to fully enjoy it all!
Our trip to Annecy was made in cooperation with Savoie Mont Blanc and Lac Annecy Tourisme. All opinions and recommendations stated in this guide are our own.
Like this post? Why not save it to Pinterest?
FOLLOW US on Pinterest, Instagram, Facebook for more great travel inspiration and tips.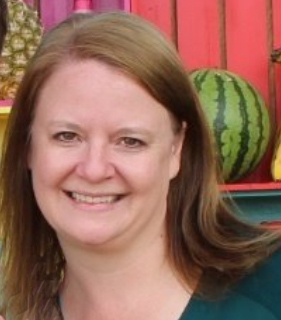 Laura Lynch, creator and writer of Savored Journeys, is an avid world traveler, certified wine expert, and international food specialist. She has written about travel and food for over 20 years and has visited over 75 countries. Her work has been published in numerous guidebooks, websites, and magazines.