Greece is a country rich in tasty and unique foods, and eating is a large part of the culture, as well. So visiting without trying a wide variety of the foods would be to miss out on a major part of the culture and history of Greece.
We always recommend you try as many different foods as possible, so we've put together this list of beverages and foods you must eat and drink in Greece as a guide to help you remember the top list of foods to look for. To make it even easier on yourself, you could book a guided food tour.
» Check out these 12 Best Greek Islands for Couples.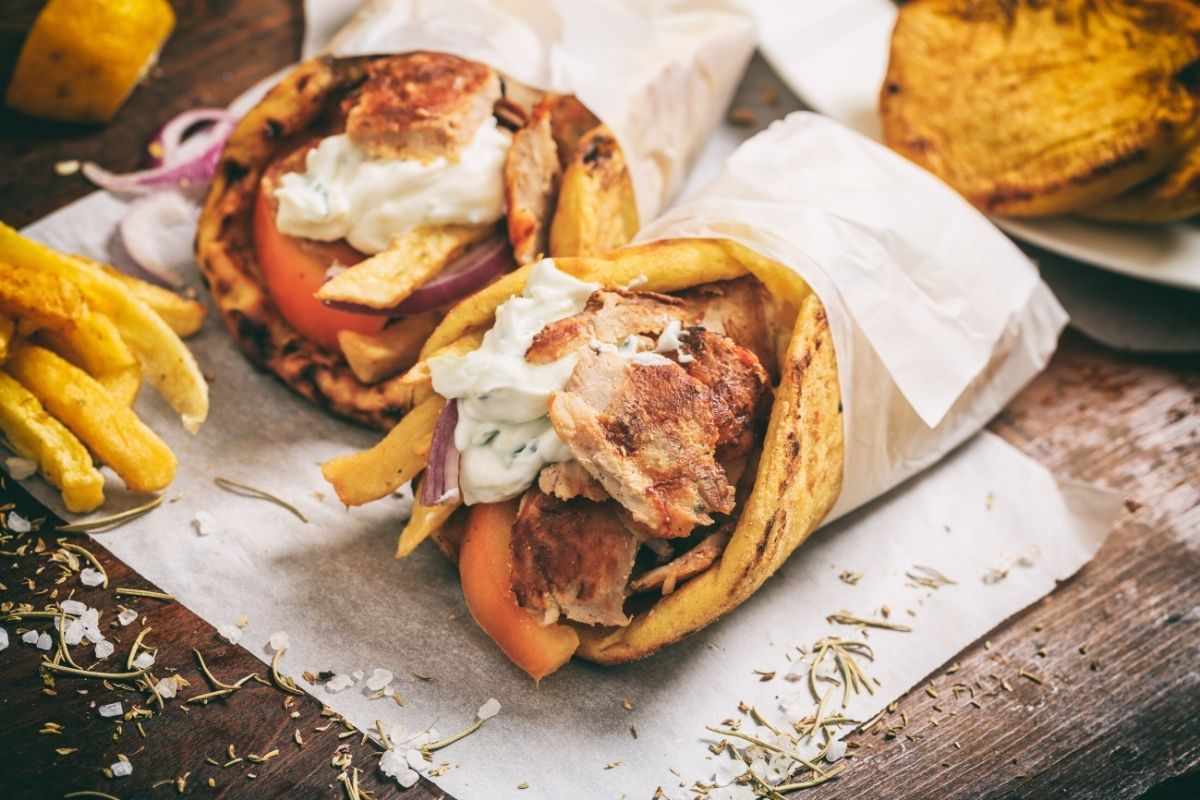 There are many influences from other Mediterranean countries nearby, like Italy and Turkey, but just as Greek coffee is similar to Turkish coffee, yet not quite the same, so is the cuisine.
You may find a few of these dishes are ones you've come across in other nearby countries, but the Greek version is still worth trying, because there are quite a few variances.
Be prepared before you go with this list handy, so you know what to look for and what to choose from restaurant menus to be sure you get a taste of everything.
» Check out the web story.
1. Moussaka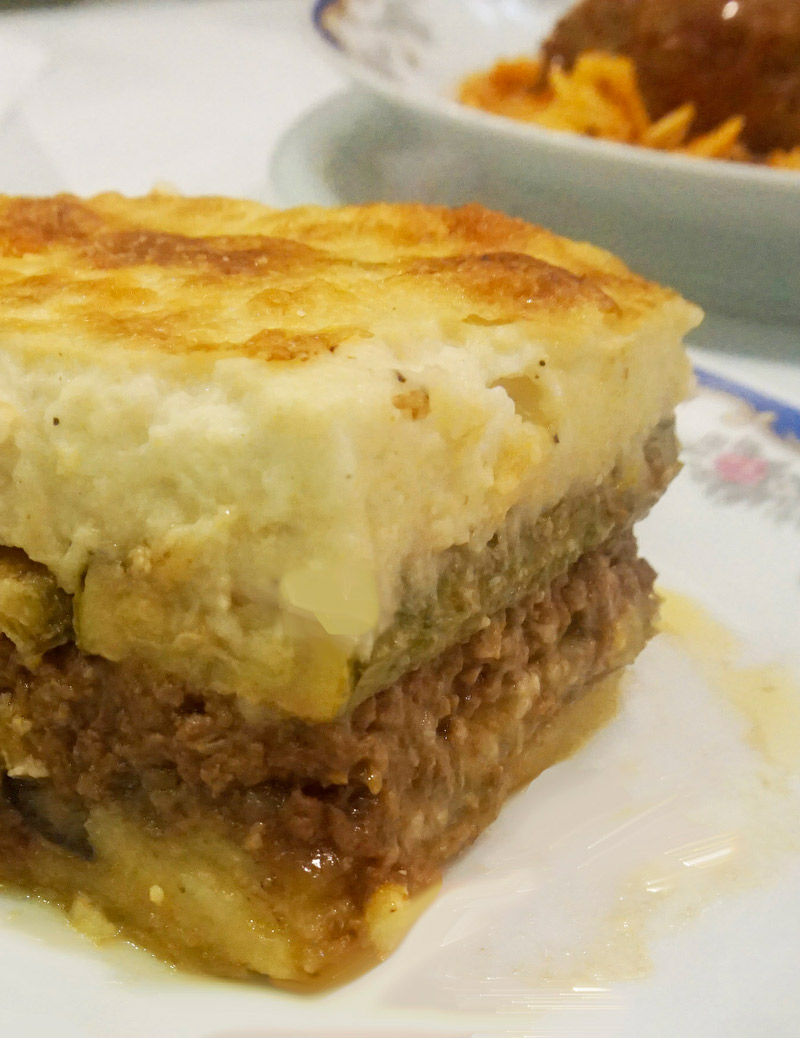 Moussaka is an eggplant and ground meat casserole that is topped with a thick creamy layer of bechamel sauce. Sometimes it's made with potato or zucchini instead of eggplant. Sometimes with a tomato base. It's served in slices that are thick and rich.
It is most typically served as a lunch dish, but these days you can find Moussaka on just about any menu in a tourist hotspot because it's a favorite dish.
It is likely you'll find many different variations of this dish, as most families and restaurants have their own distinct recipe. If you don't find one you like the first time, it's always worth trying it again somewhere else.
2. Gyros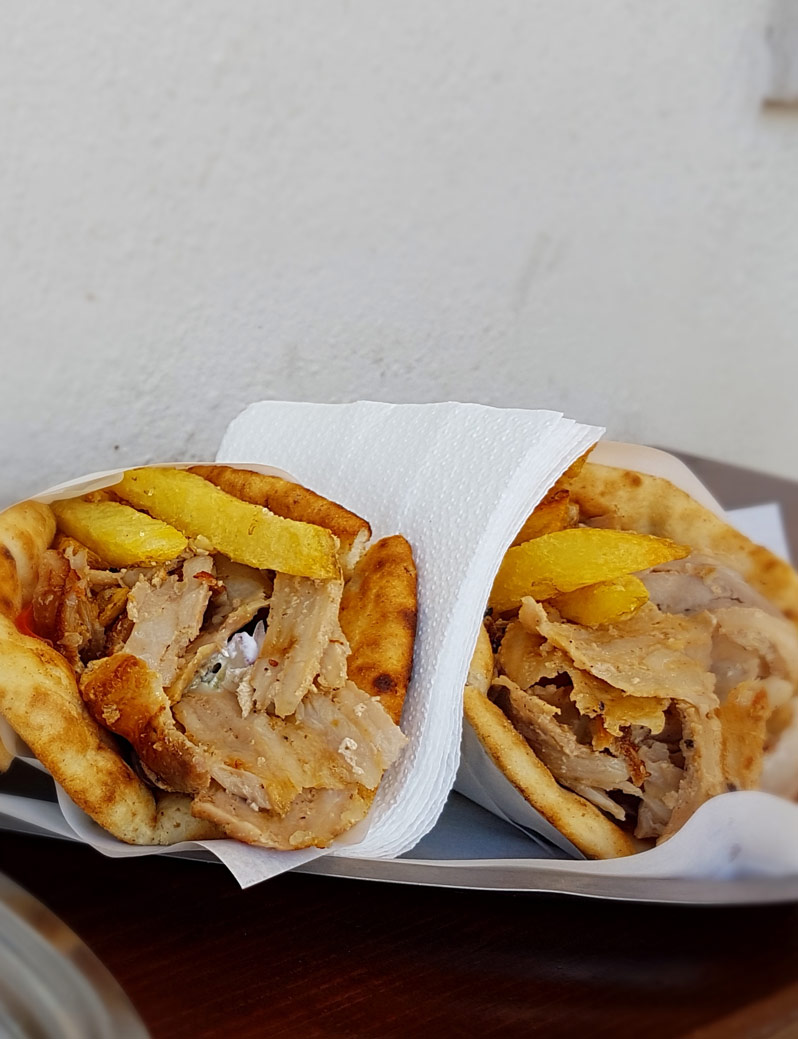 It's quite likely you've already had a gyro or two before coming to Greece. It is a handheld pita sandwich that is loved around the world. The biggest controversy with this dish is its name. Do you pronounce it with a y or a j? The jury is still out on the gyro.
You can order gyros with a variety of different meats, including beef, lamb, chicken and pork . In Greece, it is often served with french fries and veggies packed inside and a tangy tzatziki sauce on top. The best part about gyros are that they are often a cheap and fast alternative when you're in a hurry or don't want to sit down at a restaurant for long.
3. Greek Salad
Yes, I know, you've had a Greek Salad before, but you probably haven't had it prepared the "right" way — the way the Greek prepare it. A traditional Greek salad (also called Horiatiki) includes tomato, cucumber, green pepper, red onion, Kalamata olives and a rather large brick of feta cheese on top.
A Greek salad isn't made with lettuce in Greece. It also usually has capers on top. All of the ingredients combined make for a really light and delicious salad. No meal in Greece is complete without a Greek Salad as a starter. Just be forewarned – they're usually really big – enough to share with 2 or 4 people.
4. Saganaki
If you like cheese, you're going to fall in love with saganaki. We ended up ordering it as a starter before almost every meal. I mean, it's really just fried cheese, but it's so darn good.
Saganaki is named for the frying pan it is made in. To be truly authentic, it should have grill marks, like the one pictured above. It can be served in rounds or in squares. And you'll want to eat it right away, while it's still hot.
I wanted to make it at home so I set about trying to find what cheese was used, when I found out that it can be made with a few different types of Greek cheese that can withstand high heat before melting, like halloumi, kasseri or graviera.
5. Greek Bouyourdi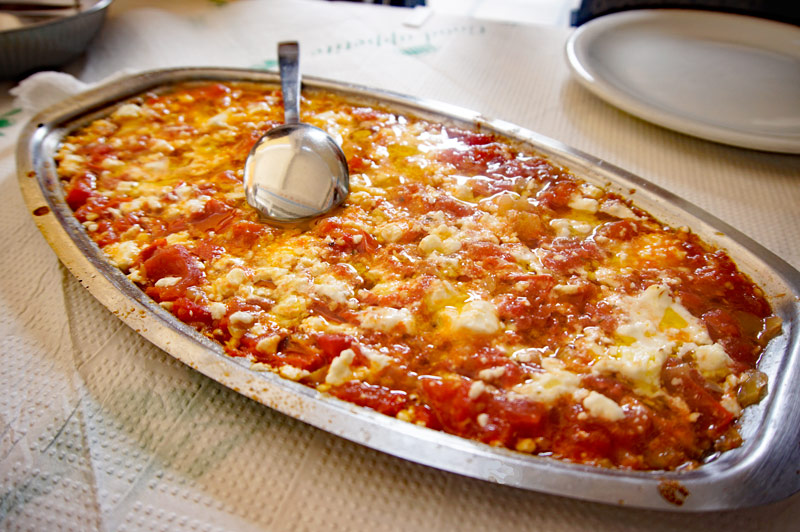 Bouyaurdi is a traditional Greek appetizer that is served before the meal to make you hungry for what's to come. It works! The incredible aroma of this dish is intense. It creates instant stomach growling.
The dish is almost like a dip that's usually served on grilled vegetables or bread. It's made with tomatoes, feta and hot red chilies (like jalapenos). Tomatoes are always the base of this dish, but you'll see versions of it with bell peppers and onions baked in.
This dish is great to eat all on its own, in my opinion. We ordered it many times but it comes on a huge platter and we always had to leave so much of it behind.
6. Soutzoukakia me Hilopitakia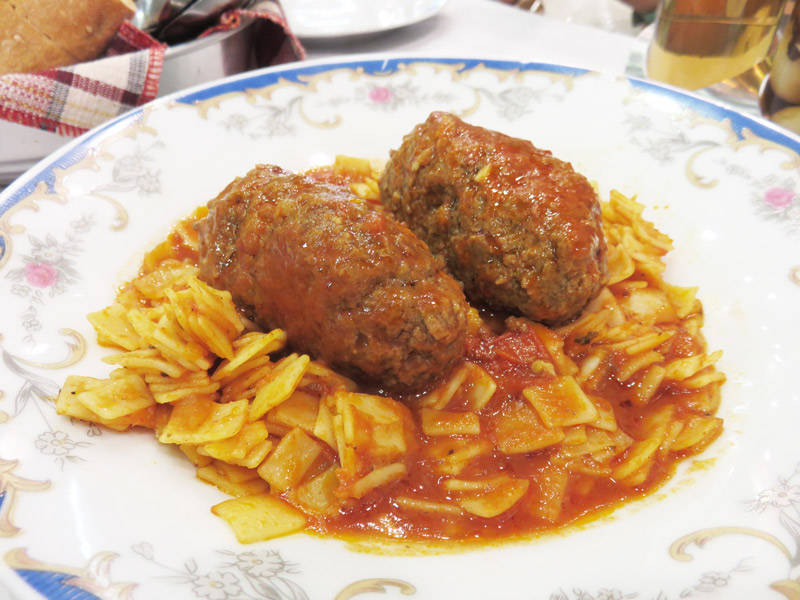 Another popular dish for lunch is Soutzoukakia me Hilopitakia. Think of it as the Greek version of spaghetti and meatballs. It is made with Greek meatballs served on top of egg pasta with tomato sauce.
The pasta shape isn't always the same. Everyone has their own version. But these little pasta squares are pretty typical. Yes, it's a simple dish, but it's delicious.
7. Dolmades
You may have had these before – usually from a jar you can buy at the grocery in the United States. However, every family in Greece makes dolmades at home – or at least they used to. It's a super traditional finger food.
It's a rice and herb-stuffed grape leaf, usually served as an appetizer or part of a mezze platter. I've eaten them many times throughout Greece and other Mediterranean countries, and let me tell you, the homemade ones are way better than anything you can get at the store.
8. Souvlaki
One of my favorite dishes to order for dinner is souvlaki. We've even made it here at Savored Journeys for our international cooking series. If you want the recipe, click here. If you have an outdoor grill, they are great for a cookout or barbecue with friends.
The most typical version of souvlaki is lamb. Chunks of lamb are marinated in a lemon and olive oil bath to make it flavorful and tender. Then it's grilled with onions. It's often served with rice or pita and eaten alongside a greek salad.
9. Loukoumades
If you have a sweet tooth, you will love these little doughnuts. They're fried and crispy on the outside, but light and fluffy in the middle. They are also dusted with cinnamon and drizzled with honey, so be prepared for the serious sugar boost you'll get from eating just one!
Nearly every bakery we visited in Athens had these adorable loudoumades. You can sometimes also find them sprinkled with nuts, but the most typical preparation is served on a platter with lots of sticky honey.
10. Koulouria
A traditional Greek street food, koulouria is likely the first thing you'll see upon arrival in Greece, because there are many street stands selling it everywhere.
It's great for tourists because you can just grab one and walk around with it for a snack, but you'll find that the locals mostly eat it for breakfast. They taste similar to a soft pretzel, but they're covered in toasted sesame seeds and no salt.
11. Lamb Kleftiko
Lamb Kleftiko is a delicious stewed dish made by sealing pieces of lamb and accouterments up into a parcel of parchment paper. Once it's been cooked for hours, the stew inside the packet is so tender and the flavors are all melded together. It's a great dish to order on a chilly fall evening.
I ordered this dish twice, from two different restaurants. As you can imagine, it looked quite different from the way each place prepared it, but it was amazing both times. The flavors that are created from these simple ingredients being cooked together is incredible.
12. Tzatziki
Tzatziki is a universal sauce in Greek cuisine. Made from Greek yogurt, garlic, lemon and dill combined together, then drizzled with olive oil and dressed with some olives, the sauce can be eaten along with on pita, or scoped onto just about anything you want to eat.
You'll have no trouble finding Tzatziki throughout Greece. I'm sure you've already eaten it more than once, but it's such a traditional part of the cuisine that it had to make this list.
13. Tyropita (Savory Hand Pies)
We saw so many pie shops in Athens selling these hand pies. They are made from either filo dough stuffed with feta or another savory filling, or they are of a firmer dough, stuffed with the same ingredients. They are very popular cafe snacks.
And now for a few things you should drink in Greece…
14. Greek Coffee
Very similar to Turkish coffee, if you've had that, Greek coffee is just as thick, but not as roasted. It is made by mixing roasted, finely ground coffee beans with water and heating very slowly on the stove. The result is a thicker than American coffee drink that has a thick layer of unincorporated grounds at the bottom of the cup.
15. Greek Wine
Santorini is home to a large amount of the wine produced in Greece. A wine tour to the vineyards around the island is a good way to taste the unique varietals found on Santorini and learn a bit about the way they grow their grapes on such volcanic soil and in high winds.
They use a style of grape growing called koulara, where the grapes are grown in a low-to-the-ground basket style that protects the grapes from strong winds and allows it to soak up what little water is available from the porous volcanic soil.
The Assrytiko grape makes up almost 70% of the vineyards of Santorini. It is a strong, bold white grape used in many single-varietal and blended wines in Santorini, and unique to the island.
CONCLUSION
This is just a start to the incredible list of the foods you must eat and drink in Greece, but it's a great start to learning a bit about the flavors and culture of food.
What are your favorite things to eat in Greece?
Traveling to Greece and want to go island hopping? Check out our guide to taking Greek ferries.
Like this post? Why not share this image on your Pinterest board?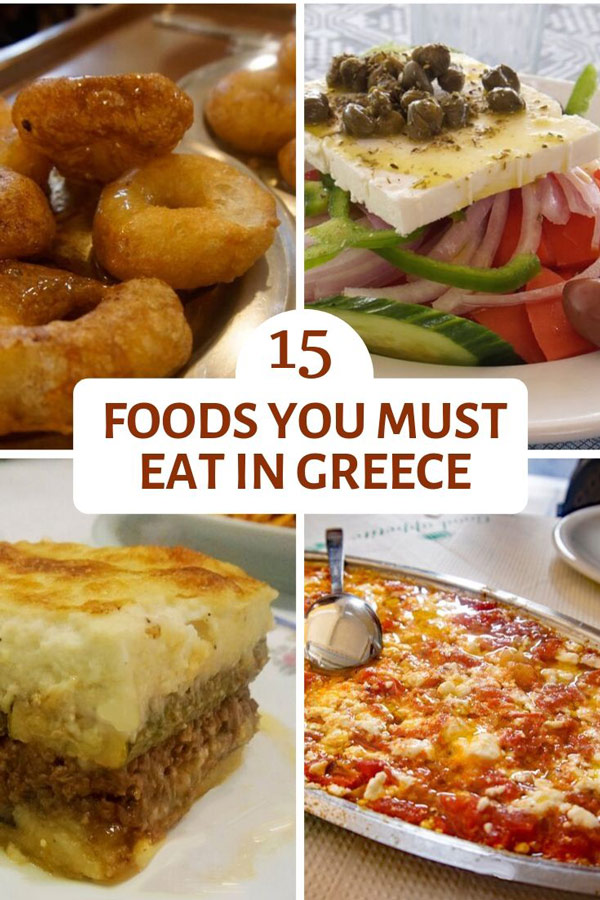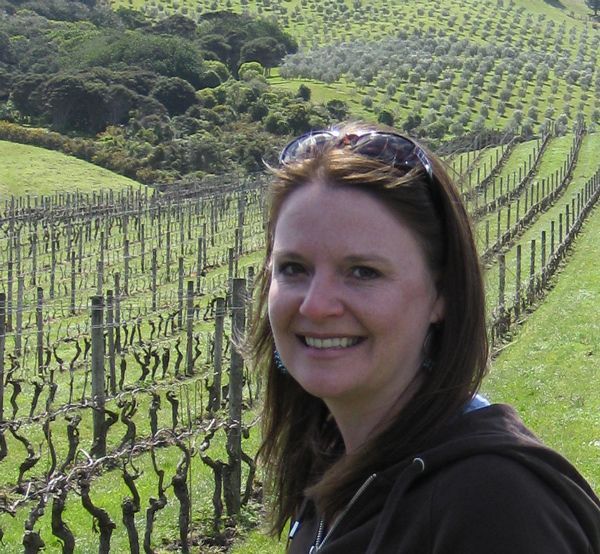 Laura Lynch, creator and writer of Savored Journeys, is an avid world traveler, certified wine expert, and international food specialist. She has written about travel and food for over 20 years and has visited 70+ countries.