Spain has an incredibly rich food culture. There are so many different dishes throughout the country that you have to try when visiting. Since food is such a big part of the Spanish culture, you'll be blown away by the many food options and all the things you must eat in Spain.
Although there is a common thread that runs through the cuisine of Spain, each region has its own distinct and incredible food specialties, like Paella that originates in Valencia. You can find many of the dishes described below throughout Spain, but some of them you can only find one specific area, like Catalunya or Galicia.
» Check out this 10 Day Spain Itinerary for First-Timers.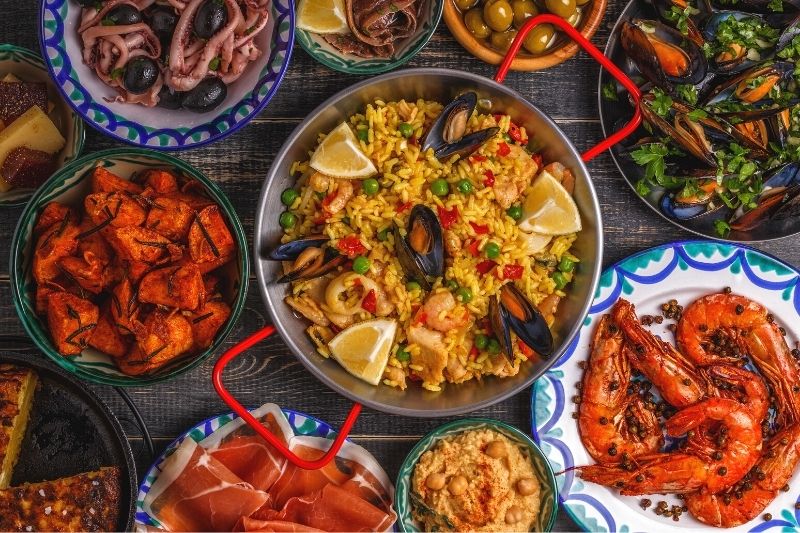 You may also encounter various renditions of a dish that are done one way in northern Spain, and another in southern Spain. But that's all part of the fun of discovering Spanish food. Before your trip, take a few moments to familiarize yourself with the foods Spain is known for, so you know what to look for and where to find it.
Many of these foods can be found on a typical tapas or pinchos crawl, so we think that's one of the first things you should do when you arrive. The main cities all have many different food tours and tapas crawls you can go on. A food tour will familiarize you very quickly with the foods of the area and entice you to come back for more.
» Want more info on what to eat in Spain? Check out our Spain travel guide. I highly recommend a pinchos crawl in Logrono or pintxos in San Sebastian, in Northern Spain. If you're going to Southern Spain, find out where to eat tapas in Seville. And don't miss a trip to the Rioja wine region.
Delicious Spanish Foods to Try
1. Paella
A well-known and loved Spanish rice dish, Paella is a comfort food, often cooked in giant batches on large, round paella plates (see above), and piled high with meat and seafood. While you can enjoy a hearty, satisfying plate of paella just about anywhere in Spain these days, the dish was created in Valencia.
The original dish uses rabbit meat, though the more popular version today has seafood. You'll find different variations of paella throughout Spain, like the Arroz Marinero Gallego from Galicia, that uses only mussels and no meat.
It's a fairly ubiquitous dish throughout Spain now, so you won't have trouble finding it on the menu. Although, we still think it's best in Valencia.
2. Patatas Bravas
This is what happens when crispy potatoes meets spicy paprika sauce and aioli – it's a seriously delicious combination.
This dish is commonly served as an appetizer, or tapa, in bars and restaurants. The potatoes are fried and extremely fluffy inside. They are piled high on a plate, then topped with a secret blend of tomato sauce, paprika, garlic, chili powder, and sugar.
There's usually a white aioli-type sauce on it too. As you can imagine, the sauces vary grately, depending on the chef, but it almost doesn't matter, they're always delicious.
When you're in Logroño, Spain, for a pinchos crawl be sure to stop by Bar Jubera, where we found the delicious-looking dish above. We've had it a few times and it never disappoints – it's truly one of the best patatas bravas you'll ever eat.
3. Lechazo Asada
Lechazo asado is roast baby lamb with crackling skin and tender meat. The lamb is cooked in a wood oven in a traditional Castilian restaurant. Around lunch time, the restaurants gear up for their tables to be full of people ordering their lechazo asado. The dishes with roast lamb are lined up around the grill waiting to be cooked to perfection.
This dish originated in the asadores of Arande de Duero, located two hours north of Madrid, in the heart of the Ribera del Duero wine region. Here, the lechazo asado has IGP (Protected Geographical Indication) status because of the unique way the lamb is raised only on milk, which is said to make the meat especially tender and delicious.
You can, of course, also find this dish in many other parts of Spain. We had the lovely dish above in a restaurant in Haro, Spain. But the experience is at its best in Arande de Duero.
4. Tortilla Espanola
Tortilla Española, or Spanish tortilla, is one of the most popular dishes in Spain. It's traditionally made with just eggs and potatoes, but sometimes onions are added, and Chorizo, peppers, ham, etc. It's the perfect appetizer and if you find a really good one, it's REALLY good.
It bears no resemblance to a Mexican tortilla. The potatoes are incredibly tender and melt in your mouth, and the egg is still a bit runny in the middle. If you're in San Sebastian for pintxos, I highly recommend queuing in the morning for a ticket that will get your one slice of the famous tortilla made at Bar Nestor.
Tortilla is often served as a tapa or pintxos, or as a media ratio for lunch, but you can order it any time of day. In fact, many restaurants will have a tortilla baked and ready to warm up whenever you order it.
5. Spanish Chorizo
Spanish chorizo is a fermented, cured pork sausage that is seasoned with spices including Spanish smoked paprika, and sometimes garlic, that gives it the spicy and sweet flavor. It originated in the Iberian peninsula, but now can be found through Spain.
It's often eaten by itself or with cheese and bread, but is included in many other dishes, some of which are featured on this list. I love to eat it on its own as it is so full of flavor.
Again, Spanish Chorizo is not the same as the Mexican version, which is often sold raw and is ground. Because chorizo is so versatile, you'll find it in a number of baked dishes, but also sliced and served on bread, or just presented as slices.
6. Jamón Ibérico
Jamón Ibérico, or Iberian ham, is a type of cured ham that is produced in Spain. According to Spain's Denominación de Origen rules on food products, Jamón Ibérico must be made from black Iberian pigs, or cross-bred pigs as long as they are at least 75% Ibérico.
Within the classification, there are differing levels of quality that can be purchased, the highest being Jamón Ibérico de Belotta. Of course, a plate of Bellota commands a high price, but it's one of the tastiest plates of cured meat you'll ever taste.
7. Churros
Served for breakfast or as a snack or dessert, Churros are very popular in Spain and can be found in many cafes and churrerías, or even from street vendors. They are cylindrical ropes of fried dough, rolled in cinnamon and sugar and often served with a cup of warm chocolate for dipping. It's hard to resist the crunchy-sweet doughy goodness.
We often find ourselves standing in long lines in Madrid or Sevilla to indulge in a plate of churros. In Sevilla, they are considered a typical mid-afternoon snack – referred to as La Merienda – which locals often fit into their schedules from 5:30-7:30pm, since dinner is served so late Spain.
8. Croquettes
In Spain, croquettes are a crunchy and delicious fried ball of bechamel sauce, mixed with other ingredients like Jamón or fish and sometimes vegetables, ground meat or seafood.
Many bars and restaurants throughout Spain serve croquettes as tapas. You'll want to look over a few menus to find croquettes with unique ingredients to try. And always make sure they are made to order. Cold croquettes are not very appetizing.
9. Grilled Octopus (Pulpo)
Galicia's signature dish, Pulpo a la Gallega (or grilled octopus from Galicia) is a delicious dish often flavored simply with paprika and olive oil. It's a popular dish at tapas bars and seafood restaurants, where it's served on wooden plates with toothpicks.
The octopus is so tender that it closely resembles succulent pieces of lobster. If you've only ever had rubbery and tasteless octopus, you absolutely must try this dish in Spain. It's so tender and flavorful.
Bonus: here's a recipe for Pulpo a la Gallega so you can make it at home!
10. Manchego Cheese
Manchego is a sheep's milk cheese made in the La Mancha region of Spain. It technically must age between 60 days and 2 years to be considered Manchego. It's a little bit earthy, sweet and nutty with a semi-soft texture and little air pockets that make the texture light, rather than dense.
You'll often find it served as a starter or tapas alongside Chorizo or other cured meats. The flavor is addictive, and soon you'll have eaten a whole plate without even noticing.
11. Gambas al Ajillo
Gambas al Ajillo is garlic shrimp, which sounds quite basic, but it's one of the most savory, flavorful dishes you'll ever eat. While it's extremely popular in the south of Spain, it is one of the most popular tapas dishes throughout Spain.
The main ingredients, of course, are shrimp, garlic and olive oil, and most recipes include dry sherry, sweet Spanish paprika, fresh lemon juice and parsley. It's irresistibly good.
» Try making it at home with this Gambas al Ajillo recipe!
12. Txuleton
Txuleton (aka Chuleton, Chuleta, Txuleta) is one of my favorite things to eat in Spain. No where else can you get a steak quite like this. The difference is that this steak from older cows, so the meat is aged more, leading to a much more intense flavor. Every bite of this steak delivers a punch of intense beef flavor. In Galicia in Northern Spain, and in Basque country, this is a mainstay on the menu.
The Txuleton steak (a rib steak) comes from former dairy cows that are finished in the Basque region. It's the star of the show in a region where the food is incredibly good, across the board. Our absolute favorite place to have this steak is at Bar Nestor in San Sebastian.
13. Escalivada
In Catalonia, Valencia, Murcia and Aragón there is a dish called Escalivada that is made with smoky grilled vegetables, like eggplant, red bell peppers and onions. The grilled vegetables are laid out flat on the plate and covered with olive oil and salt. They are perfect all by themselves, but are usually served as a side dish.
You can also find escalivada on tapas menus, but in Catalonia, it's most often served as part of a multi-course lunch menu, which you'll find in restaurants all around the area. For more drool-worthy dishes, check out these 37 Catalonia specialities.
14. Tarta de Santiago
Tarta de Santiago is a typical cake dessert in Galicia. It's made with almond flour, eggs and sugar. The dense, but moist, cake is then sprinkled with powdered sugar and served for dessert with coffee. It's sweet, but not overwhelming.
The almond gives a lovely aroma and taste to the cake. While this dish originates in Galicia, that doesn't mean you won't find it all throughout Spain. Most cafes will serve it by the slice so you can order it with your mid-morning coffee.
15. Pementos de Padrón
If you've been eating in Spain for a while, you already know that Spaniards don't really like spicy food. It's a bit strange to see them always snacking on these little blistered peppers from Padrón, a municipality in the province of A Coruña in Galicia.
However, Padrón peppers are not typically spicy – only about 15% are spicy and even then it's not overwhelming. The Galicians have a saying "Os pementos de Padrón, uns pican e outros non" , which translates as "Padrón peppers, some are hot, some are not". The peppers are so tasty that you just take your chances.
16. Crema Catalana
We'd be remiss not to mention at least one more dessert. One of our favorites is Crema Catalana. It resembles a creme brulee, but this version is flavored with orange and cinnamon.
The crema is very light and only slightly sweet and the top crust is a very thin layer of caramelized sugar, which adds the perfect amount of sweetness to the dessert without overwhelming it.
Quick. Check these necessities off your prep list!
CONCLUSION
If you are able to find and try each of these items while in Spain, you'll have a great grasp on the cuisine and the main staples of the Spanish diet. Of course, there are hundreds of other things that will tempt you, as well. I could spend a whole year in cities like San Sebastian eating the food, and never tire of the delicious pintxos there.
If I missed your favorite one, let me know in the comments and I'll add it on!
Related Posts:
Like this post? Why not save it to Pinterest?
FOLLOW US on Pinterest, Instagram, Facebook for more great travel inspiration and tips.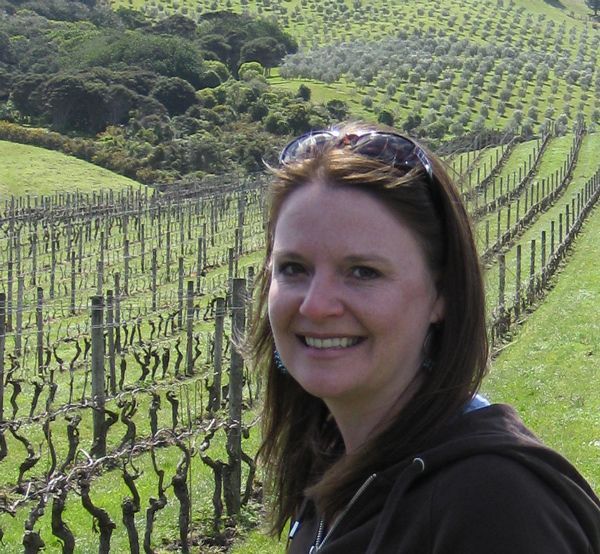 Laura Lynch, creator and writer of Savored Journeys, is an avid world traveler, certified wine expert, and international food specialist. She has written about travel and food for over 20 years and has visited over 75 countries.