I love remarkable hotels. A truly remarkable hotel elevates the whole travel experience for me and transforms ordinary travel into something exceptional. Of all the amazing places I've traveled around the world, I've never found such remarkable places to stay as I have in Southwest England.
We've had the pleasure of staying at some of the best hotels in southwest England that would make anyone's jaw drop. We're not talking run-of-the-mill, cookie-cutter hotels here. We're talking genuinely unique, historically significant, wow-factor hotels.  If you're a hotel person, like me, you're going to want to check out these remarkable places to stay in southwest England.
If you're planning a trip through the south west – Devon, Cornwall, the Cotswolds – we highly recommend you stay in these hotels. They provide a great home base while you explore the area with our 7-day itinerary.
You can actually stay for a short time at each one, with the exception of one really special spot in the Cotswolds. I would suggest staying for at least 2 nights, if you can, because once you get there, you'll find that one night just isn't long enough.
If you fly in to London's Heathrow airport, it's only a 1.5 hour drive to the first hotel, with attractions like Stonehenge and historic Bath along the way.
Best Places to Stay in South West England
Lucknam Park Hotel (Cotswolds)
Set in an 18th-century Palladian mansion on 500 acres, Lucknam Park Hotel is only 10 miles from Bath. It's the perfect retreat from which to explore Bath for a couple of days. Lucknam Park is a 5-star luxury country estate, with a Michelin-star restaurant and world-class spa facilities.
When booking, you have your choice of a number of different types of rooms, including a classic double room in the main house, a garden room in the courtyard, or one of the cottage rooms.
Approaching the house from the long, winding driveway, we were immediately impressed by the exterior, and even more impressed upon entering the cozy front room. Our Grand Suite room was opulent, with a four-poster bed, a separate sitting room, a large bathroom with heated floors and a gorgeous claw-tooth tub.
We wouldn't have ever left that room if the lounge wasn't calling to us for pre-dinner cocktails. It was so thoroughly enjoyable to sit back on the plush couch and relax after a full day of sightseeing. Many of the other guests joined us, which made us feel like we were already fitting into this new pre-dinner routine.
As our dinner reservation time approached, the waiter arrived with canapés and menus, after which we enjoyed an incredible chef's menu with wine pairings at the Michelin-star Restaurant Hywel Jones.
The restaurant exudes elegance. Executive Chef, Hywel Jones, has held a Michelin star at Lucknam Park since 2006. His menu features organic, seasonal ingredients in innovative, modern dishes.
They offer free parking and wi-fi throughout the grounds.
» Find the best deal and read what other travelers have to say about Lucknam Park Hotel
Location: Lucknam Park, Bath, Colerne, SN14 8AZ, United Kingdom | Website
Thornbury Castle Hotel (Gloucestershire)
If you've never stayed in a castle before, now is the time! Thornbury Castle is an infamous Tudor castle where King Henry VIII and Anne Boleyn once stayed on their honeymoon.
Thornbury Castle was built by Edward Stafford, the Duke of Buckingham, in the early 1500s, but the castle was confiscated by King Henry after he accused his cousin Edward of treason and ordered him beheaded. The historical significance of the castle is equaled by the architectural details that make it particularly stunning.
Located just 25 minutes outside of Bristol, England, and just under an hour from the historic city of Bath, Thornbury Castle is a true sight to see. It is convenient located on the edge of the Cotswolds, and perfect for visitors who want to experience the city, but stay in a remarkable hotel that far exceeds expectations.
The meticulously landscaped grounds and the view of the extraordinary St. Mary's Church just a few yards away make it feel more like you're in an elaborate movie set, rather than at a hotel. In fact, it is the only Tudor castle to operate as a hotel in England.
Our room had a large table with seating, a vanity area, and an antique wooden wardrobe. A decanter filled with complimentary sherry was a welcomed extra touch. Unlike many typical hotel rooms, this one felt warm and inviting.
For a special treat, you can choose to stay in the Duke's bedchamber, where King Henry and Anne Boleyn slept while visiting the castle. Or choose the grand Tower Suite, which can only be reached by a 77-step spiral staircase. No matter which room you pick, you'll be wowed by the etched ceilings, enormous four-poster beds and attention to detail. Pro
Tip: Book the Dinner, Bed and Breakfast rate for the best experience and savings. The package includes a 3-course a la carte dinner, along with a lavish breakfast in the morning.
The Restaurant at Thornbury Castle
When you arrive at the drawing room prior to dinner, you're greeted and led to a cozy spot by the fireplace for a pre-dinner cocktail. Looking around the room, we realized just how unique the experience was; almost like we had been transported back in time. Yet, somehow it felt so normal, like sitting in a centuries-old castle drawing room with oil paintings of notorious kings hanging above your head was something we did everyday.
As expected, the food was artfully prepared and displayed, but it didn't feel pretentious. For a starter, I had a fois gras torchon with rhubarb, golden beetroot, Sauternes jelly, and toasted brioche. Nick had seared scallops with black pudding, apple and cider dressing and pickled shallots. Both were light and playful dishes that stoked our excitement for the next dish.
For a main dish, I had guinea fowl with a sweet potato puree, braised red cabbage and a Madeira jus. There was a nice sear on the skin, and the sauce was a flavorful accompaniment for the vegetables. Nick had pork belly and braised pork cheek, with carrot and cardamom puree, spiced lentils and a five-spice jus. The pork cheek melted in my mouth.
The usual rate at Thornbury Castle Hotel includes bed and breakfast, and you definitely don't want to miss this breakfast. They serve a full English breakfast, made-to-order, in the dining rooms. You can choose where to sit, and then make your way to the well-stocked buffet table, full of many favorites like croissants, meats, cheeses, yogurt and fruits. You can also order from the full menu.
» Find the best deal and compare prices for Thornbury Castle on Expedia.com. Read what other travelers have to say about Thornbury Castle on Trip Advisor.
Location: Castle St, Thornbury, Bristol, South Gloucestershire BS35 1HH, United Kingdom | Website
Glazebrook House Hotel (South Brent)
Located just a few miles off the A38 motorway, the Glazebrook House is a perfect location for visiting the south west of England. Much to our relief, there were no tiny windy roads we had to navigate to get there. And when we pulled up to the fully-renovated house and saw the beautiful gardens, complete with extra-large teacups on the tables, we instantly knew that this wasn't going to be an ordinary hotel stay.
Of all the places we stayed in the south west of England, Glazebrook House is the one that captured our hearts the most. From the moment we stepped inside the doors of the estate, we were captivated with awe. The design is unlike any hotel I've ever stayed at. It is truly a gem. After talking with the owner, we had a better understanding of the dedication and heart that was poured into the project.
As a guest, that passion can be felt in every aspect of the stay at Glazebrook. The attention to detail, the incredible decor that was meticulously curated, the personable and welcoming service – it all comes together to make Glazebrook an exceptional place to stay.
The interior design for the house was led by London designer Timothy Oulton, whose inspiration and vision included British revival decor, complete with handmade furniture and antique curios. The whole place feels truly inspired. I could have poked around the house gawking at things for a week.
The theme of Alice in Wonderland was chosen for the rooms after most of the design work was complete, and it fits the feel of the house perfectly. There are eight uniquely designed rooms (White Rabbit, Jabberwacky, Tweedle Deez, Mad Hatter, Gryphon, Cheshire Cat, Catepiller, and Bread & Butterflies).
I haven't even mentioned the rooms yet. We stayed in the Mad Hatter room. It was whimsical and fun – from the miniature houses that hung sideways above the bed to the wall of hats hung above the chair, and the chandeliers dangling by thick ropes over the bedside tables. I cannot say enough about this place. It was magical in all the right ways.
Each room is decked out in luxurious, yet whimsical decor, like the doll houses that are hung sideways above the bed in the Mad Hatter room, and the King & Queen of Hearts playing cards on the wall in the White Rabbit room. The beds are heavenly. The bathrooms are well appointed with 3-D marble heated floors (also brought over from China), full-sized soaking tub and shower.
After exploring the room, which included enjoying a glass of wine and a beer from the free mini-bar and eating the chocolates from the small box labeled "Eat Me", we headed down to the lounge for a pre-dinner cocktail and a chance to flip through the picture book of the hotel renovation.
We were joined by the owner, Pieter, who sat down for a drink with us and shared the story of the renovation. As we spoke, he got up several times to greet other guests and make sure everyone in the room was comfortable and well taken care of.
The Restaurant
The dining room is possibly my favorite room in the house. One wall is covered in commemorative plates, while the opposing wall is covered in antique serving trays. The wooden tables and chairs give a rustic feel that is juxtaposed by the modern tableware.
The staff of talented chefs have designed a menu that is nearly impossible to choose from, given the many great options. Everything we ate was a masterpiece – delicious and beautiful.
The Glazebrook House remains one of the top 5 hotels I've ever stayed at, even after 20 years of visiting hotels. The extremely comfortable bed in the Mad Hatter room, the fantastic hospitality, delicious food, and amazing design make it a truly remarkable place.
Thinking about staying at the Glazebook House? Click here to see current prices on Expedia.com. Read reviews on Trip Advisor.
Location: Glazebrook House, South Brent, Devon TQ10 9JE, United Kingdom | Website
The Manor House Hotel & Golf Club (Castle Combe)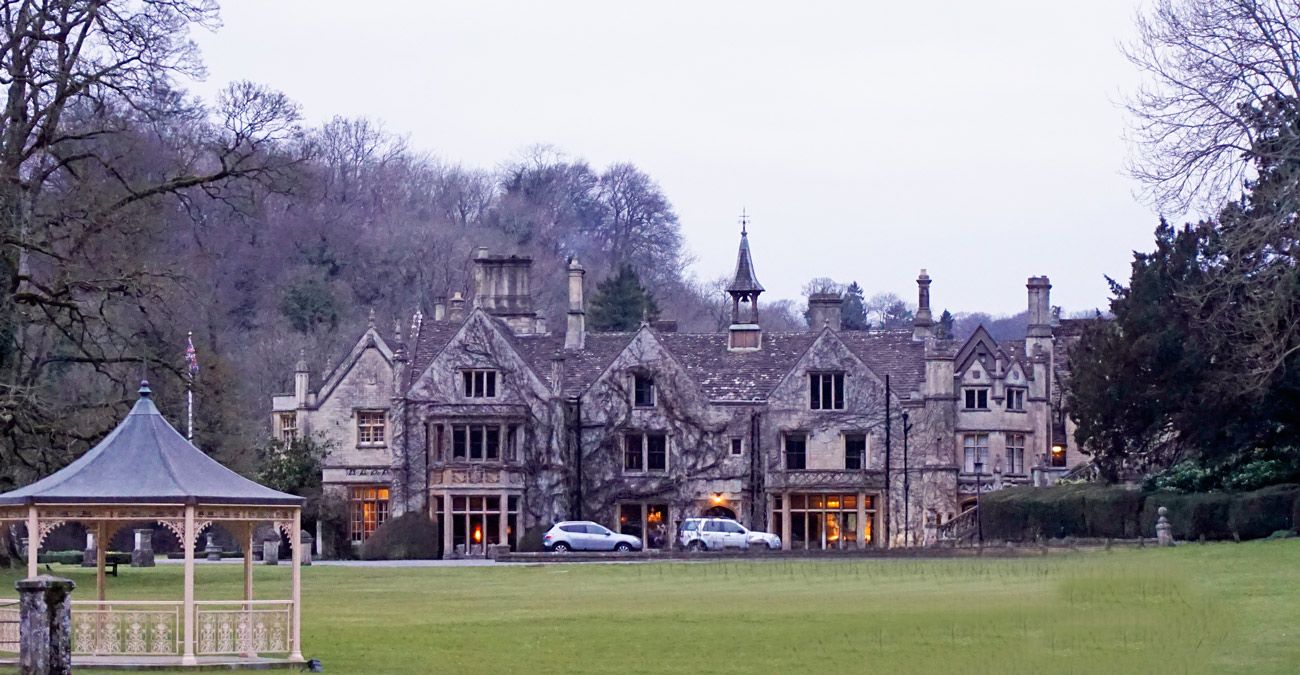 I have never driven up to a hotel, turned a corner and slammed on my breaks like I did when we approached The Manor House in the tiny village of Castle Combe in the Cotswolds. I did it out of sheer wonderment and awe. Our jaws were on the floor before we even knew what was happening. That's the best way to describe The Manor House.
Located in the beautiful Bybrook Valley in the Wiltshire countryside, on a 365-acre estate, The Manor House is a gorgeous 5-star hotel where you'll feel like royalty and be treated that way as well.
To call it a luxury country estate is an enormous understatement that would not begin to express its breathtaking beauty. A week there would probably not be enough time to explore and appreciate the immense grounds, which includes a golf club.
There are 28 rooms in the main house and the row of Mews cottages nearby. Each is uniquely decorated with comfortable and modern decor. You have your pick of cozy, traditional or plush room, a cottage, or the Lordsmeer Suite.
Our room was decorated with dark purple accents and exposed wooden beams. The bed was very comfortable, with luxurious bedding and plenty of pillows to sink into. There were two bathrooms, one with a large tub that would have been really relaxing if we'd had time to try it out, and another small water closet with a shower.
The Restaurant
One of the big draws at The Manor House is the Michelin-star Bybrook Restaurant. Because of this, I highly recommend booking a dinner, bed and breakfast package so you can enjoy the restaurant with a discount built into the bundle. The team of talented chefs have crafted an impressive menu full of seasonal and fresh options, with many of the ingredients coming straight from their own kitchen garden.
I was very much looking forward to our dinner at the restaurant. After a cocktail and appetizers in the lounge, our server came by to take our dinner order. I ordered the sautéed fois gras with chicory, gingerbread purée and toasted hazelnuts as an appetizer and the Manor House pork belly, fillet and black pudding with organic cider sauce as a main. Nick ordered herb-crusted salmon with celery and hollandaise as an appetizer, and the slow-cooked fillet of beef, truffle mashed potato and red wine jus for a main. We also received an airy mushroom soup as an amuse bouche.
Everything we ordered was delicious. The foie gras was one of the best I've had, with a great sear and crunch. The pork belly was perfectly cooked and accompanied by a filet and puree. We both loved the salmon. The steak was tender and the black pudding was a great addition. I'm always a little skeptical of jelly squares, but it was a nice combination.
All we could think about was that we didn't have nearly enough time at The Manor House. I will surely go back there to explore the grounds, maybe play a round of golf, and definitely enjoy another meal at the restaurant.
» Find the best deal and prices for Manor House on Expedia.com. Read what other travelers say about Manor House Hotel & Golf Club.
Location: Castle Combe, Chippenham SN14 7HR, United Kingdom
Thurlestone Hotel (Devon)
Speaking of remarkable history, this hotel has been family owned for 120 years. The Grose family opened the hotel in 1896 for golfers and vacationers looking to relax and unwind in the picturesque and peaceful town of Thurlestone on the South Devon coast. Even after so many years, guests return year after year to the hotel for their R&R.
The hotel has a quaint charm to it, with 65 rooms, many of which have large balconies overlooking the golf course and coastline. There are multi-generational facilities, including many great activities in and around the hotel, like golfing, tennis, walks and beaches.
If you're interested in lounging at the spa during your stay, there's a lovely indoor and outdoor pool, with sauna, steam room and treatment rooms.
They also have a restaurant with a fantastic view and an ever-changing menu to suit all tastes and a more casual pub, the Village Inn, that was part of the original house and inn.
» Find the best deal and prices for Thurlestone Hotel on Expedia.com. Read what other travelers say on Tripadvisor.
Location: Parkfield, Thurlestone, Kingsbridge TQ7 3NN, United Kingdom | Website
Mullion Cove Hotel (Cornwall)
If location is everything, then Mullion Cove Hotel is already winning. It is perched nearly at the edge of the world – or so it seems – in its position at the southern-most tip of England. A visit to Mullion Cove Hotel captures you from the moment you arrive, with its rugged cliffs and stunning sunsets. You will think you've found a slice of paradise.
The hotel has a lot to offer guests who make the long journey out to the very southwestern corner of the country. You'll want to stay put at the hotel and enjoy the brand new spa, the nearby walks, and the wonderful restaurant. Bring your dog, if you want. They allow pets.
Owned by the same family as Thurlestone Hotel, you'll find the same level of comfort and rooms with views. The hotel is set up on a cliff overlooking the Lizard coastline, so expect to see many dramatic sunsets. And be sure to save time for relaxing in the outdoor hot tub with a gin & tonic made with local gin.
» Find the best deal and prices for Mullion Cove Hotel & Spa on Expedia.com. Read what other travelers say on Tripadvisor.
Location: Mullion Cove Hotel, Helston, Lizard Peninsula TR12 7EP, United Kingdom | Website
CONCLUSION
These are all exceptional hotels, that offer the very best experiences in south west England. But don't stop at these! England is full of fun and quirky hotels. Try one of these 20 unique and unusual hotels in the UK. We've got your travel plans covered in England!
Our stays in these hotels were hosted by VisitBritain, Thurlestone Hotel, and Mullion Cove Hotel. See all the coverage of south west England.
(As always, all thoughts and opinions expressed in this post are my own honest reflection on our travel experiences.)
Quick. Check these necessities off your prep list!
Like this post? Why not save it to Pinterest?
FOLLOW US on Pinterest, Instagram, Facebook for more great travel inspiration and tips.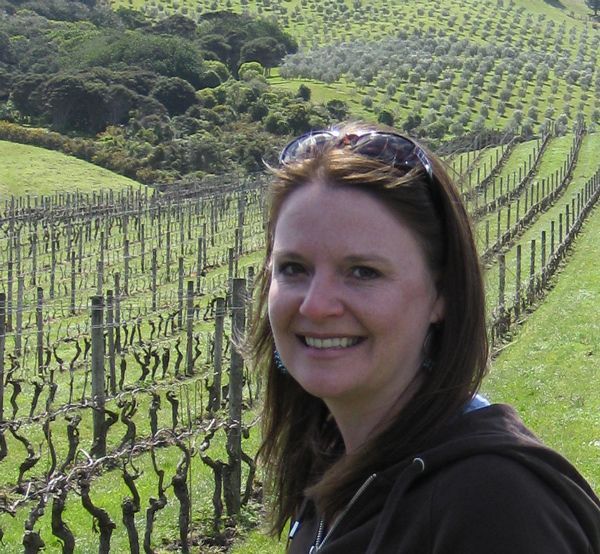 Laura Lynch, creator and writer of Savored Journeys, is an avid world traveler, certified wine expert, and international food specialist. She has written about travel and food for over 20 years and has visited 70+ countries.