We've never regretted our decision to be expats and live in the UK for a while, even though our entire family is in the US, but we do rely very heavily on free video conferencing to stay in touch.
We take every opportunity to get together with friends and family via video calls, just to say hi and feel closer to home. And there was never a time that video calls were more important than in 2020 and 2021, when face to face was just not going to happen. Even now that things are back to some semblance of normal, we've held onto the online chatting as a quick lifeline.
Thankfully, there are many online services that offer free video and voice calling to anywhere in the world. It doesn't matter if your family is spread across many different continents, or if you're just a few houses away. These video calling services will help you connect for free.
Some of these are platforms that have been around for years and you've maybe even used them a few times already. But it's always good to have a few backups in case there's a lag in the call that makes it difficult to hear each other or the servers are too busy to allow you to connect.
Check out our other resources that might be useful to you right now:
Skype has been the premier video conferencing system for years. Millions of people around the world use Skype to video conference their families and friends. It's free and easy to use.
Pros and Cons of Skype
You can use Skype to make a video call or audio conference with up to 50 people.
It allows you to record your calls, in case it's a special occasion you wish to capture.
You can also use screen sharing, which comes in handy if you want to play a game together online or show someone how to do something from afar.
Unlimited call length
You have to download the Skype app
Others all need to be on Skype for you to call them
You have to add your contacts to Skype to be able to call them
How to use Skype to make a call:
Find the person you want to call from your Contacts list. You need to first add your contacts (if you haven't already done so).
Select the contact you want to call, and then select the audio , or video button. If you want to make a group call, simply add another participant.
At the end of a call, select the end call button to hang up.
Using Skype to make a group call:
From your Calls list select the new call button.
Select all the participants you want to call.
Select the Call button.
Note: Group calls with more than 25 participants, are ringless. The group will receive a notification that the call has started and can select the Join Call button when they're ready. For video calls with less than 25 participants, you can choose whether you want the call to ring everyone in the group or be ringless.
2. Facebook Messenger
If you use Facebook, then Facebook Messenger is a great way to keep in contact with your friends and family. Instead of having to get phone numbers from people (like with Whatsapp), you can call anyone who has a Facebook account.
Even my mom and dad have Facebook. In fact, this is my family's preferred way to contact each other quickly and easily. Until now, you could only use Facebook messenger through the Facebook app, but now Facebook has launched the very first standalone Messenger app for desktop, available now on Windows and macOS.
Pros and Cons of Facebook Messenger
The app allows unlimited and free group video calls
You can add as many people as you want to these calls, without the limits placed by Zoom
The length of the call is also unlimited (Zoom's free plan is for 40 minutes only)
There's nothing new to install, as long as you're already on Facebook
You don't need people's phone numbers to call them
You can share your screen with other participants
>> To use on your phone, just open Facebook or download the Messenger app. To use on your computer, download Messenger for PC or Mac.
To video chat with one person:
From Chats, open a conversation with the person you want to video chat with.
Tap .
To video chat with a group:
From Chats, open a group conversation with the people you want to video chat with.
Tap .
3. Google Meet
When we first moved overseas, we were doing video calls with our family via Skype, but it was difficult to get everyone connected, so we started using Google Hangouts, which has now morphed into Google Meet.
Google Meet is an easy way to schedule calls and have everyone click on the link to join. So you can set up a recurring meeting and all participants have to do is click the link to get in, whenever they're ready. Starting new calls and getting everyone into the room is very easy, and you can meet with up to 30 people.
Pros and Cons of Google Meet
Meet is fully integrated with Google Workspace, so you can join meetings directly from a Calendar event or email invite.
Unlimited call duration
Can get a bit unstable at times, particularly if one or more participant has a bad connection
You can choose the configuration of the chat heads
Video calls can include up to 30
You can share your screen with other participants
To start a Google Hangout:
Go to workspace.google.com or open Gmail and start a Meet call from the left dashboard.
Click New conversation New group.
Enter or select the names, phone numbers, or email addresses of people you want to add.
To start a group conversation or video call, click Message or Video call.
4. Zoom
Zoom really took off as a video calling app that everyone started using over the past few months. It was built as a meeting platform for businesses, but more people are using it now for keeping in touch with family and friends, too.
The increased use has brought to light many security flaws in the software, though the company has worked to fix the security issues.
Limit of 100 people per call
Limit of 40 minutes on the free account for group calls with 3+ people (though this has been waived recently)
If you create calendar reminders, it requires you to allow Zoom to access, add and edit anything on any of your Google calendars
Everyone must sign up for Zoom
Participants can be added from contacts list or by email address
Faces can be divided equally on the screen, or set along the bottom so only the speaker is highlighted in the middle of the screen
How to host a group video meeting in Zoom
Open the app > log in > tap New Meeting which is a button on the top-left corner.
Select if you want to keep your video on or off.
Below you'll see a Meeting ID, which you can share with participants to let them join your Zoom meeting. You can allow people with your meeting ID to directly join the room or you can disable this to require a password along with your meeting ID to join.
Once this is set, tap Start a Meeting and you're good to go.
Whatsapp is becoming more popular around the world. You will likely find that many of your friends and family have already signed up with Whatsapp, so you can keep in touch with them via the app. In order to call someone through this app, you need to know their actual phone number. You can then call them via wifi for free. You can also make group calls with this system.
Pros and Cons of Whatsapp:
Group calling allows up to four participants in a video call
You must have the phone numbers of the people you want to call
You have to download the Whatsapp app.
Unlimited call duration
To place a video call:
In the Chats tab, start a chat with the contact (or group of contacts) you want to video call. To do this, click on the green bubble at the lower right corner. Select the contacts you want. A new chat window will open.
Tap the Video icon at the top left.
6. FaceTime (for Apple devices)
Unfortunately, FaceTime is only available to Apple device users. If you have an Android device, you're not invited to this party. Group FaceTime makes it easy to chat with multiple people at the same time. You can start a Group FaceTime from the FaceTime app or from a group conversation in the Messages app – and you can add up to 32 people.
The tile of the person speaking gets larger automatically, so you'll never lose track of the conversation. To use Group FaceTime video calls, you need iOS 12.1.4 or later, or iPadOS on one of these devices: iPhone 6s or later, iPad Pro or later, iPad Air 2 or later, iPad mini 4 or later, iPad (5th generation) or later, or iPod touch (7th generation).
Earlier models of iPhone, iPad and iPod touch that support iOS 12.1.4 can join Group FaceTime calls as audio participants.
How to make group video calls on FaceTime:
Go to Settings > FaceTime and make sure FaceTime is on.
Open FaceTime and tap the Add button in the top right-hand corner.
Enter the name of your contacts, phone numbers or email addresses.
To start your FaceTime call, tap Audio or Video.
Tips for Making Online Video Calls
Here are a few tips and tricks that will make video calling easier:
If you're connected to Wi-Fi, your video call quality is dependent on your wireless network signal and network data speed. Make sure you have a strong Internet connection when placing or receiving video calls.
If your call has poor video and audio quality, it's likely someone on the call (even yourself) has a weak internet connection. You can always hang up and try again.
If you have a slow connection and the video or audio quality is bad, turning off the video can help. Just tap the video icon to disable video.
If your call will be recurring, set up a calendar invite with a link to the video to make it easy for participants to remember and to log into the call.
FINAL THOUGHTS
Video conferencing like the ones we've mentioned above have always been a lifeline for us to reach our loved ones back home. But now they're even more important than ever. We hope you're able to keep in touch with your family and friends online with these video conferencing apps.
Pin it for later!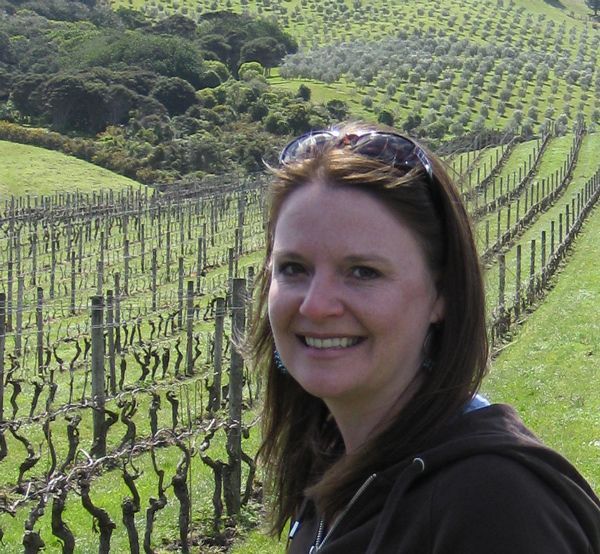 Laura Lynch, creator and writer of Savored Journeys, is an avid world traveler, certified wine expert, and international food specialist. She has written about travel and food for over 20 years and has visited over 75 countries.