This article has links to products and services we recommend, which we may make commission from.
If you already know a bit about the French Alps, you probably already know that Mont Blanc is the highest peak in the Alps (and in Western Europe), at 15,700 feet high, and it's a popular travel destination year-round due to its allure for hikers, climbers and skiers.
You can probably also imagine that the French alpine villages at the base of Mont Blanc are ridiculously beautiful year round, and the perfect destination for all travelers, not just extreme sports enthusiasts.
Whether your aim is to climb, ski, or just admire Mont Blanc from afar, there are three fantastic alpine towns you must visit in the French alps. It really doesn't matter the time of year you visit, or what your particular goal is in the area, these towns have it all – from exciting activities, to delicious food and drink, to views that will blow your mind.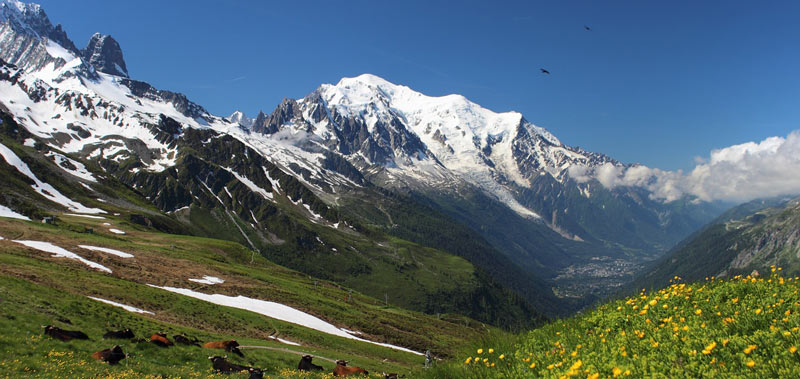 At the base of Mont Blanc is the quintessential alpine village of Chamonix, France. The valley that runs between the mountain peaks has been home to farmers for hundreds of years, and you still get a sense of the pride they have in the land, despite the fact that it's an ultra-popular tourist destination year round.
Due to its proximity to the main attraction, Chamonix is always bustling. From here you can take the cable car up the mountain, Aiguille du Midi, to the summit terrace at 12,600ft elevation. From there, you can see all around the mountain peaks of the French, Swiss and Italian alps.
Take a tour of the town, walk around and enjoy the scenery. There's great shopping in town, especially for activewear and winter ski gear.
Take the cable car up Aiguille du Midi, where you can go on hikes in the summer and ski in the winter. There is also a viewing platform experience called Step Into the Void – a glass box that hangs over the precipice. Walk through The Pipe to circle all the way around the Aiguille du Midi peak.
Before heading back down on the cable car, you must make a stop at the refuge du Plan de l'Aiguille for a bite to eat, which is a 10-minute easy hike from the cable-car mid-point. I strongly suggest having lunch there, but if it's not lunch time, then at least a piece of their homemade pie.
You might not think that a tiny little restaurant hanging off the side of the mountain would be so amazing, but it is. I had the best tartiflette there, and every dish that our group ordered was equally amazing.
Take the Montenvers railway train to the Mer de Glace (Sea of Ice) glacier, which is the largest glacier in France at over 4 miles long and 650 feet deep.
From there, you can enter an ice cave with ice sculptures built inside, visit the Glaciorium to view the exhibits and learn more about the glacier, go on a hike, or have a meal at the Restaurant Le Panoramique Mer de Glace.
Where to Stay in Chamonix
The town of Chamonix is not sprawling, so you'll be centrally located no matter which hotel you choose to stay at. Of course, there are wildly differing levels of hotels in Chamonix.
For luxury, choose Grand Hotel des Alpes or Hotel Mont-Blanc. Both are very nice, exceptional well-designed and right in the center of town. For affordable luxury, try Hotel De Charme (Le Faucigny), which has more of a chalet feel to it – less grand luxury and more relaxed.
For a one-of-a-kind experience in Chamonix, take the Montenvers railway train for a 20-minute ride up into the mountains to the Mer de Glace glacier, and spend the night in the Terminal Neige – Refuge du Montenvers lodge, with breathtaking views from every room overlooking the alps, its incredible waterfalls, and the glacier itself.
A stay at Terminal Neige includes breakfast and dinner at Restaurant Le Montenvers, which serves decadent French regional cuisine, like fondue and tartiflette.
Annecy is a small city located in southeastern France, with the beautiful Lake Annecy and the French Alps surrounding it in grand fashion. As you walk along the charming cobblestone streets, admiring the colorful buildings and shops that line the narrow alleys, you'll think you might have stepped into a fairytale village.
Annecy is a welcoming and exciting destination all year round. The lake provides respite from the heat in summer, with people swimming and paddle boarding mere meters from the center of town. And the surrounding mountains make for some really great skiing options in the winter.
If you visit in the spring or fall, you'll have much more space to roam about town without lots of other tourist, and plenty of time to enjoy the alpine food and drinks.
Besides staring incredulously at the beauty that surrounds you, there is plenty to do in Annecy. You can hang out by the lake in the summer and sunbath, take a paddle board out for a peak at the lake, get on board the , or even cycle around the lake if want.
Visit the Château d'Annecy, a castle that now hosts an art exhibit. Or see the Palais de l'Isle, which is now an art & history museum.
My favorite activity in a historic town like Annecy is just to stroll around the canals, taking in the beauty of the town, stopping at an ice cream stand, browsing around the shops and sitting at a cafe or two for a coffee or cocktail. It's very much a foodie destination, for those who like to discover new products and try new foods.
Located on the eastern shore of Lake Annecy is the impressive L'Auberge du Père Bise, a luxury hotel that is also home to Restaurant Jean Sulpice, which is an experience all on its own (see the video for drool-worthy glimpses of the food). The hotel could not be located in a more spectacular spot.
The views are unbelievable. You can even get to the hotel via water taxi from the town of Annecy. Then, once you're there, all you have to do is relax and enjoy. Pull up a seat next to the water's edge and soak it all in.
You may not know that Chambery was once the capital of the Savoie region in France, until it was moved to Turin in 1563. It maintains much of its historic charm today, which shows itself as you walk through the medieval old town.
As far as alpine towns go, Chambery is somewhat of an undiscovered gem. It's surrounded by mountain ranges, and just a few miles from the incredible beautiful Lake Bourget (Lac du Bourget). In town, locals and visitors mingle at the weekly farmer's market that takes over the town square on Saturday mornings.
The festive atmosphere spills into the surrounding streets. You could walk for quite a while and never go down the same cobblestoned street.
During the summer, everyone flocks to the lake, where water activities like paddle boarding, speed boating and good old fashion jumping into the lake from the dock takes place. But in the winter, the town of Chambery becomes a winter wonderland. It's a great homebase for exploring the surrounding mountains and ski resorts.
Chambery is at the crux of many ski resorts, making it a great place to base yourself while in the area for skiing and climbing. All year round it's a great city to walk.
The streets come alive with people shopping and strolling around the farmer's market, which takes place every Saturday. Make sure you check out the main thoroughfare, Place Saint-Léger.
The Chambéry Cathedral is quite interesting. It was once a church connected to a monastery, and once housed the shroud of Turin. It has an impressive 6,000 sq meters of trompe l'oeil painting on the ceiling, making it look carved in stone.
Visit the Chambéry Architecture and Heritage Interpretation Center, which is located in a former private mansion called Hôtel de Cordon. It was built in the 16th century and now houses a collection of exhibits about architecture and city planning in Chambery.
And make sure you stop for lunch at the bistrot-style restaurant La Banche, conveniently located right next to the Saturday market. Sit outside and order the menu of the day and a cold beer. You won't regret it.
For a light snack and glass of wine, we recommend checking out L'Envol des Papilles, and trying their meat and cheese plate. A short walk from there is La Ruche, a tourist center dedicated to four-season sports and local products. They carry a large selection of 1883 flavored syrups at the shop, plus other culinary items, even wines from the region. Very much worth a stop.
Finally, don't miss a chance to hang out at Lac du Bourget. It's located about 15-minutes drive from Chambery and is an epicenter of summer activity. On the northwest side of the lake, you'll find Chateau de Bourdeau, a castle that now serves as a hotel and restaurant.
You don't have to be staying at the hotel to enjoy a meal and the incredible view (see the video for drool-worthy glimpses of the food).
Where to Stay in Chambery
A great homebase in Chambery is the Hotel des Princes. It's just a short walk away from everything you'll want to do there. When you walk out the front door, you'll see the huge fountain of elephants immediately to your left. The hotel is a 3*star with tasteful decor, nice, clean rooms and great service. They have a few upgraded rooms that offer a bit more space and luxury. (Read reviews on Trip Advisor).
CONCLUSION
No matter what time of year you plan to visit these three towns at the base of the French alps, you will be mesmerized by the boundless beauty and limitless things to do.
Have you been to any of these towns? What do you love to do there?
Like this post? Why not save the images below to your Pinterest board?
(A huge thank you to the Savoie Mont Blanc Tourism Board, along with Chamonix, Annecy and Chambery Tourism for hosting our visit to the area. As always all of the recommendations stated within this post are our own honest opinions.)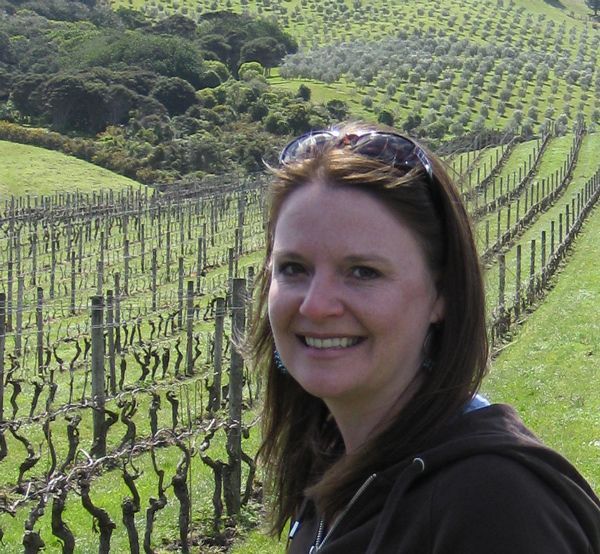 Laura Lynch, creator and writer of Savored Journeys, is an avid world traveler, certified wine expert, and international food specialist. She has written about travel and food for over 20 years and has visited 70+ countries.