When on holiday, travelers are looking to experience local dishes that will immerse them in the culture they're exploring.  During our travels, we are also looking for dishes we can bring back to our own kitchen and dinner table, so we can continue the experience at home. That's the purpose of our Global Gourmet series – to help you recreate the dishes you loved while traveling.
In this edition of our series, we're going to introduce you to a recipe we found right here in our home city of London. We discovered it in a fantastic cookbook that is the perfect resource for a global gourmet. It will help you discover and create many international dishes at home. It's called The Small Luxury Cookbook and we're excited to share it with you.
If you've never stayed at a Small Luxury Hotels of the World, you should definitely check it out. It's a collection of small hotels around the world with truly unique and memorable luxury accommodations. They have now published three Small Luxury Cookbooks, which contain various recipes made by the chefs at their hotels around the world.
Volume 3: Main Courses was released in summer 2018. It contains 142 recipes from hotels around the world that will inspire you and show you how simple it is to cook and enjoy gourmet international dishes at home. When opened it, I couldn't stop flipping pages. Each recipe comes with a photo and the name of the hotel and chef.
You can buy the cookbook here (£40 +S&H). You can also try a few other sample recipes and take a peek at the gallery of dishes that are included. The first two volumes of the Small Luxury Cookbook are sold out.
Spending so much time traveling causes us to sometimes overlook the great gourmet dishes we can find in our own city. That's why we're featuring a dish we found right here in London.
London is one of the great food cities of the world.  Th UK in general has grown out of the bad rap it once had as a food culture consisting mostly of fish & chips and steak & ale pie. While those iconic dishes are still much loved, a new, more modern food culture has taken hold in the UK, especially London.
How to Make Pan Fried Diver Scallops
The recipe we're making today can be found in the cookbook. It originated at The Arch Hotel in London, where head chef Gary Durrant treats guests of the Hunter 486 restaurant to a menu with a lot of delicious dishes. While scallops aren't an iconic ingredient of the United Kingdom, this dish comes together to showcase the modern techniques and flavors you can expect to find in London these days.
Whenever we have scallops, the first thing we look for is a nice, caramelized crust. For me, that's the sign of a perfectly cooked scallop. If you can perfect that at home, you've nailed half the dish.
The other half is how silky you can get your celeriac puree. Chef Durrant makes the best celeriac puree I've ever had. It's so smooth and luxurious. The key to making such a refined puree is in the blending. If you don't have a powerful blender, like this KitchenAid blender, you can't get the particles small enough to create a smooth puree. It's well worth the investment, if you like silky smooth soups and purees.
Another of my favorite aspects of this dish is the apple reduction. It's sweet and tart at the same time, and adds just the right balance of acidity to the dish. The frisée and apple salad gives the dish a nice crunch.
Before you start cooking, be aware that this dish needs to be served right away. It's not a dish you can easily make ahead. The scallops will need to be cooked and served immediately.
A Note About Black Pudding
While black pudding is readily available to buy at grocery stores in the United Kingdom, it's not so readily available in the United States. You could try to make it yourself at home, but I'm not sure it's necessary, or advisable. If you'd like to give it a go, you can find a recipe for it here.
If you're not able to get ready-made black pudding, you can substitute it with sliced and fried pork sausage, or just omit it from the dish.
We hope you love this dish as much as we did. It's actually quite simple to make at home. Now that we've tried the dish in person at Hunter 486, we have the masterpiece to live up to at home.  If you make it to London, be sure to visit The Arch's restaurant and try some of Chef Durrant's food. You won't be disappointed. The Arch is also a wonderful and well located hotel to stay at while in London.
Don't forget to pick up your copy of The Small Luxury Cookbook before it's sold out.
Pan Fried Diver Scallops with Black Pudding
Pan fried diver sea scallops, black pudding, celeriac puree, Braeburn apple salad and glaze
Ingredients
Scallops
6

medium

diver scallops

2/3

cup

celeriac

peeled and diced

1 1/2

tbsp

unsalted butter

17 1/2

oz

semi-skimmed milk

4

oz

black pudding

loaf
Apple reduction
7

oz

apple juice

1

tsp

apple cider vinegar
Braeburn apple salad
1/2

cup

frisée salad

washed and picked

1/2

cup

pea shoots

1/2

Braeburn apple

1

tsp

olive oil

1/4

lemon

juiced
Instructions
Cover the celeriac with the milk in a pan, bring to the boil, and simmer until the celeriac is cooked well and soft to the touch. Strain through a sieve and blend with butter until a very smooth puree. Season with salt and black pepper and keep warm.

To make the reduction, place the apple juice in a pan and bring to a boil. Reduce almost completely to a syrupy consistency, then stir in the cider vinegar.

For the salad, core, slice and cut the apple into fine strips. Combine with the frisée and pea shoots and dress with the olive oil and lemon juice.

Remove the scallops from the shell, discard the roe and gently run the scallops under cold water to remove any grit. Pat dry with kitchen paper and season with a little sea salt and black pepper. Add a cooking oil to a frying pan and place on a high heat. When the pan is very hot, add the scallops and cook for roughly 1 minute on each side until nicely caramelized, then set aside.

Cut the black pudding into 6 rounds roughly 5mm thick and fry for about 30 seconds on each side in the same pan.

To assemble the dish, drizzle the reduction around warmed plates and spoon celeriac puree in the center. Place 3 scallops and 3 black pudding rounds alternately on the puree and top with the dressed Braeburn salad.
(Disclaimer: This recipe is courtesy of The Small Luxury Hotels of the World, The Arch Hotel and Chef Durrant, who invited us to review the cookbook and sample this dish. All opinion, as always, are our own.) 
Like this recipe and want to save it for later? Pin in on your Pinterest board!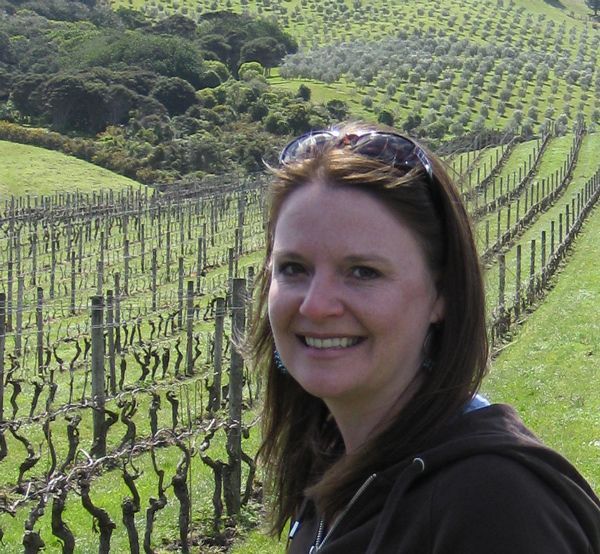 Laura Lynch, creator and writer of Savored Journeys, is an avid world traveler, certified wine expert, and international food specialist. She has written about travel and food for over 20 years and has visited 70+ countries.