India is a colorful and vibrant country filled with unforgettable sights, vibrant colors, a rush of activity and sounds at all times, and amazing foods. It's a great place for adventure, history, and cultural insights.
The Golden Triangle in India offers a way for visitors to immerse themselves in all of those things, while seeing three of the countries most-visited cities in the north west.
The Golden Triangle gets its name from the geographical location of these three cities: Delhi, Agra and Jaipur, which form a triangle with about 200km between them.
The good news for travelers is that the golden triangle cities are all connected by good roads and trains, so it's easy to get between them. Though India's Golden Triangle is well connected, that doesn't make it especially easy to plan a self-guided tour.
To make the planning process a little easier for you, we've created a 6-day Golden Triangle itinerary that includes all the top things to do, cities and sights to see on the Golden Triangle in India.
If you only have a week to spend in the north of India, this itinerary covers as much ground as possible and gives a great overview of the region. If you have additional time to spend, we recommend adding on a few other stops along the way, which we'll discuss below.
Don't forget these necessities:
Get a tour guide. It's not super easy to get around India by yourself. A good tour company will plan everything for you and make sure you get around safely and easily. We recommend this 9-day tour with Kipling India Tours that adds culinary aspects to the historic sights you'll see.
There's no one-size-fits-all travel insurance. Get a personalized quote fromYonder.
The right luggage can make or break your trip. Check out these hard-sided suitcases.
How to Plan the Ultimate Golden Triangle India Trip
When to Visit the Golden Triangle
Really, there is no "bad" time to visit the Golden Triangle in India. The considerations you need to make are all weather related.
As with any other destination, there is a weather window that is the most pleasing in the Golden Triangle area. That time in the Golden Triangle is from October to mid-April, with temps range from 70-90°F.
We visited the area in January and found it be absolutely perfect weather for us. It wasn't too hot or too cold. Since you'll be walking around outside and depending on good weather for nice photos, it's important that you're comfortable.
You may have heard that the summers in India can be brutally hot. For this reason, we recommend avoiding the months of May and June, when the temperatures can reach as high as 115 degrees F.
The monsoon season is from July to September. Even though heavy rains generally only occur in bursts, it can put a damper on your tour plans.
How to Get to the Golden Triangle
The best way to get between the cities of the Golden Triangle – Delhi, Jaipur, and Agra – is by car. However, we do not recommend driving yourself around in India, if you've never driven there before.
Trust us when we say, the driving habits and rules are very different in India. The fastest, safest, and most economical way to travel around the Golden Triangle is by private driver.
We went with Kipling India Tours and it was perfect. The driver was very skilled and kept us safe, even in horrendous traffic. And they provide so much more than just a driver. More on that in a minute.
Rail travel in India has never been more comfortable with a choice of first- and second-class, air-conditioned cars. Prices are low so getting around India by rail is a good options. For example, the rail journey from Delhi to Agra is about 2 hours and costs equivalent of around $20 USD.
Self-Guided or Planned Tour?
This is the first question you'll have to answer when you start planning. I usually prefer to make my own self-guided itinerary and do all the planning myself.
However, for this itinerary I highly recommend going on a guided tour, because planning a Golden Triangle tour on your own can be difficult and it's not possible to drive yourself around to the sights.
--> A guided tour can be private or with a group. It's actually quite cost effective to plan your own private guided tour of India. We did this 9-day culinary-focused tour of the Golden Triangle with Kipling and it was easy to customize to our liking, and we were fully in charge of our time and schedule.
Golden Triangle India Highlights
If you'd rather plan your own tour, you will need to hire a driver for the day to take you from place to place in each city.
The beauty of the Golden Triangle is that each destination has something special and unique to offer. So, lace up your favorite pair of travel shoes and prepare to create unforgettable memories in North India.
The northern region of India is an assorted mix of cultures, traditions, languages and arts. The vulnerability of this area to outside invaders throughout history has been both a blessing and a curse, bringing with the turmoil unique external influences and inspirations.
Delhi – New Delhi, part of what is commonly referred to as just Delhi (yes, there is an Old Delhi), is the most ideal base from which to discover the marvels and wonders of India's ancient subcontinent. Travel to New Delhi to discover India's capital city, one of the oldest existing cities in the world.
Jaipur – Not very far from Delhi is the state of Rajasthan, India's land of maharajas and medieval forts and palaces. You'll be visiting Jaipur, founded by the royal family that once ruled the region. In 1727, they founded what is now called the Pink City of Jaipur, due to the color of the buildings. Before you go, read about the best forts in Rajasthan and the Golden Triangle, many of which are included on this tour.
Agra – The third city in the Golden Triangle is Agra, declared a UNESCO World Heritage site in 1983. Seldomly does anyone makes a trip to India and not visit Agra, where the Taj Mahal is located. Agra has much more to offer than just the Taj Mahal, though. The city served as the capital of India from 1830s to 1860s and has a rich cultural heritage.
Each of these areas have their own unique traditions, histories, and delicious Indian foods you must try. That's what makes this journey so fascinating. You'll get to see and experience so many things.
Day 1-3: New Delhi
The capital of India, New Delhi, is a green, clean city with many famous tourist sights including the Lotus Temple, Jama Masjid, Red Fort, Qutub Minar and the India Gate (reminiscent of the Parisian Arc de Triomphe).
The capital city of New Delhi, with its mix of four major religions, 7 reigns of power and 2500 years of history, is a prime example of coexisting realities.
In Old Delhi, you'll be surrounded by remnants of the Mughal Empire, including the largest mosque in India, the Jama Masjid, and Humayun's Tomb, a 16th century landmark of breathtaking Mughal architecture that would later be echoed in the Taj Mahal.
New Delhi is almost a different world with its imperial architecture and broad stately boulevards. Colonial influence is abundant since the British declared Delhi the capital during their rule.
What to See & Do:
The Red Fort
Jama Masjid (the largest mosque in India – pictured above)
Qutab Minar complex with its soaring tower
Humayun's Tomb
Eat at Indian Accent (unique modern take on north India cuisine)
Take a cooking class
On our culinary tour with Kipling India, we had the opportunity to take a cooking class with Ms. Neha at Saffron Palate. She taught us to cook four dishes in the kitchen annex of your Delhi home. Being the food lovers that we are, this was a highlight of our time in Delhi.
Day 4-6: Jaipur
Built in the year 1727 AD by Maharaja Sawai Jai Singh II, Jaipur is architectural rich. The only planned city of its time, it has many attractive monuments. You'll need a few days to see all the things in Jaipur that we've listed below.
Keep in mind that it's a 6-hour drive to Jaipur from Delhi so most of one day will be spent on the transfer.
Things to See in Jaipur:
The Amber Fort
The town of Amer and the Amber Fort were originally built by the Meenas, but it was later ruled by Raja Man Singh I. The Fort, also a palace, is the most visited sight in Jaipur and it's easy to see why when you arrive at the fort on the hill. The fort is very impressive with its large ramparts and series of gates and cobbled paths.
The interior is even more stunning. This is where the Maharaja and his many wives lived. It is opulent and massive. The fort was declared a UNESCO World Heritage site in 2013.
The City Palace
The former royal palace showcases Rajasthan and Mughal styles. It houses a museum with a collection of costumes and armour of Rajasthan's Mughals and Rajputs. It also has an art gallery with excellent collections of miniature paintings, carpets, royal paraphernalia.
The City Palace is no longer a royal residence, but it hosts events and is open to the public for visiting.
Jantar Mantar
Largest of Jai Singh's five observatories, this stone structure houses scientifically designed complex instruments that helped advance Indian astronomy in the medieval times. They still work perfectly in the modern era.
Hawa Mahal (Wind Palace)
This five storey structure along the main street of the old city was originally built to enable royal women to watch the everyday life and royal processions of the city.
Govind Devji Temple
Located in the central pavillion of the Jai Niwas Garden, this spireless temple is dedicated to Lord Krishna. The image of the patron deity Govind Devji originally installed in a temple in Vrindavan was reinstalled by Sawai Jai Singh II as his family deity.
Jal Mahal
Known as the Water Palace, the Jal Mahal is located in the middle of Man Sagar Lake. Although you can't visit the palace, you can see it from the street and it makes you want to be out there lounging on a chair in the sun.
Jaipur Food Tour
One of the great culinary activities we did in Jaipur with Kipling India Tours was a food walk of the downtown area in Jaipur. Our guide introduced us to all kinds of great foods, like kachori, chaats, lassi, and jalebi from Laxmi Misthan Bhandar, one of the oldest and most prestigious sweet shop of Jaipur.
Day 7-8: Agra
The Taj Mahal in Agra is of course one of the must-see sights in India. It took 20,000 laborers to build the Taj Mahal in the 1600s and has become a known landmark throughout the world.
You can feasibly visit the Taj Mahal from Delhi in just one day, but you'd miss out on the other sights to see in Agra. We recommend spending 2 days in the city to get a good overview.
Things to See in Agra
Agra Fort
Agra Fort is an impressive 16th century fortress. It was the primary residence of the emperors of the Mughal Dynasty up until 1638 when the capital of India was moved from Agra to Delhi. Also used by the military to this day, part of Agra Fort was converted into a lavish palace by Shah Jahan.
Inside the complex, there are several mosques, including the beautiful Nagina Masjid, originally used by the ladies of the court. You will also see the Mirror Palace where Shah Jahan was imprisoned for eight years by his son.
Taj Mahal
Taj Mahal, the symbol of eternal love for the beloved, is undeniably the most fascinating piece of craftsmanship in India. This architectural gem is not just the most treasured monument in the country, but this UNESCO World Heritage Site has also been enlisted as one of the new "Seven Wonders of the World".
Covered in white marble, this marvelous mausoleum is known for its unparalleled architectural design and mesmerizing backdrop. It's by far the most photographed building in India. For photos, the best times to visit are at sunrise and sunset. Taj Mahal opens its gates 30 minutes before sunrise and shuts down 30 minutes before sunset.
It remains closed on Fridays. Tickets are available at the ticket booth up to 45 minutes before the sunset. You can also buy tickets online. If you're visiting on a guided tour, your tour guide will purchase the tickets for you.
>> Read more about visiting the Taj Mahal
The Baby Taj
The building often called the Baby Taj, Itimad-ud-Daulah, is a lavish 17th mausoleum for Mirza Ghiyas Beg and his family. It was the first building in the city to be covered entirely in marble, having been build before the Taj Mahal. It's quite a bit smaller than the Taj Mahal, but its design is also incredibly lavish and detailed.
Agra Food Tour
Our tour with Kipling India Tours included a food walk of the downtown area in Agra. Even though we'd already tries so many things in Jaipur, we found that the street food in Agra was quite a bit different. There were many foods to try in Agra. Our favorite of the stops was at a local chicken place called Mama Franky.
Our guide assured us that his family eats at Mama Franky often and it's a local favorite. Everything we ate there was delicious.
Final Thoughts
India is a fascinating place to visit. If we can guarantee anything, it's that your time in this country will stay with you forever. If you have at least 7-days in India, you can experience so much and see the major sights of the Golden Triangle.
Yes, it's only a small piece of what India has to offer, but then you can start planning your return trip. All that's left to do is pack your luggage, book your flight and reserve your tour tickets. Get ready to indulge in the diverse flavors, sights, and experiences that the vibrant country has to offer.
Pin it for later!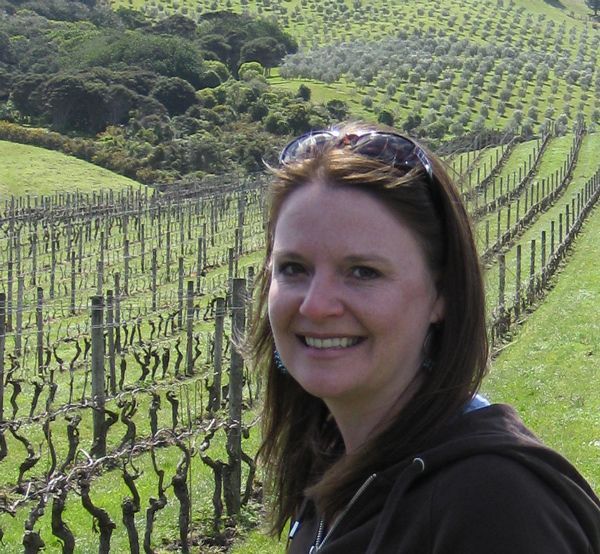 Laura Lynch, creator and writer of Savored Journeys, is an avid world traveler, certified wine expert, and international food specialist. She has written about travel and food for over 20 years and has visited over 75 countries.