Ready to escape city life for some peace and tranquility? Replenish your soul with a visit to one of these gorgeous waterfalls in New York state.
The Empire State is hiding some fantastic spots for waterfall hiking and photography. Not sure where to begin? This guide will uncover these hidden gems, so you can enjoy them.
Want to explore even more locations outside the Big Apple? Here are five beautiful places in New York State you must visit to create unforgettable memories. Also use this 9-day New York State itinerary to see these unmissable places to visit in upstate New York.
» Spending time in New York City? Check out our essential city guide and see the top 25 touristy things to do, where to stay in the city, a perfect 4-day itinerary, plus fun activities in Central Park.
25 New York Waterfalls You Cannot Miss
Get your hiking boots and raincoat ready to discover NY State waterfalls that will take your breath away.
1. Niagara Falls
Location: Niagara County
Height: 325 feet
Indeed not hidden, but a list of the finest waterfalls in NYS won't be complete without this beauty. It's worth a visit not only for its exciting trails and unmatched views, but it's also an excellent gateway. Couples, friends, and even solo travelers can venture into Niagara Falls for an outdoor adventure like no other.
You can either book a place nearby, rent an RV or set up camp at Niagara Falls State Park. If you're not from or familiar with Niagara county, we suggest going on this fun guided tour and seeing the waterfall from many viewpoints. You'll likely find yourself undecided between all the fun activities you can do here, including:
If you can't wait to see this natural phenomenon in all its splendor, you can start planning the perfect Niagara Falls vacation.
2. Taughannock Falls
Location: Ithaca
Height: 215 feet
Taughannock Falls, previously home to the Cayuga People, is a stunning work of nature. You can enjoy the natural scenery of Taughannock Falls sweeping through the rocky cliffs of a 400-foot gorge.
The Taughannock Falls stands proudly as the tallest waterfall in Ithaca State Park. Discover the cabins and campsite overlooking the Cayuga River and the nearby beach to unearth even more adventure.
Excellent for hiking and photography, this location boasts many other fun pursuits, including:
Swim, fish, kayak, or do other water activities at Cayuga Lake.
Have a stroll or a picnic along the shores of Cayuga Lake.
Enjoy some ice-skating and sledding throughout the colder months.
Join an event during the Summer Concert Series that takes place in July and August annually.
Consider visiting Taughannock Falls if you're booking a place in Ithaca for your getaway.
3. Middle Falls
Location: Letchworth State Park
Height: 107 feet
The Middle Falls is one of three major waterfalls of the Genesee River. The Middle falls is a spectacular display of sedimentary rock, covered in lush greenery and separated by cascading waters, often radiating rainbows.
The deep gorge housing this impressive waterfall is known as the Grand Canyon of the East. Here's what you can do while visiting Middle Falls:
Take in and photograph the fantastic views of the park from Inspiration Point.
Dine at the Glen Iris Inn hotel.
Visit the Letchworth Museum.
4. Buttermilk Falls
Location: Ithaca
Height: 165 feet
Located southwest of Ithaca is a natural foaming cascade waiting to be explored. Buttermilk Creek is the source of this waterfall which eventually flows into Cayuga Lake. The creek is abundant with freshwater life, making it an ideal spot for fishing.
Why not enjoy a picnic near the gorge trail? Then, if you're up for it, take a dip in the Buttermilk Falls swimming hole. How does camping sound, or perhaps some wine-tasting and restaurant hopping along Cayuga Lake Wine Trail?
5. Kaaterskill Falls
Location: Catskill Mountains
Height: 260 feet
Tucked away in the eastern Catskills Mountains of New York is a prestigious two-stage waterfall on Spruce Creek. Admire the beautiful Kaaterskill Falls by hiking the DEC-blazed trail. Sticking to the path is essential, so only follow the marked trail signs to avoid injuries and getting lost.
Enjoy the waterfall views, and perhaps try out one of the many outdoor activities available at the Catskill Mountains. Test your gripping strength with mountain climbing and your fitness with mountain biking. Finally, test your guts by soaring over the tree line on North America's highest, fastest and longest zipline!
6. Eternal Flame Falls
Location: Orchard Park
Height: 30 feet
Here's a small cascade, perfectly hidden in Shale Creek preserve. This waterfall may be smaller, but it can offer you an experience like no other. If you look closely, you'll see a tiny, eternally burning flame tucked behind flowing water.
The flame stays burning due to a natural gas seeping out from the waterfall's base. Why not hike the Eternal Flame Falls trail and snap a few pictures of the cute flame peeking at you through the waterfall?
7. Rainbow Falls
Location: Ulster County
Height: 150 feet
If you ever find yourself in Ulster County, you won't regret stopping by Rainbow Falls in Minnewaska State Park Preserve. Go on a scenic gorge hike overlooking Rainbow Falls for fantastic photography.
Then make your way to the bottom and take in the cascade's refreshing views; don't be surprised if you spot a rainbow or two. If you find yourself at this location under sweltering conditions, a dip in its swimming hole won't be a bad idea.
8. Indian Brook Falls
Location: 127 Warren Landing Rd, Garrison
Height: 30 feet
Located in the Hudson Highland State Park is an undiscovered waterfall in NY you won't regret finding. Indian Brook Falls Trail presents you with an adventurous hike complete with bushwhacking leading you to a charming waterfall. The waterfall offers tranquility with serene scenery and a gentle rush of water.
We recommend this one for passionate birdwatchers as this location attracts many species. To access this waterfall, you'd usually park at the designated Constitution Marsh Audubon Center parking, but it's currently closed.
However, taking an Uber or Lyft might be your best bet. Alternatively, Cold Spring trolleys at only $2 are available, but these involve scheduling and planning.
9. OK Slip Falls
Location: NY-28Indian Lake
Height: 250 feet
Trek through the Adirondacks' rolling hills and teeming forest to uncover one of the most beautiful falls in the park. The easy hike to OK Slip waterfall starts at the Route 28 trailhead between North Creek and Indian Lake.
You'll stumble upon many other ponds, but the OK Slip pond with its cascading waters will astonish you (it's more than just OK). You can find picnic spots and viewpoints along the way to enjoy a snack while taking in the scenery.
10. Salmon River Falls
Location: Oswego County
Height: 110 feet
Explore the Salmon River Falls Unique Area to behold a scenic gorge that ends with a beautiful waterfall. Start hiking from the Falls Trail and continue on the scenic Gorge Trail to get to the bottom of the waterfall.
Snap a few pics, and do some wildlife spotting while you're here. If you plan to stay longer, fishing, cross-country skiing, and snowshoeing are also excellent options. Keep in mind swimming is not recommended here.
11. Lower Falls
Location: Rochester
Height: 110 feet
A short hike or run on the Overlook Trail in Maplewood Park takes you to a stunning hidden waterfall. The Lower Falls is a massive cascade flowing through a u-shaped gorge from the Genesee River towards Lake Ontario.
Drive along scenic Driving Park Ave for stunning views of the lower falls. Maplewood Park remains open during daylight hours only, pets are allowed on a leash, and it's highly advised not to swim in the Genesee River.
12. Bash Bish Falls
Location: Taconic State Park/ Bash Bish Falls State Park
Height: 200 feet
The Bash Bish Falls is an astonishing mountainside waterfall, a deep flourishing gorge that ends in a pool of emerald waters. The series of cascades is nearly 200 feet high – making it the highest waterfall in Massachusetts.
Find the trailhead at the New York Parking lot, which will send you off on a scenic path that meanders along Bish Bash Creek. Unfortunately, you can only admire this beauty from a distance. The stairs to the falls are barricaded to prevent swimming due to past incidents.
This site is best if you're interested in waterfall sightseeing and photography. Most outdoor activities are restricted, including rock climbing, swimming, diving, and picnicking.
13. New Croton Dam
Location: Croton-On-Hudson,Westchester County
Height: 297 feet
Located on the New Croton Reservoir is a magnificent waterfall not forged by nature but by hand. The New Croton Dam is one of the largest hewn cut structures in the world and serves as New York City's water supply.
From the parking lot just off Route 129, you get a full view of the majestic dam. It's so close you can hear the thundering water and feel its cool mist. And if you want to explore more, you can take the Old Croton Aqueduct's Trail and scout the natural scenery.
Take the old bridge for the most breathtaking views, which crosses the dam just above the waterfall. Once you've seen enough, you can plop down at a picnic table or cast a fishing line for the ultimate relaxation.
14. Chittenango Falls
Location: Fenner
Height: 167 feet
Take a quick stroll into Chittenango Falls State Park to view the picturesque waterfall. This scenic location features a 400 million-year-old bedrock gorge surrounded by various plants and wildlife.
Once here, you can view the waterfall from the top of the gorge and make your way to its base for a refreshing sight. Visitors can walk the trails and enjoy a picnic (with pups on a leash) to take in all the beauty.
15. Ithaca Falls
Location: Ithaca
Height: 150 feet
The towering Ithaca Falls is one of the tallest cascading wonders in this park. The best way to view this beauty is by the roadside, where you can snap stunning pictures. This is another waterfall exclusively admired from a distance, but the views are worth a drive.
Unfortunately, this site is contaminated by the former Ithaca Gun Factory. So stay on the gravel-covered trail when visiting Ithaca Falls. Otherwise, you risk coming in contact with lead-contaminated soil, which can lead to illness. Thus, swimming is also prohibited here as it can harm your health.
16. Upper Falls
Location: Letchworth State
Height: 70 feet
See one of the main waterfalls of Letchworth State Park for a replenishing excursion. And there's no better way to view its grandeur than from the Railroad bridge. Alternatively, you can take the Upper Falls trailhead near the south entrance and parking lot.
Apart from viewing the Upper Falls, you can further explore Letchworth Park and find more outdoor activities. How does a horseback ride through the park sound? Or whitewater rafting?
Wait till you see the winter-wonderland this area turns into during colder months. Perfect if you love to snowshoe or ski.
17. High Falls Gorge
Location: Wilmington
Height: 35 feet
Admire four majestic waterfalls tucked between the grand Adirondacks Mountains. Whether you're sightseeing, hiking, or wildlife spotting, you'll find yourself replenished by nature at this gorge. Make your way through thick forests on paths or sturdy bridges for amazing close-up views of the serene cascade.
After a few hours of gushing at the gorgeous waterfall, why not explore Lake Placid or ski at Whiteface Mountain? All within a short distance.
Absorb all the phenomenal natural surroundings by pitching a tent on the Wilmington Notch camping grounds. Or book yourself in at a cozy hotel near the Adirondacks.
18. Shequaga Falls
Location: Montour Falls
Height: 165 feet
Montour Falls is a quaint village in the Seneca Lake basin, not far from Watkins Glen. And in the heart of Montour Falls is the perfect roadside waterfall that offers fantastic views and tranquility.
The Shequaga Falls, which means "tumbling waters" in the Senece Language, present a refreshing sight. But the adventure doesn't end here; you can explore the nearby Havana Glen Park and other surrounding falls.
19. Lucifer Falls
Location: Ithaca
Height: 115 feet
Find yourself entranced by this breathtaking waterfall in Robert H. Treman State Park. To test your fitness, take on the somewhat challenging Gorge Trail (with your furry companion on a leash), and make your way to Lucifer Falls.
You can also test your photography skills as you enjoy the views of the cascading wonder and the scenic surroundings. You'll stumble upon picnic areas, swimming holes, and cabins along the way, which are all excellent options for visitors.
20. Bridal Veil Falls
Location: Niagara Falls
Height: 181 feet
Bridal Veil is the smallest among the three waterfalls that make up Niagara Falls. This waterfall got its name from its veil-like appearance caused by frequent winds. You can catch a glimpse of this beauty from its base, which visitors can access via a Cave of the Winds tour.
We recommend this fantastic tour to see this thunderous fall from even more vantage points.
21. Eagle Cliff Falls
Location: Montour Falls
Height: 41 feet
Stroll or hike Eagle Cliff Falls Trail at Havana Glen Park to gaze upon a cute little cascade. The gentle flow of the Eagle Cliff waterfall offers guests a moment of peace. And tracing this hidden gem takes no work as it only sits 10-minutes from the park's parking area.
Soak your feet, splash about in crystal clear waters, or have a relaxing picnic.
22. Verkeerderkill Falls
Location: Cragsmoor, Ulster County
Height: 187 feet
Sitting snug in the Shawangunk Mountains is the highest waterfall in Sam's Point Preserve. Verkeerderkill Falls Trail takes you to this impressive fall, and you can find the trailhead slightly past the Visitor's Center.
Apart from appreciating Verkeerderkill Falls, you can explore an ice cave and the Maratanza sky lake and enjoy mountain-filled views at this preserve. The Cragsmoor Stone Church is a charming nearby attraction you might also want to see.
23. Mine Kill Falls
Location: Schoharie County
Height: 80 feet in total
Visit Mine Kill State Park in the scenic Schoharie Valley for spectacular views and outdoor fun. The one thing you'd want to see here is the small cascading Mine Kill Falls. You can reach the waterfall via hiking trails, but a short walk from the NY-30 parking area is an easier option.
Bring your camera along and take in the splendid views from the viewing area on top of the waterfall. Visitors can look forward to taking a dip in the Olympic size pool, diving pool, and of course, the jade-colored pond at the end of the Mine Kill falls.
24. Fawn's Leap
Location: Haines Falls,Catskill Mountains
Height: 24 feet
Fawn's Leap is a popular swimming destination in summer that features a 30-foot cliff and crystal clear waters. You'll find the Fawn's Leap fall in Kaaterskill Creek peeking above Moore's Bridge. This hidden gem is the perfect spot to track down if you're an avid Catskill Mountaineer.
While Fawn's Leap is best known for cliff jumping, the views, natural scenery, and flora will give you a breath of fresh air.
25. Awosting Falls
Location: Minnewaska State Park, Ulster County
Height: 60 feet
Awosting Falls is a beautiful plunging waterfall that gathers its waters from Peters Kill Creek in Minnewaska State Park. You can easily enter the park from its main entrance to find this hidden gem.
After hiking through the park and discovering the Awosting fall, why not keep yourself busy with some outdoor adventures? Bring your mountain bikes or snowshoes to break some sweat depending on the season. Or, if you prefer to take it easy, pack your picnic basket and admire your surroundings.
Final Thoughts: Waterfalls of New York State
Who would have thought this state had so many gorgeous waterfalls to choose from? If you decide to visit in Spring, the waterfalls will be at their fullest (thank us later).
So, which of these hidden waterfalls in NY state will you visit first?
Like this post? Why not save it to Pinterest?
FOLLOW US on Pinterest, Instagram, Facebook for more great travel inspiration and tips.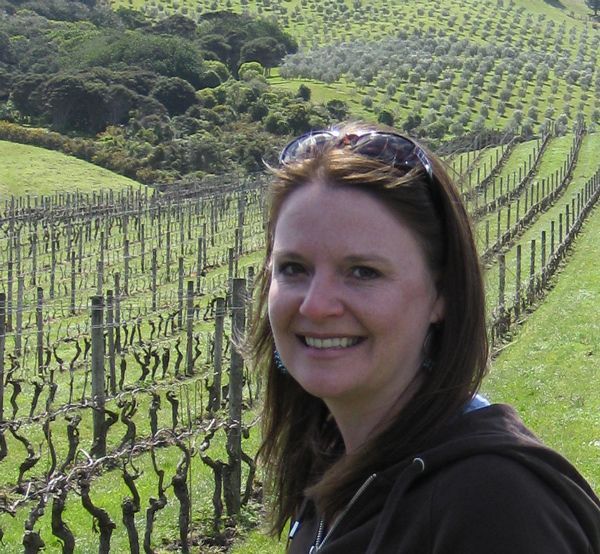 Laura Lynch, creator and writer of Savored Journeys, is an avid world traveler, certified wine expert, and international food specialist. She has written about travel and food for over 20 years and has visited over 75 countries.