Our Global Gourmet recipe series is designed to bring the foods we loved while traveling into our own kitchens and onto our own dinner tables.
Typically, Greek Lamb Souvlaki is served in Greece as street food, or you'll find it in a little neighborhood shop, where you can just pop in for some souvlaki, tzatziki, pita and a beer. 
I can't really remember the first time I had souvlaki in the U.S., but do remember eating it for the first time in Greece. I loved how readily available it was everywhere, and how cheap it is! You can get a pita with souvlaki for just a few dollars, so it's really economical and it makes the perfect lunch.
The awesome part about souvlaki – aside from the fact that it tastes incredible – is that you can make it with just about any protein you want. It's often made with chicken, pork or lamb – your choice! If I can find it easily, I always go with lamb, but when I'm in a hurry, pork is a great substitute. The rest of the flavor is all about the marinade, and I'm excited to share my version with you.
>> If you love souvlaki, you might also like this vegan schwarma recipe. It uses oyster mushrooms in place of the meat and it's served with pita, tzatziki and veggies, just like this recipe.
How to Make Greek Lamb Souvlaki
For the lamb, try to go with a lamb leg or shoulder. For pork, I always use pork shoulder. I often find lamb shoulder already cubed up into perfect bite-sized pieces at Whole Foods, but if you can't get it that way, it's easy to cube up at home. I highly encourage marinating the meat at least overnight, if not for 24 hours.
The flavor that the meat is able to soak up intensifies the longer you leave it. But if you really can't do it, try for at least 4 hours. Anything shorter than that is just not really going to impart enough flavor.
Souvlaki is best cooked on a barbecue grill over high heat with some flames to crisp up the meat. If you cook it high enough, you'll end up with a juicy, perfectly cooked morsel of meat with light charring on the edges. If you cook it too slow and low, you may end up with dry and overcooked meat. If you're not lucky enough to have an outdoor BBQ grill, maybe try an indoor grill!
I always recommend using a high-quality meat thermometer to test the meat as it cooks, so you don't accidentally overdo it. We use the Thermapen Mk4 from Thermoworks. I could not be happier with it. It's truly the most instant-read thermometer I've ever used and its sharp point doesn't damage the meat as it's cooking. If you don't have a good meat thermometer yet, you should absolutely get one!
Also, something that will make your life easier at home when making any type of meat or vegetable skewers is metal skewers. Not only are they reusable, they are more sturdy, won't burn like wooden ones, don't require soaking before hand, and they usually have a boxy shape so they're easy to flip and don't just spin inside the meat when you try to turn them.
This recipe couldn't get any easier. There are very few ingredients, and the process is so simple. The time intensive part is just marinating the meat, which is truly essential to getting the right amount of flavor.
I love how tender the lamb turns out and the combination of flavors on the skewer. Dipped in Greek yogurt sauce, it's so tasty.
Pairing Souvlaki with Beer
When you're walking through a neighborhood in Greece and pass by all the cute little shops selling souvlaki and gyros, you'll notice that it's almost always eaten with beer. Greece has a few popular beers that can sometimes (though maybe rarely) be found in the U.S.
Three of the top brands are Mythos, Athenian, and Fix. If you're able to find any of those to go along with your souvlaki, you're good to go.
If you can't find a Greek beer, don't worry! There are lots of good alternatives. Mythos is a light lager, which goes with just about any food. There are a lot of lagers on the market today. You should pick out one you've had before and know you like. I tend to lean toward local craft beer when choosing something good (Seattle has a ton of awesome craft beers! Read about them here).
Most breweries are open to the public and have tasting samples you can try, until you find one you like. If you can't settle on a lager on your own, go with Heineken. It's the universal brand. Available everywhere.
Pairing Souvlaki with Wine
You will probably have the same problem finding a Greek wine as you will with finding the beer, as they aren't very widely distributed in the United States. But if you can't find a Greek wine, a U.S. wine suffice.
The wine that I am recommending to go with your lamb souvlaki is one that I fell in love with from the Walla Walla wine region. It's from Northstar Winery. They really shine with their Merlots. This Northstar Merlot will pair very well with the lamb. The fruitiness and structure will hold up to the lemony marinade, as well.
Wine that pairs well with chicken souvlaki are Rose and Voignier. Try this earthy, crisp Rose from Rioja, Spain: Marques de Caceres Rose.
You can buy them online at wine.com, directly from the link. They should also be fairly easy to find at your local wine retailer.
Other Recipes to Try
Yield:

5 servings
Lamb Souvlaki
Prep Time:
1 day
50 minutes
Greek lamb souvlaki is made with tender chunks of lamb meat, grilled on a skewer with onions and lemons.
Ingredients
For the souvlaki
1 1/2 lbs lamb shoulder, cut into 2-inch cubes
1 large onion, cut into 1-inch pieces
1 lemon, sliced
Wooden skewers, soak in water for 30 minutes prior to use
Pita bread
For the marinade
1/4 cup fresh squeezed lemon juice
1/4 cup olive oil
1/2 small onion, finely chopped
1 clove garlic, minced
2 tablespoons red wine vinegar
2 teaspoons Greek oregano
Salt and Pepper
For the Tzatziki
1/2 cup plain Greek yogurt
1/4 cup English cucumber, peeled and finely chopped
1 clove garlic, minced
1 tablespoons lemon juice
1 tablespoons extra-virgin olive oil
Instructions
Mix ingredients for the marinade with a whisk in a medium bowl. Add the lamb shoulder pieces, cover with plastic wrap and refrigerate 4 - 24 hours. Take lamb from refrigerator at least 20 minutes before cooking so it warm to room temperature.
Mix the ingredients for the tzatziki together and let rest in the refrigerator for at least 30 min. prior to serving so flavors can meld.
Alternate skewering the lamb, onion pieces, and lemon slices onto the soaked wooden skewers. Place at least 1 inch apart on a pre-heated grill over high heat until done (150-degree internal temperature).
Serve skewers with tzatziki sauce and warm pita bread.
Nutrition Information:
Yield:
5
Serving Size:
2 skewers
Amount Per Serving:
Calories:

551
Total Fat:

33g
Saturated Fat:

6g
Trans Fat:

0g
Unsaturated Fat:

25g
Cholesterol:

110mg
Sodium:

1379mg
Carbohydrates:

21g
Fiber:

2g
Sugar:

7g
Protein:

41g
Pin it for later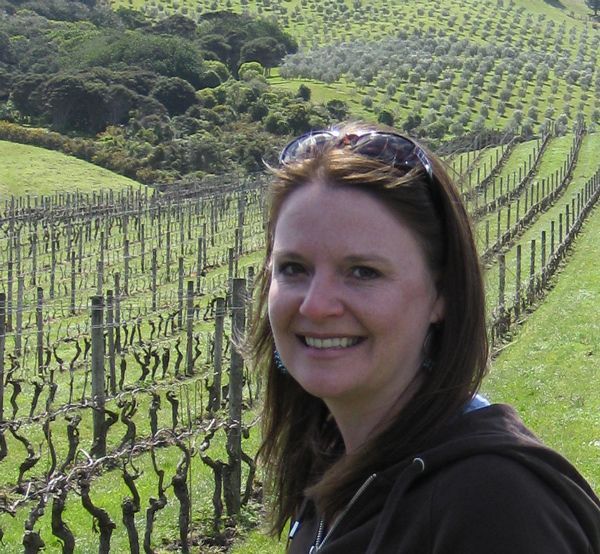 Laura Lynch, creator and writer of Savored Journeys, is an avid world traveler, certified wine expert, and international food specialist. She has written about travel and food for over 20 years and has visited 70+ countries.