San Francisco is a vibrant city on the sea with views for miles and a really unique and a cosmopolitan, yet laidback attitude. First timers will want to spend time exploring Fisherman's Wharf, ride the cable car, shop in Union Square, and get to the top tourist sights.
In this Essential Travel Guide to San Francisco, we will spill the details on all the best hotels for tourists, the neighborhoods you should explore, the top things to do and see, and places to eat and drink in San Francisco.
» You might like these 14 Top Weekend Getaways from San Francisco.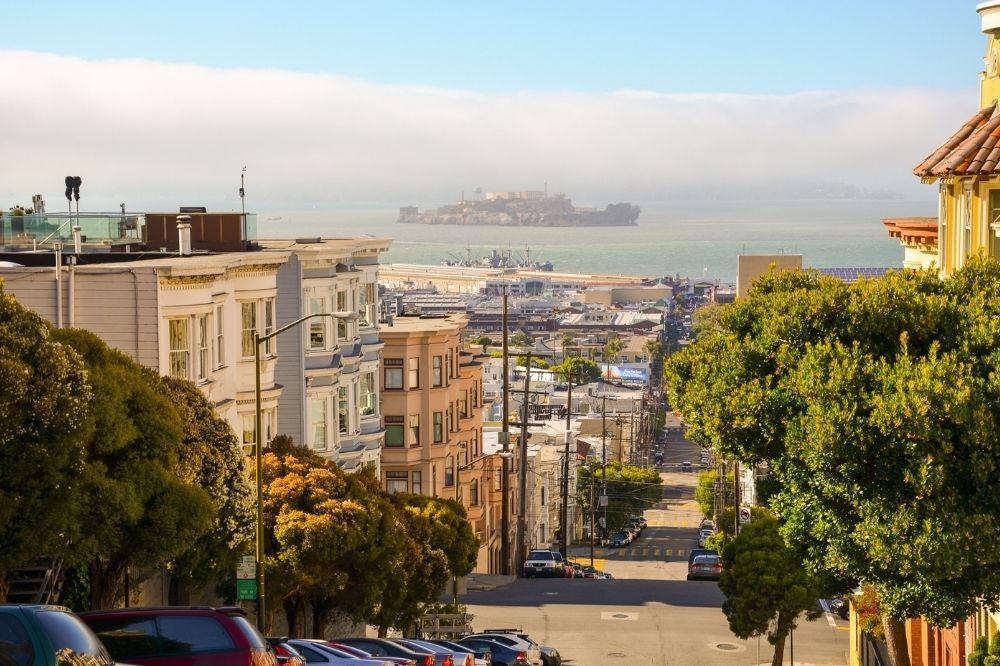 What Makes San Francisco So Great?
One of the most vibrant and picturesque cities in the United States, San Francisco attracts a lot of tourists every year. San Francisco offers a significant number of cultural attractions and world famous landmarks, all in the surroundings of impressive natural beauty.
Now San Francisco is called the pearl of the West Coast. It's a unique mix of the old architecture (of the Victorian period) and the modern buildings. The city lies on the hills surrounding the ocean, so the views are spectacular at every turn.
San Francisco is known for its wonderful food, welcoming nature, and its glorious views. The Golden Gate Bridge is one of the world-known symbols of San Francisco and the view of the sunset is amazing.
» You may even like to spend a little time stargazing just outside the city, where you'll get the best view.
What to Do in San Francisco
San Francisco is full of fun things to do. If it's your first time in the city, you'll want to hit up these top sights. If you have a limited amount of time consider this 2 day itinerary of San Francisco so see as much as possible. Then you can start to dig into the city's best activities like having a beach campfire, or going surfing under the Golden Gate Bridge.
Be sure to visit Ghirardelli Square where you can pop into the shop and find all the delicious Ghiardelli chocolates you love. There's also a brewery nearby.
If you're looking for museums, definitely stop in at the Aquarium of the Bay, de Young Museum for American art, the Exploratorium, and the San Francisco Museum of Modern Art (SFMOMA).
The Golden Gate Bridge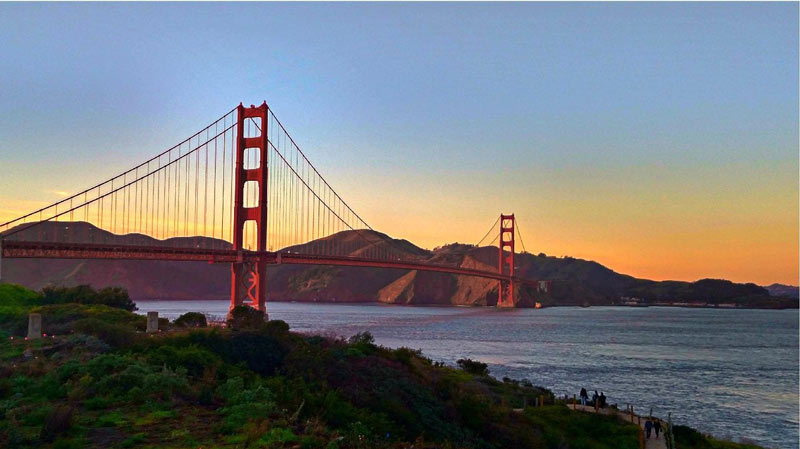 The Golden Gate Bridge is also a source of interest for visitors and there's more to it than just its bright color. The Golden Gate bridge is named for the Golden Gate Strait, the turbulent waterway below the bridge. You can visit Golden Gate Park, which has gardens, museums and trails to explore.
It's free to walk across the Golden Gate Bridge, which will offer a pretty fantastic view. You can also check out the visitor center and gift shop. And if you can't get that close, here are some other viewpoints of the Golden Gate Bridge where you can go to view it from afar.
Visiting Alcatraz
Alcatraz might be the best-known (former) prison on earth. It's built on a rock on an island in the middle of San Francisco Bay. Now it's a museum exhibiting objects made by notorious inmates, historic photographs and documents.
If you must make a trip out to Alcatraz, the only way to get there is to take one of the ferries operated by the Alcatraz Cruises company. It's a self-guided tour when you arrive, though you can get an audio guide, which is definitely worth it.
Fisherman's Wharf
Fisherman's Wharf is also an iconic activity that you must do when visiting San Francisco, particularly for the first time. You can walk from Pier 47 down to Pier 35 or vice versa. Here's a self-guided walking tour to check out. In between, you'll find dozens of souvenir shops, food vendors selling clam chowder in a bread bowl, and even a bunch of barking Sea Lions.
You can stop off at numerous places to eat, wander out onto the piers, pop into Ripley's Believe it or Not, or just dodge all the other tourists who are sharing the sidewalk.
Where to Eat in San Francisco
The food scene in San Francisco is vast and varied. Each neighborhood has its own swarm of great restaurants and you can find all kinds of great international cuisine.
There's plenty of seafood to be had along the waterfront. There's so much fresh seafood to eat at Fisherman's wharf – this is where I ate the best clam chowder I've ever had.
At the Ferry Building Marketplace, you can walk around and find tons of local wine, chocolate, and cheese, plus some really great restaurants.
There are lots of fantastic craft beer, and loads of quaffable wine from Sonoma and Napa Valley, just to the north. Also be sure to check out these top bakeries in the city.
Here are a few of the best restaurants in the city that you should try to make a reservation at while you're in town:
Tours to Book
Want to plan your trip in advance and book a few of the things we've mentioned above? Pre-booking tours is always a good idea, especially for popular tours. They sell out fast. For the most part you can walk around on your own and explore, but some things are easier on a tour, especially outside the city.
Here are a few of the tours we recommend:
More Tours We Like:
Where to Stay in San Francisco
If you're planning a trip to the city, you'll want to check out a few of our recommended places to stay. We prefer different areas of the city depending on what we're there for.
Since this guide involves the more touristy things to do in San Francisco, it's best to stay near the action, so anywhere along Fisherman's Wharf, in Union Square, or Embarcadero are great options for tourists.
Here are our top recommendations for places to stay in San Francisco during your visit. Feel free to use any of the links below for your preferred booking site.
San Francisco Marriott Union Square
Comfortable 4-star hotel with 2 restaurants located near great shopping options.
Intercontinental San Francisco
4-star hotel with a restaurant, an indoor pool and 24-hour business center.
Courtyard by Marriott Fisherman's Wharf
3.5-star hotel located in the heart of the tourist zone; fitness center and free wifi.
Essential Travel Guide to San Francisco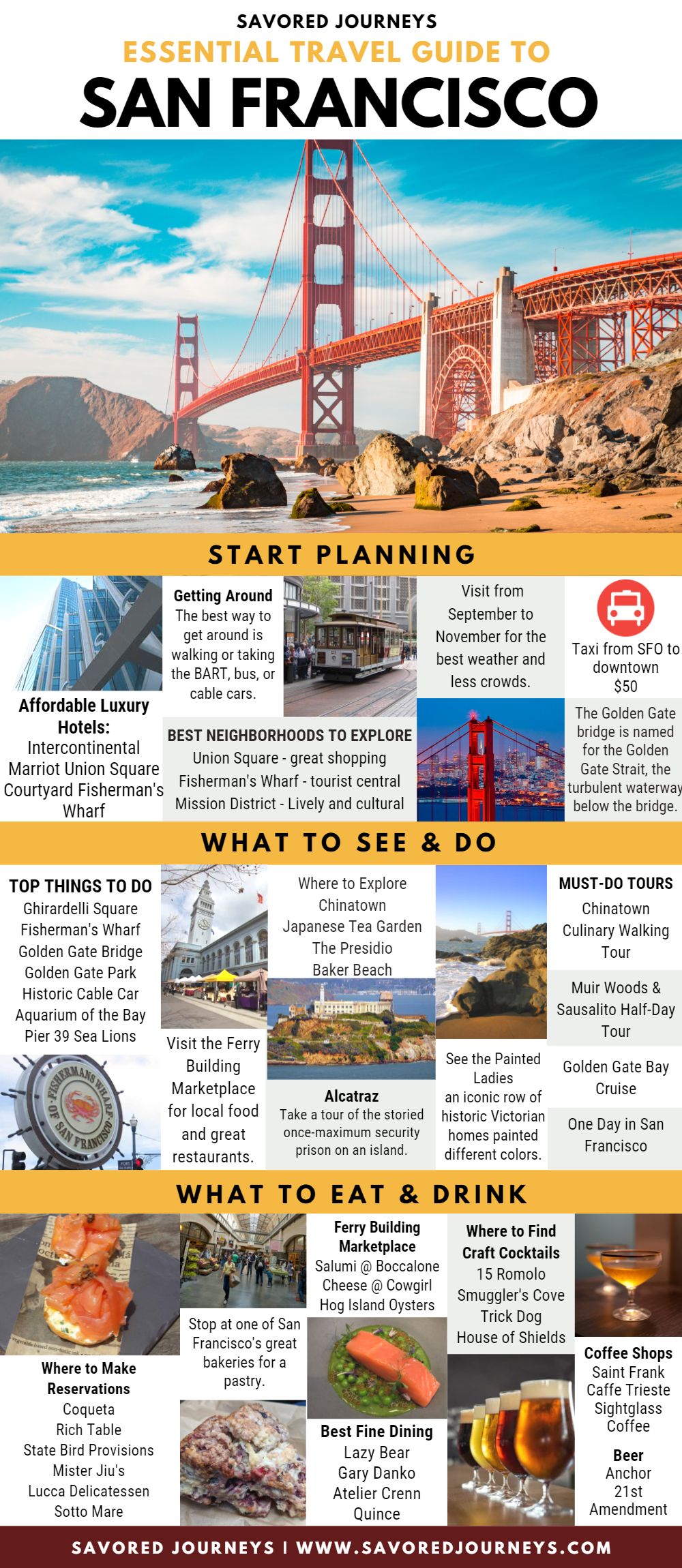 While in San Francisco, you might want to visit the wineries of nearby Sonoma and Napa: Must do when in San Francisco! Get the lowest prices on Wine Tasting & Winery Tours
You may also like these articles about San Francisco:
Like this post? Why not save it to Pinterest?
FOLLOW US on Pinterest, Instagram, Facebook for more great travel inspiration and tips.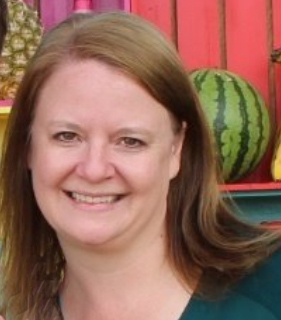 Laura Lynch, creator and writer of Savored Journeys, is an avid world traveler, certified wine expert, and international food specialist. She has written about travel and food for over 20 years and has visited over 75 countries. Her work has been published in numerous guidebooks, websites, and magazines.