Seattle is a lovely city, surrounded by the beautiful Elliot Bay and Lake Union, with gorgeous mountains towering in the background. As a city, Seattle isn't overwhelmingly large, or too complicated to tackle in a weekend, but it still has a big city feel and all of the services and excitement you expect.
We've put together this essential travel guide to Seattle to help you quickly plan an outstanding Seattle trip, whether you're going for a weekend, or a week. In this Seattle travel guide, you'll find the best hotels, things to do in Seattle, restaurants to enjoy, breweries, and more.
If you love being near the water, you'll love visiting Seattle. The natural beauty is astounding, and if you are lucky enough to visit on a nice summer day with blue sky, you'll never want to leave. In Seattle, you are surrounded by water with Elliot Bay on one side, Lake Union in the middle, and Lake Washington on the other side.
» Check out these top instagrammable spots in Seattle to soak up all the beauty.
Are you planning your trip to Seattle?
Get into the city on the Sound Transit Light Rail or get an Uber or Lyft.
Rent a car at the Seattle airport through Discover Cars.
Where to Stay in Seattle:
The Westin Seattle – Can't get a better location, great rooms at a good price.
Sheraton Grand Seattle – Great location in the middle of town, walkable to everything.
Best Tours and Experiences in Seattle: (if you do nothing else, do these!)
About Seattle
Seattle is a large cosmopolitan city, covering around 90 square miles. The city incorporates many smaller communities and historical neighborhoods, like Ballard, Belltown, Capitol Hill, Pike Place Market, Fremont, Greenlake, Pioneer Square, Queen Anne, SoDo and University districts.
While the downtown core is where much of the activity happens for tourists, each of these neighborhoods contains unique and varied attractions. So you'll want to plan activities in all areas of the city in order to see it all.
When to Visit & Weather Considerations
The Seattle area is known for rain. If you trust the movies, it's always raining in Seattle. But that's a bit unfair because the city's annual rainfall averages less than 40 inches. It's not a lot. Typically, it will mist or light rain for a bit of the day and then clear up to blue skies in the evening.
Most of the time, the weather in Seattle is a mixed bag. But in the summer, from July through September, it is glorious! Temperatures are hottest during the months of July and August, peaking at around 77°F, only sometimes getting up into the 80s.
If you can visit in the summer, you'll get the best weather, but the prices will be high. Hotels in the city center can become excessive and it will be cheaper to stay just outside the city on the light rail line.
January is the coldest month, when temperatures during the daytime average 46°F, and it rarely ever snows.
What To Do In Seattle
Seattle is an excellent vacation destination, thanks to its notable landmarks and monuments, museums and art galleries, parklands, and recreational activities.
Top attractions include:
The Seattle Center and Space Needle, which was constructed for city's World Fair in 1962
Fisherman's Terminal
Hiram M. Chittenden Locks
Smith Tower Observation Deck
Seattle Art Museum
Museum of Pop Culture
Seattle Aquarium on the Waterfront
Fremont Troll
Gasworks Park & South Lake Union
The Great Wheel
If you're looking for the ultimate list of things to do in Seattle, here are all 43 fun things we love to do in Seattle.
Top Tourist Attractions
Pike Place Market
One of our favorite things to do in Seattle is exploring the waterfront and Pike Place Market, a 9-acre permanent farmers market that's been around since 1907.
You can grab a drink at the original Starbucks location, watch the cheese curds being made at Beecher's Handmade Cheese (you're going to want to get a tub of curds and possibly a grilled cheese sandwich there!), grab a bouquet of flowers from the market stalls, or just wander around taking it all in.
There are some really great places to eat in Pike Place Market. If you have time, make a reservation at The Pink Door and Place Pigalle. Then save time for wine tasting at The Tasting Room.
Seattle Parks
On a nice day in Seattle, you can see the sunny sparkling off the water and it draws everyone out to enjoy the plethora of outdoor activities, from kayaking on Lake Union to enjoying a picnic at Gasworks Park or taking a long walk along Elliot Bay at Myrtle Edwards Park.
Popular parklands in the Seattle area include Discovery Park, Freeway Park, Green Lake Park and the Washington Park Arboretum.
If you want to get outside of Seattle, check out these things to do in the Puget Sound, that are all within day-trip range of Seattle. You can go wine tasting in Woodinville within 30 minutes of Seattle to taste all that great Washington wine. We also recommend taking a trip to the San Juan Islands which you can do by ferry. The islands are some of the best spots along the Pacific coast to view whales from shore.
Tours & Day Trips in Seattle
If you want to participate in any tours, it's always a good idea to pre-book for popular tours. They sell out fast. Here are our favorites:
What & Where To Eat In Seattle
Seattle is known for it's breweries and great restaurants. Seattle takes its coffee very seriously and is famous for being the origin of Starbucks, with the first store still in operation at Pike Place Market.
If you're in the Pike Place Market area, don't miss a stop at Beecher's for some of the best local cheese and Rachel's Ginger Beer for a quick refreshment. Grab a bowl of chowder at Pike Place Chowder. For dinner, make a reservation at The Pink Door or Matt's in the Market.
In Capitol Hill, there are dozens more restaurants you'll want to try. It's easy to walk up to this neighborhood from downtown – no car needed. Be sure to visit the incredibly popular Kedai Makan for Malaysian street food, Spinasse for exceptional Piedmont cuisine, Terra Plata for farm to table, and Quinn's Pub for one of the best burgers in town.
Transportation
One of the most popular ways to travel around the city is on the Metro Transit Buses, which are cheaper outside of peak hours. Renting a car is the easiest transport option so you can get around easily without waiting on buses, but parking can be difficult in the city center.
Seattle-Tacoma International Airport is just a 15 minute ride from the city center. You can take the light rail from the airport directly into the city in about 45 minutes. Or rent a car from the airport and begin your journey.
Where to Stay in Seattle
Seattle is the type of city where you need a car to get around if you're planning to get out of the downtown area at all. If you're just going to be exploring downtown, you can really easily take the light rail from the airport to anywhere in downtown, and you won't need a car.
We still highly recommend staying downtown, no matter how you choose to explore the city. Just beware that parking can cost as much as $30-40 a night at area hotels. Here are our recommended Seattle hotels.
Crowne Plaza Downtown – this is a nice, affordable luxury hotel that is right in the middle of the action. Very walkable. ⇒ Read reviews on Trip Advisor | check prices on Expedia.com
Hotel Vintage – for a more boutique hotel feel, check out this place. It offers a free wine happy hour every day. ⇒ Read reviews on Trip Advisor | check prices on Expedia.com
Seattle Westin – also in a very good location in downtown, this hotel is lovely inside and there are dozens of restaurant at its base. ⇒ Read reviews on Trip Advisor | check prices on Expedia.com
>> Save time and money with the Seattle CityPass.
Essential Travel Guide to Seattle
(This guide is copyrighted. If you want to display this guide on your own site, please credit https://www.savoredjourneys.com.)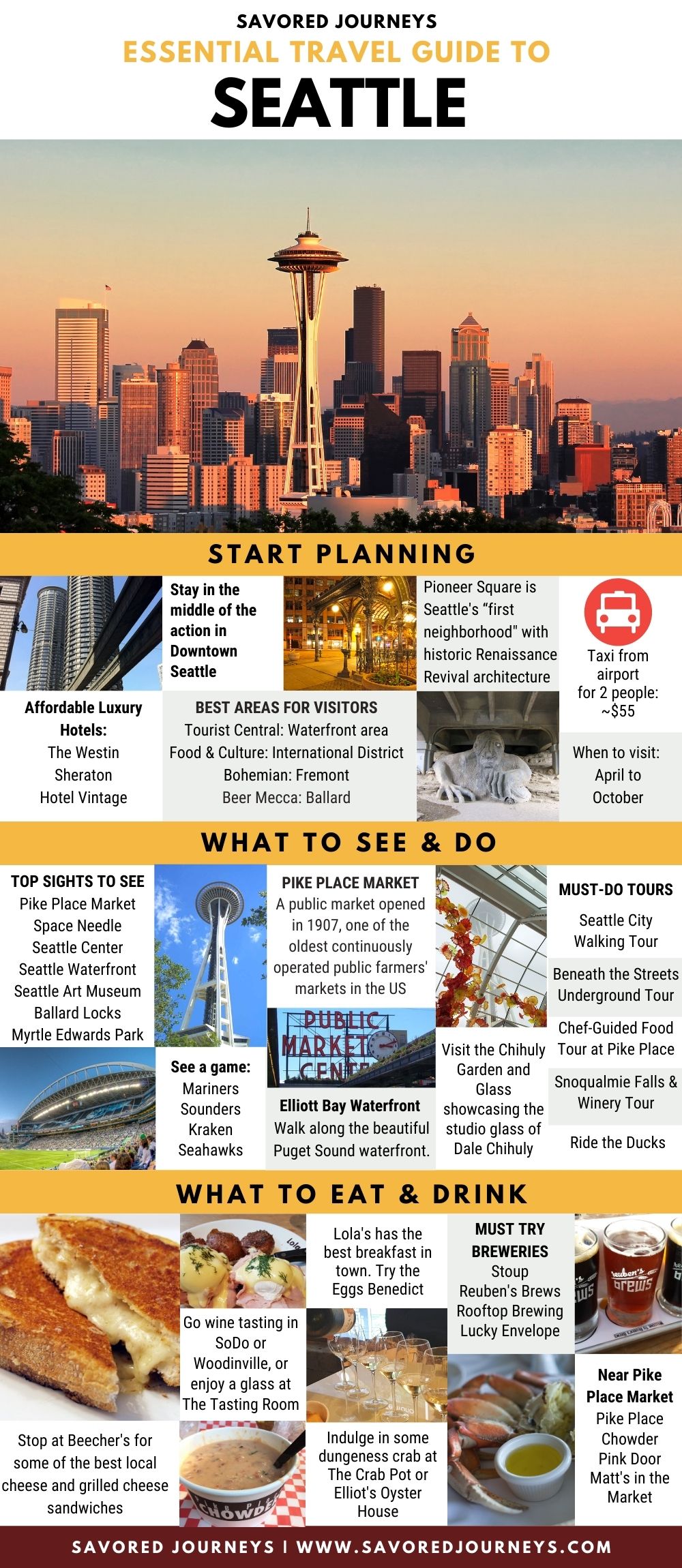 Tours to Book:
Like this post? Why not save it to Pinterest?
FOLLOW US on Pinterest, Instagram, Facebook for more great travel inspiration and tips.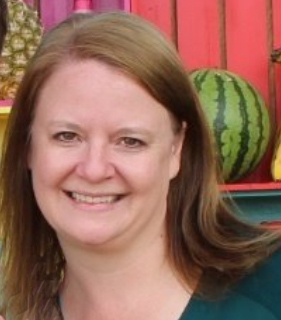 Laura Lynch, creator and writer of Savored Journeys, is an avid world traveler, certified wine expert, and international food specialist. She has written about travel and food for over 20 years and has visited over 75 countries. Her work has been published in numerous guidebooks, websites, and magazines.