Ordering and eating sushi in America is not like in Japan. We tend to order deep-fried shrimp rolls and specialty rolls filled with cream cheese, none of which are available in Japan, and dip our sashimi rice into copious amounts of soy sauce – a faux pas in Japan.
Before you head to Japan yourself, read our guide to eating sushi in Japan to prepare yourself for the differences in the way sushi is ordered and eaten there.
When you arrive in Tokyo, you will be greeted with an abundance of sushi choices. It's available everywhere: in the airport, train stations, all over in Tsukiji, department store basement grocery stores (which were my favorite, by the way), and dozens of restaurants everywhere.
Where ever you looked, there's sushi. As with all types of food in Japan, you could see your options laid out before you in the window of restaurants in elaborately designed plastic food displays or on enticing sandwich boards outside the shop. This will help you determine what to order and what type of sushi specials they have.
Japan Itineraries
If you have longer to spend in Japan, you can expand this itinerary to any length you wish.
Want to try making sushi yourself? These are the top experiences to book in advance: » Tsukiji Fish Market Visit with Sushi Making Experience in Tokyo » Sushi class Osaka » Sushi class Kyoto
Guide to Eating Sushi in Japan
Types of Sushi in Japan
When you sit down to a sushi meal, you likely receive a menu with different types of sushi. Some have rice, some don't. Some are in roll form, some aren't. If you don't know the difference, you'll have a hard time ordering what you like. Below is a primer on the types of sushi available in Japan that you might order while you're there.
Nigiri is made of thin slices of raw fish served over an oblong ball of sushi rice.
Sashimi is thinly sliced raw fish, such as salmon or tuna, served without rice.
Maki is a type of sushi roll in which the seaweed wrap is on the outside of the roll.
Uramaki is a sushi roll where the rice is on the outside of the roll.
Kinds of Sushi in Japan
Now that you know the difference between the types of sushi, you should be aware of the many different kinds of sushi you can order. There are dozens of kinds of sushi in Japan. Way more than you probably ever knew existed! Some of these kinds of sushi are very popular in Japan, but you may not have heard of them before.
When it comes to sushi, you can play it safe with what you know, or you can branch out and be adventurous. Japan has many specialties that you should definitely try. Here's a plate of nigiri sushi that you can get at the grocery store. This is a very typical assortment of the kinds of sushi to order in Japan.
(Left to right)
Top row: Unagi (eel), Amaebi (raw shrimp), Matsubagani (snow crab), Ikura Gunkan (Salmon Roe), Tamagoyaki (Fried egg), Ebi Nigiri (cooked shrimp)
Middle row: Suzuki (sea bass), Tako (octopus), Saba (mackerel), Aji (Japanese Jack Mackerel), Mirugai (clam)
Bottom row: Sake (salmon), Hirame (flounder), unidentified, Tai (snapper), Maguro (tuna)
Below: Uni (sea urchin)
How to Order Sushi in Japan
There are a few things you should know about ordering sushi in Japan, that you probably don't know if you're only used to eating sushi in America.
California rolls are not really a thing. You may find them in some places, but it's not the norm. It's called makizushi. If you won't eat raw fish, order a kappa maki (cucumber).
If you don't know what to order, use these two useful Japanese words: Osusume (means: recommendation) and Omakase (Chef's choice).
There are levels of omakase: nami (standard), jō (premium) and toku-jō (extra premium). OrderToku-jō for more high-end ingredients like toro (fatty tuna), ikura (salmon roe) and uni (sea urchin).
Omakase sets usually include 7-10 pieces. If you sit at the bar, they will usually come out one by one.
When ordering a lá carte, start with white fleshed fish, then medium (tuna), then richer, ending with ikura and uni.
Sushi Etiquette in Japan
Try to eat the fish in the order the chef recommends or as they are placed on your plate.
Sushi isn't meant to be a long, drawn out meal. The fish is meant to be eaten usually within 45 seconds or less, to preserve its perfect temperature.
You can eat nigiri with your fingers! Chopsticks are not necessary, unless you're eating sashimi.
The chef has already added wasabi to nigiri. If it's necessary that you add more, just dab it sparingly on top of the fish. Don't mix wasabi into your soy sauce.
Dip nigiri fish-side down into the soy sauce.
This goes for eating in Japan in general actually. We were never given a napkin to put in our laps. We were instead given a wet rolled towel to wipe our hands on before our meal. You should roll the towel back up and place it back near your plate and then use that to clean your fingers throughout the meal if you need to, after handling your sushi.
Where to Find Sushi in Japan
Airport Sushi
The best part about airport sushi is that you don't have to wait until you get in to the city to try your first bite of outrageously fresh and delicious sushi. And if you have a long wait to catch your flight after your time in Japan is over, you can have one last taste of sushi.
You don't have to be fearful of airport sushi in Japan, like you do in Detroit. You can pick up a tray of ready-made sushi from duty-free, or any of the convenience stores really, or you can sit down at just about any restaurant and eat a huge plate of awesome sushi.
Train Station Sushi
There are so many trains in Japan. It's a preferred method of travel in the country. Short and long train rides are both extremely easy and affordable, for the most part (if you want to save money on train travel in Japan, check out the tourist-only Japan Rail Pass).
The Shinkansen trains that take you from Tokyo to Kyoto or Osaka and further into the country, are very popular trains. In those train stations, you'll find many vendors who sell bento boxes, called ekiben, that are meant to take on the train. It is a very popular thing to do to shop for your favorite ekiben before boarding the train and eat it aboard.
There are dozen of shops in the stations that sell these bento boxes. The one that we opted for was a delicious array of sushi. You can also pick up sushi trays in luei of a traditional ekiben to have on the train.
Tsukiji Market Sushi
Tsukiji Fish Market is an incredibly popular place for tourists. Everyone loves to see the fresh fish coming in to the market in the mornings, especially the ever popular huge bluefin tuna!
Whether you go there to see the famous tuna auction bright and early in the morning, or just to walk around the outer market and eat lots of awesome food (which is what we did!) you'll obviously want to stay for a sushi breakfast or lunch.
Everyone will tell you that you have to have sushi from Daiwa Sushi or Sushi Dai. They are two of the most popular sushi places at  Tsukiji Market. You may ask why. It's not because they are the freshest or best places around.
The fish all comes from the same place and many of these sushi chefs have been working on their craft for dozens of years, so it's rude to suggest those two chefs are better than everyone else. It's because they were lucky enough to be featured on a popular TV show.
If you want to wait hours (yes, HOURS) in line there, be my guest. We ventured a few streets away and had an amazing and crowd-free sushi experience.
At Tsukiji, it's also common to just walk up to a standing sushi bar and order whatever sushi delights you want from the small 2-3 person bar.
Department Store Basement Grocery Sushi
There are many huge department stores in Tokyo. Every large central area has one (Ginza, Shinagawa, Shibuya, Yebisu, etc.) In the basement of each of these department stores is a grocery store that will blow your mind. Part of it is just like a regular grocery store with people shopping around for their regular weekly groceries.
Part of it is like they are preparing to set up a photo shoot with expensive food products. Every apple is individually wrapped in frilly bubble wrap. Boxes of premium candies line the shelves. The enter left half of the store looks like a make up counter with store associates pulling tiny pieces of food from case to show potential buyers. It's a trip.
The best part of the basement grocery store is the sushi selection. Every morning for breakfast, rather than spend $30 on the overpriced hotel buffet, we went to the grocery store sushi section and picked out an outrageous tray of sushi to share.
It's all amazingly delicious and really cheap but our standards. We could never find sushi like this in our grocery store, and we probably wouldn't want to eat it if we did.
Restaurant Sushi
I already touched on the fact that you can find some of the top sushi restaurants in the world in Tokyo, like Sukiyabashi Jiro, Sawada, and Yoshitaki. You can dine at these top restaurants, if you're lucky and get a reservation. You'll obviously pay top dollar for the experience, but it'll likely be worth it, if it's an experience you're after.
Otherwise, there are many dozens of incredible sushi restaurants in Tokyo. I think the best way to find one that suits you is to ask the concierge at your hotel, or look at Trip Advisor or Yelp reviews for places around your hotel. Otherwise you might be traipsing all over the city trying to find one I recommend, which isn't necessary.
We went to a very nice sushi restaurant called Sushi Matsue in the Ebisu neighborhood. It was a multi-level place. We had a room upstairs where we sat at a sunken table, which I thought was really great. In this case, we were with a Japanese speaker, so we didn't have to worry about deciphering the menu or what to order.
If we were by ourselves, we would have either sat at the bar and ordered omakase, or we would have chosen a more "English-friendly" restaurant. They brought out a lot of types of fish we hadn't tried before, and a few that were clearly better in Japan than we'd had at home (including the Sea Urchin, which we'd only ever found acceptable at home – it was amazing in Japan).
Make Your Own Sushi
You might find it is more fun to learn how to make sushi for yourself. It's a craft that must be learned and perfected. You can try your hand at it in a number of different classes around Japan.
You'll learn how to make the vinegared rice and how to make nigiri and hand rolls. We can recommend Air Kitchen for a fun and unique experience. Here are links to their various sushi making classes:
Conclusion
Now you can see why I say that sushi in America is nothing like sushi in Japan. No matter where you try sushi in Japan, it's also fresh and delicious, and prepared with skill and care. In the U.S., you have to worry about freshness and whether it's been sitting out too long.
In Japan, it's always a beautiful and delicious piece of fish, draped over perfectly vinegared rice, not potentially smelly and slimy fish over a crusty, dried out lump of rice or a clumsily put together roll filled with a bunch of things that have no business being in a roll. Just saying. Have fun and enjoy!
Like this post? Why not share it on your Pinterest board.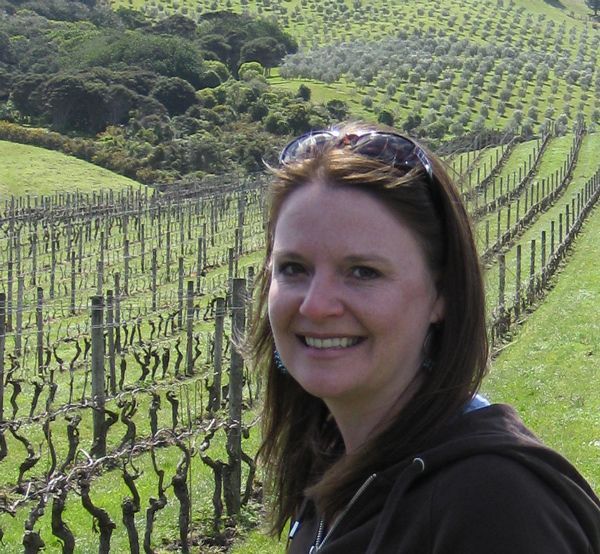 Laura Lynch, creator and writer of Savored Journeys, is an avid world traveler, certified wine expert, and international food specialist. She has written about travel and food for over 20 years and has visited over 75 countries.