Are you considering going on a Holland America cruise and want to know what the experience is like? We find that the biggest thing holding people back from trying a cruise is not knowing if they'll like it or not. We'd like to take the mystery away and show you just how enjoyable and exciting a Holland America cruise can be.
You might think a cruise is only for travelers who want everything planned and done for them, so all they can do is be herded around from port to port, not really seeing or experiencing the real culture of the destination at all.
From that perspective, a cruise doesn't sound that fun. However, we can assure you that a cruise can be so much more than that. (You can read the many reasons to go on a cruise in this article.) There are dozens of activities to do on board a cruise, while you're sailing, that keep the excitement going for the entire cruise.
There are a lot of daily activities to fill your time. When in port, you are free to choose your own excursions, if you're more of a do-it-yourself kind of traveler, or you can choose from an array of excursions planned by the cruise line. It's up to you!
So, let's launch into this informative post on Holland America for first timers, where we'll tell you everything you need to know about cruising on Holland America Line.
Why Choose Holland America?
Holland America Line has a fleet of 14 ships that sail all over the world on more than 500 cruises in 400 ports. The variety of cruises you can take on Holland America are staggering. They offer short getaways, like a 1-day Seattle to Vancouver sailing and a 5-day Western Caribbean cruise, to an extensive 128-day itinerary that covers a vast area.
On our recent Far East cruise, 60 of the passengers had done the entire journey from Vancouver to Singapore. Some cruise highlights include Antarctica explorations, South America circumnavigations and exotic Australia & New Zealand and Asia cruises, along with popular sailings to the Caribbean, Alaska, Mexico, Canada and New England, Europe and the Panama Canal.
Health Safety Protocols
Many changes have been made in the travel industry die to COVID-19, and Holland America is following all CDC recommended protocol onboard in order to ensure the safety of its guests. They currently require all passengers to be fully vaccinated and to produce a negative, medically-observed viral COVID-19 test (PCR or antigen) taken within 2 days of embarkation, until at least February 28, 2022, in accordance with CDC directives.
There is currently a requirement that all passengers wear face masks in any communal space and use hand sanitizer regularly, which can be found throughout the ship. Intensive cleaning procedures are also in place to ensure the environment remains safe.
Socially Responsible
When you sail on Holland America, you'll see lots of guests walking around with "On Deck for a Cause" t-shirts on. This is a fundraising program to benefit cancer organizations around the world.
To date, more than 300,000 guests have participated in the non-competitive 5k fundraising walks on Holland America Line cruises, which have raised $4.5 million dollars to fight cancer.
Environmentally Responsible & Sustainable
If you're like me, you want to make sure the cruise line you're on is being environmentally responsible. We've all heard the negative impact cruise ships can have on the environment. Holland America is part of the Marine Conservation Institute which aims to educate guests about taking care of our oceans and wildlife.
They're committed to reducing emissions, fuel consumption, and energy and water use. They're also working to reduce single-use packaging and plastics by the end of 2021. Watch our video walk-through of our recent cruise on Holland America. It shows our embarkation, getting to our state room what all of the amenities looks like, as well as some food and entertainment.
The On Board Experience
Each of Holland America's ships is a bit different, but you can expect to find mostly the same amenities throughout the fleet. There are numerous restaurants & lounges, a main stage theater, several smaller theaters for nightly entertainment, a casino, various shops, pools, a kid's club, observation decks, and staterooms.
Every evening, a schedule for the next day's activities is delivered to your stateroom, so you can check out what activities are happening (particularly useful on sea days), and plan your itinerary.
There are yoga classes, tournaments, cooking demonstrations, casino games, mixology classes, afternoon tea, and dancing lessons, to name but a few of the plethora of things to do on board. The on board experience is as busy or relaxing as want.
There are enough venues and activities to keep your days filled, but there are also plenty of relaxation spots, like lounge chairs around the deck, on the back of the ship near the pool, and inside on the pool deck. Holland America keeps their ships up-to-date by taking them into dry dock frequently for refurbishments.
All of the common spaces are designed to a high standard and are open and airy.
Holland America Staterooms
One of the first decision you have to make when planning your cruise is what type of stateroom you'd like. I always prefer a room with a veranda. I think it really makes a difference being able to open the door and get some fresh air whenever needed.
On sea days when the deck chairs around the ship fill up, we like to hang out on our own balcony instead. The different types of stateroom available are:
Inside
Oceanview
Verandah
Vista Suite
Signature Suite
Neptune & Pinnacle Suite
Of course, you'll save money by booking an inside or oceanview cabin, but I don't think it would be as enjoyable an experience as with a verandah.
PRO TIP: Several of the cabins are on the bump out, which affords you more space on the verandah. Each ship may have different rooms that are considered bump out, so be sure to ask when booking.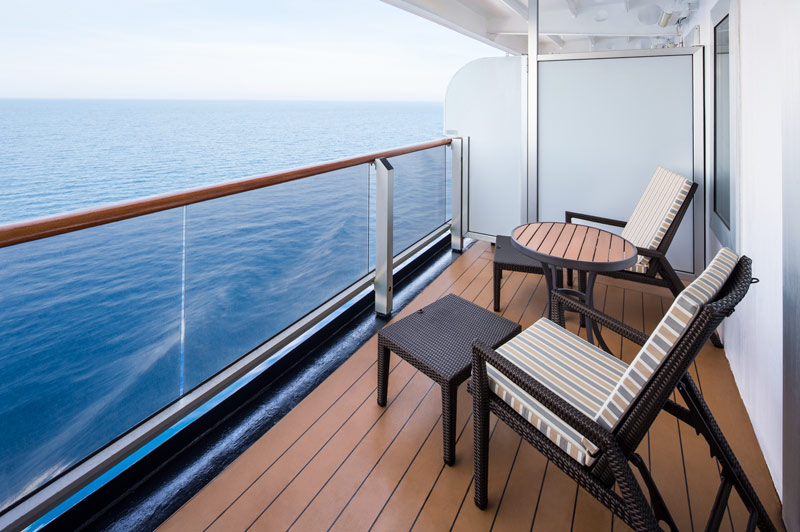 Each cabin is fitted with the Mariner's Dream™ bed, which we loved. It was very comfortable, with soft linens.
Pinnacle Suite Amenities
If you choose to go all out with the Pinnacle Suite, extra amenities include use of the exclusive Neptune Lounge, a private concierge and an array of complimentary services. You can see the Neptune Lounge in the photo below.
Stateroom Features
Packing for a cruise is tedious, and good organization and careful planning is essential. Each stateroom has a basic set of features, and what you bring will make it more functional.
There's no need to bring hangers or a hair dryer, since they are provided. You can bring and plugin an electric razor, curling iron, straightener, or electric toothbrush. Other small appliances like an iron, kettle, or hot plate are not allowed.
Electrical
One of the bigger issues these days is having enough plugins for all your devices. There are never enough plugs. The situation is not so bad on Holland America. There are only a few wall plugs near the desk area, but there are also multiple USB plugs, both by the desk and behind the bed.
They have included both American and European plugs. If you want to make use of all ports, be sure to bring both adapters with you. Extension cords are allowed, but only those without a surge protector.
Storage
One of the major concerns about staterooms is the amount of storage available. I was very pleasantly surprised by the amount of space in our Westerdam Verandah stateroom. There were large drawers under the bed that fit our carry-on size suitcases, so we could hide those away once we unpacked.
The wardrobe was bigger than our closet at home, with three full sections to store luggage, shoes, hang clothes and stack things. Next to the bed on both sides was a side table with two deep drawers. Above the couch was a lift-up cabinet with two deep, and large shelves.
We didn't even use that area due to all the other space provided. In the bathroom, there was a large shelf underneath the bathroom sink, and a set of shelves inside the vanity. Again, plenty of space.
PRO TIP: Holland America offers a Orange Club package (currently $35/day) that adds extra benefits and comforts. The best benefits (though there are many) is the free stateroom upgrade, plus skip the line priority access, which helps you get to tenders faster, past the line at the dining rooms, and a dedicated line at guest services, all which will save you tons of time
Dining/Drinking
When you're on a 2-week or longer cruise, having multiple choices for where to eat is important. I tend to get bored of eating the same food every day, so variety is big for me. The dining venues vary, but there are a few mainstays that are included on every ship.
First, here's a breakdown of the dining options on each ship. Following this is an overview of each of the main dining facilities.
Main Dining Room
Every cruise ship has a main dining room. This is where breakfast, dinner, and occasionally lunch, are served every day in a seated, restaurant style. Dine as you wish is their program that allows you to choose a set time to dine each day, or to shop up whenever you want.
The main dining room on the Westerdam felt like dining at an upscale restaurant at home. The service was great. The food exceeded my expectations. This is due in large part to Holland America's award-winning Culinary Council, led by Master Chef Rudi Sodamin, and the seven international celebrity chefs who provide guidance on all things culinary.
The head chef of the ship and the kitchen staff are also highly trained, and very good at their jobs.
Lido Market
Every cruise ship has a buffet. It's usually the dining venue that I avoid, because I'm not a huge fan of buffets, but the Lido Market buffet was different. Most of the food was kept behind the serving windows and was served by the wait staff, rather than open to the public.
That helped cut down on food waste, and made the whole experience much more sanitary. The food was always very good in the Lido Market. You can choose to dine there any time you want, for breakfast, lunch or dinner.
Each night there is a different main course featured. They even have a special night that features local cuisine and fruits.
Dive-In
Sometimes you just want a quick bite to eat. That's where Dive-In hits the spot. It's a quick burger, hot dog, and fries spot on the Lido Deck, near the pool. Place your order at the window and they'll bring it out within a few minutes.
Then you can enjoy your burger on the sunny deck. We were quite impressed by the quality of the burgers.
Specialty Restaurants
Despite the fact that the main dining room is a great choice, the addition of specialty restaurants gives variety to both the type of food you eat and the experiences you have.
Cruising for a special occasion is fairly common. If it's your birthday, anniversary, or you're celebrating something, it's fun to break out of the norm and choose a specialty restaurant.
On the Westerdam, there are three specialty restaurants that require reservations – Pinnacle Grill, Rudi's Sel de Mar popup and Cannaletto. Tamarind is available on some ships. We dined at all of these restaurants multiple times and enjoyed it very much.
Yes, there is an up-charge for dining at these restaurants, but it's well worth it for the variety of food that's served. My favorite restaurant was the Pinnacle Grill, where they serve Double R Ranch meats from Washington State – a true delicacy!
Afternoon Tea in the Dining Room
If you're a tea fan, they serve afternoon tea every day in the main dining room. Since there were no tea kettles in the stateroom, this was my chance to go have a good cup of tea and a few snacks. It's all set up when you arrive, so all you have to do is sit down and enjoy.
Bars
There are 11 possible bars on Holland America ships, though no one ship has them all. Holland America collaborates with Master Mixologist Dale DeGroff, who created a drinks menu of signature classics and unique concoctions.
Our favorite bar was the Gallery Bar, which is beautifully decorated and has many of these signature cocktails on the menu. It's the bar that felt the most elite and luxurious.
For an afternoon cocktail or drink, we preferred the Lido Bar, near the pool, and the Sea View bar when it was too hot outside.
For before-dinner drinks, we enjoyed the Ocean Bar and Pinnacle Bar. It was a comfortable place to sit with a drink while waiting for dinner reservations, and to explore the wine menu. After dinner, if we were still wanting to hang out, but weren't going to an entertainment venue, we found the Explorations Cafe a nice place to relax.
It's quiet up there at night – since you can't see the view in the dark – and you can take the rest of your bottle of wine from dinner up there and request a few glasses to enjoy it.
Explorations Cafe is also a fantastic place to go for an afternoon coffee. If you can get one of the lounge chairs with a view through the front windows, you can stay there all afternoon enjoying the view.
Wine Packages
Another unique thing on Holland America worth mentioning is the Sommelier Suite wine packages that are available. You can purchase a complete drinks package, but if you're only interested in adding wine, this is a great option.
The wine list was curated by James Suckling, acclaimed wine critic, and it includes many of our favorite Northwest wines from Washington State and California. You can purchase packages of 4, 6 or 8 bottles, which will save up to 25% off the single bottle price.
The packages range from $119 for 4 bottles in the Cellar 1 tier, to $189/4 in the Cellar 2 tier. You can choose which quality tier you want based on the wines in the list. We chose a Cellar 2 tier 4/bottle package for our 14-day cruise. It turned out to be just the right amount.
Activities
There are dozens of activities each day that you can participate in. These range from anytime activities like swimming, sunbathing, and visiting the spa, to pre-planned events like ping pong and poker tournaments to daily afternoon tea, and specialty tasting events, like tequila tastings, mixology classes, and wine tastings.
Entertainment
In the evening, the entertainment options are plentiful. There's a main stage with large performances, the BB King's Blues Club with blues and jazz performances, the Billboard Onboard bar with dueling pianos, and the Lincoln Center Stage with smaller classical performances.
Cruise Excursions
One of the main objections people often have about cruising is they don't want to go on excursions with 100+ people being shuttled from one touristy spot to another. I felt that way too, and was reluctant to book excursions, but on Holland America, there are many different options, so you don't ever have to join a large bus tour, if you don't want to.
Some of the ship excursions are actually quite small, meaning you'll only be touring around with maybe 10 or 20 other people. If that's still not your idea of a good time, you can plan your own excursions or get the help of the onboard travel consultant who can help you plan private and personalized excursions for just your party.
Using Cruise Ship Excursions
The major benefit of going with Holland America excursions is that if for any reason your excursion is delayed, the ship will wait for you. If you book your own, it's sort of 'at your own risk'.
The excursions are created with cruisers in mind, so they feature overview tours of each of the cities, as well as a few more specialized tours, like the culinary tours designed with Food & Wine magazine.
You can book your excursion before the cruise by looking at their website and reading the brochure. It's advised to book in advance if there's something you don't want to miss, because the tours fill up. But if you wait, you can go up to Exploration Central at any time and view the options on the Virtual Table.
Helpful staff members are also available to answer your questions and book your excursions on the spot.
PRO TIP: Holland America has a best price guarantee. If you find a better price on a tour they offer, they'll refund you 110% of the price difference in the form of on-board credit.
Asia Cruise Excursions
We were on a 14-day sailing in Far East Asia. Some of the excursions included on this cruise were Hanoi Highlights, Best of Ancient Hoi An, Local Life in Nha Trang, Panoramic Sihanoukville, A Taste of Vietnamese Cuisine with Food & Wine Magazine, The Best of Ho Chi Minh City, etc.
We went on two excursions, including the Taste of Vietnamese Cuisine cooking class and a beach excursion in Samui, Thailand. We had scheduled two others, but both were cancelled by Holland America while we were on the cruise.
In my opinion, the HAL excursions were fine. They delivered on what they promised and were always back on time. Both excursions we did included less than 20 people total.
However, I think these tours are designed best for travelers who aren't used to planning their own excursions, want to let someone else take care of the details, and/or have some trouble getting around on their own.
For us, it was better in the long run for us to plan our own private excursions. This is because we are seasoned world travelers with extensive experience planning our own activities. Which option you choose should depend on your personal level of comfort.
The best excursions we did that we planned ourselves was a food tour in Da Nang, with just 4 people total. We went to some really interesting places and had great food. We also planned our own day in Hoi An, so we could go where and when we wanted and eat at tiny restaurants where large groups don't fit.
We also set up a private cooking class in Nha Trang that was incredible, start to finish. It far exceeded our experience on the Ho Chi Minh cooking class, because there were only 4 of us and the personalized service was great.
We set this up with Chef Dat at Nha Trang Cooking School (highly recommended).
Finally, we set up a private boat trip in Ha Long Bay, because we wanted to stay out of the overcrowded Ha Long Bay area. The tour we did with Indochina Junk went to Bai Tu Long Bay instead, which is much less crowded and pristine. It included a fantastic 5-course lunch.
The excursions are all based on which itinerary you choose, so yours will likely be different. This is just to give any overview of the things you can do off the ship, while cruising.
CONCLUSION
After reading this article on Holland America for first timers, you should have a pretty good idea what to expect on the cruise. I hope this gives you the info you need to prepare for the cruise you already have booked. We enjoyed our experience on the Holland America cruise line.
From start to finish, it was very well organized, with incredible service and staff members, great food, fun excursions, and plenty to see along the way. You really can't go wrong booking with Holland America. I think that's why there are so many repeat cruisers on board.
(Disclaimer: We were invited as guests of Holland America for the purpose of this review. However, our views and opinions are our own honest reflections.)
Like this post? Why not save it to Pinterest?
FOLLOW US on Pinterest, Instagram, Facebook for more great travel inspiration and tips.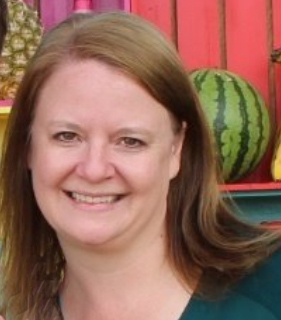 Laura Lynch, creator and writer of Savored Journeys, is an avid world traveler, certified wine expert, and international food specialist. She has written about travel and food for over 20 years and has visited over 75 countries. Her work has been published in numerous guidebooks, websites, and magazines.