Did you know there are many natural hot springs in Northern California? The remote corners of the state have amazing natural forests that are perfect environments for a natural hot spring. If you're looking for a relaxing get away from the city, you must check out these incredible California hot springs.
>> Check out the 13 Best Cities in California to Visit.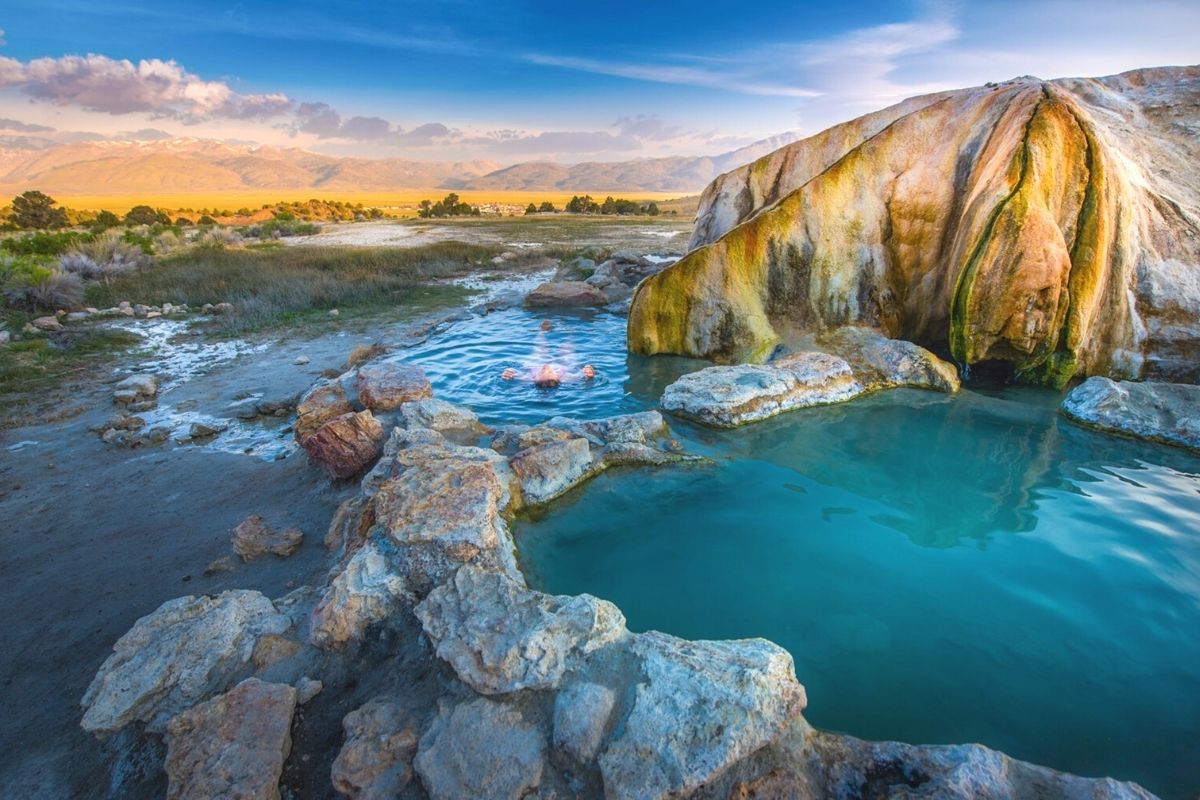 Why Visit a Hot Springs
Hot springs are one of the greatest things during the cooler seasons. Warm wading pools, often surrounded by beautiful views and nature. There's also the added benefit that many hot springs have minerals that promote healing and health in the skin.
Another great thing about hot springs is that they are geothermally heated, and therefore will be warm year round. One of the most amazing things is to visit hot springs in the winter, and stay warm in the springs while snow falls around you.
Visiting these hot springs as part of a California road trip is very inspiring and will add an unforgettable memory to your journey.
» Looking for more travel inspiration in the United States? See our U.S. Summer Vacation Ideas and 12 U.S. National Parks to Visit. Here are a few more fabulous U.S. Cities to visit.
Rent a Campervan and See Even More
Have you ever considered a road trip in a campervan? Driving yourself from place to place in your destination is a great way to see more, do more, and spend less!
Escape Campervans are the largest in North America with 600+ campervans and lots of good reviews. Escape your routine and embrace your adventurous spirit by exploring the world in a campervan.
Where to Find the Best Hot Springs in California
All of the hot springs we have listed here are located in Northern California, and most of them are a bit remote. These will take a bit of a drive away from the bustling cities, but it's worth it for the tranquil experience.
Wilbur Hot Springs
Wilbur Hot Springs is located two hours outside San Francisco on a large nature reserve, and is a beautiful place to relax and get away from regular bustling life. The hot springs are full of minerals that are great for your skin, and a soak will take the stress right out of you.
Because of it's remote location, confirmed reservations are required to enter the hot spring and/or stay at the lodge. A day-use of the hot springs will cost $59 which is up to seven hours (10am – 5pm) in the springs. You can also stay on the property overnight for as little as $75.
Travertine Hot Springs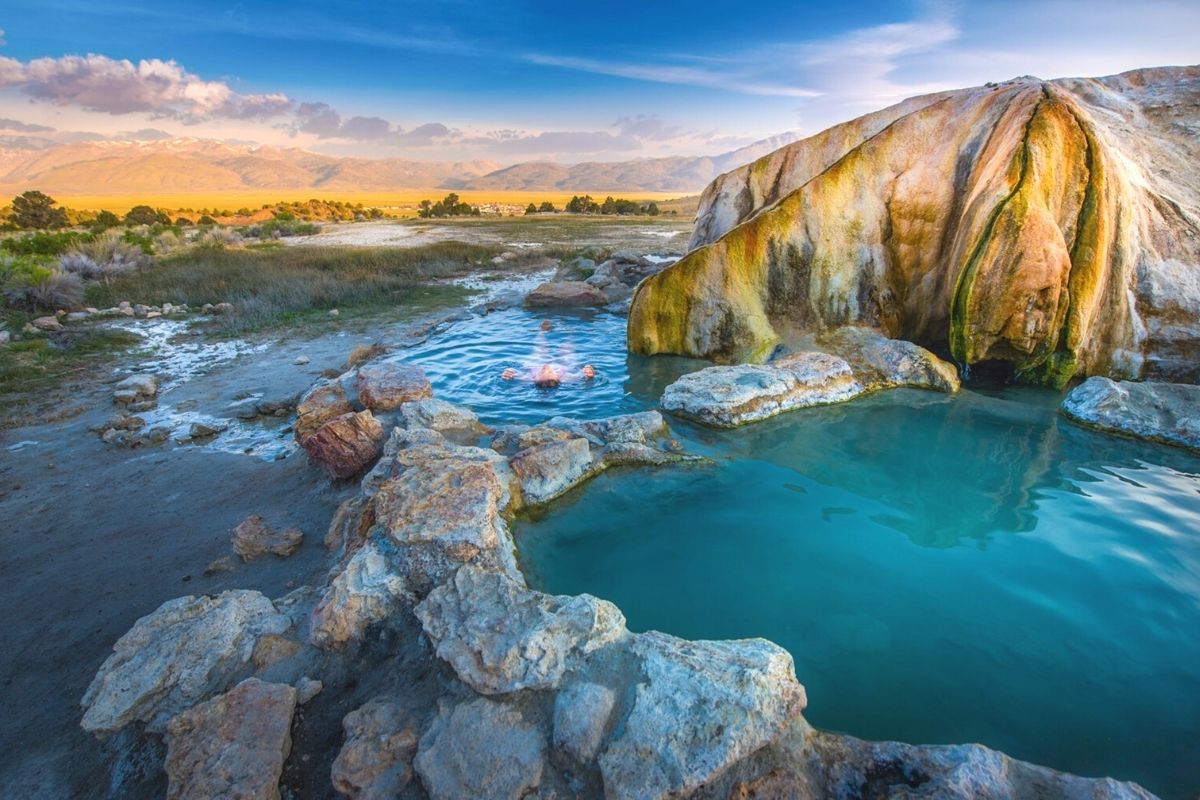 Tucked into the Sierra mountains, Travertine Hot Springs offers mountain views and quiet wading. This hidden wonder is only a couple miles of gravel road off of highway 395, near the town of Bridgeport, and you can drive straight up to the first pools.
There are several pools to go around, and they are varying temperatures and sizes. Due to this land belonging to the Forrest Service, all of the hot springs are free and open all-day year round. You can also camp on any of the land for free if you wish.
Sierra Hot Springs
This spa and hot spring resort is located in a 1870s lodge in Sierraville, California. Quiet, secluded, and packed full of friendly and experienced staff, Sierra Hot Springs are a great choice if you're looking for your next soak.
This hot spring requires reservations, and currently does not accept day-use visitors. Book a room in their lodge for either two or three nights- or camp for as long as you like with reservations- and feel the relaxation with their massages, hot springs, and cafes. Room rates begin at 82$, and camping starts at 38$.
Orr Hot Springs
Between the towns of Ukiah and Mendocino lays the Orr Hot Springs, a remarkable place to stowaway in tranquility. The property is located in the woods, which allows for exploring when you aren't soaking or otherwise enjoying the resort.
Stay in one of their small cottages, in a room at the resort, or come for a day trip. Day-use of the spring pools start at $100 for one or two adults for sessions of four hours each. You can choose between indoor and outdoor pools, and the cold soaking pool is open to everyone.
Wild Willy's Hot Spring
Nestled in a large stretch of plains surrounded by the Sierra Nevada Mountains and the Glass Mountain Ridge, the Wild Willy's Hot Spring is a place of gorgeous views and warm waters.
There are two wading pools that are always open to the public with no need for reservations. This is an easy low-stress way to soak and hang out in a hot spring with unique sights. Check out these other nearby hot springs in Mammoth Lake.
CONCLUSION
Hot springs are an amazing way to get away from everyday life, and can be an inexpensive on-a-whim trip or a planned weekend.
Quick. Check these necessities off your prep list!
Like this post? Why not save it to Pinterest?
FOLLOW US on Pinterest, Instagram, Facebook for more great travel inspiration and tips.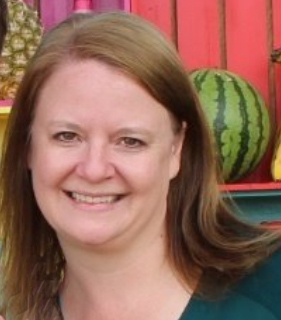 Laura Lynch, creator and writer of Savored Journeys, is an avid world traveler, certified wine expert, and international food specialist. She has written about travel and food for over 20 years and has visited over 75 countries. Her work has been published in numerous guidebooks, websites, and magazines.