Did you know that many airlines allow you to book a free stopover as part of your flight when you buy airline tickets? By tacking on a free stopover to your flights, you could see two destinations for the price of one and save an incredible amount of money in the process.
If you have extra time to devote to a stopover on an overseas flight, I highly recommend it. It enables you to see more for your money and make the most of your vacation time! Of course, it's not always easy finding these stopovers. You have to know how to look for them. But once you've learned how, you'll see that it can be very easy and rewarding to add a free stopover.
When Nick and I started traveling together, I had already been to 33 countries and he had only been to 2. We started experimenting with the free airline stopover as a way to visit the places I'd already been without devoting an entire flight to it.
What we learned is that we can pretty easily visit top cities on our way to or from our intended destination for little to no extra money by using this stopover flight booking technique. Imagine that. FREE flights!
Let us show you how to book free stopover flights.
What is a Stopover?
A stopover has great flexibility. It lasts more than 24 hours in duration and can be extended up to a specified length to allow you to actually see and enjoy the destination you stopped in.
You may be referring to a stopover as a long layover. Technically, a stopover is different than a layover. If you wish to stay longer than 24 hours in a second destination, it is considered a stopover.
We're going to show you how to book flights that include a stopover, because this requires an addition skill than booking a long layover. Don't worry if this all sounds a bit confusing. We'll iron it all out of you.
What is the difference between a stopover and a layover?
A layover is a connection that lasts no longer than 4 hours for domestic flights and no longer than 24 hours for International flights. Layovers are fairly common, especially overnight layovers, but usually they aren't long enough to benefit you.
A note about layovers: You will occasionally find flights that include layovers of up to 24 hours as part of the regular round trip ticket. If you don't have a lot of time to burn, take advantage of those. We did an 18-hour layover in Frankfurt as part of a RT ticket and while it wasn't a lot of time, it was still worth it to us.
How do you find and book a free stopover flight?
You've probably seen some airlines advertising stopovers. Icelandair promotes their stopovers in Reykjavik en-route to other destinations in Europe. They even have a handy "Icelandair Stopover" button to make booking easy. Singapore Air, Japan Airlines, TAP Air Portugal and Emirates are three others that openly advertise stopovers. There is a whole page on the Emirites website devoted to booking a Dubai stopover package.
But many airlines don't advertise stopover flights, so travelers don't know it's possible and even if they do, don't know how to go about booking one.
Some airlines, like IcelandAir and now British Airways, have a convenient stopover search button on their flight tool that allows you to look for and select the stopover options they offer. It's really convenient and I wish all airlines would offer it, but alas, they don't. There is, however, an easy manual search method that I'll show you, in case the airline you choose doesn't have the stopover feature. BONUS: If you make it to the end of the article, I'll show you an even easier way to do it!
Step One
The best tactic for booking a flight with a multi-day stopover is to use the multiple destinations function on a flight-booking tool like Skyscanner (in the UK? Use this link) or Expedia. I personally prefer Skyscanner because it's so easy to use and it finds great flights.
First, you need to look up round-trip flights to your final destination and take note of the cities in which those flights make connections. These are the locations where you are most likely to be able to book a free stopover.
You should also see where the airline's hub is, because you can almost always make a stopover at a hub.
Finally, try to be as flexible as possible. The more flexible you are with times and dates, the more likely it is you'll find something great.
Let's look at a trip from Seattle to Hong Kong. We begin by searching on Skyscanner (in the UK? Use this link) for a round trip flight to Hong Kong.
Doing this shows connections in Beijing (PEK), Shanghai (PVG), and I also found another connection in Taiwan. This means there is a high likelihood that I can book a free stopover in any of those three cities.
The round trip ticket from Seattle to Hong Kong costs $560. I don't want to exceed that cost, because I'm looking for a free stopover. You can decide what the stopover is worth to you and decide to pay a bit more if you like. Obviously, paying $50-$100 more for the stopover is still better than paying another $560 to visit Beijing at another time. For reference, a round trip between Hong Kong and Beijing is around $250.
Step Two
To locate a ticket with a stopover (longer than the layover of the original flight), go to the multi-trip tool and split the trip to include the connection city or cities you found (Taiwa).
For instance, using the multiple destination tool, search for a ticket from Seattle to Amsterdam, then Amsterdam to Istanbul X days later and returning from Istanbul to Seattle. (Note: each carrier has rules about stopover duration that we'll discuss in a bit).
Now I'm going to use the multi-city function on Skyscanner to look for tickets that include a 3-day stopover in Beijing.
The multi-city search reveals that I can get a stopover in Beijing for 3 days for the exact same cost as the round trip flight with no stopover. In fact, I tried a 5 and 7-day stopover, as well, as the cost remained the same.
I went a step further and tried a multi-city search for a 3-day stopover in Beijing on the way to Hong Kong, and a 3-day stopover in Shanghai on the way home from Hong Kong. The price rose by only $4.
If you look far enough in advance, you'll probably find a ticket like this easily. The longer you wait, the harder it tends to become, as flights become more scarce.
Keep in mind that not all flights can have a free stopover added to them, even when you use this method. For instance, when I searched for the Taipei stopover, the ticket increased in price by $200. You will find sometimes that the flight price goes up dramatically when adding the stopover. This is why you have to be flexible and willing to take what you can find.
As another example, I am flying from London to Sydney and wanted to add a stopover somewhere fun on the way to break up the long flight. I used Skyscanner's to search roundtrip for possible connections and found that Hong Kong and Singapore are the most likely stopover destinations. Doing a multi-trip search including these legs shows that I can stop over in either destination for the same prices as the round trip.
Try it for yourself now on Skyscanner. (in the UK? Use this link)
BONUS: Using AirWander to Book a Stopover
I promised a way to find stopover that's even easier than the manual method i just showed.
We now use an online tool called AirWander to find successful stopover destinations. This tool does all the heavy lifting of finding stopover destinations for you. It's a brilliant tool, really. You should give it a try, even if you aren't looking for a stopover.
AirWander looks for possible stopovers en-route to your final destination. For example, I will search for a flight from London to Sydney. It will then show me the estimated price of the round trip ticket (which is $742 for this flight), as well as a list of stopovers are available along the route.
There are dozens of options and each one tells me how much of a price difference the stop will add to my total. Some choices are Singapore, Melbourne, Hong Kong.
Some of the stopover options are more expensive, some are cheaper (see below).
I chose a stopover in Singapore on the way there.
The result was a flight with a 3-day stopover in Singapore for $712.
For me, the best part of this tool is the suggested destinations to visit on your way or on your return, because it can take hours of digging through flights in order to find these stopover cities. It takes Airwander a few seconds to tell you exactly where I could go. Extremely handy!
ALTERNATIVES
If you can't find anything good, try speaking to the airline's reservation agent before booking, because they might know of additional tricks or tips on getting the best routing and pricing. Don't expect them to do the homework for you though. Always call in with at least a preliminary plan and a basic knowledge of their rules.
I usually try a bunch of combinations online until I find something good. Again, flexibility pays off. I've even found, in a few instances, that booking a stopover can make a flight cheaper. For instance, in a search for Seattle to Tokyo, I found that adding a Singapore stopover made the trip $250 cheaper, even though it's not on the way.
My examples are international flights, but you can book stopovers on domestic flights as well, using the same technique.
You can also make stopovers when using your airline miles to book a free flight. Many of the international flights we book using our miles cost 60,000 miles. For the same amount of miles, you can often add one or two stopovers. Of course, exactly what is allowed is based on the airline.
What Are the Airlines' Rules for Free Stopovers?
Each airline has its own rules concerning stopovers, so if you want to fly a particular airline or use airline miles, you'll need to be familiar with their specific rules. The problem is that the airlines are constantly changing their rules and there's no good way to keep track of them except to call and ask.
The airlines' rules usually include how many stopovers and/or open jaws you can build into an itinerary. An open jaw is where you fly into and depart from a different city or airport. In our example above, an open jaw would be flying Seattle to Paris, then flying from Rome on to Istanbul. I would need to find my own way from Paris to Rome.
Here is an updated list of airline stopover and routing rules compiled by Travel Is Free (2014). And here is a detailed diagram and info put together by Well Traveled Mile. Keep in mind that these lists may not contain the most up-to-date information.
To learn what rules govern your own situation, be sure to check the airline's website for information and call directly for confirmation. If you're unable to find the route you want using the online multiple destination planner, a phone agent can usually help you work it out or find something feasible. It sometimes takes a little configuring to get the perfect combination.
Airlines That Offer Free Stopovers
Sometimes the easiest way to find a free stopover is to plan one with an airline that advertises free stopovers. There are a few well-known ones that you can check out:
Air China: Up to 72 hour visa-free stopover.
Air France: Not available on non-flexible fares
Emirates: Allows up to 96 hours stopover
Etihad: Maximum 2 nights
FinnAir: Two free stopovers permitted (one in each direction)
Hawaiian Airlines: Available to customers traveling from international destinations
Icelandair: Stays up to 7 nights
Japan Air: Two free stopovers for up to five people
Singapore Airlines: Two free stopovers on every class
TAP Air Portugal: On a long-haul flight (round trip or one way), if the final destination of your trip is the Azores, Madeira or Algarve. You can stop off for 1-5 nights in Lisbon or Porto.
British Airways offers multi-stop options with added stopovers. Use their multi-city tool to find this option.
Try a flight search today on Sky Scanner:
Once you've had some practice, you'll see that finding free stopovers to add to your journeys is incredibly easy. It's a great way to see more and stretch your travel dollar even farther. If you have any tips to add about booking stopovers, let us know in the comments section!
Like this post? Why not pin the image below to your Pinterest board and share it with friends?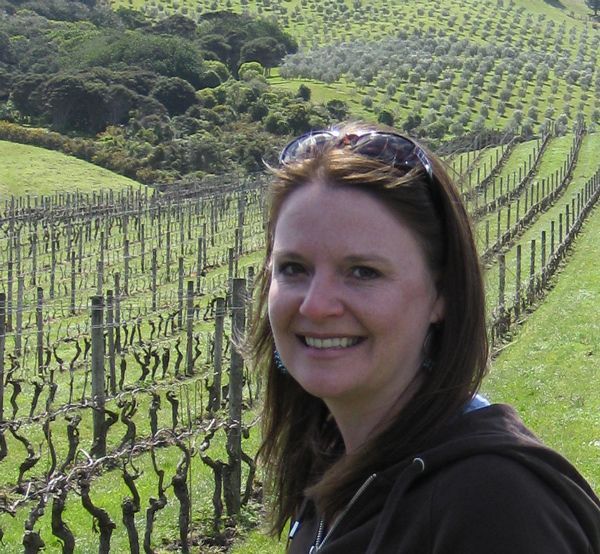 Laura Lynch, creator and writer of Savored Journeys, is an avid world traveler, certified wine expert, and international food specialist. She has written about travel and food for over 20 years and has visited 70+ countries.