One of our favorite international dishes to make at home during the cold winter months is a big, steamy bowl of Vietnamese Pho. Who doesn't love the rich, flavorful taste of the broth, slurping up the chewy rice noodles, and the tender pieces of thinly sliced beef?
Pho can be made in many different varieties, so you can customize it easily to your own palate. Plus, it's very good for you when the broth is made from beef or chicken bones. Whenever you're suffering from a head cold, your go-to should be Pho.
In case you've never tried it, Vietnamese Pho is a noodle soup dish that is found throughout Vietnam. It's a deceptively simple soup, but the flavors make it feel very complex. If there is a Vietnamese comfort food, this is definitely one of them.
Because Pho is a soup that is made in just about every Vietnamese household, there are rarely two bowls that turn out the same as someone else's. There are secret family ingredients that are added in varying amounts, or a subtle changes and adjustments, leading to what is very similar, but never quite the same.
Our Global Gourmet recipe series is designed to bring the foods we loved while traveling into our own kitchens and onto our own dinner tables.
» Check out Vietnamese Food: 45 Traditional Dishes to Look for in Vietnam.
Vietnamese Pho
In Vietnam, Pho is a staple of the diet – it's a true classic. Even if you've never been to Vietnam, you've likely tried Pho at a Vietnamese restaurant. While there are so many fantastic Vietnamese dishes, I'm always drawn to order a big bowl of Pho, because of how delicious and comforting it is.
Of course, that got me wondering if I could make a passable version of my own at home. I shouldn't have to go out every time I want a bowl of pho, right? As it turns out, making a really good, flavorful, and healing broth for pho can be quite tedious, but it doesn't have to be.
If you're in a hurry, and don't have time to simmer bones for hours, you can take a short cut that will produce a pretty good look-alike to the delicious broth you can get in the neighborhood Vietnamese restaurant. Though, believe me, I'm not downplaying the amount of care and time that goes into making a fantastic pho.
Another great Vietnamese soup that's similar to Pho is miến gà (a clear noodle soup). It's similar in flavor, but the broth for miến gà isn't simmered for as long, so it's a great option if you're short on time.
How to Make a Vietnamese Pho
When I say that there is a lot of care and time that goes into making pho, I meant it. It involves buying high-quality beef bones, cleaning them thoroughly and then parboiling them to remove the sediments and film that come off while cooking.
You should then plan to simmer the bones in water, with a tablespoon of vinegar, and a pinch of salt, for something like 3-4 hours. You need to be careful to skim off all the residue that comes off the bones, so you end up with a clear soup. Never boil the bones! This is how you get the most flavorful broth, with that silky texture.
If you have time for this method, I highly recommend it because it will give you the absolutely best final product. But not everyone has hours to simmer bones – or even the ability to get good-quality bones to make a bone broth at home.
While no Vietnamese cook would ever suggest taking a shortcut, if you still want to have great Pho at home without the time factor, you are in charge of your own kitchen. If you can't make your own bone broth, it's okay. You can still make a pretty darn good-tasting Pho at home.
You'll need to find a good high-quality beef broth instead. I recommend finding one with low sodium, so the soup doesn't end up getting too salty. I like Pacific brand's organic beef broth with 50% less sodium. It's a good, flavorful stock with a nice texture.
This is the part where I'm going to tell you that there is one more shortcut that you can take to make good Pho at home without buying all of these separate ingredients. There are some pretty good Pho broth mixes available these days that you can add to water to create a tasty broth.
They aren't going to replace the awesomeness of making your own bone broth with fresh spices, but they can be pretty good in a pinch. The one we like best comes in a tin that makes a massive amount of soup, and it can last for a long time. It doesn't have MSG in it.
Once you've simmered your broth for at least 2 hours, or poured your store-bought broth into a large stock pot, you can begin to add the extra ingredients that really make it shine. Once you add the spices and extras, like cinnamon, clove, star anise, ginger, onions and fish sauce, you'll want to simmer the broth for about another hour to impart all of the flavors.
During this time, you can book the rice noodles and have them ready in a big serving bowl for when the broth is finished.
One of the keys to giving a bold, umami flavor to the soup is to roast the onions and ginger before adding them to the broth. I've tried it both ways, and the roasted version is consistently better. Finally, in the last 5 minutes, add your thinly sliced beef so that it has just enough time to cook through.
If the beef is sliced super thin (which you usually can't achieve at home), you can even pour the steaming broth over the top of it in the bowl to allow it to cook without getting over cooked. Make sure you try the broth before you serve it. I may need a bit more of something to be perfect. Serve the soup piping hot.
When you are ready to serve the bowl of Pho, you should have at the ready a plate of accouterments, like bean sprouts, sliced red birds eye chilies, and mint and basil leaves. We also like to squeeze a lime wedge over the top of the bowl for a little added zest. We also can't live without a squirt or two of Sriracha on the top.
The toppings can be put into the soup in the amount you want. I tend to put in a ton of mint. I love the way it opens up in the hot broth. If you can't find the ingredients you need at a grocery near your home, you can find the more difficult items on Amazon. Here are some that we use.
Yield:

4 servings
Vietnamese Beef Pho
Pho is made from a base of beef broth flavored with many spices like cinnamon and coriander, with noodles, beef and bean sprouts.
Ingredients
3 lbs beef soup bones, marrow and knuckle bones
1 medium yellow onion, thickly sliced
2-inch piece of ginger, peeled
1 tbsp white vinegar
2 bay leaves
2 star anise
4 whole cloves
1 4-inch cinnamon stick
1 tsp coriander seeds
1 tbsp salt
2 tbsp fish sauce
1/2 tsp palm sugar
1 lb beef chuck, sirloin, or brisket, thinly slices
1 package flat rice noodles
1 birds eye chili, finely sliced
1 bunch Thai basil
1 bunch mint leaves
1 cup bean sprouts
1 lime, cut into wedges
Sriracha to taste
Instructions
If making your own beef stock from bones, it can add a lot of flavor to roast the bones in the oven first. Place the bones, onions and ginger on a baking sheet and roast at 375°F for 20 minutes. Remove the bones from the oven. Set the onions and ginger aside. Place bones only in a large stockpot, covered with water. Boil for 5 minutes. Remove the bones from the stockpot and rinse throughly with water. Discard the boiling liquid.
Place the bones once again in the stockpot and cover with 1 liter of water. Add the bay leaves and vinegar. Allow bones to simmer at medium-low temperature for at least 3 hours. Remove bones from the liquid.
If using store-bought stock. Start here by adding the stock to your stockpot. Add onions, ginger, star anise, cloves, cinnamon, coriander and salt to the stock. Simmer for 30 minutes. Add the fish sauce and palm sugar.
Cook the noodles according to the package instructions. Place a large handful of noodles in a large bowl. Top with the raw thinly sliced beef (it must be very thin in order to cook quickly). Pour the hot broth into the bowl. Top each bowl with as many condiments as desired.
This recipe is courtesy of AFoodLoversKitchen.com.
Like this post? Why not share it on Pinterest.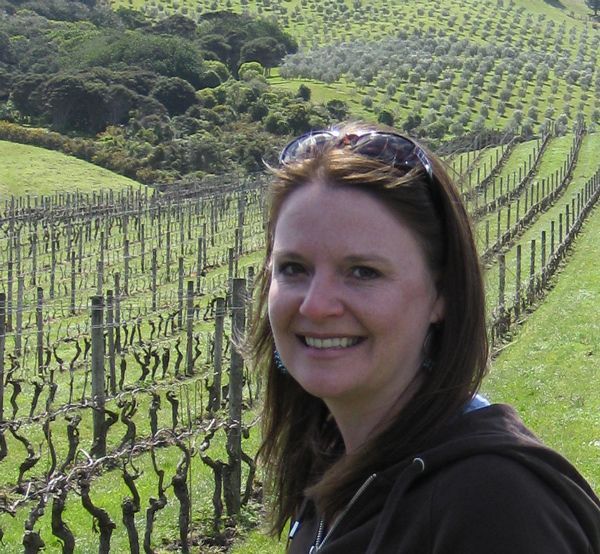 Laura Lynch, creator and writer of Savored Journeys, is an avid world traveler, certified wine expert, and international food specialist. She has written about travel and food for over 20 years and has visited 70+ countries.