If you've been wanting to visit Europe for a while, you're probably super excited to begin planning your trip and building your Europe itinerary. In this post, we're going to show you how to plan a trip to Europe that you'll never forget!
We know from experience that planning a trip to Europe can be quite overwhelming because there are so many places to go and things to see. You want to make sure you add everything possible to your Europe itinerary. Believe me, we understand how important travel planning is!
We've been traveling around Europe for more than 10 years. We now spend at least 2 weekends per month traveling in Europe. That's why we've prepared this Europe trip planner for you.
If you have at least 10 days to spend in Europe, this itinerary will cover all the top spots you must see. Do keep in mind that traveling in Europe can be expensive. You also have to be very wise in your planning to make everything fit together perfectly.
You can fly between cities cheaply if you plan it right. Or you can plan to travel with the Eurail Pass, though this option will take longer.
Let's get your dream European vacation started. Here's how to plan a trip to Europe, and see as much as humanly possible in 10-14 days.
Where to Go in Europe
Europe is full of history, bustling cities, incredible sights, unique places to stay, and – my favorite – amazing food! There are a good number of tourist destinations that just about anyone planning a trip to Europe would want to include in the itinerary.
But, obviously, with just 10-14 days in Europe, there's no way you can cover them all. We've chosen the top destinations that we feel you can fit comfortably into 10+ days.
Planning for Europe? Here's more…
Here are the top destinations we recommend visiting in 10+ days in Western Europe: London (I'm still considering this Europe even if it's no longer in the EU), Paris, Venice, Rome, Berlin, and Amsterdam.
We love all of these cities for different reasons as you'll see below, but if you can't fit them all in, you might need to decide between them. For instance, if you're wondering if should I visit Paris or Rome, consider aspects like cost, activities, and your own personal interest in those activities.
If you have additional time, you could add Munich, Barcelona, Dublin, and/or Edinburgh. We also suggest checking out some of the more charming and small towns in Europe. Or maybe you're into history – there are so many great medieval towns to visit.
You might want to take a look at this post with 50 of the best street food destinations in Europe before you decide where to go. There are quite a few that would persuade me.
How to Spend 2 Weeks in Western Europe
There are really two perfectly acceptable ways to take a vacation in Europe. Either way can be quite rewarding, but it depends greatly on your travel style how much time you want to put into planning, and what trips you are looking to book for.
Option 1: Book a pre-planned guided tour
A guided tour is the easiest option, by far. While Europe is very easy to get around for travelers, it can be difficult to figure out how to get from place to place, and very tedious trying to decide what to do in each location.
A pre-planned tour won't give you the same freedom to do what you want, but it is completely planned out for you and you will always have a guide along to help you with anything you need.
Option 2: Plan your own trip
Planning your own self-guided tour of Europe gives you ultimate freedom to choose what you want to do and when. You can go to the places you want, without a group to tag along with.
The drawbacks are that you have to plan it all out yourself, which can be daunting. Check out these additional Europe travel tips to help with your planning.
We will give you the options for both below, including a pre-planned tour we highly recommend and a 14-day self-guided itinerary to follow.
Guided Tour of Europe
If you want to try a guided tour, I recommend a Classic Europe 14-day tour.
This tour is run by Expat Explore Travel and includes everything except International airfare, extra excursions that aren't in the tour itinerary, and personal incidentals.
» See more information about the Classic Europe tour.
The 14-day itinerary includes:
Start in Amsterdam
Drive through Brussels for a quick stop en route to Paris
Visit Burgundy and the breath-taking Swiss Alps
In Italy, see Pisa, Tuscany, Florence, Rome, and Venice
Travel into Munich and Bavaria in Germany, then to Nuremberg and Berlin
Head back to Amsterdam
There are other Europe tour options with varying destinations. Check out the website to see all options with this tour operator.
Self-Guided Tour of Europe – Plan Your Own Travel Itinerary
With a good plan of action, your 2-week Europe trip will run smoothly and provide you with a comprehensive overview including some of the main countries in Western Europe.
If this schedule seems too ambitious for just a 10 day Europe trip, you can always extend your stay in the cities that interest you most and decide not to visit others.
There's no right or wrong way to do it. It's entirely up to you.
Day 1-2: London
Arrive in London. Take the Heathrow Express from the airport to your hotel.
You'll want to stay in West London for easy access to all the top sights. London is very walkable. To get around to all the sights in a day or two, you'll want to get your walking shoes on.
You can take a hop-on-hop-off bus tour if you're not up for the walking. For foodies, we highly recommend spending some time doing any of these fun foodie activities in London.
The city is one of the best for restaurants in the world. If you want to take a day trip from London, we suggest Stonehenge, Bath, or Windsor. They're all very close by and offer a fantastic experience.
In London, be sure to see these sights:
(You can purchase tickets in advance for these activities. These links are affiliate links to activities we've done and recommend.)
Westminster Abbey & Big Ben
View from the Shard
Kensington Palace
Where to Stay in London: We recommend the Trafalgar St James by Hilton. It's in a historic building in a really prime location. The hotel and rooms are designed in art deco and the rooms are really spacious and bright. ⇒ Read reviews on Trip Advisor.
Day 3-5: Paris
Travel to Paris on the Eurostar train. The journey takes just 2 hours from St. Pancras Train Station.
Don't forget to take a picnic lunch and a bottle of wine with you to enjoy on the train. There are so many things to do in Paris. In only two days, you can cover a lot of ground. You can do a few of these great foodie activities, see the top sights on a walking tour, or join this fun gourmet bus tour for a multi-course meal on a double decker tour bus.
You'll want to either plan on walking a lot, or acquaint yourself with the Paris Metro map and take short trips in between sights. You can also take the Paris hop of hop off bus to get between sights.
Check out our 3-day Paris itinerary that will help you plan what to see.
In Paris, be sure to see these sights:
Notre Dame (closed for renovations)
Pantheon
Luxembourg Gardens
The Avenue des Champs-Élysées
Where to Stay in Paris: The best location to stay in Paris is 6th Arrondissement. It is the Latin Quarter. The heart of Paris. And it's the best location for tourist who are planning to see everything. Here are 8 top hotels with an Eiffel Tower view.

We recommend the boutique 4-star Hotel Parc Saint Severin. The rooms are larger than most in Paris and they're nicely refurbished. Plus it's a really great location. The metro is really close. ⇒ Read reviews on Trip Advisor.
Day 5-7: Venice
Venice is just one of those places you have to visit at least once in your life. It's an incredibly enchanting city, with so much character that you feel a little like you're floating around in a Disney movie.
The views across the Grand Canal are so beautiful, and the narrow alleys can lead you to get lost in a city of charm. Everywhere you turn is another incredible view, and a gondola floating by in the distance. It's one of a kind.
With so many great things to do in Venice, you really need to set up a good itinerary before you leave, to make sure you fit everything in.
Check out our shortcut guide to all the best parts of Venice, which will help you plan. Definitely make time for a Venice food tour.
The food in Venice is great, if you know where to look. And you can check out our YouTube video for the top 10 things to do in Venice, if you need more ideas.
You can pre-book some of the activities. I would definitely pre-book the activities below, so you don't miss out.
Day 8-10: Rome
Rome is a city that will capture your heart the moment you arrive. It's amazing to see so much history packed into one place, and so much of it is scattered right in the middle of a modern city. There's really no where else like it. Plus the food. You have to go on a food tour and witness it first hand.
If you're planning a trip, we've got you covered with our shortcut travel guide to Rome: an informative and helpful infographic that will give you a quick peek at all the top things you should plan to do in Rome. Here's our 3-day itinerary to help plan it all out.
Top things to put on your itinerary:
The Colosseum: This monumental amphitheater is one of the most recognized symbols of Rome, offering a peek into the world of ancient Roman gladiators. Try to book a guided tour to get the full historical context.
Roman Forum & Palatine Hill: Located near the Colosseum, the Roman Forum was the political, commercial, and judicial center of ancient Rome. The Palatine Hill, according to Roman mythology, is where the city was founded by Romulus.
Pantheon: This best-preserved monument from the Roman Empire is a marvel of architectural design, with its impressive dome and the oculus at its center.
Vatican City: Here, you can visit St. Peter's Basilica, the Vatican Museums, and the Sistine Chapel, with Michelangelo's renowned frescoes. Be sure to dress modestly as a sign of respect.
Trevi Fountain: Throw a coin into this iconic fountain to ensure your return to Rome. It's beautiful during the day, but consider a visit at night when it's lit up.
Piazza Navona: This square is home to Bernini's famous Fontana dei Quattro Fiumi (Fountain of the Four Rivers), as well as various artists, musicians, and street performers.
Spanish Steps: Climbing these steps from Piazza di Spagna to Piazza Trinità dei Monti offers a wonderful view. The nearby shopping district is a must for fashion enthusiasts.
PRO TIP: Skip the line tickets are necessary in Rome, especially during high season. You won't waste time waiting in huge lines.
Day 10-12: Berlin
Berlin is a very modern city with a good art scene, many museums, great food options, and cultural/historical things to see and do. It's a sprawling city so you'll want to be ready for public transportation.
There are a few Berlin attractions and sights you don't want to miss like these we've listed here:
Brandenburg Gate: This iconic symbol of Berlin was once a symbol of division during the Cold War, but now stands for German unity and is a must-see.
Berlin Wall Memorial and Checkpoint Charlie: No visit to Berlin is complete without learning about its Cold War history. The Memorial provides an insightful look into the era of the city's division.
Reichstag Building: The seat of the German Parliament, the building's glass dome offers a panoramic view of the city. It's a good idea to register in advance for a visit.
Museum Island: Home to five world-class museums, including the Pergamon Museum and the Neues Museum. The latter houses the bust of Nefertiti, an ancient Egyptian queen.
Alexanderplatz and TV Tower: A large public square and transport hub in the central Mitte district, featuring the iconic TV Tower (Fernsehturm) which provides excellent views over the city.
Holocaust Memorial (Memorial to the Murdered Jews of Europe): A poignant, powerful monument to one of history's darkest times.
The best way to see all of these sights is on this Discover Berlin half-day walking tour. The tour is really inexpensive and is the best way to learn the historical and cultural past of Germany, while see the top sights.
Foodies will also want to check out Markethalle Neun, an indoor market with international food vendors, especially on Street Food Thursdays! Also plan for a beer tour and a Berlin food tour in order to taste the best parts of the city!
Day 12-14: Amsterdam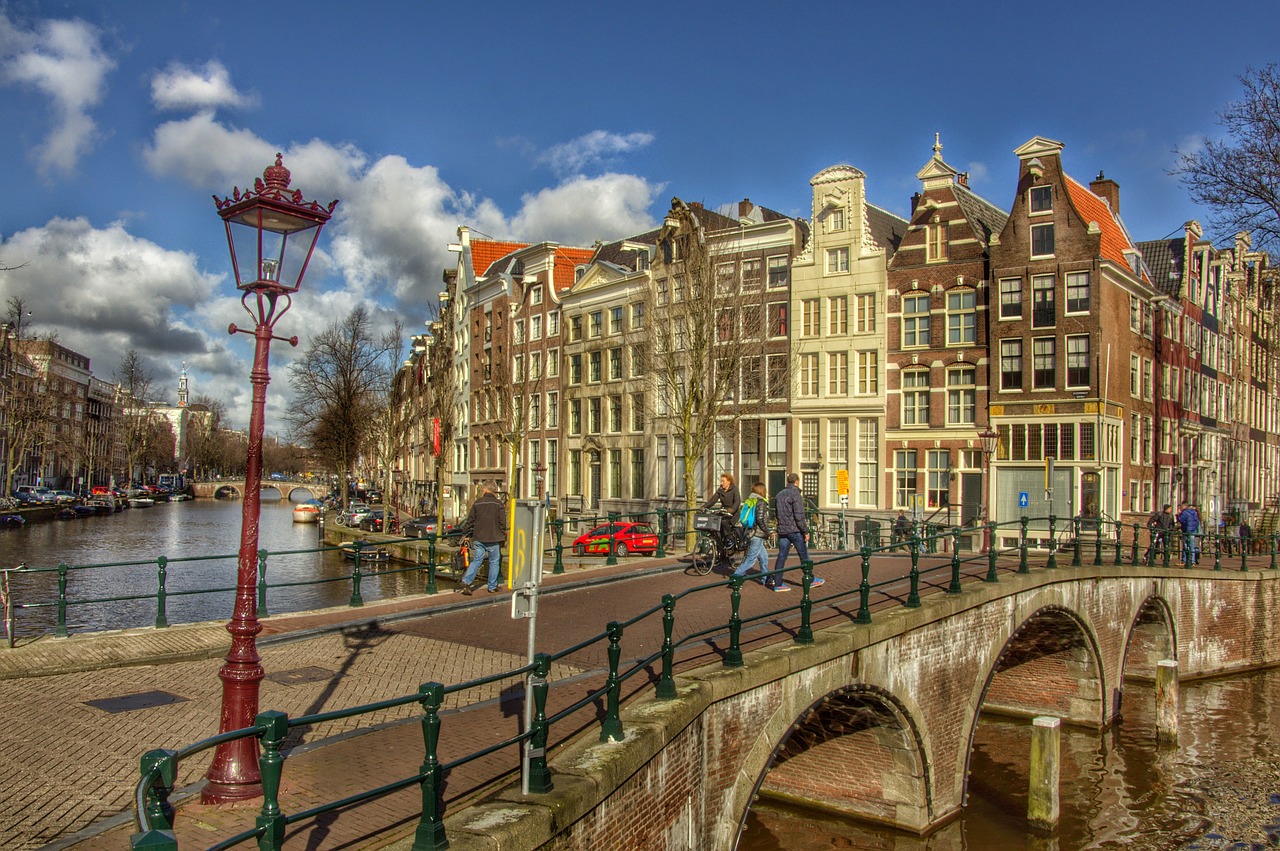 As a tourist, you'll likely find Amsterdam to be a very welcoming and fun place to explore. The canals and old cobblestone streets make it the quintessential European city, and it's just so easy to get around. Read our full guide to 3-days in Amsterdam for the full rundown.
The many activities in Amsterdam include history, art and food. I think a good plan to tackle the city includes a bit of walking tour, interspersed with stops to try the local food and drinks.
Be sure to try bitterballen, poffertjes, and frites (which you can get with dozens of different sauces), along with all the cheese. There are dozens of different canal cruises you can take that are often paired with cheese, beer, wine or even pizza.
For drinks, we recommend stopping at some of the beer bars, like Proeflokaal Arendsnest and Beer Temple, as well as the top cocktail bars like Tales & Spirits and Flying Dutchman. And don't forget to sample the genever at Proeflokaal 't Kelkje, one of the best places in Amsterdam to taste genever!
Here are a few links to our favorite tours and activities in Amsterdam so you can purchase your tickets in advance:
Eat like a local in Amsterdam with Eating Europe Food Tours – there are 5 tours available:
Tips for Planning a Trip to Europe
Best Time to Go to Europe
When you decide to go to Europe should be based on what type of experience you want to have. A lot of people make it a priority to go to Europe in the summer because that's when they take vacation, or when the kids are out of school.
However, everyone else is doing the same thing. That means July-August is high season and there are a lot of visitors. Attractions are packed, lines are long, prices are high, and it can be really hot outside.
The best weather in Europe can be found from late March to early June and from late September to early December. This is considered the shoulder season in Europe and there will be less people and lower prices.
We prefer to travel during these times because it's just so much easier. And the nicer weather makes all the difference.
We especially caution against traveling in Italy in August. It is one of the hottest months and the weather can be a real hindrance to your happiness.
Getting to Europe
Many top airlines from around the world have direct flights into London. It's probably one of the easiest cities to get into.
Check Skyscanner for great deals on airfare. We prefer to fly into London for the ease of it all, but you can skip London and fly directly into Paris, if you wish.
Also keep in mind that airfare is lower on the shoulder and off season than it is during the summer. (See this article for more on how to find great airfare).
We also recommend flying into one city and out of another, so you don't waste some of your holiday time flying back to the starting point. Using the multi-city option on Skyscanner, you should be able to find this option without the fares getting to high.
Getting Around Europe
When planning your Europe itinerary, keep in mind the distance between each destination. Europe seems small, but it takes a while to get between destinations. In most cases, you'll need at least a half day to get between locations, more if taking the train.
Once you arrive in Europe, you can either fly or take the train between cities. We prefer to take early morning or late night flights, to avoid burning active hours in our destination.
Via Air
Flying is relatively cheap on budget airlines like Ryanair and EasyJet. We fly with them all the time.
There are fees for any extras you add, and checking luggage can be expensive, so do be mindful of that.
See here for an idea of what it costs and the flight times for each of the legs in our itinerary:
London to Paris: $50
Paris to Venice: $85
Venice to Rome: $70
Rome to Berlin: $95
Berlin to Amsterdam: $70
Via Train – Eurail Pass
Another way to travel around Europe in by train. You can purchase individual train tickets for each journey you wish to take. That will help you mix and match, if you want to fly between some cities and take the train between others.
However, a more economical way to go by train is with a Eurail Pass. The price of the Eurail Pass varies depending on your needs. They range from $250 to over $1000. For the itinerary we laid out in this post, you would need a 5 days within 1 month pass, which costs $326 (updated 2019).
This allows you to travel on any 5 days over a period of a month. There's also a 7 days in one month pass for $388, if you think you'd like to tack on another destination. These passes entitle you to travel on specific trains only.
You can't just show up and get on any train, but you don't need reservations except for the high-speed and overnight trains (which also require an extra fee). They're only for non-European travelers. And they can only be used for the class of service booked.
Travel Documents – Schengen Area
Always verify the entry requirements and travel documents needed for each specific country you are trip planning for as requirements can vary. You can check with the embassies or consulates of the countries you'll be visiting or use official government travel websites for the most accurate and current information.
Ensure that your passport is valid for at least six months beyond your planned return date. Some countries may have different requirements, so it's always a good idea to check the specific entry requirements for the countries you plan to visit.
Depending on your nationality and the specific European countries you plan to visit, you may or may not need a visa. Citizens of the United States can generally enter the Schengen Area (a group of 26 European countries that have abolished passport control at their mutual borders) for short stays of up to 90 days within a 180-day period without a visa. However, if you plan to stay longer or visit countries outside the Schengen Area, you may need additional visas.
Tipping in Europe
Yes, you do need to tip in Europe. However, it's not at the custom level of the U.S. There are some key differences.
First of all, 10% is the norm for tipping in a nice restaurant. You can give more if you had a stellar experience, but that's more like 12%. Not 20%. In a cafe or deli, just round up your bill to the nearest dollar. If it was €3.80, leave the .20 cents as a tip.
In pubs in London and bars in Europe, tipping isn't expected on small amounts.
Whatever you do, always check the bill for a service charge. There are MANY places throughout Europe now that charge a set service fee and include it in the bill. This is often 10 or 12%. If this fee has been added to your bill, there is no need to tip.
Eating in Europe
Since you'll be visiting many different countries while in Europe, the food will be very diverse. You will have the best overall experience if you're willing to try all the foods you come across and have an open mind that you mind really like something you've never tried before.
In London, you should have a Sunday roast, Fish and Chips, a Steak & Ale pie. See our foodie guide to London for more.
In Paris, are you daring enough to try frog's legs or escargot? Definitely make room for crepes and a Croque Monsieur. See our foodie guide to Paris for more.
In Italy, you'll find an unimaginable array of pasta dishes, pizza, dried meats, and cheeses. Berlin has a very international food scene. It's not just Schnitzel and sausage anymore.
And in Amsterdam, you must try the frites, the bitterballen and the Poffertjes (pancakes).
In every city, there is now a food tour taking place. We always recommend going on a food tour first thing when you arrive because it gives you a very good overview of the foods you should look out for and where to find them.
Frequently Asked Questions
CONCLUSION
Now you know how to plan a trip to Europe, and we've given you a 2-week itinerary to follow. What are you waiting for? Whether you take a guided tour or do this Europe 2-week itinerary on your own, I am certain you will find it to be the most exciting and rewarding trip you'll ever take.
Europe is fascinating and full of surprises. Let us know how your trip to Europe turns out!
Like this post? Why not save it to your Pinterest board?