Sometimes it's nice to get a little off the beaten path and try something different, go somewhere different. Bordeaux, France, is a well-known and incredibly vivacious city, but it is forever overshadowed by its more famous neighbor to the north, Paris. While I wouldn't discourage you from going to Paris, I would definitely recommend trying something different and going to Bordeaux instead (or as well).
Bordeaux is, in many ways, a smaller version of Paris, and it's just as enchanting. The architecture is very similar, the food is just as French, the museums are world-class, the wine is superb. The only thing that's missing is the Eiffel Tower. Did you know that a large part of Bordeaux has been classified as a UNESCO World Heritage Site?
There is a lot to see and do in Bordeaux and the surrounding areas – from wine-related activities, to cultural and heritage sights, to world-class museums. You'll need at least 3-4 days to take it all in, and after you see all the things we've included in this itinerary, you'll see why we really recommend spending up to a week in Bordeaux. If you're a wine lover, you may even want to plan for a few more days to see each of the significant wine regions of the area.
You can easily combine a trip to Bordeaux with a few days in Paris, if you want to see both. There is a train between the two cities or you can set uo a private transfer with T2 Transfers.
How to Spend a Week in Bordeaux
Before you leave home, I suggest checking out this comprehensive online guide to Bordeaux, written by a local expert. If you spend a big of time pre-planning your itinerary, you'll be able to relax and enjoy your time while you're there.
For a quick primer on the city, see the video we made of our time in Bordeaux. It's a lovely city with great architecture.
Where to stay in Bordeaux
There are many options and it can sometimes be difficult to choose the right place. Within the city center, it's easy to walk most places. The streets aren't pedestrian only, but there's very little traffic in the center. So choosing a place in the city center is the best option.
For luxury: Intercontinental Le Grand Hotel or Le Boutique Hotel
For upscale mid-range: Mama Shelter or Hotel de Tourny
Find the best deal, compare prices, and read what other travelers have to say at TripAdvisor
Day One: Discover the city center of Bordeaux
I love how helpful the tourist office can be for visitors coming to a city for the first time, and the Bordeaux Tourist Office is one of the best I've seen. It's very organized and offers an immense amount of information for tourist, from maps and advice, to lots of scheduled tours to take part in. I recommend making the tourist office your first stop, to gather information and plan out your time in Bordeaux.
One of the best values for your money in Bordeaux is the City Pass. You can buy one for 24, 48 or 72 hours, depending on how long you'll be in the city and wanting to use the card.  It gives you benefits like free use of public transportation, free entrance to some museums and attractions, and even a free open-top bus tour. Pick one up at the tourist office, and you can begin using it immediately.
The included bus tour leaves from just outside the tourist office, about every 1.5 hours. Check the schedule at the office to be sure. The trip takes a little over an hour and shows you around all the top spots in Bordeaux city. This is a fantastic way to get your bearings and determine where you want to spend more time.
After the bus tour, spend some time walking around the Place des Quinconces and admire the Monument aux Girondins, a towering monument and fountain in the center of the park. There are dozens of antique shops and food stalls selling churros and nutella filled crepes in the park.
Next, take a walk (or ride Tram C) to the Place de la Bourse, which was built as a royal square dedicated to the French ruler Louis XV. It's a sprawling and incredible building with symmetrical facades with a Water Mirror ("Miroir d'Eau") in front of it that casts a reflection in the water and sprays an enchanting mist into the air.
From here, head off to the Cathedral and Pay-Berland Tower. A visit to the tower is included in the City Pass. It's 229 steps to the top of the tower, but it's worth the effort for the view of Bordeaux from the top. You'll want to check the hours for the tower before heading there, as they vary based on time of year. It's also closed during a lunch hour that varies. Without the city pass, it's about 6€ to climb the tower.
Nearby the Cathedral is the Museum of Fine Arts (Musée des Beaux-Arts), that has just reopened after an extensive renovation. A visit to the museum is also included in the city pass, and it's definitely worth a look around.
When you're finished at the museum, it's likely time for a break. There are many coffee shops, like Café Napoléon 3, where you can stop for a coffee or tea. But we prefer to drink wine at everyone opportunity we get in Bordeaux, since there are so many famous Chateaux in the area. The best place for trying some of the local wine is a wine bar called Maison du Vin that is located right next to the tourist office. They are open from 11am to 10pm every day except Sunday. I highly recommend not trying to show up at 6pm or later unless you're prepared to stand in the queue for a while to get in. They don't take reservations.
If Maison du Vin is too busy, another alternative is Max Bourdeaux, where you can buy a wine card and pour for yourself whatever wines strike your fancy.
For dinner, make a reservation at L'Entrocote, which too is right next to the tourist office. They serve only one thing – entrocote (beef) with their famous mustard sauce, a salad, and french fries.
Day Two: La Cité du Vin
Built in 2016, La Cité du Vin is all about wine. To call it a museum would not being giving it enough credit. Instead, it is an immersive and interactive experience that takes you through the cultural and sensory world of wine, with over 10 hours of possible content to discover inside. You can learn about different wine regions by watching video content of winemakers from those areas. You can smell the different aromas that are represented in wines and try to identify them yourself without looking. You can sit back and watch movies and animated depictions to learn the history of wine.
I've never been to a museum quite like this – especially not a wine museum. Even if you aren't a wine lover, or even a wine drinker, you'll very likely still thoroughly enjoy La Cité du Vin. A visit is included in the city pass. If you go before noon, it's completely free to enter with the pass. If after noon, you will pay a small supplementary fee. The visit also includes a glass of wine on the top floor, with a great view of the city. Without the city pass, it's 20€. The museum is open every day from 9:30am to 7pm. You can get there by taking Tram B.
We spent 3 hours there, which I think is a typical length of time to spend, unless you really don't care to learn about wine (maybe an hour is enough), or you're determined to do as much as possible there (maybe up to 4 hours).
Upon leaving La Cité du Vin, instead of taking the Tram back, walk along the waterfront at the Quai des Marques. It's an outlet shopping center and promenade that stretches along the entire waterfront of the River Garonne and leads back into the center of Bordeaux. You'll pass by the Jacques Chaban-Delmas bridge – which is a real sight to see – and have the opportunity to stop for a meal, a coffee, some shopping, or even to ride the merry go round.
At the end of the walk, you'll come upon the CAPC Museum of Contemporary Art, which is also included in the city pass.
You're probably ready for some dinner at this point. I would recommend trying The Wine Bar, located in Le Boutique Hotel Bordeaux. They have a great selection of Bordeaux wines and French tapas to share.
Day Three: Bordeaux Wine Tour, to Medoc or Graves
Wine tasting in Bordeaux is an absolute must in our opinion. While Bordeaux is a great city to visit, you can't ignore the fact that it's a famous wine region with incredible wine. The tourist office has a couple of guided Bordeaux wine tasting tours you can go on to both the Medoc wine region and Saint Emilion wine region.
If you don't want to expend the effort to find yourself transportation to these areas and to book Bordeaux vineyard tours with each Chateau, you might want to get on one of these guided tours. They have half-day and day-long trips. I recommend you spend a little time looking at the offerings and deciding on the right trip for you. If you don't mind touring a winery with 50 other people on a bus tour, the group trips to Medoc and Saint Emilion will be sufficient. But if you'd like a more personalized experience, or to do something more exciting like blending your own wines, you can work with them to find the perfect thing.
If you're only going on a half-day tour, take the rest of the day to relax, walk around to some of the other monuments in the city, or visit one of the urban wineries. The tourist office has an interactive guide called the Urban Wine Trail that you can follow to find the best wine bars in town, some that offer great discounts.
Another alternative to doing a guided tour is to book your own visits to the Chateaux and take a taxi or a bus to the ones closer to the city in the Pessac-Léognan or Graves region. A few recommendations are Chateau Pape Clement, Bouscaut or Chateau Haut Brion (which is a first growth and may be impossible to get into).
Day Four: Day Trip to Aracachon
It's a quick hour-long train journey from the city to Aracachon on the coast, which makes it a fantastic day trip from Bordeaux. In Aracachon, you can spend the day outdoors, enjoying the sandy beaches and the highest dune in Europe, walking along the numerous paths that lead from the beach into the forest, and discovering the many little towns along the bay.
ALTERNATIVE
If you prefer to stay in the city for an extra day instead of venturing out to Aracachon, there are many more things to do in Bordeaux. You can ride around the city on a bicycle, which can be easily rented by the hour at numerous bike stations. You could take a boat tour or river cruise.  You could go on a food tour, or take a wine tasting course, or a cooking class. You could visit the Botantical Gardens. So many possibilities!
Days Five and Six: Wine Trip to Saint-Emilion
If you're a wine lover, you won't mind at all spending another couple of days wine tasting in Bordeaux. But I realized not everyone wants to do 3 days of wine tasting. Let me assure you that a side trip to Saint-Emilion isn't just for wine tasting. It's a beautiful countryside village (also a UNESCO World Heritage Site), with remnants of the old city wall still standing, and plenty of other things to do besides visiting Chateaux.
However, the focus of a visit to the region still remains on wine and food, because that's what we do here. I recommend spending at least two days in Saint-Emilion because of its charm and how easy it is to get there, even if you don't have a car. Of course, renting a car for your two-day visit there will make it much easier to get around, but it's not necessary. You can take the train directly from Bordeaux to Saint-Emilion. If you spent the previous day in Aracachon, you can take the train from there straight to Saint-Emilion.
Once you're there, you can easily walk to a number of Chateaux for a visit, including Chateau Gaudet, Villamaurine, and Ambe Tour Pourret. You can make advanced appointments at these and other of the best Bordeaux winery tours, use this online service. It's free to use and extremely helpful with planning.
You can fill up your two days in Saint-Emilion with winery tours and tastings, walking around and exploring the city, and eating at some of the top restaurants in the area. Three we particularly recommend for great food, wine and atmosphere are L'Atelier de Candale, La Terrasse Rouge at Chateau La Dominique, and Les Belles Perdrix de Troplong Mondot.
Book a stay overnight at Chateau Hotel & Spa Grand Barrail. It's a gorgeous chateau with very comfortable, lovely rooms (we prefer the blue rooms to the pink rooms). There's a hotel restaurant if you don't want to leave for the evening. And they can organize a free wine tour and tasting at the Chateau next door that is associated with them.
⇒ Read reviews for Chateau Grand Barrail and see current pricing.
Day Seven
On your final day, you can take the train from Saint-Emilion back to Bordeaux in order to catch the tram out to the airport. If you happen to have a bit of extra time to spend, you could visit another museum, and have one last wine and cheese lunch at Chez Baud et Millet. If you can't make it to this awesome cheese shop and restaurant on the last day, do try to fit it in another time. It's really great.
If you had a car in Saint-Emilion, you could stop in Graves for one last wine tasting appointment before returning the car. It all comes down to how much time you have.
Conclusion
As you can see, there are more than enough things to do in Bordeaux and the surrounding areas to easily fill a whole week. It's a fantastic alternative to Paris, which can be overwhelming, touristy and crowded. Bordeaux is a really great city to explore. We hope you like it as much as we did.
(We were invited as a guest on some of these activities by Bordeaux Tourism, but what we write about the experience is always our own honest opinion.)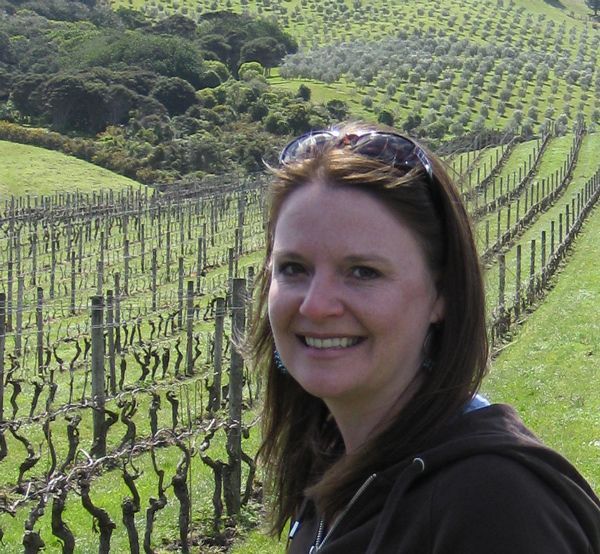 Laura Lynch, creator and writer of Savored Journeys, is an avid world traveler, certified wine expert, and international food specialist. She has written about travel and food for over 20 years and has visited 70+ countries.